Airbnb Calculator: How much can I make on Airbnb?
Estimate the short-term rental revenue potential of any property, anywhere in the world.
Rentalizer™
Calculate the earning potential of any address. For free.
Did you know short-term rentals earn up to three times more than traditional long-term rentals? Rentalizer™ uses data from over 10 million Airbnb and Vrbo listings to accurately predict earning potential for any property in the world.
Determine if it's a good time to buy a property.
See how a property will perform over time based on seasonality.
Estimate how your vacation rental will appreciate or depreciate over time.
Determine your revenue potential
Rentalizer is the world's #1 Airbnb calculator.
Until now, knowing how much a vacation rental could earn was a guessing game. You know they're profitable, but how profitable? At what point is a short-term rental a good investment?
Meet Rentalizer™, the vacation rental industry's #1 Airbnb profit calculator. Enter any address in the world and we'll share a custom projection for:
Annual revenue
Average daily rate
Occupancy rate
Seasonality's impact on profits
A competitive analysis of other rentals in your neighborhood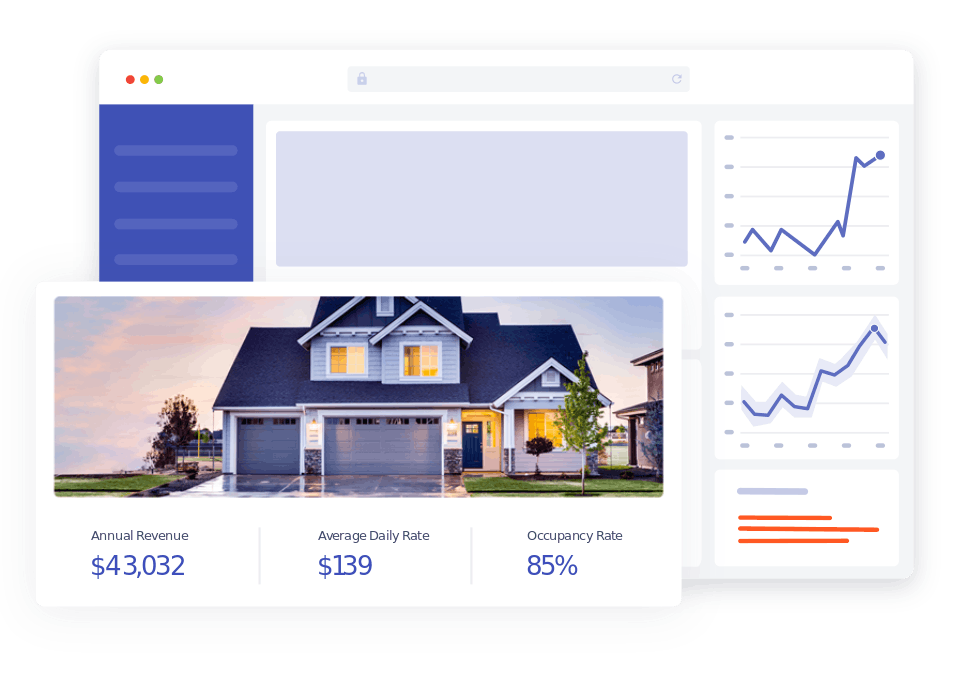 Understand the competition
How does the Airbnb calculator work?
When you enter an address, Rentalizer compiles a list of nearby properties and creates an index based on relevance. The more similar a property, the more weight it has on our calculation.
Rentalizer also factors in market-wide vacation rental metrics such as seasonality, rental demand, and revenue growth.
By comparing similar rental properties, our Airbnb estimator makes extremely accurate assumptions on the earning potential for any address, anywhere in the world. As a result, you know how much a property could earn if listed as a full-time short-term rental.
Answers to your vacation rental questions
Why use a short-term rental calculator?
Whether you're researching your first short-term rental or looking to expand your portfolio, Rentalizer™ is here to help you identify the most profitable property. Here are some uses for our short-term rental calculator:
First-time hosts wondering, "Is Airbnb profitable?"
Second-home owners considering if short-term renting is worth it.
Investors and property managers gauging the value of a new acquisition and estimating Airbnb revenue.
Real estate agents advising buyers on the Airbnb income potential of an investment property.
Arbitrage investors analyzing the profit margin between long-term rents and short-term returns.
FAQ
Airbnb Investment FAQs
Wondering how much you can make with an Airbnb, or if vacation rentals in your target market are profitable? Here are some answers to your most frequently asked questions.
We believe the best way to figure out how much you can make on Airbnb is by looking at what existing, nearby short-term rentals actually make every year. The Rentalizer Airbnb calculator lets you plug in relevant details—like the number of bedrooms, bathrooms, and occupants—to see what nearby homes with that configuration make every year, plus their occupancy rates. Add in more details like estimated fees, insurance, utilities, and setup costs to get a projected Cap Rate percentage. Together, this gives you an accurate prediction of the annual revenue you can make with an Airbnb.
Have a specific property in mind? Plug the address into the Rentalizer Airbnb calculator, make sure the number of bedrooms, bathrooms, and guests is correct, and adjust your operating and setup costs (if you know them) to see what that particular property could make if you list it full time. We base our projections on the real market performance of similar nearby listings to be as accurate as possible.
Investing in a vacation rental has many benefits—from additional income to having a vacation getaway for your family. But making the right investment is key if you expect it to be profitable. Before you go under contract, check the projected revenue potential of your dream property with a trusted Airbnb calculator.
We put a lot of thought into making Rentalizer the most accurate Airbnb calculator out there. This page details how it works and what type of insights you'll get. Better yet—see it in action for yourself by trying Rentalizer for free!
Unlock your vacation rental cheat code.
AirDNA's powerful yet easy-to-use tools make hosting and investing a breeze. This means having every insight you need, all in one place, always up-to-date.