Welcome to Smart Rates
A groundbreaking Airbnb pricing tool powered by the world's most trusted name in vacation rental data and analytics.
Use Smart Rates to optimize your Airbnb pricing strategy, boost revenue, and position your properties for success.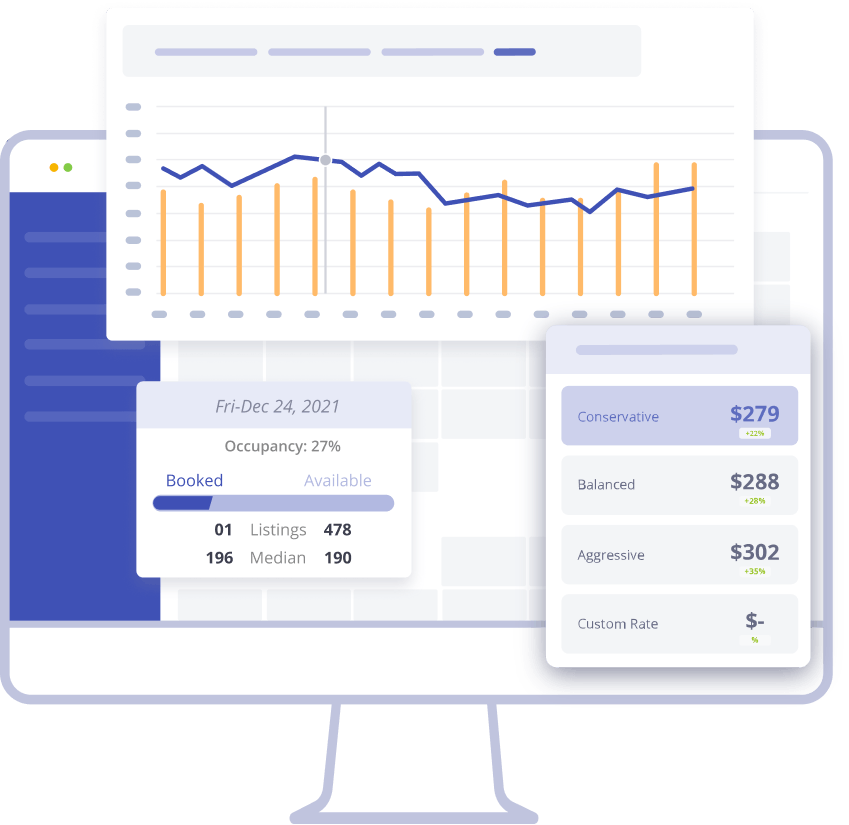 Airbnb Dynamic Pricing Tool
Price Your Property to Perfection
Wondering how much to charge for Airbnb? Backed by a library of over 10 million vacation rentals on Airbnb and Vrbo, Smart Rates analyzes real-time market demand and provides personalized pricing suggestions for each date up to a year in the future.
Pricing Factors
Know the Reason Behind Your Rates
Not only does Smart Rates recommend daily rates—it shows why.
Discover the reason behind each calculation with variables like holidays, day of the week, booking lead time, market demand, and vacation rental seasonality.
Personalized Pricing
Customize Your STR Pricing Strategy
Smart Rates leaves plenty of room for personal tweaks to help you achieve your ideal pricing strategy. Set preferences for minimum & maximum rates, discounts, and even how aggressively you want to price your property.
Use these levers to strike the perfect balance between occupancy and maximized daily rates.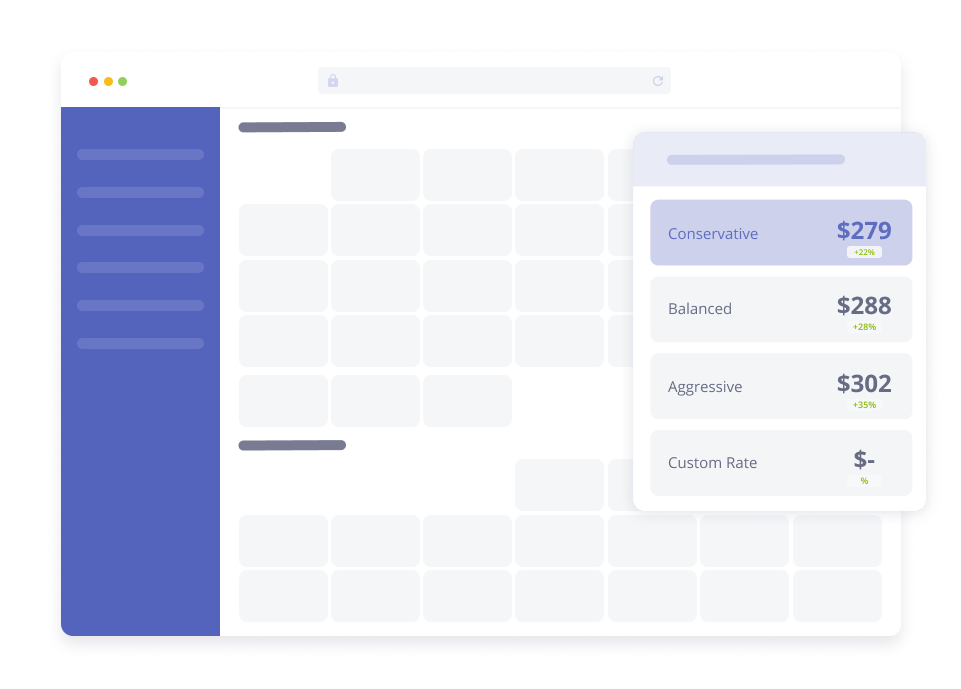 Customizable Comp Set
Keep Tabs on your Competition
After onboarding your listings to MarketMinder™ and creating a hand-picked competitive set, Smart Rates shows you exactly how your competitors are pricing their properties. Staying one step ahead of your competitors is what Smart Rates was built for.
Comparison
AirDNA's Smart Rates vs. Hosting Platform Pricing
Still relying on hosting platforms to price your vacation rentals? Here's why you should think twice:
Lead Time Considerations
Split loyalties to travellers and hosts often mean they discount rates to attract travellers at the expense of hosts.
Often underestimates compression events such as big local events.
Not as granular with their adjustment types (only weekend/weekday variability).
Zero visibility into your competition's pricing without manual research.
Limited visibility outside of what's happening within their platform.
AirDNA's Smart Rates
We give you the choice to maximize revenue with competitive pricing or maximize occupancy with discounted rates.
We recognize booking demand months in advance and tweak prices accordingly.
Smart Rates includes smart adjustments for yearly seasonality and holidays.
MarketMinder allows users to hand-pick their true competition and compare rates side-by-side.
Because we have data from partners and platforms, we have a complete picture.