Set the best nightly rate, everytime.
It's time to take control of your vacation rental pricing strategy with AirDNA's Smart Rates™. Optimize rates, boost revenue, and position your property for success with custom recommendations based on what your real competitors are up to.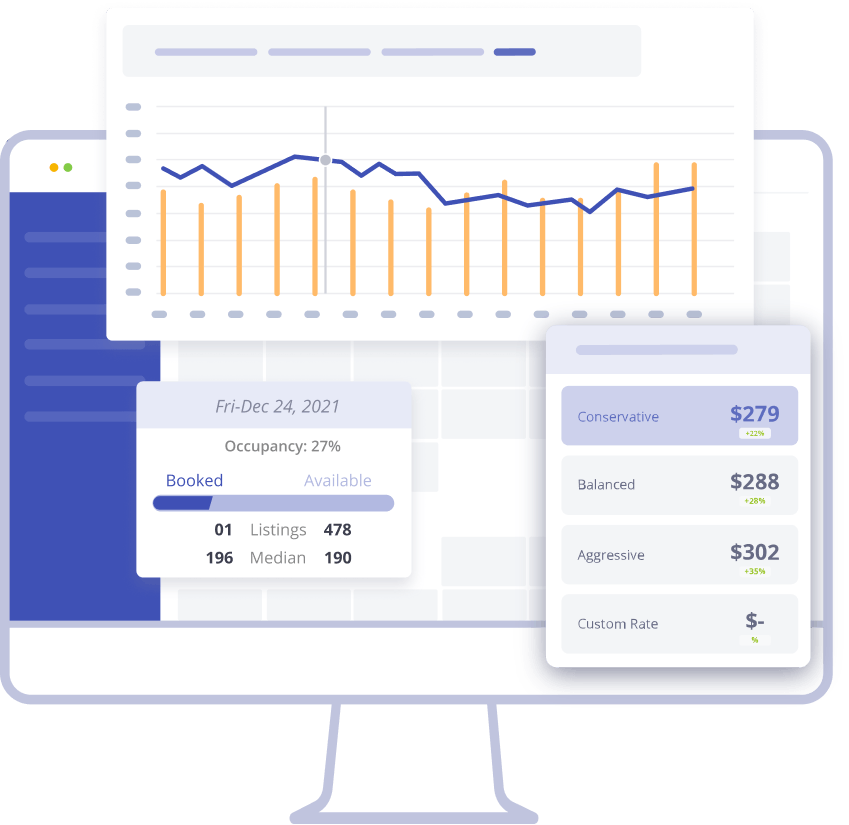 Airbnb Dynamic Pricing Tool
Price your short-term rental to perfection
Wondering how much to charge per night for your vacation rental? Setting the right nightly rate is critical to generating top revenue (check out our Airbnb calculator for short-term rental revenue projections). But your rates shouldn't be the same every night. If they are, you're missing out on key opportunities to charge more during peak times and get more bookings during lulls by setting attractive rates.
AirDNA's Smart Rates analyzes real-world demand and provides personalized pricing suggestions for each date based on our global library of more than 10 million vacation rentals.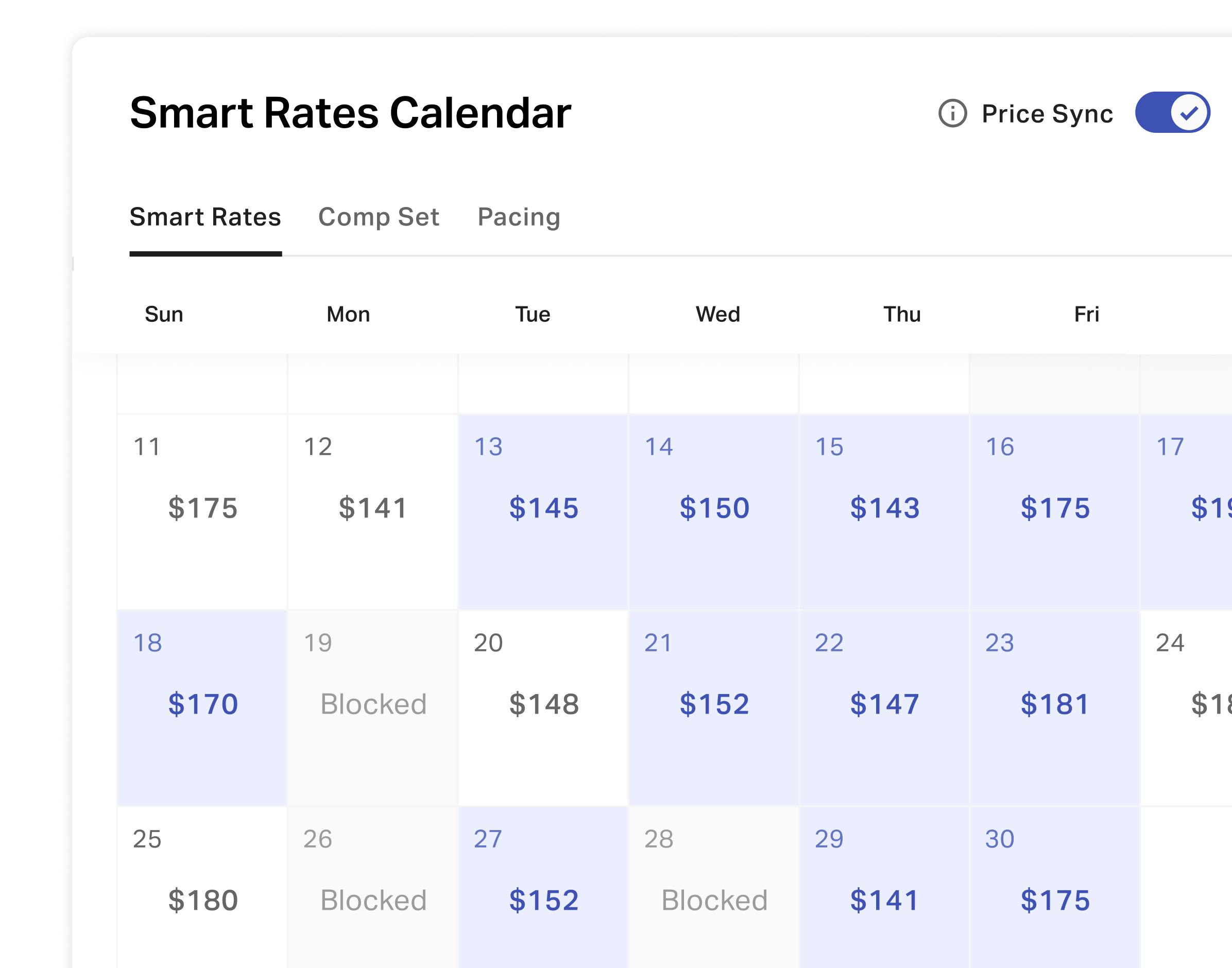 Personalized Short-Term Rental Pricing
Customize your vacation rental pricing strategy
Vacation rental pricing strategies are highly personal. Some people concentrate on driving occupancy, while others focus on getting a high average daily rate (ADR). Smart Rates leaves plenty of room for personal tweaks to help you achieve your ideal pricing strategy. Set preferences for minimum and maximum rates, discounts, and even how aggressively you want to price your property. These levers help you strike your perfect balance.
Why Use AirDNA Smart Rates
AirDNA's Smart Rates vs. Hosting Platform Pricing
Relying on hosting platforms like Airbnb or Vrbo for price recommendations? Here's why you should think twice about that approach.
Hosting Platform Recommendations
Hosting platforms have loyalties to travelers and hosts, meaning they may suggest discounted rates to attract travelers at your expense.
Hosting sites often don't foresee peak demand trends, like shifting seasonality or travel preferences.
The parameters you can set are limited, meaning you don't have full control over your pricing strategy.
There's zero visibility into your competition's pricing without hours of manual research.
It's only one platform, so you have no clue what's happening in the rest of your market.
AirDNA's Smart Rates
Choose the pricing strategy that's best for you, whether that's maximizing occupancy, setting aggressive nightly rates, or somewhere in between.
We recognize booking demand months in advance and adjust pricing suggestions accordingly.
Smart Rates includes smart adjustments for yearly seasonality and holidays in your market.
Hand-pick your top competitors and study their pricing trends to come out on top.
Data from multiple platforms and partners gives you a complete picture of pricing in your market—not just from a single platform.
FAQs
Vacation Rental Pricing FAQs
Smart investments happen here.
AirDNA's powerful yet easy-to-use tools make hosting and investing a breeze. This means having every insight you need, all in one place, always up-to-date.