Data is our business. Accuracy is our mission.
AirDNA is proud to be the most accurate source of short-term rental data since our early start in 2015. Learn why AirDNA is trusted by business leaders around the globe and why we are the next-level partner you never knew you needed—until now.
The math doesn't lie: AirDNA is right on the money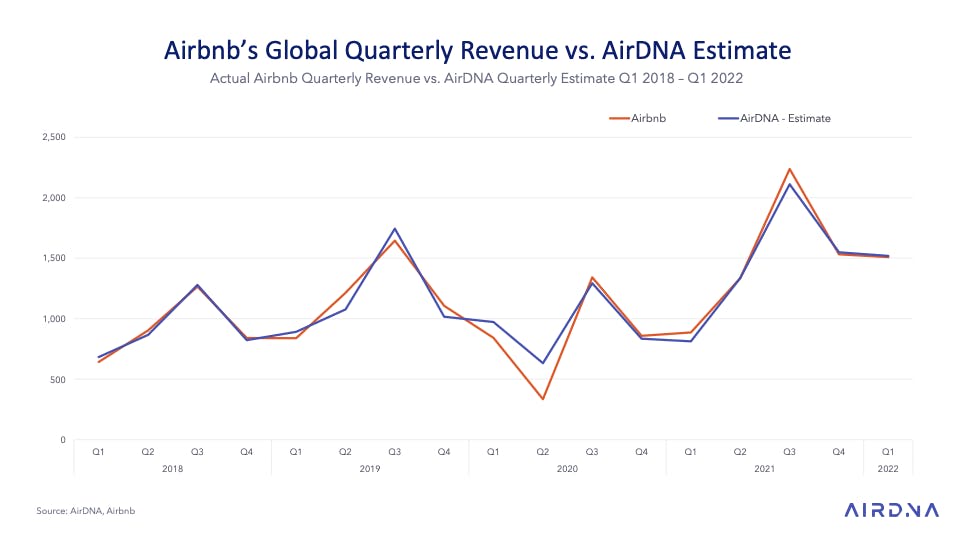 Our track record speaks for itself. We have consistently estimated Airbnb's actual revenue with at least 94.9% accuracy. And our Q1 2022 estimate was 99.3% accurate. This is why you can act confidently on pricing estimates from AirDNA tools such as Rentalizer.
Why should I care?
Researching or managing Airbnb-style properties is no simple task. Time is precious, and money is always on the line. We not only appreciate these stakes; they're why we exist.
AirDNA's number-one mission is to equip you with custom data that eliminates guesswork and helps you grow your business with confidence. This holds true whether you're a first-time Airbnb host or a researcher at a larger organization (a hedge fund, tourism board, or property management group, to name a few).
You get the idea, sure, but let's go even deeper.
How we do it
Every day, our team of data scientists is carefully sourcing, verifying, and analyzing granular property data from a diverse set of sources (not just first-party property sources):
35,000 individual hosts
10 million Airbnb and Vrbo listings
1.1 million channel and property management software managers
We do this because it helps you answer really important questions like: 
How will a property appreciate or depreciate over time?
Do self-managed properties perform better than professionally managed ones?
Who are the best property managers in a given city?
(See our How It Works page for an in-depth understanding of our rigorous methodology and algorithmic technologies. Aka: where our data comes from, why, and how.)
OK, what does "accuracy" really mean?
When we talk about "accurate data," we mean data with the smallest-possible margin of error. And by this measure, AirDNA is consistently proven to be the most reliable source of vacation rental data available.
We take pride in continually benchmarking our data sets against those shared through Airbnb's routine financial filings. For example, our Q1 2022 estimates across all major financial metrics were within 98.8% accuracy when compared against Airbnb's public filings. (We were nearly three points ahead of Wall Street's estimates across multiple categories.)
The bottom line: AirDNA data matches Airbnb's with 94.9% accuracy and Vrbo's with 98.7% accuracy, based on both companies' financial filings with the U.S. Securities and Exchange Commission.
AirDNA versus the competition
We've been gathering short-term rental data since before it was cool.
No, literally—no one else in the short-term rental space has nearly eight years of historical data like we do. Combined with licensed data from our private partners, the encyclopedic nature of AirDNA data is unmatched.
AirDNA meticulously sources data from both Airbnb and Vrbo. This fact might sound trivial, but it isn't. Because any data providers solely relying on metrics from Airbnb are missing up to 50% of listings in most markets.
In the chart below, we show how our quarterly revenue estimates compare with those of Airbnb and one of our competitors.
AirDNA was the first business of its kind to begin sourcing short-term rental data. This long-term perspective is just one reason why our tools offer more value than any others.
(See our Case Studies archive for real-world examples of how entrepreneurs just like you scaled their businesses with AirDNA data.)