Data is our business. Accuracy is our mission.
AirDNA is proud to be the most accurate source of vacation rental data since our early start in 2015. Learn why AirDNA is trusted by businesses large and small around the globe.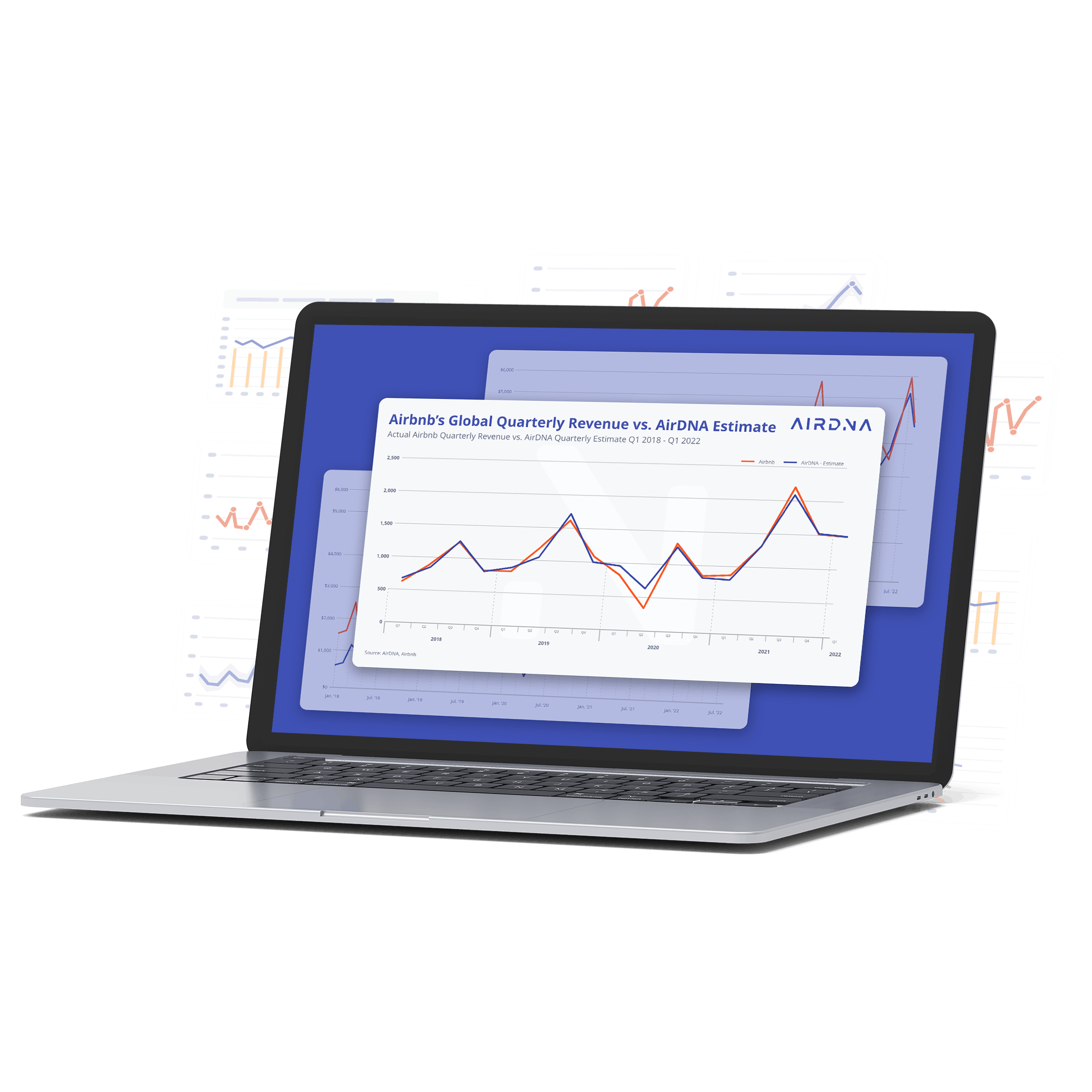 The math doesn't lie: AirDNA is right on the money
AirDNA is the leading provider of data and analytics for the $126 billion vacation rental industry. We track the daily performance of over 10 million Airbnb and Vrbo properties across 120,000 global markets and incorporate this data into game-changing intelligence trusted by hosts, managers, investors, and analysts around the world.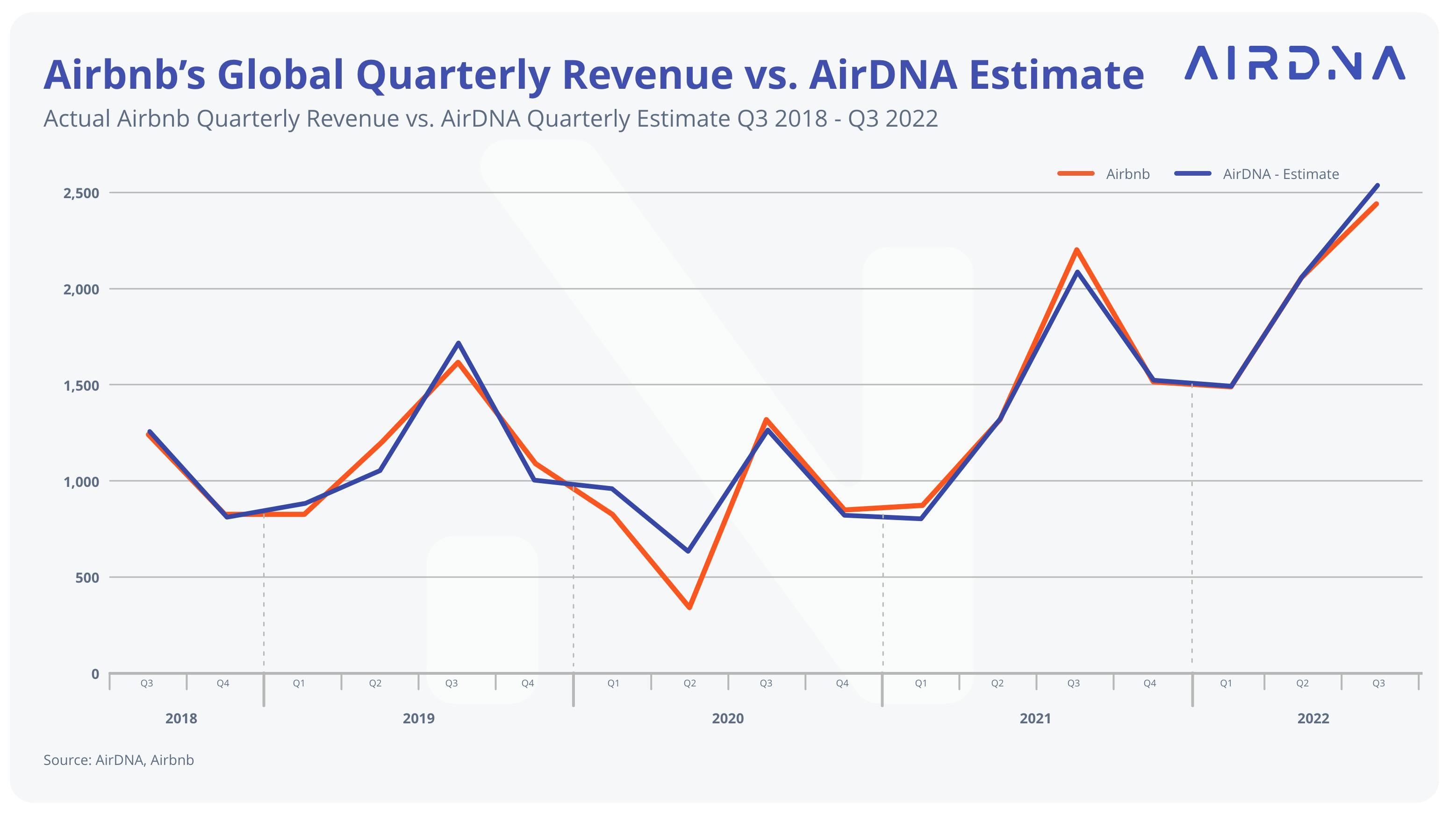 Our track record speaks for itself. We have consistently estimated Airbnb's actual revenue with at least 94.9% accuracy. And our Q1 2022 estimate was 99.3% accurate. This is why you can always act confidently on pricing estimates from AirDNA tools such as Rentalizer™.
"MarketMinder has proven to be invaluable. We've been able to increase the majority of our properties revenue by an average of 15% to 20% this year compared to last." —Cameron Tabatabai, Head of Real Estate, Guestable
How do we make accurate estimates and recommendations?
When we talk about "accurate data," we mean data with the smallest-possible margin of error. And by this measure, AirDNA is consistently proven to be the most reliable source of vacation rental data available.
We take pride in continually benchmarking our data sets against those shared through Airbnb's routine financial filings. The bottom line: AirDNA data matches Airbnb's with 94.9% accuracy and Vrbo's with 98.7% accuracy.
For example, our Q1 2022 estimates across all major financial metrics were within 98.8% accuracy when compared against Airbnb's public filings.
Why this metric matters: It means you can act confidently when making important investment decisions with calculator tools like Rentalizer™. It also means you can trust rates and occupancy benchmarking tools like My Properties to stay ahead of your competition.
The bottom line: AirDNA data matches Airbnb's with 94.9% accuracy and Vrbo's with 98.7% accuracy, based on both companies' financial filings with the U.S. Securities and Exchange Commission.
How do we achieve accuracy?
Every day, our talented team of Ph.D.-toting data scientists is carefully sourcing, verifying, and analyzing granular property data from the most diverse set of data sources (not just first-party property data):
35,000 individual hosts
10 million Airbnb and Vrbo listings
1.1 million channel and property management software managers
This proprietary recipe of publicly sourced and privately licensed data ensures, through cross-referencing, we weed out any inconsistencies and always deliver data sets with the tiniest-possible margins of error. No matter the context.
This helps you answer really important questions like:
How will a property appreciate or depreciate over time?
Do self-managed properties perform better than professionally managed ones?
Who are the best property managers in a given city?
(See our How It Works page for an in-depth understanding of our rigorous methodology and algorithmic technologies. Aka: where our data comes from, why, and how.)
Accuracy for hosts and property managers
Whether you're a first-time host or a seasoned property manager, you need actionable insights you can trust. You need to know how much your property can earn, as well as when and why you should adjust your rates. And there's no room for surprises along the way; this is why historical and future pacing data are critical to your financial success.
Want to find out just how accurate we really are? Put our tools to the test for yourself. Hosts can connect their properties to MarketMinder™ to unlock custom pricing recommendations via Smart Rates™, and property managers can use our Property Performance Dashboard to create custom comp sets that allow you to quickly spot similarities and differences with your top competitors, all in the name of boosting your bottom line.
Accuracy for investors, lenders, agents, and financial institutions
AirDNA helps you understand where, when, and why to invest. We recommend starting with Rentalizer™, our industry-leading Airbnb calculator. You can enter any address in the world to find out exactly how much it'd earn as a vacation rental. Our annual Best Places to Invest reports are based on the same source of truth—our ever-improving data set methodically fine-tuned by the smartest data scientists. Business leaders around the globe trust our Investor Scores when choosing their next venture because of the granularity with which they consider demand, pricing trends, local regulations, and more.
"Investment properties that take [AirDNA] recommendations receive two times the annual gross booking revenue than comparable properties with similar strategies earn." —Max Schuster, Chief Revenue Officer, StayMarquis
AirDNA versus the competition
We've been gathering vacation rental data since before it was cool.
No, literally—no one else in the vacation rental space has nearly a decade of historical data like we do. Combined with licensed data from our private partners, the comprehensive nature of AirDNA data is unmatched.
AirDNA meticulously sources data from both Airbnb and Vrbo. This fact might sound trivial, but it isn't. Because any data providers solely relying on metrics from Airbnb or property managers are missing up to 50% of listings in most markets.
If you want to know just how accurate we really are—plug your address into Rentalizer™ and find out firsthand.
Researching or managing Airbnb-style properties is no simple task. Time is precious, and money is always on the line. We not only appreciate these stakes; they're why we exist.
(See our Case Studies archive for real-world examples of how entrepreneurs just like you scaled their businesses with AirDNA data.)
Unlock the ultimate vacation rental cheat code.
You can't afford to fall behind the competition. That's where we come in. AirDNA's data tools help entrepreneurs like you eliminate guesswork, grow revenue, and scale smarter.
Supercharge my business