"How Accurate is AirDNA Data?"
Data accuracy is our company's #1 pillar. Here are a few studies that have corroborated AirDNA as the most reliable source of vacation rental data in the industry.
One of the most common questions we receive at AirDNA is "how accurate is your data?" 
First off, it's best to establish some definitions. "Accuracy" can be measured in a number of ways and differences in methodology can make it difficult to know what you are even measuring against. 
A reliable source of truth for measuring accuracy are the reports made public by short-term rental booking platforms. Let's take Airbnb as a first example. 
In November 2020, Airbnb filed their S-1 with the SEC for their IPO.  In this filing, Airbnb released years of their historical performance, which gave us a benchmark against which we could measure our own data accuracy.  
Even though AirDNA tracks all bookings and revenue earned by properties listed on both Airbnb and Vrbo, for this purpose we filtered our data to only analyze properties that are listed on Airbnb and active.  
Side-by-Side Comparison: Airbnb vs AirDNA Total Revenue
The first measure of accuracy we looked to test was by looking at the total level of revenue. This tells us if we are accurately picking up the seasonal differences in bookings and revenue — e.g. higher revenue in the summer than winter.  
In this chart, we show Airbnb's quarterly revenue alongside AirDNA's revenue estimate.  By using AirDNA's data, we can explain 96.1% of the movements in Airbnb overall level of revenue.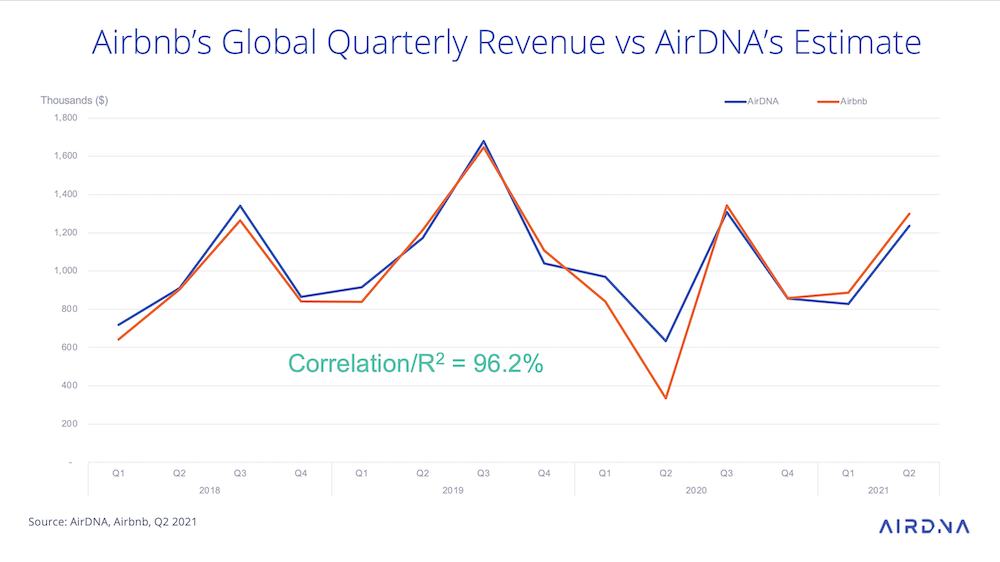 Measuring Year-Over-Year Change
The other important (and arguably more difficult) factor is picking up the change in each of the key metrics.  
We measure this by looking at the year-over-year change in our estimated revenue and compare that to Airbnb's actual growth. 
AirDNA's data correlates at over 97% with Airbnb's quarterly change in nights booked.  Outside of a brief disconnect during the height of covid-19 when Airbnb saw over 32 million room nights canceled, the correlation has been spot on.  
Since Q2 2020, AirDNA has continually tracked the growth rate within a tight range of about 3% absolute error.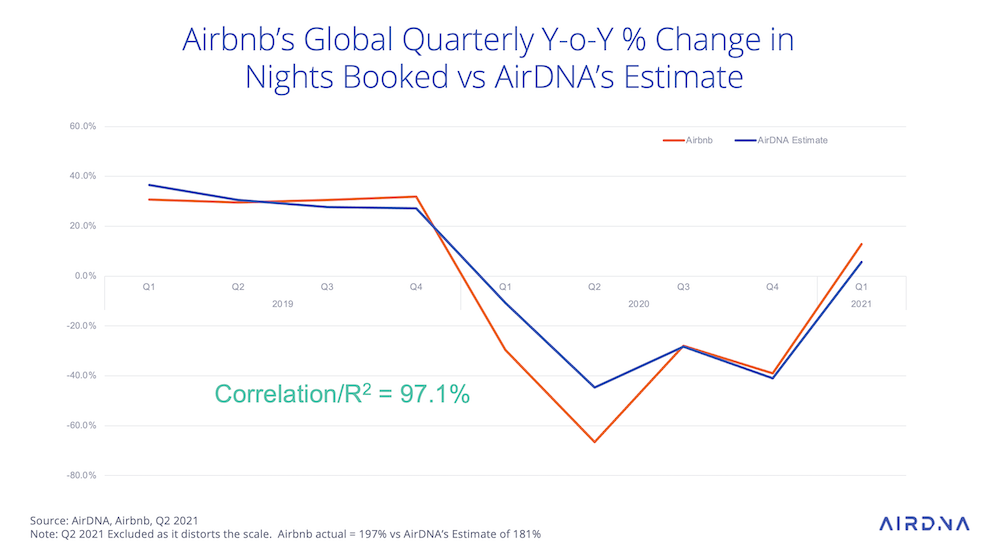 Three Crucial Metrics 
There are three main data points that Airbnb releases each quarter that we measure ourselves against: gross booking value, nights booked, and revenue.  The first two relate to the total nights and revenue booked during the previous month/quarter, while revenue corresponds with stays over the previous period and Airbnb's fee related to those stays.  
AirDNA's data is highly correlated with each of these figures (over 91%) when looking at both the levels (measuring seasonal differences) and percent change. 
AirDNA vs the Competition
Our team of researchers and data scientists is constantly measuring our accuracy against Airbnb & Vrbo's global data sets as well as the property-level data that we receive from our valued data partners.  
Where possible, we also want to compare ourselves against our competitors who track similar data. In the chart below we show how our quarterly revenue estimates compare with that of Airbnb and one of our competitors.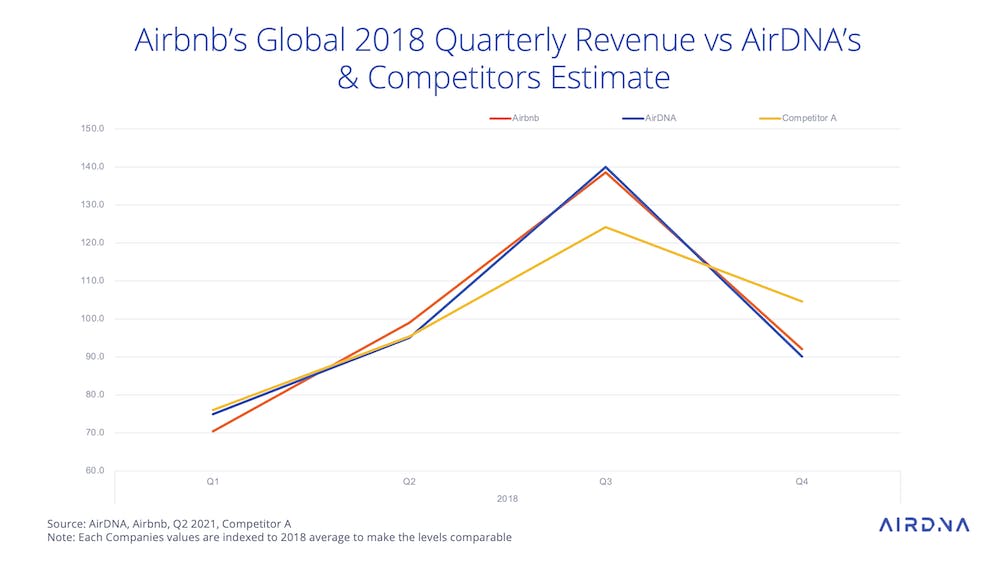 Our Solution
Introducing the AirDNA Global Trend Report
Our new Global Trend Report provides a powerful, high-level analysis that tracks Airbnb & Vrbo supply, demand, and revenue to measure the entire short-term rental industry. 
Each month the report allows users to see the top-25 cities, compare trends by location type, see country-level stats, and evaluate how current metrics stack up against previous years' performance. 
Note: The Global Trend Report is AirDNA's most exclusive solution and is extremely limited in distribution. It's designed for hedge funds and investment banks looking for reliable, third-party metrics on the performance of major travel brands. 
Contact Us to Learn More