Vacationland USA: Summer Demand Delivers for the Short-term Rental Industry
Record high occupancy for summer travel leads to higher rental rates
July typically represents the peak season for short-term rentals in the U.S., and 2021 did not disappoint. AirDNA tracked more than 19.7 million nights sold in July 2021 — a 3.9% increase over 2019 levels (+23.9% vs 2020). The increase in demand slowed some from June when it was up over 8%.
There were 10.6% fewer listings available for rent this summer compared to 2019, but a full 5.7% greater than summer 2020. The supply/demand imbalance pushed U.S. short-term rental occupancy to an all-time record high of 74.9% in July 2021. This was 22% higher than 2019 and 14% higher than 2020.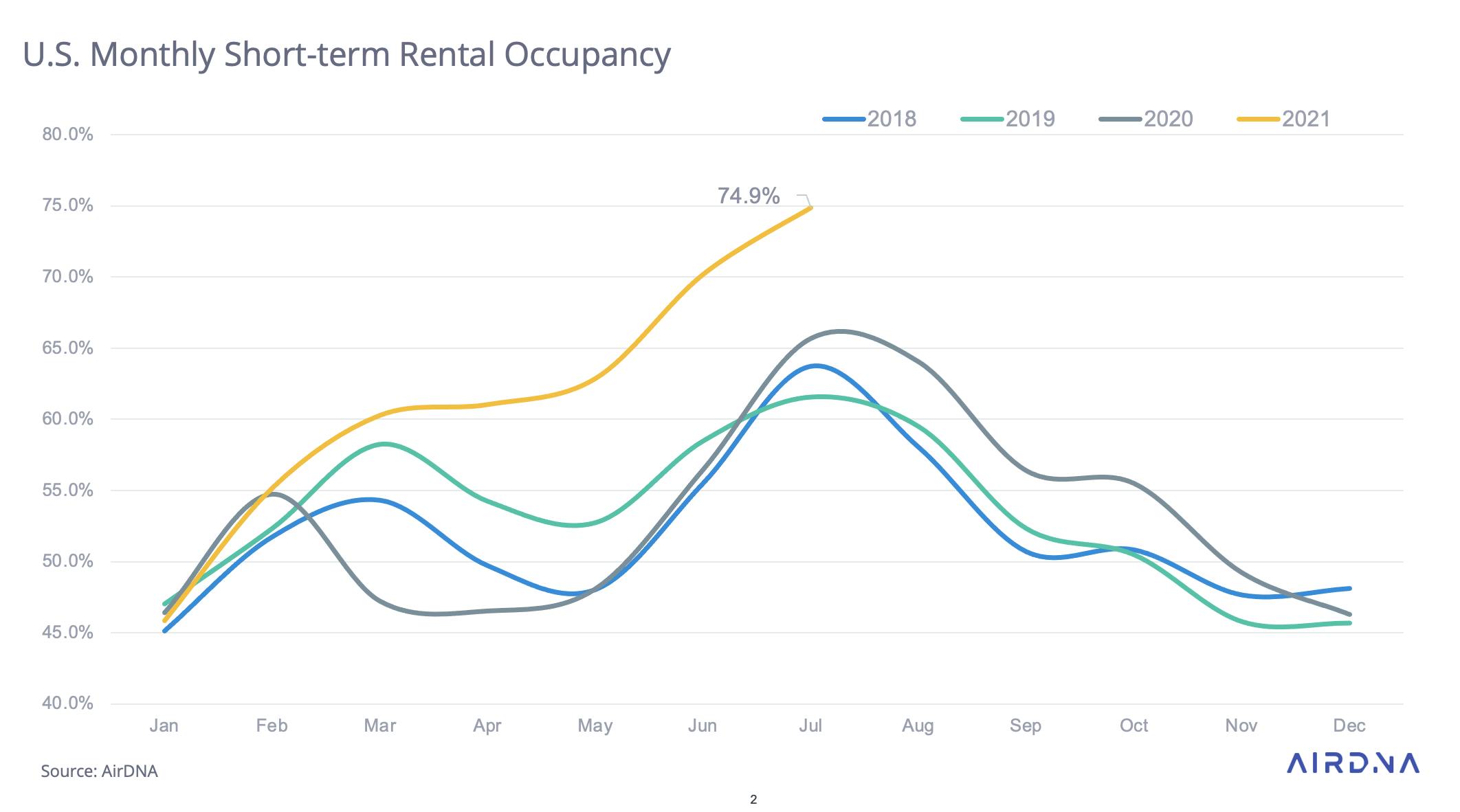 Occupancy was highest in coastal destination markets, where the average occupancy reached 81% for the month of July. This greatly exceeded the previous record of 69% which was achieved in both 2018 and 2020. AirDNA divides up the U.S. into 265 markets, of which 62 are classified as coastal destinations. 39 of the 62 markets had an occupancy greater than 80% and only Miami, FL (69.0%) and Naples, FL (69.5%) had an occupancy of less than 70%.
Mixing mountains and the coast, the Maine market of Down East/Acadia Coastal had the highest market occupancy in the U.S. of 88.4%. Other top Coastal Destinations include Atlantic City/Ocean City, NJ, and Pawleys Island/Georgetown, SC.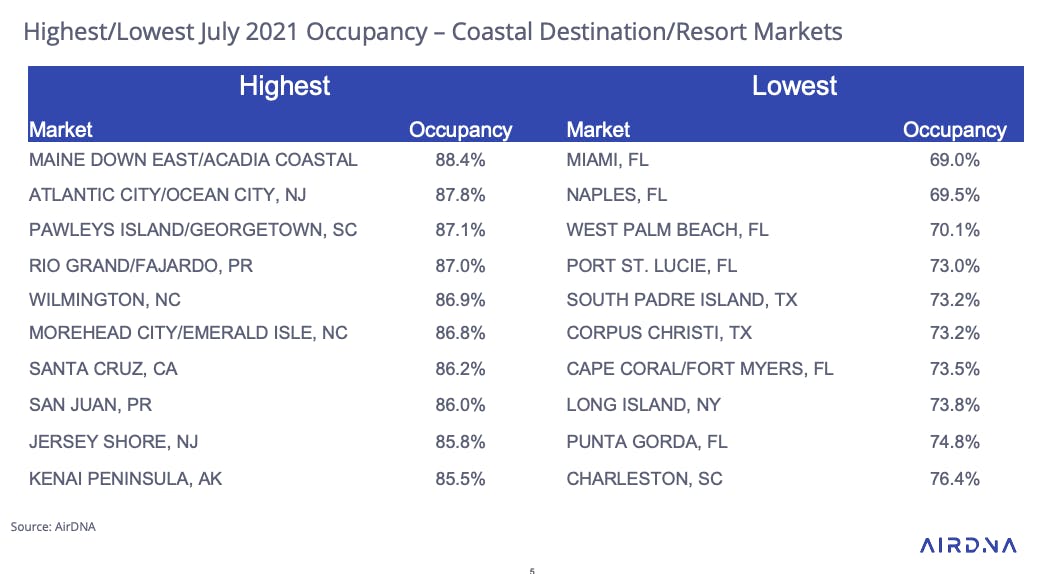 None of the 50 largest short-term rental markets made the top 10 highest occupancy markets, but 14 achieved an occupancy of more than 80%, up from six markets in June. The highest overall occupancies were in Myrtle Beach, SC (84.6%), Hilton Head, SC (84.1%), and Cape Cod, MA (84.0%) which are all popular summer beach destinations.
Higher occupancy does not always translate to more guests. Demand for STRs has fallen by more than 25% in Oahu, HI and Cape Cod, MA vs 2019. A big reason for that decline is a large reduction in available listings. In Cape Cod there are 34% fewer available listings than prior to the pandemic, while Oahu has lost more than 42% of its available supply.
We suspect that many of these homes are second homes that are being used by their owners and many of them may revert back to short-term rentals as people return to in-person school and work.
With these top destinations essentially full, demand has expanded to small towns/cities throughout the country where demand was up more than 35% above 2019 levels. Looking again at the top 50 markets, Big Bear, CA (+57.5%), Cape Coral/Fort Myers, FL (+56.4), and Ft. Lauderdale, FL (+46.6%) saw the biggest gains in demand in July while Boston (-55.4%), New York (-52.2%), and Los Angeles (-51.1%) saw demand remain 50% below 2019 levels.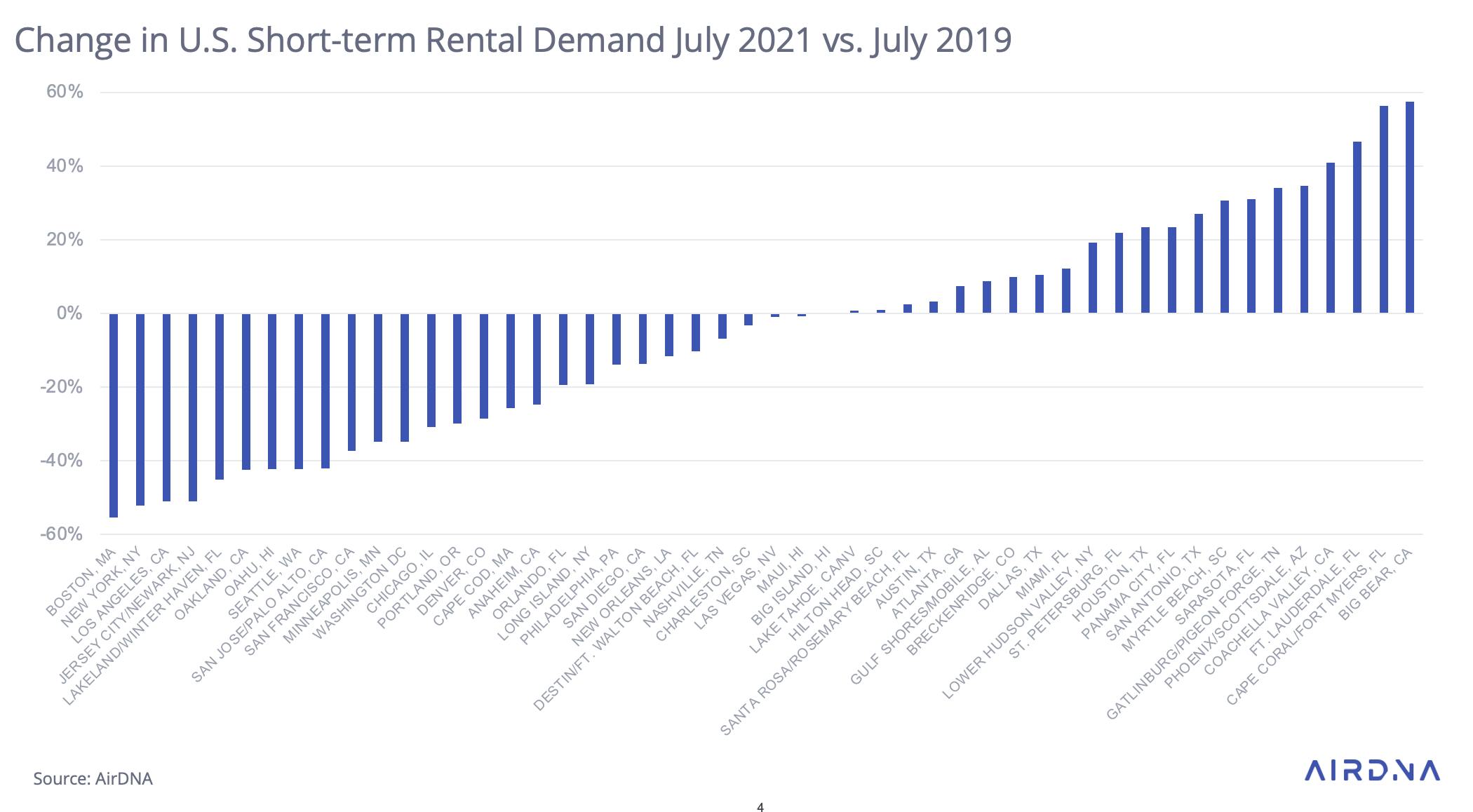 Guests are paying more this summer
As the economy recovers, gains in employment and incomes combined with reduced levels of spending throughout the pandemic have allowed many Americans to save at the highest levels in decades. Now, with pent-up demand for travel and lower levels of available listings, homeowners are finding they can capitalize on the high occupancy and charge more for their properties.
The average rate that a guest paid for a short-term rental in July 2021 reached $294.23, which was 20.3% higher than July 2019 and 8.8% higher than July 2020. The higher rates come from a variety of factors:
Larger Units: Guests are booking homes with more bedrooms that generally rent for higher ADRs
Types of Markets: Guests are booking homes in destination/resort markets that charge higher ADRs during peak seasons
Nicer Homes: Guest are booking homes with more amenities like hot tubs, pools, and pet-friendly policies
Even after controlling for bedroom size and market, ADRs have still significantly increased throughout the pandemic. ADRs are up in just about every market and room type, but the largest gains have been in the top demand growth markets. Markets like Joshua Tree, CA; Steamboat Springs, CO; Park City, UT; Moab, UT; and Coachella Valley, CA have all seen ADRs increase by more than 40% over 2019 levels.
Delta impacting new bookings: Cancellations ticking up
As COVID-19 cases, hospitalizations, and deaths tick up, new short-term rental bookings have slowed. For a second consecutive month, the rate of new bookings was actively below that of 2019 after exceeding 2019 levels from February – May 2021. In July, booked demand nights were 4.9% lower than in July 2019.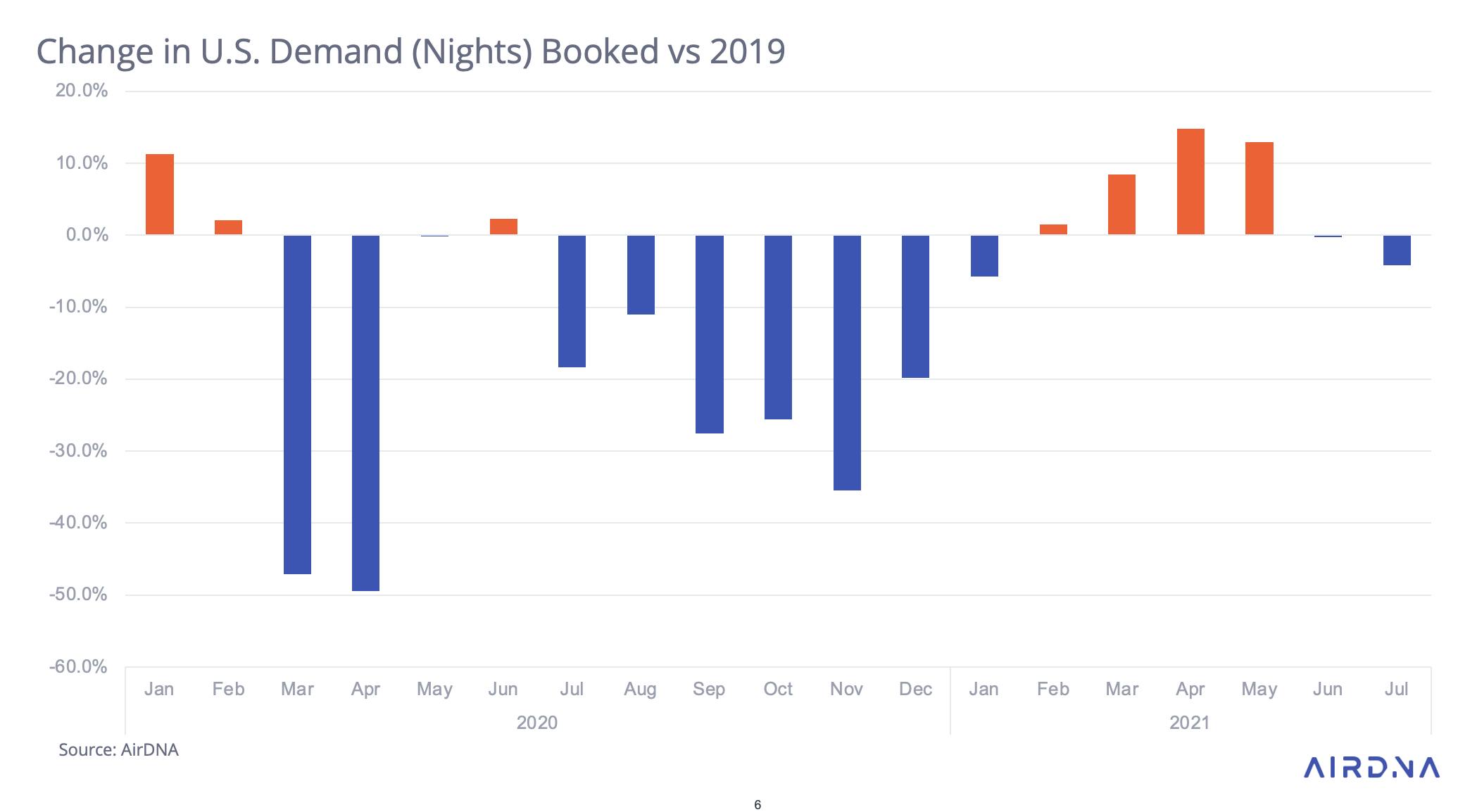 Along with a slowdown in new booked nights, cancellations have begun to increase again. In July, cancellations as a percent of nights booked increased to 20%. This is considerably higher than the 13% cancellation rate from April and May 2021, but well below the 121% in March 2020 and even the 29% cancellation rate from last November, which was the last time COVID-19 cases began to significantly increase.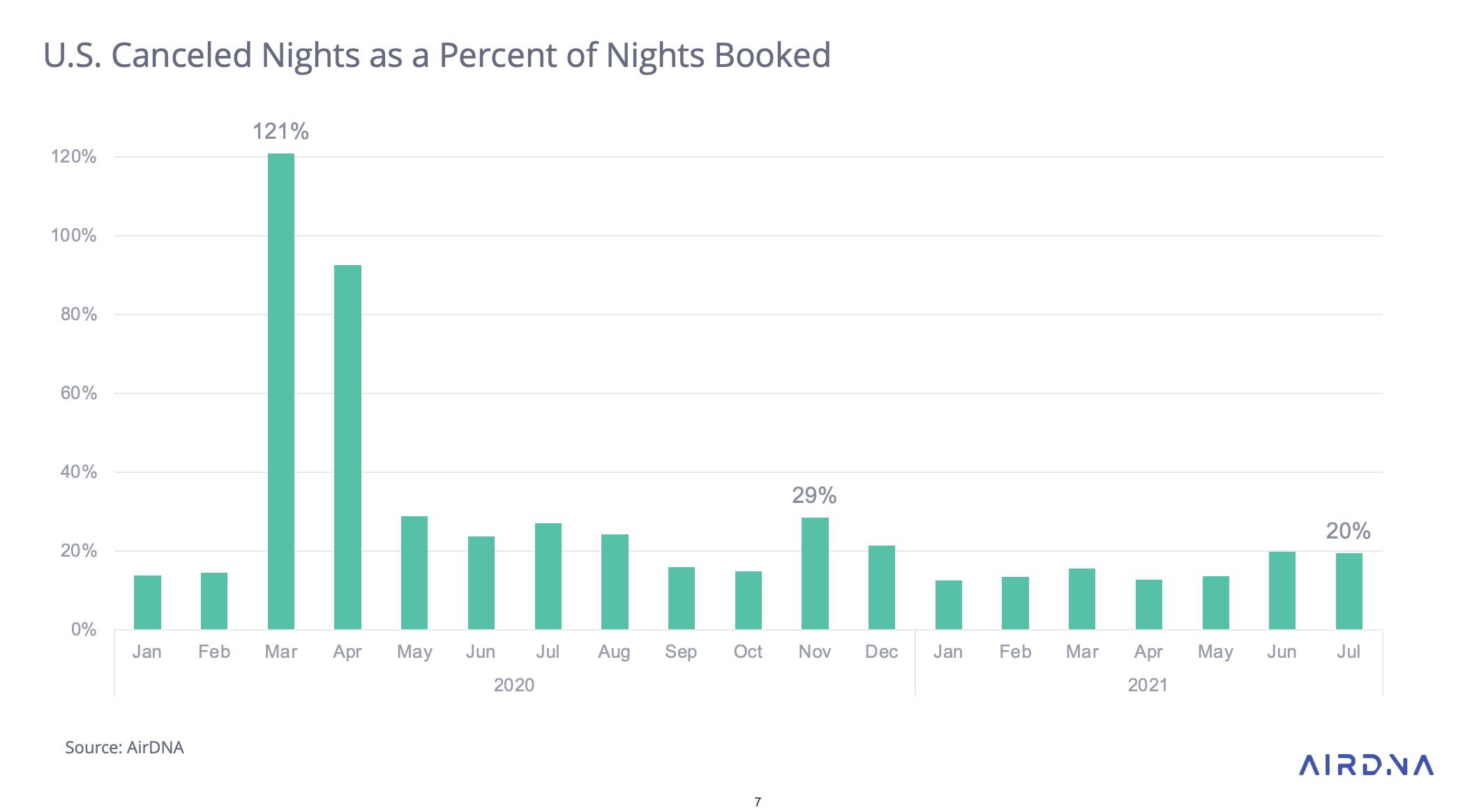 Cancellations rose in all U.S. location types in June and July as guests second-guessed their summer travel plans. The cancellation rate was highest in urban areas in large cities where it reached 21% in July and lowest in midsize cities where it still registered a modest 17%.
Risks loom but the outlook is still bright
In Maine, which reported the highest occupancy level in July, the state slogan is "The way life should be." While risks and danger still loom, it may offer some insight into what travelers are looking for today: rugged coast, remote lakes, 360-degree vistas, and the opportunity to explore the outdoors. Vacation rentals can offer the perfect option for exploring the state and have shown resilience over the past 18 months even in the face of a global pandemic.
Even with demand showing some slight weakness as COVID-19 cases rise again, the outlook for the rest of the summer and fall still looks promising, though it may fall short of our initial projections. In spite of the uptick in cancellations, demand is still pacing an average of 17% higher than 2019 levels in August and September and 23% higher for the fall (October – December).
Get started with MarketMinder today.
With powerful, easy-to-use tools, MarketMinder helps hosts and investors succeed in the short-term rental market. Ready to jump in?
Try it for free