Here's the Predicament.

The more data you have, the less likely it's going to be relevant to your unique rental property. While analyzing all of the 400+ rentals in your area will provide a high-level understanding of how your market behaves, there are probably only 40 properties that really matter.  The rest tend to introduce noise that can make it difficult to determine what information is personally relevant and actionable.

Should a downtown penthouse with a pool and ocean view take into account the budget-friendly listings nearby?  Is the new Airbnb host with zero reviews really competing for your same guests?

AirDNA has released the first tool in the world that allows vacation rental operators to narrow their focus and curate a comp set from nearby listings. Leverage comp sets for rate recommendations, revenue management insights, and forecasting -- all for your specific property.
The best part? It's all included within your subscription to MarketMinder.

Welcome to Custom Comps.
What is a Comp Set?

A competitive set (commonly known as a comp set) is a list of properties with features and characteristics similar to your own. Hosts and property managers use comp sets to benchmark their listings against the true competition in addition to the market as a whole.

Comp sets are an invaluable tool for sizing up the competition and extracting personalized insights for your specific properties.
Components of a Comp Set

Here are the 6 major components to consider when creating a comp set for your property.
Amenities: Amenities comprise the true makeup of a vacation rental. Hone in on properties that offer similar features as yours (and find out which to consider adding).
Size and Guest Capacity: Conduct an apples-to-apples comparison by aligning your property with others of a similar size.
Distance and Location: Location is the #1 factor guests consider when booking a vacation rental. The closer the property, the more competitive it may be.
Performance Metrics: Revenue, average daily rate, occupancy rate -- these metrics are paramount to finding an accurate comp set.
Experience: How professional is your competition? Factoring in the number of reviews for a competitive property is key
Property Quality: The final aspects of a comp set are property ratings and Superhost status. Use these metrics to filter out properties that don't compete with yours. Now that we know the major components of a comp set, here's how to create one for your property.
Step 1. Connect your Property

Connecting your property to MarketMinder is easy. Simply navigate to "My Properties," copy the URL from your Airbnb listing, and paste it into the box. Next, verify your listing by exporting your Airbnb iCal.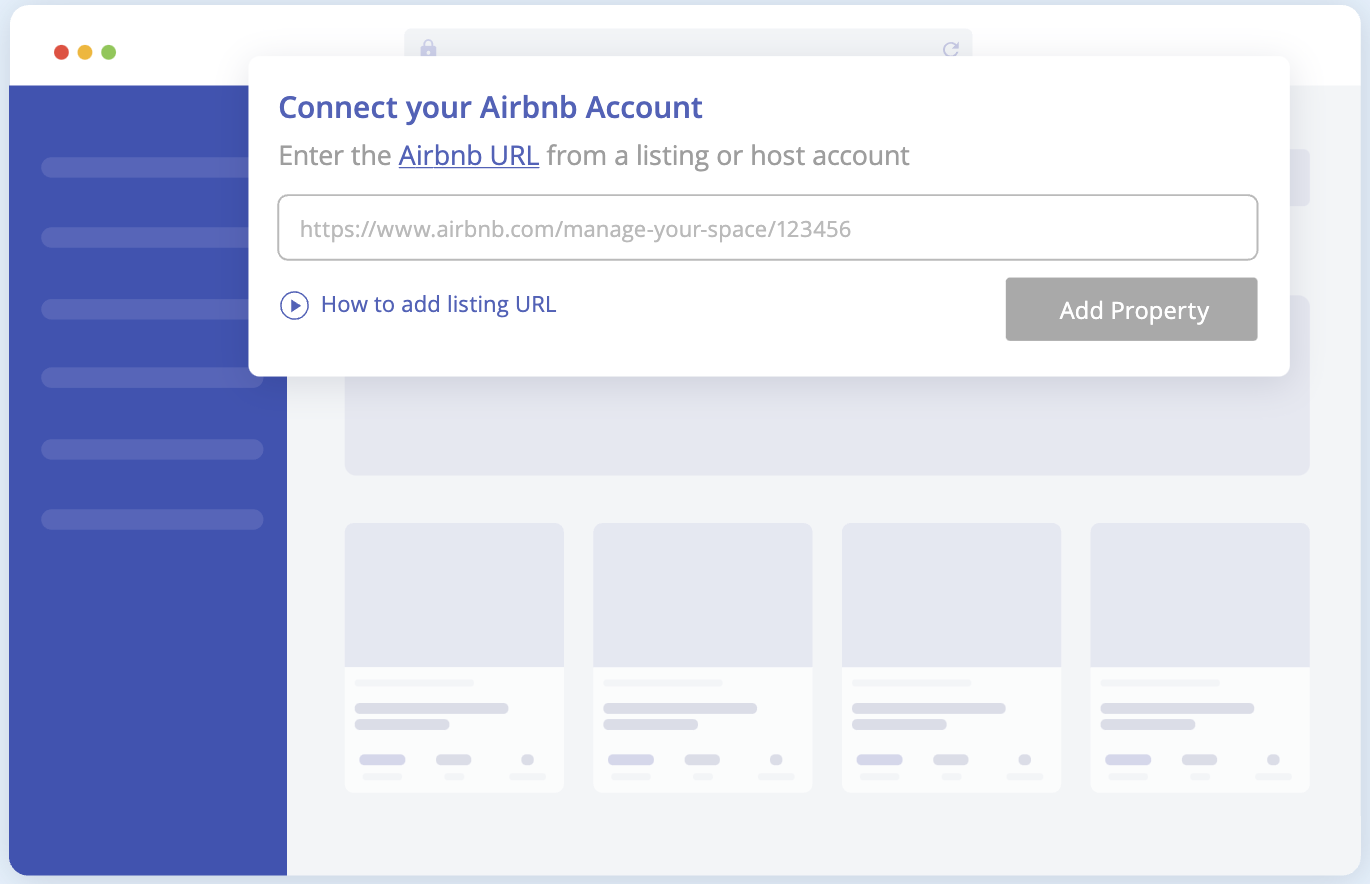 That's it! You'll now see your property as an active listing within the "My Properties" tab.
Step 2. Get to know your dashboard

The next step is to leverage AirDNA data to create a list of properties that accurately match your own. Hover over your listing and click on "Customize Comp Set." The following screen is your new comp set dashboard.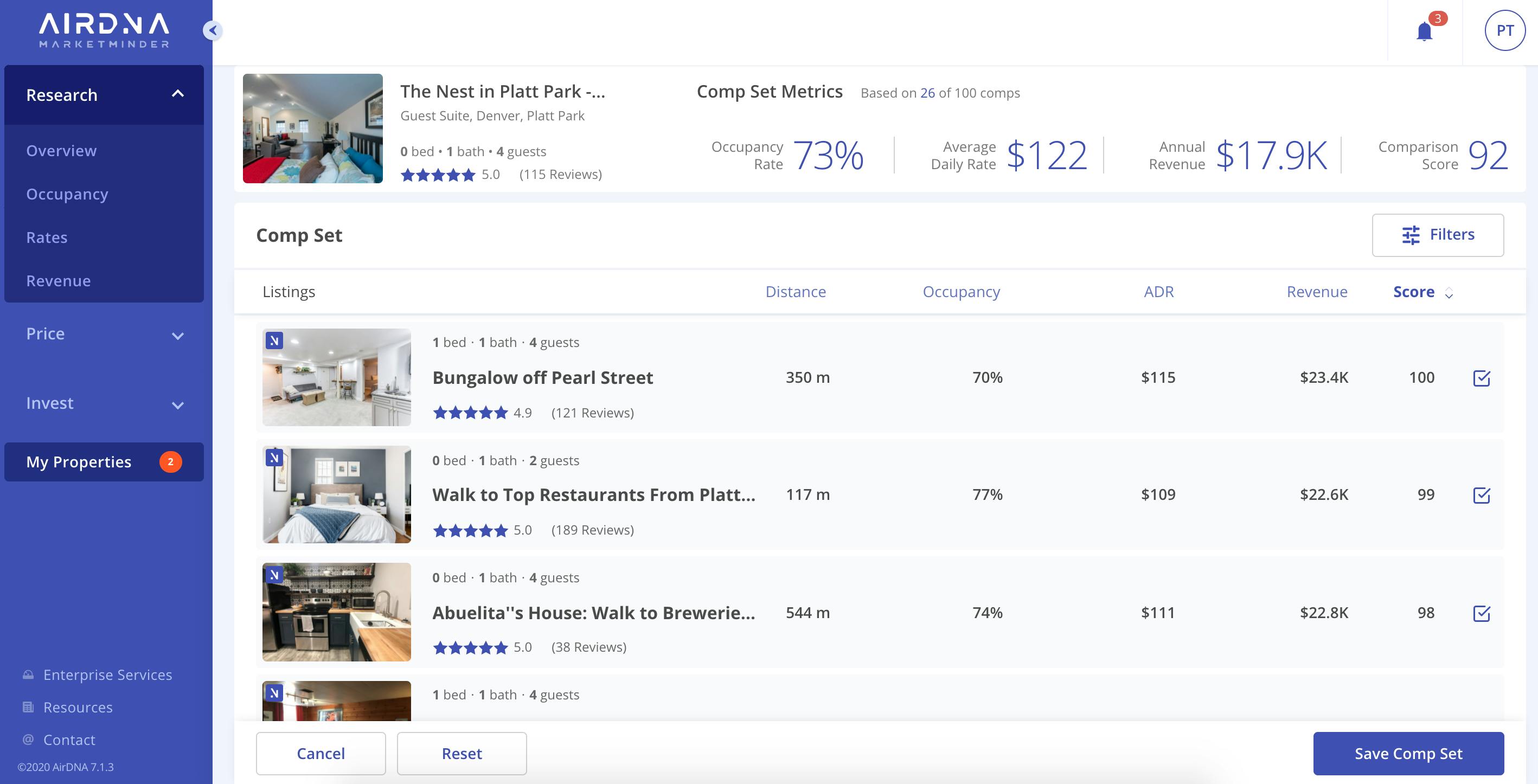 Step 3. Customize your comp set

The next step is to hand-pick the properties that you'd like to include in your comp set. Sort the columns for distance, occupancy, ADR, revenue, and comparison score to find the properties you see best fit. Need more information on a specific property? Simply click its title and you'll be directed to their live listing on Airbnb. Here you can swipe through photos, read their descriptions, reviews, and more.

Once you've found a property that will serve as a reliable benchmark, check the box to add it to your comp set.
Pro Tip: The larger the comp set, the better the data. While only 5 properties are required to save a comp set, we recommend including at least 20 properties. A large, diversified sample size will help minimize any erratic outliers and provide spot-on analytics.
Adjusting your filters

Another powerful way to identify your comp set is by introducing filters. Click the "Filters" button towards the top right to prompt the pop-up.

Here you'll be able to narrow your comp set by adjusting sliders for bedrooms, bathrooms, guests, max distance, host rating, and # of reviews. You can also use the drop-downs on the right to choose properties based on important amenities that are relevant to your market. The minimum and maximum values for each slider are pre-populated based on the list of comp properties.

Note that excluding amenities is just as important as including them. Are pets not allowed in your property? Add that to the section for "Without these amenities."

Once you're done applying filters and finalizing your comp set, click "Save Comp Set" in the bottom right.
Step 4. See your Booking Performance Score

Once you've created your comp set, your My Properties dashboard displays three metrics that help gauge the health of your property's future performance. These metrics are updated weekly, and they each measure the future performance of your properties.
Future Occupancy: How many nights is your property booked over the next 6 months — and how does that compare to the average of your comp set? Future Occupancy measures the difference.
Booked Rate: Are your listings getting booked at higher or lower rates than those of your neighbors? 'Booked Rate' shows the percentage difference in ADR between your properties and your comp set average.
Lead Time: Do you tend to pick up last-minute reservations or get booked months in advance? And how does that trend compare to your neighbors? 'Lead Time' is the number of days between when a guest makes a reservation, and when they check-in.


Step 5. Next-Level Dynamic Pricing

Now that your comp set is saved and you've seen your property comparison metrics, it's time to take action. The first place your comp set data will appear is the "Smart Rates" section within MarketMinder's  "Price" tab.

For those unfamiliar with MarketMinder's dynamic pricing feature, the first tab for Market Rates compares your rentals' current rates to actual real-time market demand. The "Smart Rates" calendar suggests daily pricing tips based on essential attributes to deliver the most accurate pricing data available.

Smart Rates' integration with Futurestay makes pricing your property even simpler — and personalized. You can easily automate your pricing to set minimum and maximum rates to optimize occupancy or maximize your ADRs.

Today, we're going one step further with Comp Set Rates. Here you'll find highly personalized rate recommendations based on your pre-saved comp set.

For each day throughout the next 6 months, here's what you'll see:

Your listed price and availability
The median booked and available prices of your custom comp set.
The current occupancy rate of your comp set
The number of listings already booked and still available within your comp set.
The difference between your price and your competition's price.

Step 6. Pacing

Pacing is a category of analytics that looks at future trends for your vacation rental market. Earlier this year we released pacing as a new tab within MarketMinder to analyze your market up to 6 months in the future.

Today we've unlocked Comp Set Pacing -- the ability to analyze the pacing of your specific comp set. Here are the 3 charts where it will appear.
Future Demand Analysis: The first chart within Comp Set Pacing allows you to hover over any date in the future and analyze major KPIs such as occupancy rate, the # of booked listings, and the median booked rate of your competition. There's also a slider at the bottom that allows you to zoom into specific time frames.
Rate Analysis: Compare booked rates vs. available rates to uncover the pricing strategies and successes of your direct competition. You can also compare the previous year's booked rate for benchmarking and to understand where potential opportunities for greater yield may exist.
Booking Trends: Are your competitors getting booked for a certain time frame, but your property isn't? Now you can know with certainty. With the Booking Trends chart, hover over any date in the future to find out how many reservations your competition received in the last 7 days, the last 30 days, the last 60 days, and all time.
Get started with MarketMinder today.
With powerful, easy-to-use tools, MarketMinder helps hosts and investors succeed in the short-term rental market. Ready to jump in?
Try it for free