As of Q2 2021, there are over 600k multifamily listings in the U.S. listed on Airbnb or Vrbo as short-term rentals (STRs). The vast majority of these listings are located in the largest U.S. cities, many of which were ravaged by the COVID-19 pandemic. With a large percentage of workers able to work remotely — and the high cost of living that comes with many of these cities — it's no surprise that many people have opted to move to lower cost areas until the benefits of living in the city match or surpass the cost again.  
It appears that moment may be happening with apartment rent soaring in June with annual growth in long-term rental (LTR) rates growing more than 10% in 53 of the country's 150 largest metros, according to RealPage Market Analytics.
Likewise, travel demand has been upended over the past year with demand for short-term rentals in the 50 largest cities still down about 25% from 2019 levels. Fortunately, however, demand is up from a 50% drop in 2020 and a full recovery expected by 2023. Within these cities' high density areas where most highrise apartments are located, demand is down by more than 37%, while in suburban areas, full of single-family homes and garden apartments, demand is down just 7% from 2019 levels. 
Both demand and rent remain in flux for both the long-term and short-term rental industries. This analysis takes a deep dive to understand the current opportunity for apartment rental arbitrage in the U.S., leveraging data from the industry's leading sources: RealPage Market Analytics and Migo for Long-term Apartment performance, and AirDNA, a short-term rental data and analytics company.
What is Rental Arbitrage?

'Rental arbitrage' is the act of renting a property long-term and then re-renting it short term on sites like Airbnb or Vrbo. This analysis focuses on understanding the current opportunity for renting apartment units as STRs (apartment rental arbitrage) by looking at the difference in the costs of a long-term lease (1+ years) and the potential revenue of renting it out nightly on a platform like Airbnb, Vrbo, or Booking.com. We show how it has changed throughout the pandemic, and which markets and submarkets present the most attractive opportunities today in the United States.
Methodology

Multifamily listings, primarily located in apartment buildings, are concentrated in the largest U.S. cities and our analysis includes data on 34 U.S. markets with the most short-term rentals and their submarkets. Long-term rental rates and occupancy levels are provided by RealPage Market Analytics and Migo while short-term rental performance comes from AirDNA. Both include data from 2016 through 2021 and, for consistency, Real Page's market and submarket geographic definitions were used for both datasets.  
To be included in the analysis, a submarket needed to have more than 20 total active STR listings throughout the five-year period and at least 10 listings of an individual bedroom type to return results to ensure small samples of listings didn't skew the results. We analyzed the revenues excluding cleaning fees, taxes, and fees with the assumption that those additional costs would be added to the rental rate to cover those expenses. 
It's important to account for additional expenses necessary to successfully manage a short-term rental, like start-up costs (appliances, furniture, decor, and licensing and legal fees), as well as ongoing costs like utilities, maintenance, toiletries, and insurance. Given the variable nature of these expenses, they were not included in our analysis. 
Rental Arbitrage and COVID-19

Across the 34 markets, the number of multifamily listings dropped by just 2% over the past two years — but with a significant divergence across markets. Large urban coastal markets saw steep declines in listings, falling by more than 25% in Boston, Los Angeles, Seattle, and New York. On the other hand, listings in San Antonio, Dallas, and Jacksonville grew by more than 40% over the same period.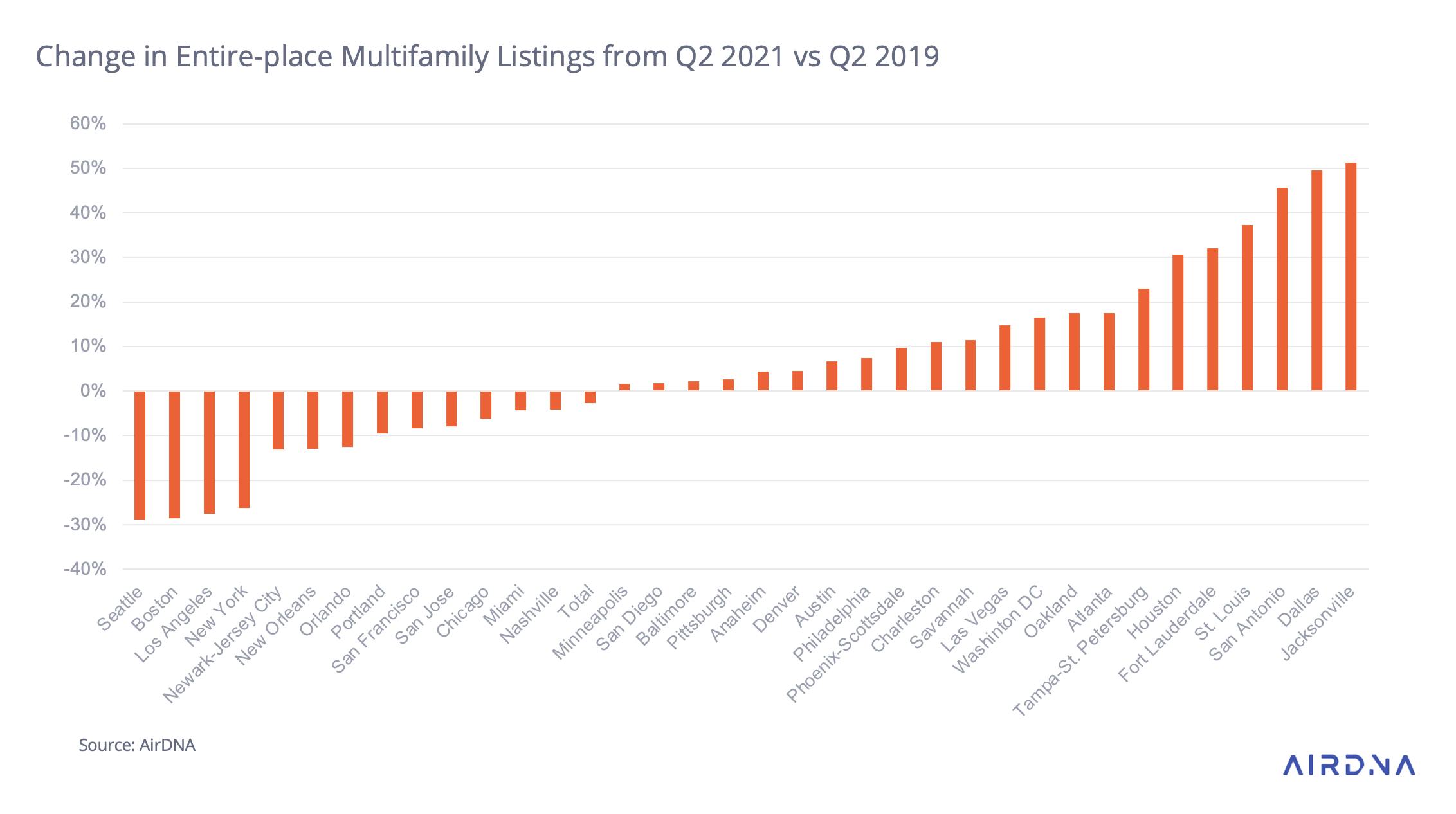 There are many factors that may have contributed to the changes in listing activity including:
New regulation in markets like Los Angeles and Boston
The closing of short-term rental companies like Stay Alfred and Lyric 
New and growing groups like Sonder, Mint House, and Vector Travel  
The changing economics of short-term rental opportunities

Prior to this past year, there was very little correlation between annual percent change in the average revenue per listing earned in the LTR and STR markets, and all markets in prior years generally showed a positive average arbitrage opportunity. That changed throughout the pandemic, as the rents and revenues shifted dramatically. In its wake, demand patterns changed for both the multifamily housing and lodging industries.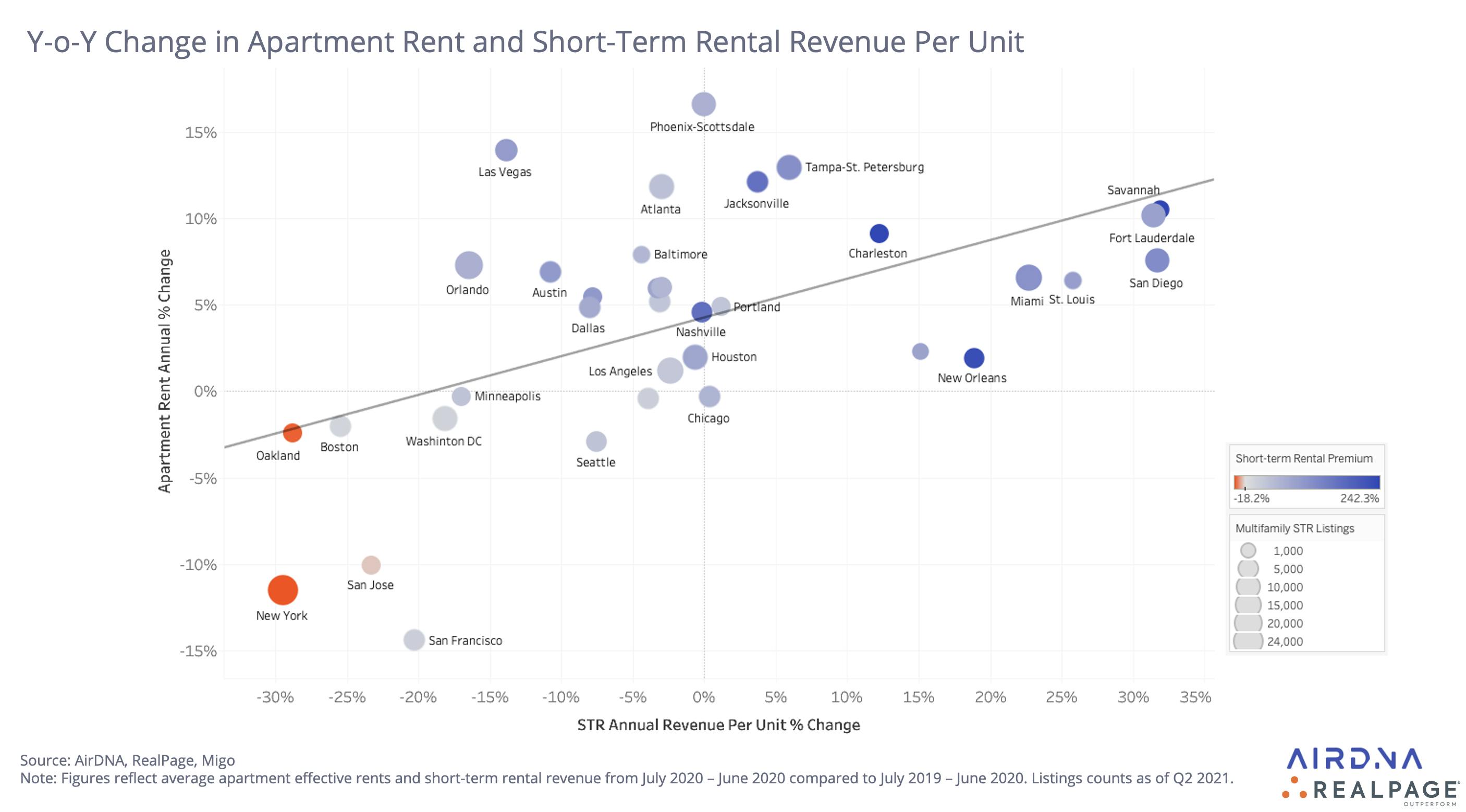 In cities like New York and San Francisco, apartments saw increases in vacancy and declines in effective rents, reducing the average effective rent by 10% to 25% over the past year, depending on the size of the unit. This decrease correlated with a significant drop in the revenue earned in short-term rentals over the same period. Given the larger decline in revenue earned for lodging uses, any potential for rental arbitrage appears to have vanished in these markets.
In an opposite but similar vein, demand for both lodging and housing has increased dramatically in many U.S. cities. Demand for short-term rentals in coastal destinations was up over 20% in the second quarter of 2021 vs 2019. That increased demand has helped edge the revenue earned per unit even higher for these markets. Coupled with only modest increases in apartment rents, the potential for rental arbitrage expanded in specific markets and submarkets that remained in high demand throughout the pandemic.
Ranked: The Best Cities for Rental Arbitrage 2021

The table below ranks the 34 largest markets with multifamily short-term rental listings, revealing the best cities for Airbnb rental arbitrage. You can sort by LTR rates and — the ultimate determining factor — arbitrage potential. Use the filters to switch between bedroom types (Studio, 1 Bedroom, 2 Bedrooms, 3+ Bedrooms, and the Market Average).
Topping the lists again this year are familiar markets. In analyzing the same data over a five-year period, the five markets that, on average, would earn the highest rental arbitrage premium continue to include Savannah, Charleston, New Orleans, Nashville, and Jacksonville. Reflecting the risk associated with rental arbitrage, only Jacksonville has seen significant gains in multifamily listings since 2018 as new regulations have likely reduced other markets' growth potential. 
Other Rental Arbitrage Findings
New to the top of the list is San Diego, where apartment rents have grown a swift 4% per year over the past five years, but still significantly lower than the 10% per year for short-term rentals 
Most markets (25 out of 34) saw a decline in revenue potential from rental arbitrage as apartment rents only fell in seven of the 34 markets 
The larger the unit the greater the rental arbitrage opportunity. The short-term rental premium increases from an average of 46% for a studio apartment; 53% for a one- bedroom; 75% for a two-bedroom; and 140% for a 3+ bedroom apartment.
There are pockets of potential opportunity in all markets. On average, a market might appear unappealing, but all markets have combinations of submarkets and bedroom types that could succeed.  
Ultimately, every deal is different and it's important to remember that the data presented in this analysis represents the average performance of properties in that market or submarket. No single property's performance matches the submarket or market average, and each property should be analyzed separately. Some tools to help with a more detailed analysis include:
Long-term Opportunities through Short-term Rental Arbitrage?

To give a better understanding of how rental arbitrage may pencil out at a more granular level, we have provided the following tool that allows you to look at average LTR and STR listings' performance at the submarket level, which submarkets rank at the highest for rental arbitrage opportunity, and which ones have emerged over the past year. Use the dropdowns to filter to a specific market and bedroom count.
The Part-time Rental Arbitrage Method

With the recent rise of remote work both before and accelerated by the pandemic, more workers have increased flexibility, enabling them to work anywhere with a stable WiFi connection. Renters who want to get into the rental arbitrage business only when traveling have new opportunities in 2021. 
In many submarkets throughout the United States, renters can rent out their apartments for as few as five nights per month to cover an entire month's rent — an incredibly alluring prospect for renters in some of the country's most expensive cities. 
...But Why Would an Apartment Owner Allow Rental Arbitrage in Their Building?

Many apartment owners understand that a resident's rental arbitrage business brings increased occupancy, meaning more income for both the long-term renter and, in turn, themselves. Rental arbitrage allows apartment owners to share in profits from these opportunities. It also enables them to diversify their rental income. 
Building owners can use Migo by RealPage to monitor and monetize home-sharing activity in their buildings. However, each party should sign a rental arbitrage contract prior to engaging in practice. It's also a wise investment to look into ​​rental arbitrage insurance. Migo helps buildings facilitate both of these items.
But it's not all for the apartment owner. Vrbo or Airbnb rental arbitrage provides an additional amenity for other long-term renters in the building.  Wouldn't it be great to have a short-term rental unit in your building for your in-laws to use next time they came to visit, instead of using the fold-out couch? Residents should keep this in mind when discussing the prospect with their apartment owner and frame it as a win-win for both parties. 
Yes… It can be risky

With any sort of real estate arbitrage, there are inherent risks and a long list of cautionary stories (think:WeWork). It is essential to understand the data and how and why the arbitrage opportunity might be temporary. Economic theory suggests that arbitrage should only be temporary and that the market will adjust to supply/demand pressures.  
In our multifamily example, that would either be through a reduction in supply of available apartment units increasing the rent for all apartments and thus reducing the profit opportunity.  As more units are added to an area, that may also increase competition for guests which can lead to discounting and a reduction in the overall revenue potential for an STR. Other risks can come from new city or state regulation and even changing policies from the building owner.  
Starting a Rental Arbitrage Business Doesn't Have to be Difficult 
With rental arbitrage opportunities available across the country, there's arguably never been a better time to get into the space. Like any other venture, there's due diligence to perform and tools to explore to ensure a successful endeavor. 
That's where Migo and MarketMinder come in. Migo brings apartment owners and residents together in the rental arbitrage venture, while MarketMinder gives renters the data they need to optimize their pricing strategy to capitalize on revenue opportunities for themselves and their apartment owners. 
Data makes the difference, and Migo and MarketMinder are powered by the most reliable data in the short-term rental space. 
Get started with MarketMinder today.
With powerful, easy-to-use tools, MarketMinder helps hosts and investors succeed in the short-term rental market. Ready to jump in?
Try it for free