The Destination Package for forward-thinking tourism pros
The Destination Package arms tourism pros with a comprehensive view of vacation rentals in any market—allowing you to track everything from supply to bookings, tax revenue, traveler origin, future outlook, and more.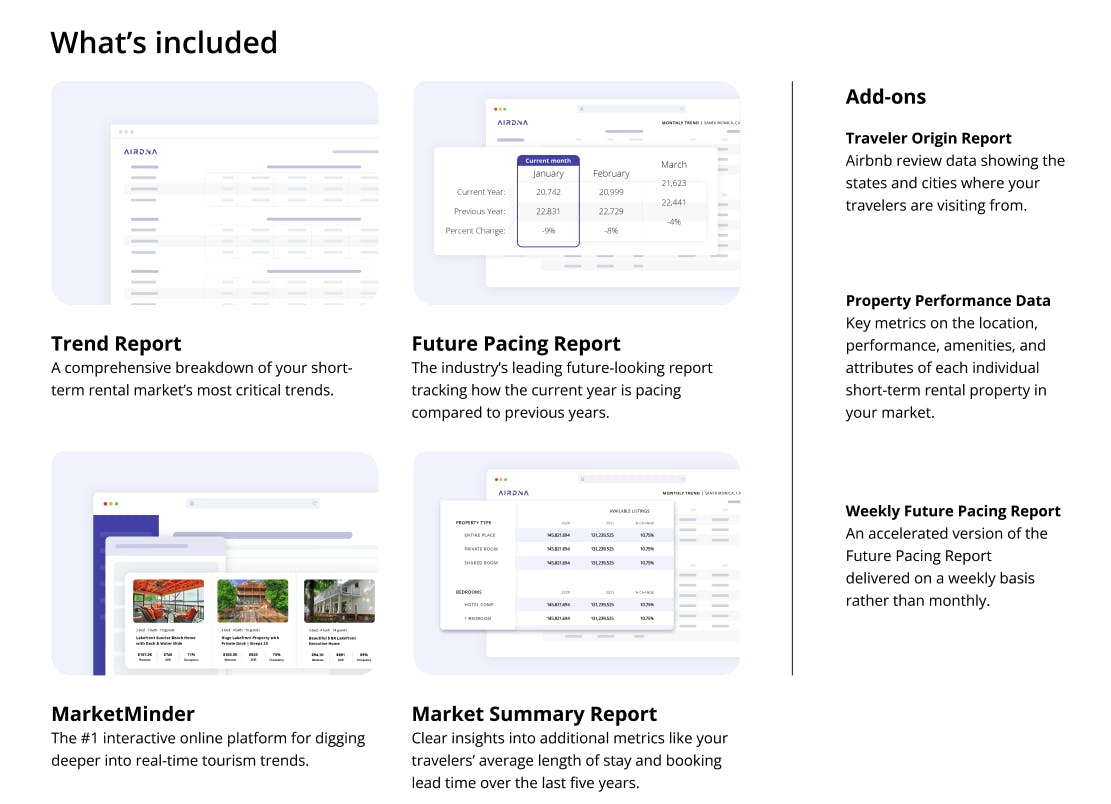 Trend Report
Comprehensive insights for your organization
Your new home base for tourism insights
The AirDNA Trend Report is the world's most accurate, comprehensive resource for understanding everything about your short-term rental market.
Track supply, demand, and recovery
No. More. Blindspots.
Use the trend report to track crucial metrics for your tourism organization. Discover how many vacation rentals are in your backyard, how many are getting booked, and what they're charging per night.
See breakdowns by property type
Not all rentals are created equal
Are the studios and 1-bedrooms accounting for more bookings, or is it the larger homes with bigger groups? Is it inner-city apartments, or cabins on the outskirts? Use the trend report to easily report on the true makeup of your lodging market.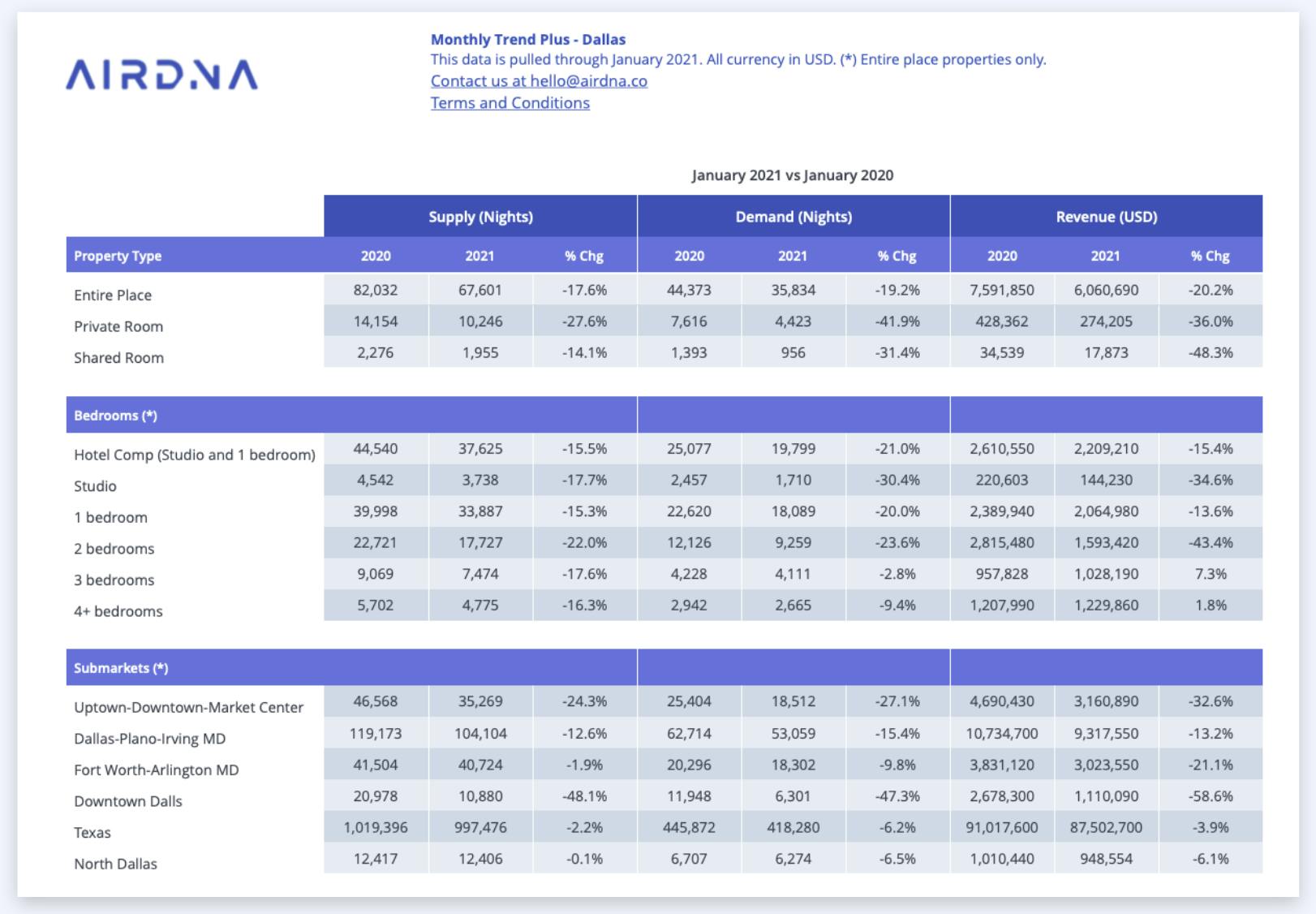 Trend Report
Discover new hotspots
Find out where travelers are really staying
See historical trends by individual zip code and neighborhood to determine where your non-hotel travelers are spending their time and money.
Unlock tax revenue insights
Uncover true economic impact.
Use the trend report to uncover exactly how much revenue vacation rentals are generating for government and local businesses.
Master your market's seasonality
It's time to rethink "peak season"
Short-term rentals are redefining when we travel, and how long we stay for. Use the trend report to present new findings on shoulder seasons, long-term stays, and more.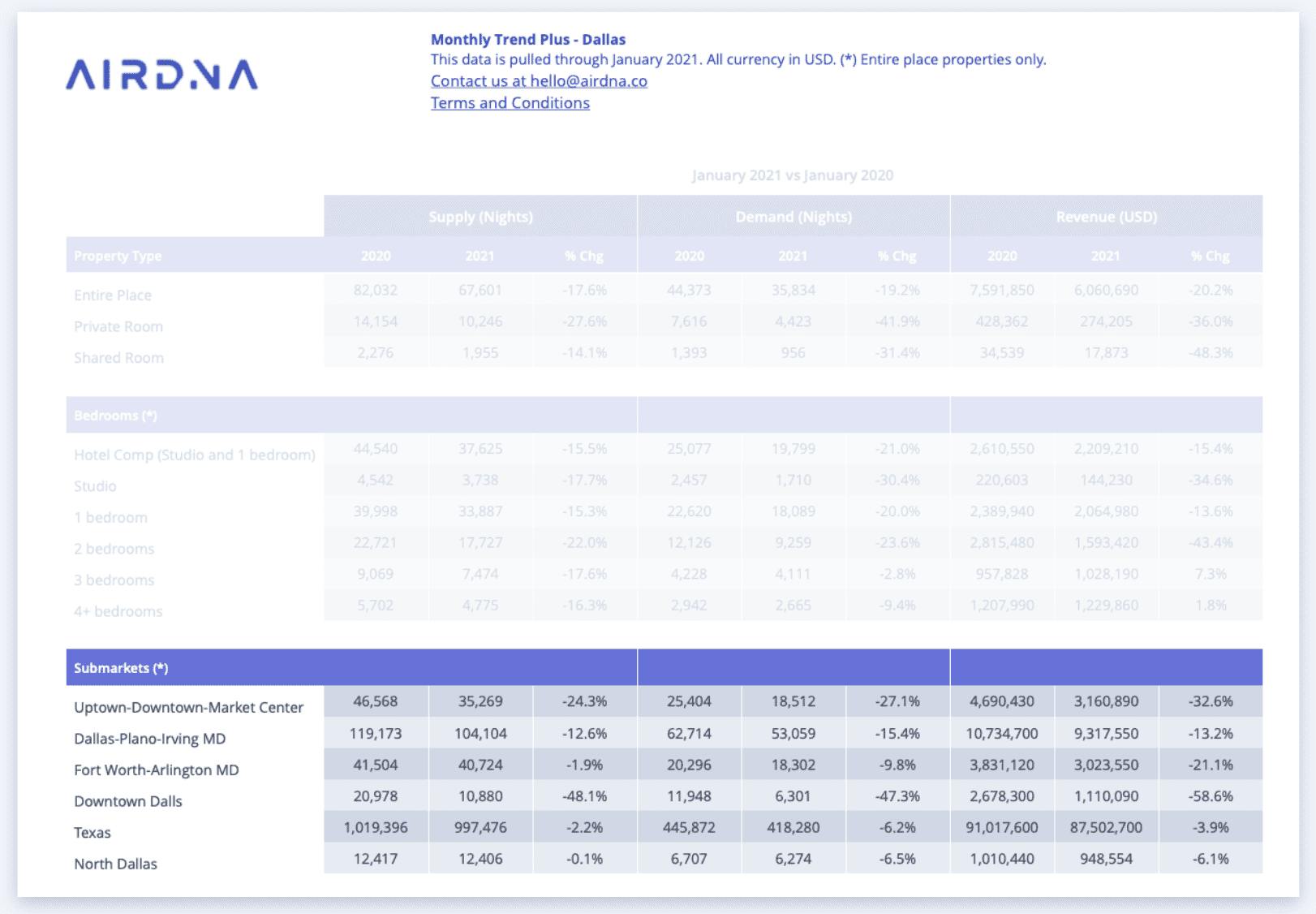 Future Pacing Report
Future-looking insights
A new crystal ball for tourism
The AirDNA Pacing Report tracks how the outlook for the current year is pacing compared to previous years. For example — see how many reservations are on the books for a future holiday weekend to see how you're stacking up to last year.
Next-level benchmarking
Compare your destination to your neighbors
Travel doesn't happen in a vacuum. Use the Future Pacing report to benchmark your destination against neighboring cities to see if they're seeing the same trends.
Outlook for all key indicators
Become the go-to source of authority
Use the Pacing Report to inform members of your community on the latest trends in vacation rentals. Report the future outlook for active listings, demand, supply, nightly rates, revenue, and more.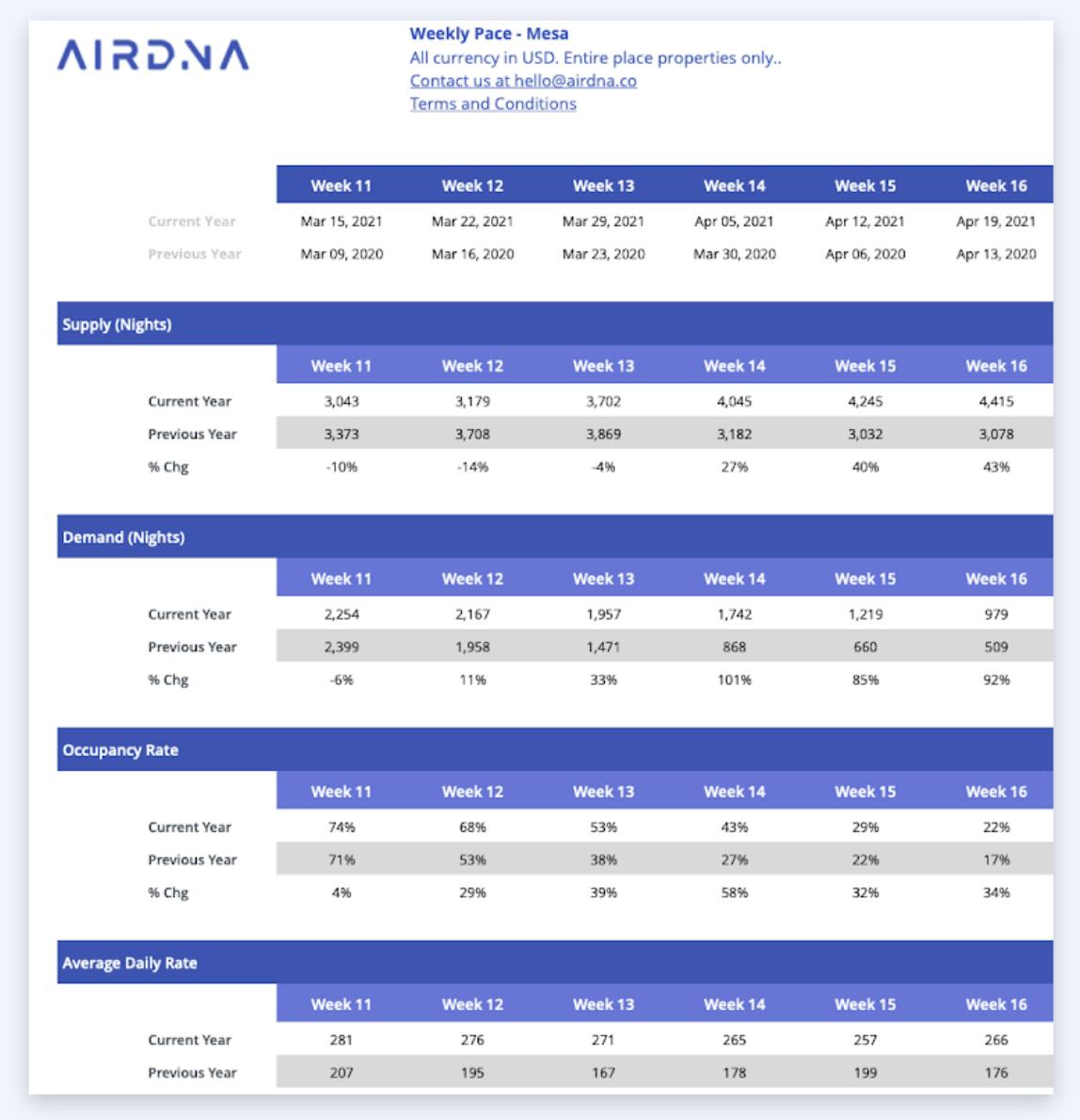 Traveler Origin Data
Introducing Traveler Origin Data
Go beyond demographics with traveler origin data
Gain insight into the states and cities your visitors are traveling from with Traveler Origin data.
Unlocked review data
Add color commentary to your analytics
With access to the full reviews left on Airbnb, your destination will be able to know exactly what travelers are enjoying about their stays.
Measure marketing effectiveness
See real return on investment
When your destination runs campaigns, you want to know if they were effective. Use Traveler Origin Data to report on spikes from specific cities, states, and countries.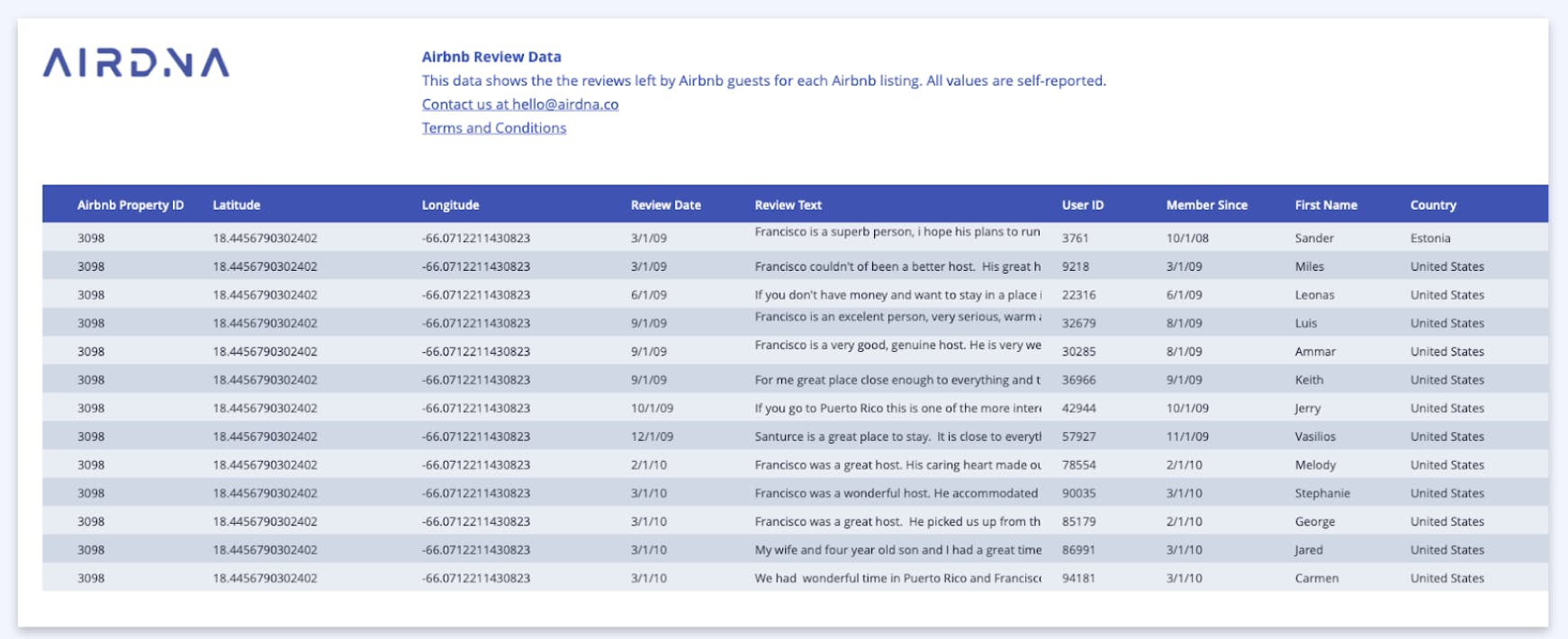 Property Performance Data
Granular, property-level data
Introducing property-level insights for your tourism org.
Sometimes market data doesn't cut it. That's why we offer solutions that track the performance of individual short-term rentals. See how any given active listing performs in terms of occupancy, rates, length of stay, and more.
Custom analysis
Slice and dice property data as you wish
Create unique comp sets to see how certain properties with certain criteria compare to others.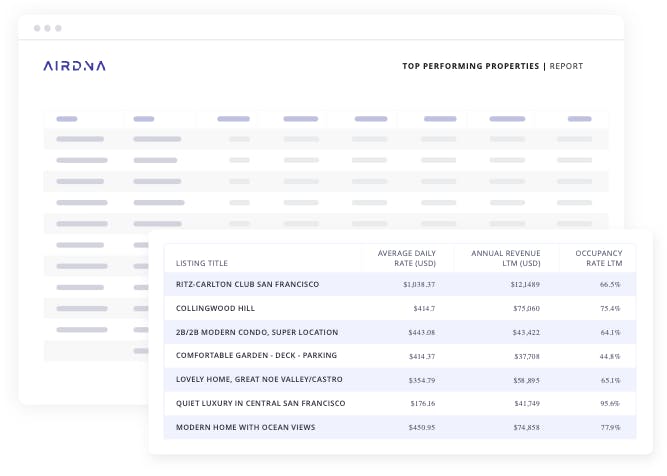 10M
Global vacation rentals tracked
50K
All-time AirDNA customers
98.7%
Accuracy on all estimates
Loading...