Dynamic, accurate, and now automatic.
MarketMinder's integration with Futurestay allows short-term rental hosts to automatically push rates to major booking platforms — all without lifting a finger. Get started with automatic, data-backed vacation rental pricing today.
Automatic Dynamic Pricing
The #1 way to price your vacation rentals just got easier
Setting nightly rates is one of the most important aspects of managing a vacation rental. Hosts and property managers who dynamically price rentals according to demand and seasonality consistently outperform the competition.
That's why we built Smart Rates, the industry's most accurate tool for vacation rental pricing. Smart Rates analyzes real-time market demand and provides personalized pricing suggestions based on holidays, days of the week, booking lead time, and more.
Our Partnership
Why Futurestay?
Now, MarketMinder users can link properties to Futurestay to automatically push Smart Rates to their live listings.
Futurestay is an operating system that allows users to build, grow, and optimize a short-term rental business. Their management platform provides built-in connectivity to listing channels, automates financial transactions and guest communications, and powers direct-booking websites for each owner.
How it works
Get automating in minutes
By connecting properties to Futurestay, MarketMinder subscribers are able to easily push Smart Rates' suggestions directly to Airbnb, Vrbo, Booking.com, and Google Vacation Rentals.
Users have the ability to choose a pricing strategy (Balanced, Boost Occupancy, or Higher Price), as well as the ability to set minimum and maximum rates for each property.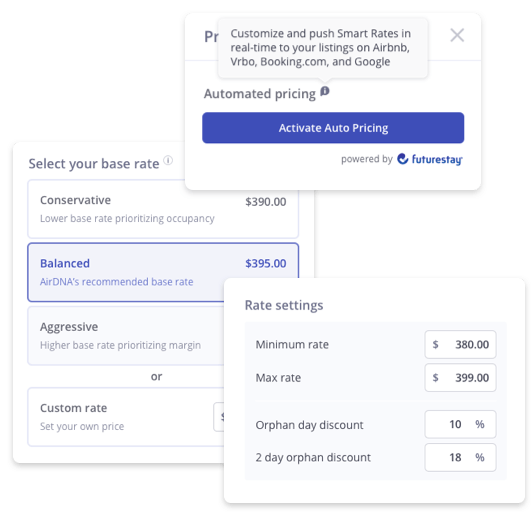 Who it's for
Calling all short-term rental operators
Connecting properties to Futurestay is ideal for short-term rental operators who:
Are looking to automate their pricing strategy and remove the manual steps of entering rates into hosting platforms.
Want to automate more operational tasks in addition to setting nightly rates (guest communication, financial transactions, direct bookings).
Are cost-conscious and not interested in paying local property management fees of 20%-40% of revenue.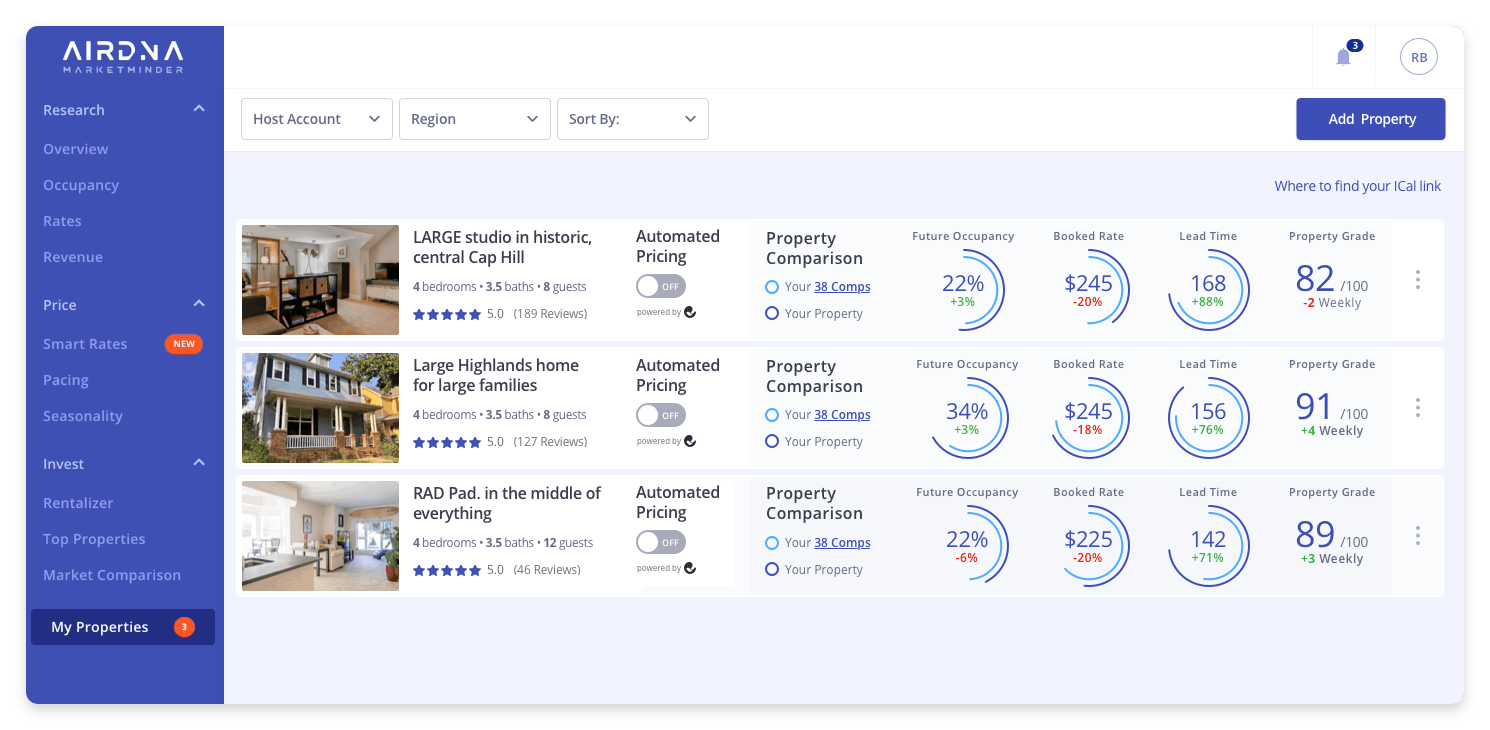 Ready to get started?
Don't overcomplicate pricing for your vacation rental. Let MarketMinder do the research and Futurestay do the automating.