Welcome to My Properties. The #1 tool for optimizing your vacation rentals.
Give your listings an immediate boost by leveraging MarketMinder's all-new built-in tool for hosts and property managers.
Comp Set
Step 2: Create your Custom Comparable Set
While analyzing all rentals in your area will provide a high-level understanding of how your market behaves, there are only a handful of properties that truly matter — the rest tend to introduce noise.
That's why step 2 is to create your custom comparable set (or comp set). Filter nearby properties by size, location, performance metrics, amenities, and number of reviews to hand-pick listings that most accurately match your own.
Benchmark
Step 3: See how your properties stack up
Once you've created your comp set, your My Properties dashboard displays three metrics that help gauge the health of your property's future performance. These metrics are updated weekly, and they each measure the future performance of your properties.
Future Occupancy: How many nights is your property booked over the next 6 months?
Booked Rate: Are your listings getting booked at higher or lower rates than those of your neighbors?
Lead time: Do you tend to pick up last-minute reservations or get booked months in advance?
Booking Performance Score
Step 4: See your Booking Performance Score
After considering all variables, each of your properties is given a Booking Performance Score — a simple metric that gauges the health of your properties' future bookings compared to its comp set.
Think of it like a credit score — an easy way to keep tabs on how your short-term rentals are set to perform over the next 6 months. It's updated weekly, and empowers you to make smart adjustments to impact your booking performance.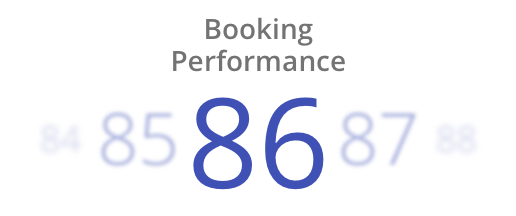 Smart Rates
Step 5: Take Action
Finally, head over to Smart Rates, MarketMinder's built-in dynamic pricing tool. Here you'll select your property and get personalized recommendations on how to price your property each day over the next 6 months.
It's the #1 way to boost your Booking Performance Score and ensure you never miss out on a high-value reservation.
Contact Us
Have questions?
Contact us to get in touch with your dedicated account manager. We'll help connect your listings and get your properties optimized ASAP.