VRMs: Meet your revenue growth cheat code.
Discover the most profitable markets, acquire more listings, improve portfolio performance, and keep homeowners happy—all with the Property Performance Dashboard. The dashboard is every VRM's Swiss army knife whose groundbreaking insights will take your vacation rental business to the next level.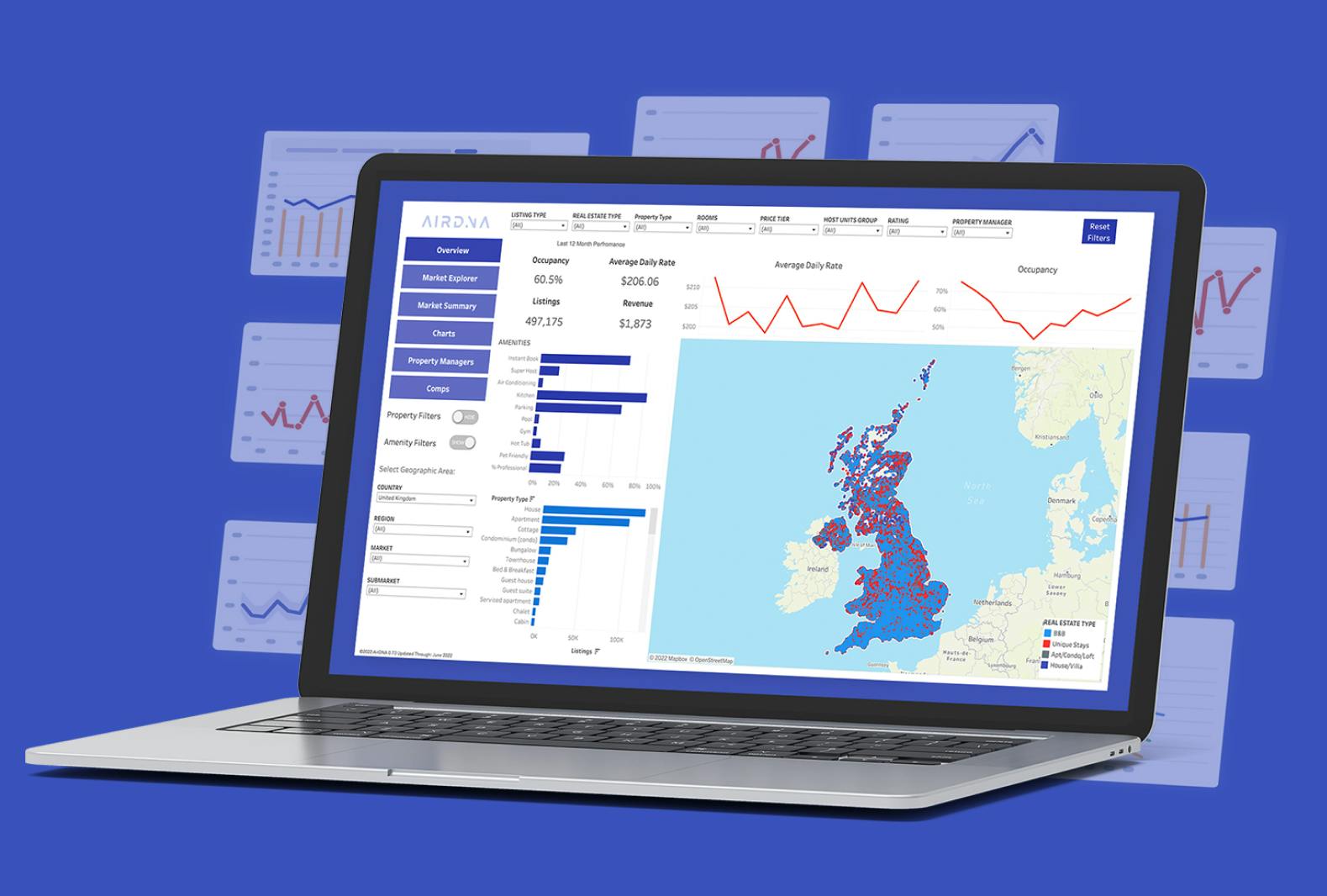 Overview
Eliminate all guesswork
The #1 resource for forward-thinking property managers.
Imagine knowing how every single vacation rental property performs. Now imagine how that knowledge could transform your business.
Narrow your research
Filtering like you've never seen.
Looking to see how three-bedroom cabins with over 100 reviews perform in a nearby mountain town? Done. Home in on comp sets that match what matters to your business.
Filter by amenities
To be (pet-friendly), or not to be?
Amenities make a world of difference. See how things like pools and jacuzzis influence the revenue of specific properties and use that information to inform property owners.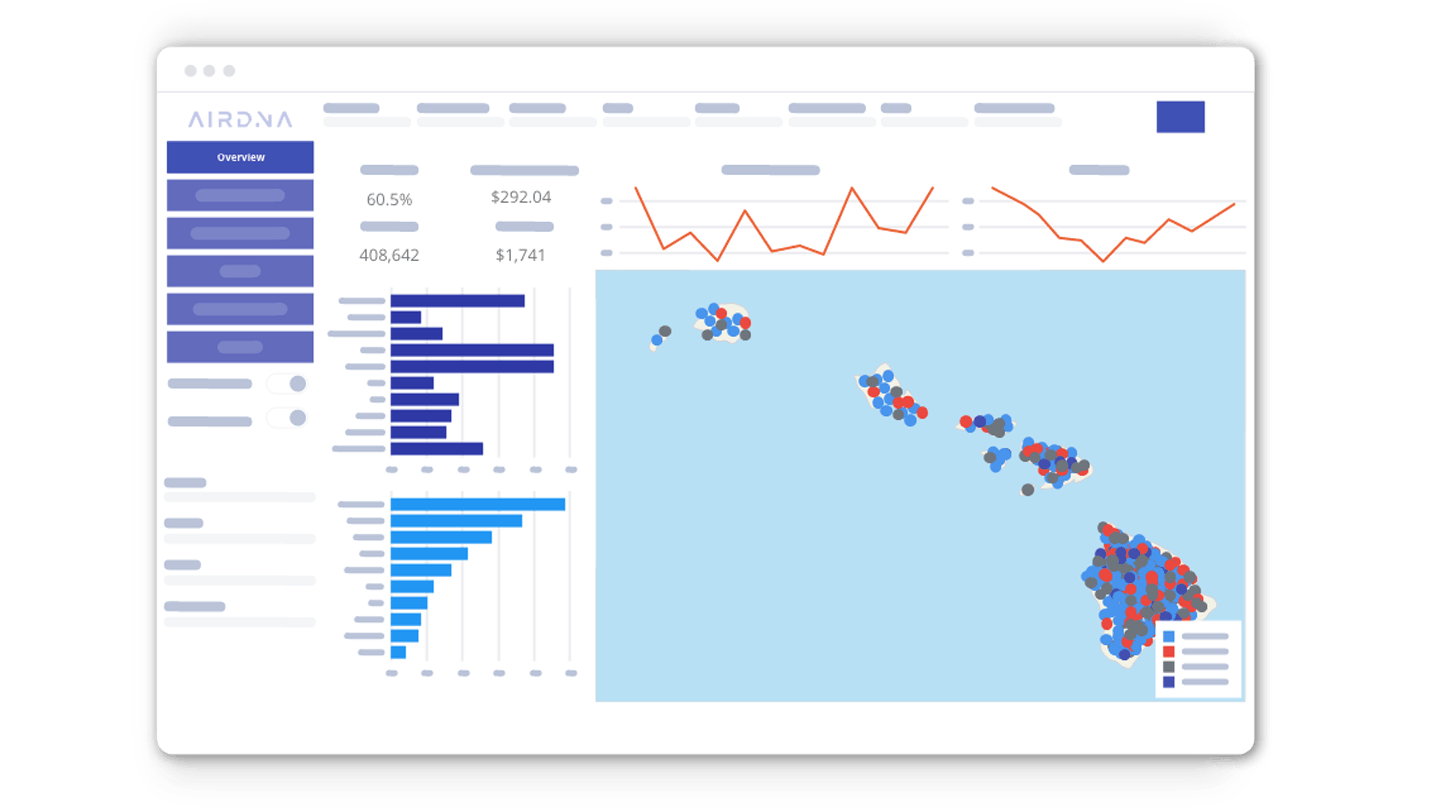 Market Explorer
Discover new hotspots
Expand with data
Vacation rental management can be lucrative—as long as you're in suitable locations. Use the dashboard to easily sort markets by those with the highest revenue potential, daily rates, length of stay, listing count, and much more.
 Introducing location types
Not all markets are created equal
Drill down your analysis by location type (mountain, coastal, urban), submarket, neighborhood, and zip code. Trust us—finding new markets is a breeze.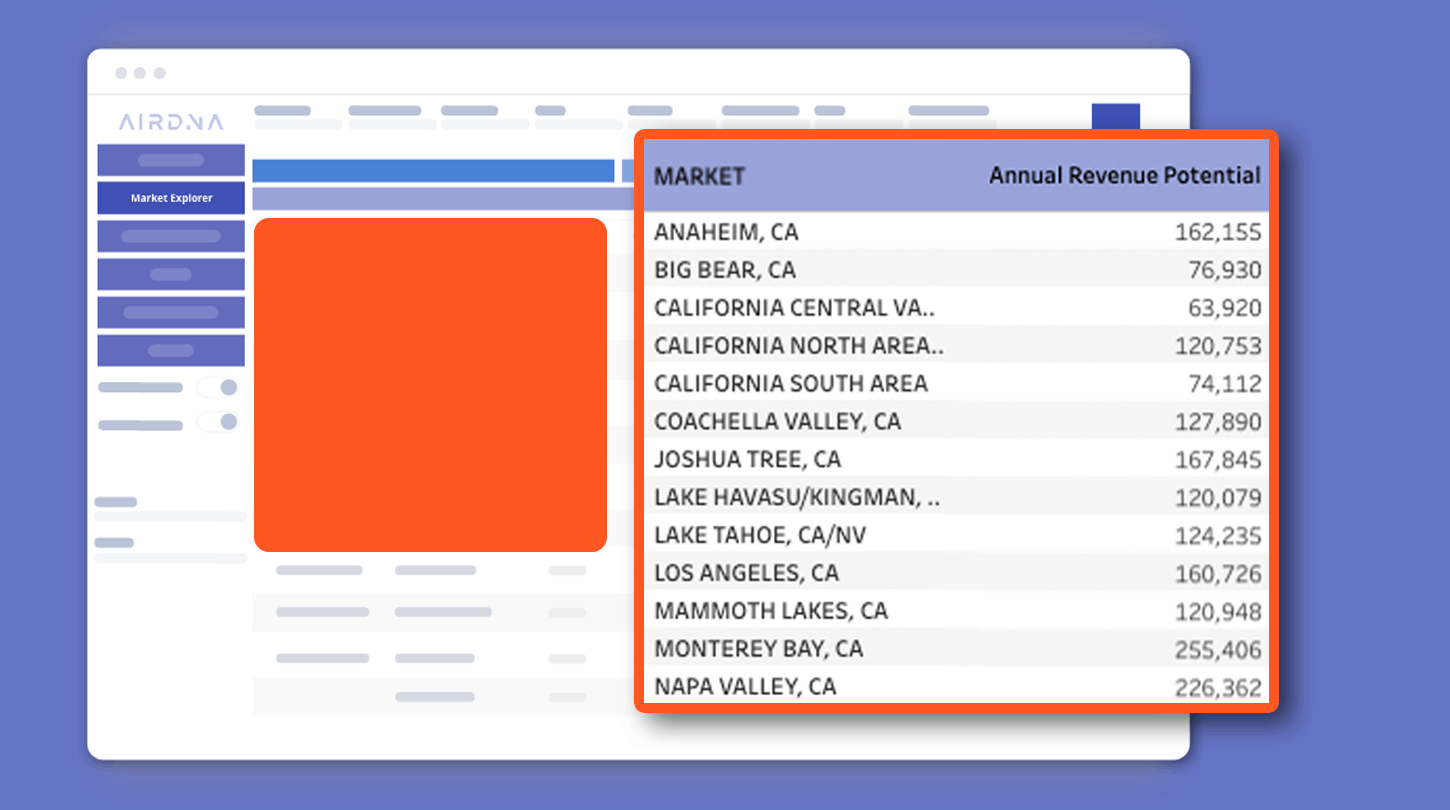 Market Summary & Charts
See historical trends and insights
Know your market like never before
Knowing how specific properties currently perform is one thing, but what about their trends over time? Quickly discover which properties and markets are seeing the most promising trends. 
Impress homeowners
Your go-to tool for keeping owners happy
Establish trust by showing clients how their properties are performing compared to the market and demonstrating why you make the decisions you do.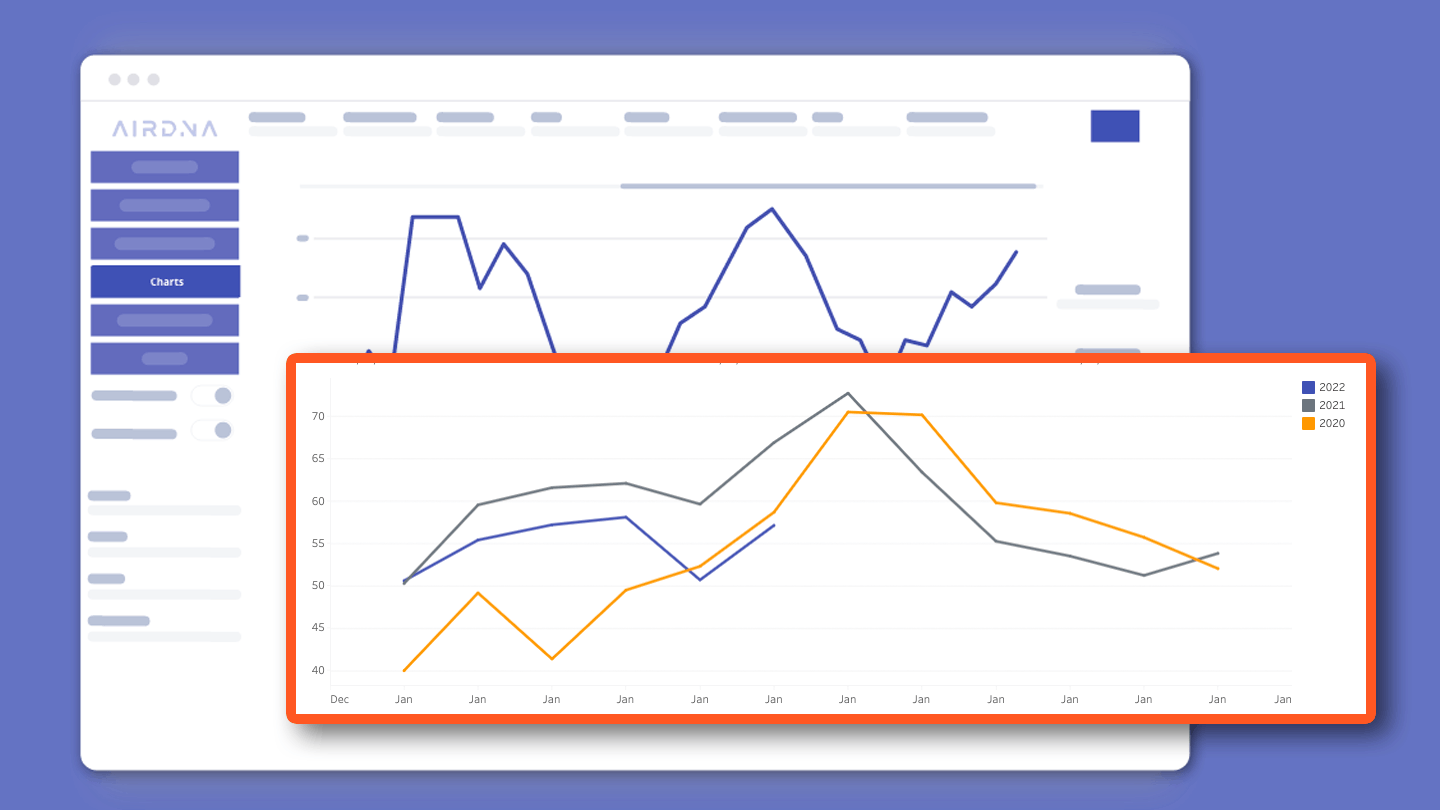 Property Managers & Comps
Keep tabs on the competition
Track the who's who of vacation rental management
See how listings in your portfolio stack up against those managed by the top vacation rental managers. Rank property managers by listing count, occupancy, revenue, reviews, ratings, and more. 
Property-level insights
Get granular in your research
Here's the real secret sauce. No summaries, no averages—just the actual performance of every single listing on Airbnb and Vrbo. See how much revenue they earn and what they charge, and link out to their live listings with photos and descriptions. 
Create projections for prospects
Your new favorite prospecting tool
Walk into meetings armed with accurate data on the potential revenue of any given property. No more guesswork, no more hunches.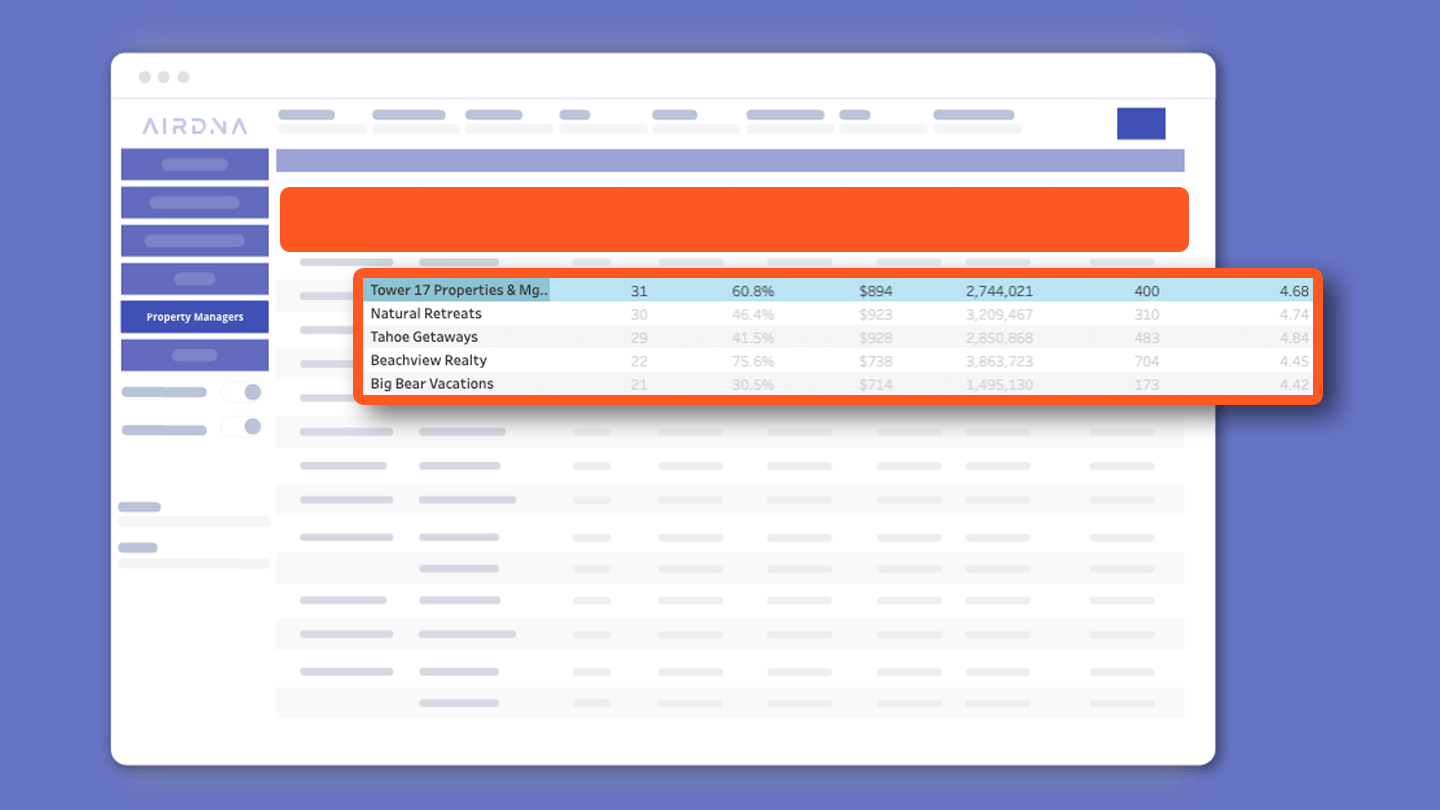 Video Preview |
How one Property Manager used AirDNA to increase listing count
10M
Global vacation rentals tracked
50K
All-time AirDNA customers
98.7%
Accuracy on all estimates
FAQs
AirDNA is proud to be the most accurate source of short-term rental data since our early start in 2015. AirDNA data matches Airbnb's with 94.9% accuracy and Vrbo's with 98.7% accuracy, based on both companies' financial filings with the U.S. Securities and Exchange Commission.
AirDNA collects data on the daily performance of all live listings on Airbnb & Vrbo. We also have a library of over 1.5 million partner properties that we use to bolster our accuracy.
Yes. All data is exportable as a JPEG image, PDF, crosstab, CSV, and PowerPoint presentation.
All data and charts in the Property Performance Dashboard go back to January 2018.
The Property Performance Dashboard includes vacation rental data for the entire world. Global plans are available as well as those for individual countries and states. You can also explore more custom regions within your subscription on the dashboard's Overview page.
Most vacation rental managers use the dashboard for these main objectives:

• Researching the best markets for expansion
• Acquiring more doors by providing accurate projections
• Benchmarking and listing optimization
• Dynamic pricing and revenue management
• Keeping homeowners happy with check-in reports
Loading...