With so much bad Airbnb data circulating the web this past year, AirDNA has decided to look back upon 2015 to set the record straight and tell the true Airbnb story. AirDNA has been analyzing the short-term rental market for two years and tracks the performance of over 2 million Airbnb rentals worldwide. This collection of data has been published by the most respected Wall St banks, lodging industry consultants, and news outlets.

AirDNA has taken its vast repository of Airbnb information to create a high-level profile of the American Airbnb market in 2015.

Airbnb Data: Market Size
In 2015, AirDNA identified a total of 550,000 Airbnb listings in the United States. California leads all states with 125,803 total properties listed, with New York in second place at 94,976 Airbnb rentals.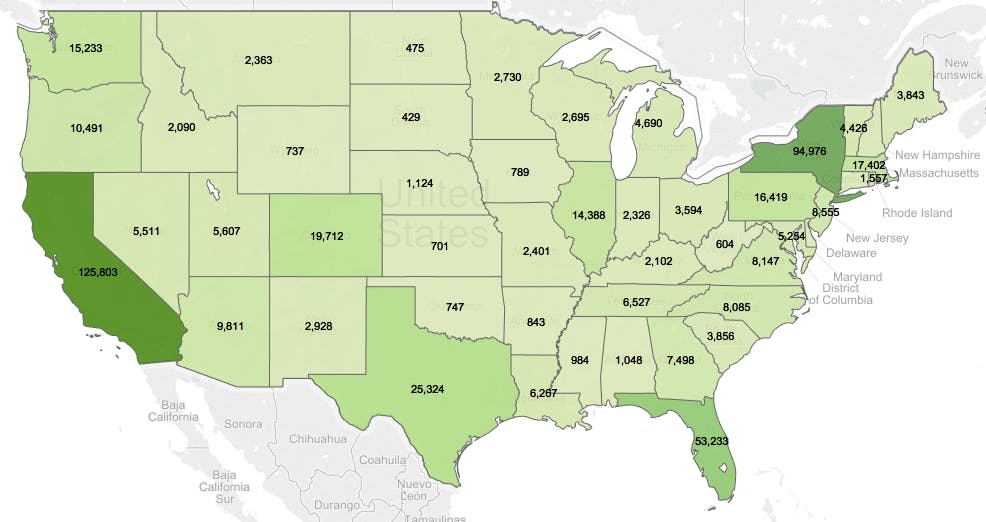 Airbnb Growth
Exactly how fast is Airbnb growing? The public has depended on Airbnb to release some high-level numbers about the total number of units on site. These published Airbnb numbers have gone from 1.5 million to 2.5 million in the past year. But, what exactly does this number represent? The total number of listing ever created? The total rentals that actually hosted a traveler last year? It is unclear what the figures released from Airbnb actually represent.

To get a clearer picture of the growth rate of Airbnb we looked at the number of new Airbnb listings that have been created since 2008 that were live on the site at some point in 2015.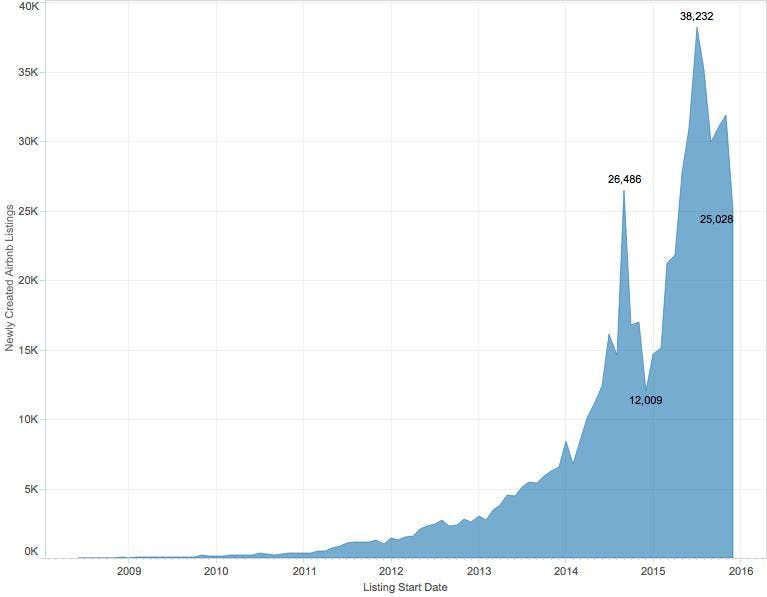 Airbnb is still seeing explosive growth with only modest slowdowns in the frigid winter months. New Airbnb listings peaked at 38,232 in September 2015 of this year vs 26,486 in July of 2014. Nearly 1 in 10 rentals available on the site in September 2105 were created in that same month!

Want more information on the growth of supply and demand of Airbnb rentals? Check out our custom Airbnb data reports used by leading industry analysts around the world.

Types of Airbnb Listings
Airbnb began by renting out a single blow-up mattress in a San Francisco apartment, but the service has evolved substantially in the eight years since its inception. Today, the majority of Airbnb rentals are in fact entire home rentals and not the private room or couches that many people still associate with the companies offerings. 63% (344,000) of all Airbnb listings are for the entire home, 34% (187,000) are private rooms, and shared rooms only account for 3% (16,000) of listings.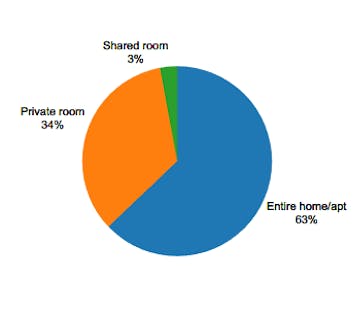 These percentages have remained relatively stable over the past couple of years. If anything, the trend seems to be moving toward a higher proportion of private room listings due to regulations restricting entire home rentals in some major markets.

The size of Airbnb continues to skew towards smaller and more urban rental units. 47% of all Airbnb listings are apartments, 39% are houses, and the remaining supply is an assortment of wacky yurts, castles, and villas.


Nearly 70% of all entire home Airbnb listings are studios, 1 bed, and 2-bed units. This is one of the facts that has caught the attention of hotel operators. Short-term rentals are no longer the large homes located primarily in rural vacation destinations, they are located in the condos right next door to their properties.

Full-Time vs Part-Time Rentals
It is important to understand that the Airbnb rental supply isn't static like hotel rooms. Thousands of new Airbnb properties come online each day and thousands disappear, only to re-appear again months later. The fluidity of the short-term rental makes it incredibly complex to track. Many properties are only available for rent for three days out of the year and others are available for all 365. The lack of information available to properly profile Airbnb rentals has led to wide-ranging speculation from regulators and industry analysts.

To bring some data to the debate we'll look at two different ways of classifying part-time and full-time rentals.
Days Available for Rent
The simplest way to determine a full-time rental is to simply count the total number of days that a unit is available for rent in a given year.

As seen in the chart, 78% of properties were available for rent or rented for over 180 days in the past year. This would seem to indicate that a vast majority of listed properties are full-time rentals.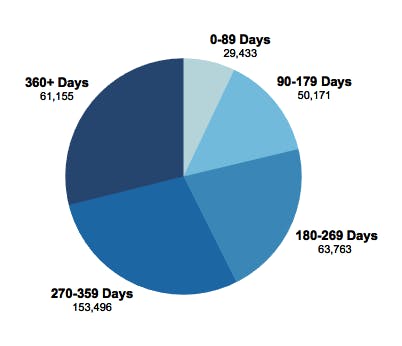 At AirDNA, we define a full-time rental differently. It is generally agreed that in most cities a home would need to be rented out at least 180 days in order for it to make financial sense for it to be taken off the long-term rental market.
Days Actually Rented
Looking at the percentage of properties that were actually booked vs. simply available for rent on Airbnb paints a much different picture.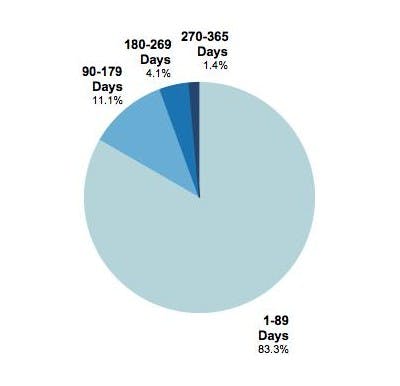 Only 5.5% (19,880) of total Airbnb listings that had a single booking was booked over 180 days during the year.  Comparing that to the total U.S housing supply, it is .0003% of total homes. It's hard to imagine that this amount of supply taken off of the long-term rental market could have any material impact on home affordability. It is important to note that Airbnb is not the only marketing platform that is available for booking a short-term rental. While Airbnb does dominate the market for smaller, hotel comparable rentals, it is possible that this number underestimates the true number of properties that are able to be rented out over 180 days a year by using a combination of Airbnb, HomeAway, and other niche sites.

Airbnb Data: Prices
Looking at the Top 25 Cities, according to the number of total listings, we see the average price of all entire home listings ranges from $283 per night in Austin to $164 per night in Philadelphia. These Airbnb prices are pretty high compared to the average hotel in each of these areas. But, it is important to remember that Airbnb rentals range in size from studios to 19 bedroom mansions. Cities, such as Austin and New Orleans, that have a larger mix of large single-family homes skew higher.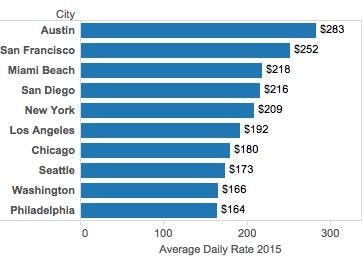 In this next chart, we removed the larger rentals and isolate only studios and one-bedroom units. Here you can see that the ADR (Average Daily Rate) for Austin drops $100 per night and San Francisco jumps to the top of the list at $190 per night. These Airbnb prices are a large discount over the local hotels and bolster the argument that Airbnb is truly a low-cost alternative and not necessarily the preferred accommodation option.

Note: Our ADR calculation here only includes the average booked nightly rate and does not include cleaning fees or other additional charges.




Airbnb Data: Revenue
The revenue generated by Airbnb rentals is one of those great unsolved mysteries, like the Loch Ness Monster or Chupacabra. Everyone is searching for the truth: either to applaud the success of the sharing economy or condemn its impacts on the status quo. At AirDNA, we estimate the revenue of every single property in the US to be able to summarize the revenue generated in any city, state, or country.  In the United States, the potential tax revenues that could be gained levying Airbnb rental with the same tax that hotels are burdened with is significant.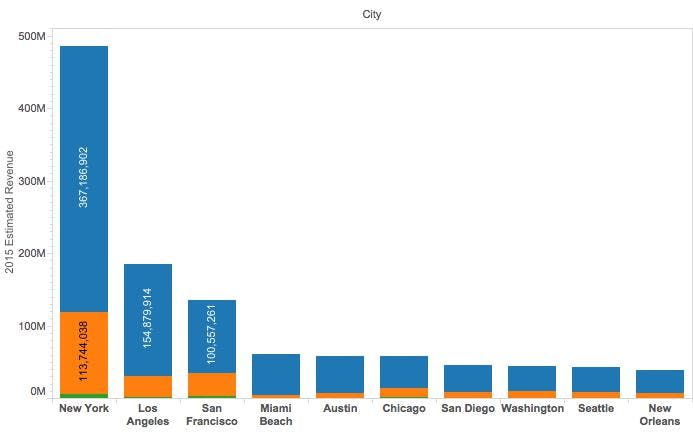 The above chart shows total 2015 revenue by City segmented by listing type (entire home = blue and private room = orange) Across the entire U.S., 79% of revenue comes from entire home listings, and 20% is generated from private rooms. New York could generate an additional $28.5 MM in tax revenue (at the current 5.875% hotel tax rate), and Los Angeles another $25.9MM (at 14% tax rate) in revenue could be added to the city coffers by taxing Airbnb rentals like local hotels.

Where are Airbnb Hosts Earning the Most?
It is the question AirDNA gets most often. Where should I invest in a short-term rental property? We covered this in-depth in our "Best Places to Invest in Airbnb" article earlier this year.  The abbreviated analysis below uses only one-bedroom units to find out what cities have the highest margins between long & short-term rental rates as of the end of 2015.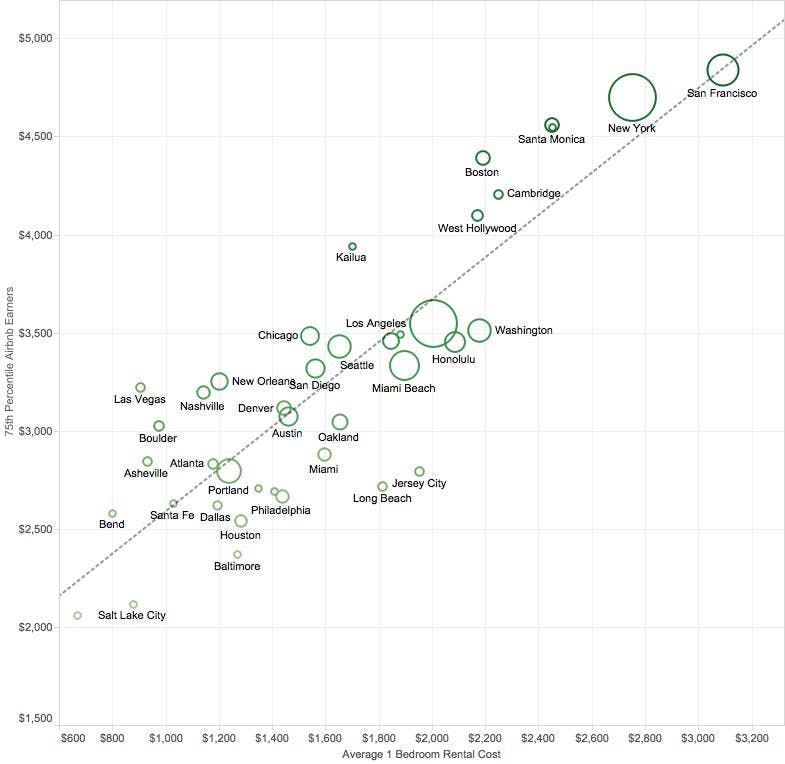 The size of the plot point above is related to the number of one-bedroom rentals in each city. In most of the cities above the trend line, successful Airbnb hosts are able to earn 2x their rent when listing them as full-time rentals.

Summary
Airbnb is a quickly evolving marketplace that will undoubtedly disrupt a variety of industries in the coming years. The question is no longer if Airbnb will disrupt XYZ market, but when and how dramatically.
Hotels are starting to feel the effects of the flood of over 500,000 new short-term rentals. New York, which has the largest concentration of Airbnb rentals, is seeing declines in year-over-year RevPAR (Revenue per Available Room). Vacation websites such as HomeAway have changed their entire business model from subscription-based to a commission-based fee structure. Vacation rental managers, that were once able to charge a 50% management fee, are now charging only half that.
These are some real ways that Airbnb's growth is reverberating through the halls of the hospitality industry. Airbnb isn't just impacting other short-term rental options. Residential real estate investors are beginning to realize that short-term rental offers a fresh opportunity: creating better cash flows and an entirely new way of evaluating potential investments. OTAs, such as Priceline and Expedia, are digging their trenches, preparing for a long battle over what user experience travelers will prefer when booking their future getaways.
The questions and prognostication into the future of Airbnb are endless. Follow AirDNA by signing up to our platform or better yet, get in touch with us to let us know what burning questions we can help answer.
Get started with MarketMinder today.
With powerful, easy-to-use tools, MarketMinder helps hosts and investors succeed in the short-term rental market. Ready to jump in?
Try it for free