Since Airbnb's emergence in 2008, short-term rentals have steadily chipped away at hotels' market share. The reality is that fewer people now consider hotels before short-term rentals.
There are several reasons why STRs are dominating destination, rural, and urban markets, and why now is the best time to get into Airbnb hosting — and for seasoned hosts to scale their property count in markets they may have overlooked.
#1: We Now Know How Travel will Change Post Pandemic
Summer 2021 bookings are pacing to be the best summer on record. But that doesn't mean travel's return mirrors pre-pandemic movement.

So, what's changed? 
Travel has been redistributed
On the other side of the pandemic, Brain Chesky, Airbnb's CEO, sees "redistributed" travel, a type of travel that isn't largely limited to tourist districts or residential districts, but instead a hybrid of the two. The data supports this sentiment; travelers traded tourist areas for open spaces during the pandemic and will continue to do so.
People will travel more meaningfully rather than with the intent to tick off destinations on a sightseeing list. Family and friends first, sightseeing second. This means hosts in smaller cities, the suburbs, and rural and destination markets will likely see upticks in travel in tandem with travelers' return to the cities. 
Travelers want more space, fewer restrictions
Entire homes in rural and destination markets saw demand spike throughout the pandemic, while urban and suburban markets saw the opposite. Of course, cities will see travelers return.
But travelers' tendencies to seek out mountain, coastal, and lakeside retreats are likely here to stay. Keep that in mind if you're still in the exploration phase of finding a property.
If you already have land or a home in a destination market, you're already on the right path.
#2: U.S. Vrbo, Airbnb Occupancy Rates Indicate Best Summer On Record for Many Markets
After a dismal 2020, people are ready (and feel comfortable enough) to take to the roads, rails, and skies. Demand has now eclipsed 2019 levels — the first time since March of 2020 before COVID reached every point on the map.
Global demand is still down by 31%, but U.S. hosts take note: guests are booking in record numbers, and your future rental will likely be in high demand.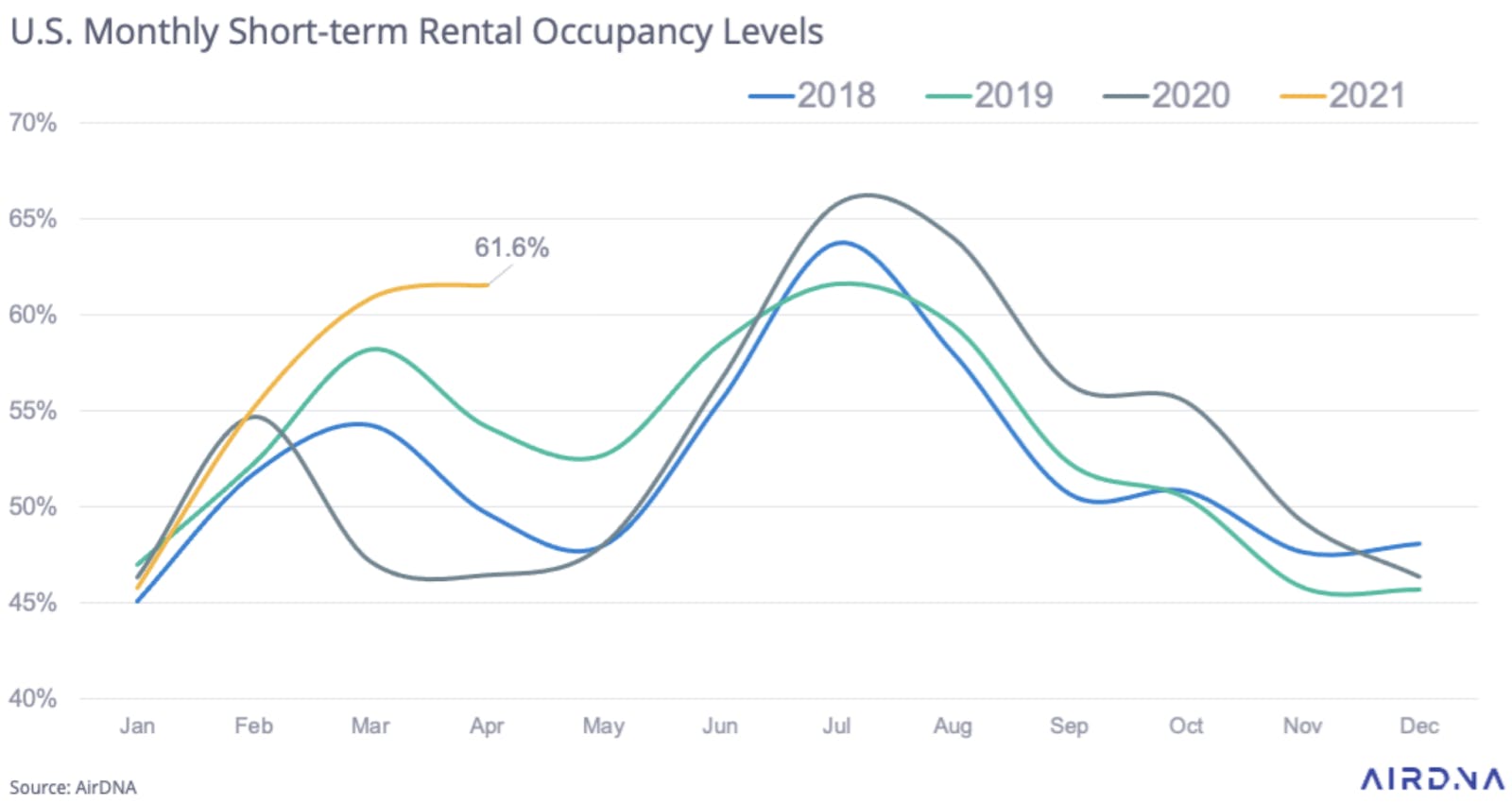 While urban markets like New York, Boston, and Washington, D.C. await the recovery, more rural and destination markets are poised for their busiest and best summers ever. If you're considering operating an STR in a destination market, now's the time to make it happen.
In short, the demand is there. And the numbers prove it.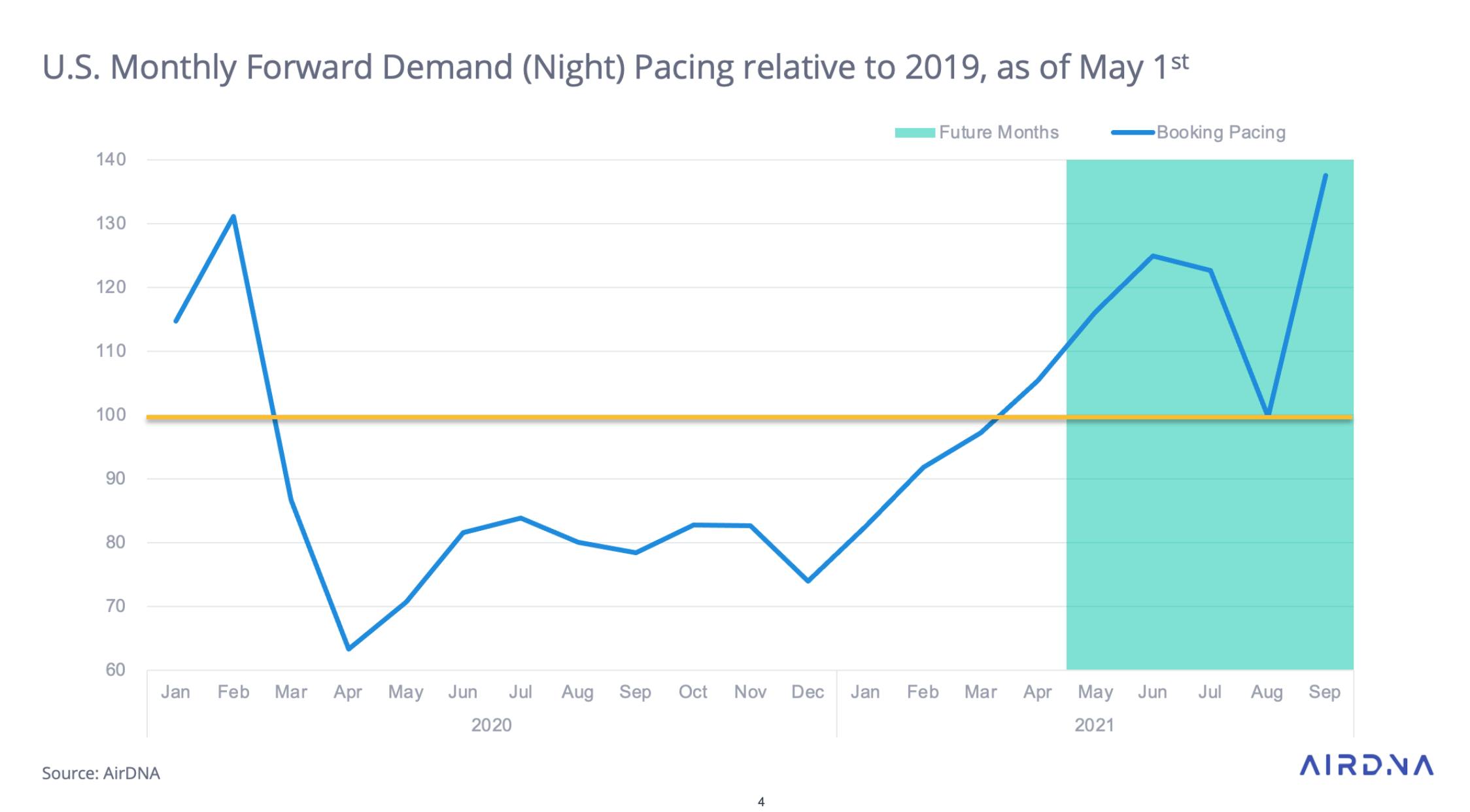 Even before the Spring Break Boom, we saw booking records (in terms of revenue) shattered by guests' eagerness to travel. That trend is expected to continue, as "revenge travel" comes at STRs with full force.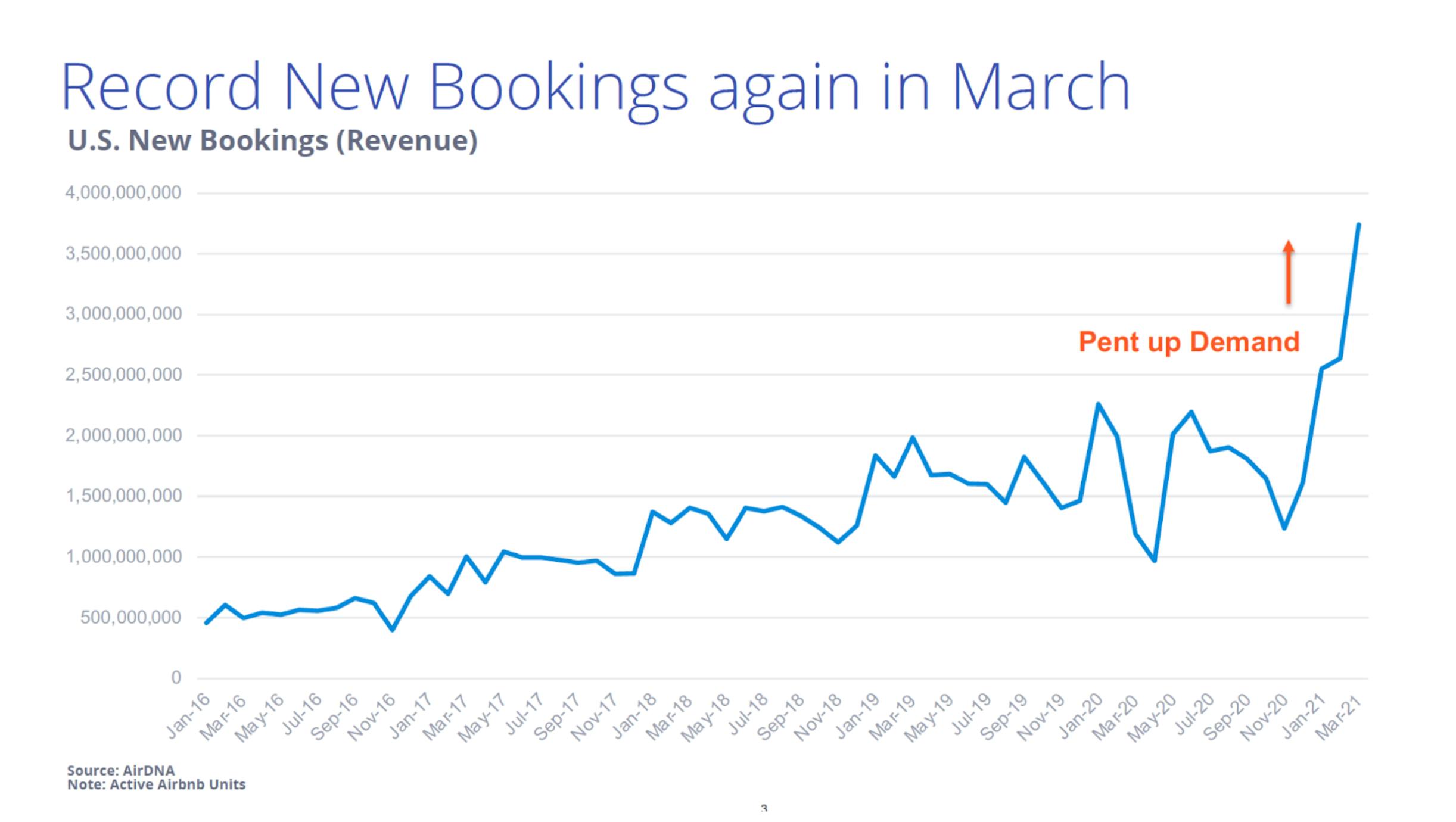 #3: Short-term Rentals Continue to Grow — Even During COVID
In the five years prior to the COVID-19 pandemic, short-term rental revenue grew by 300%.
When the pandemic hit, there was no shortage of articles and talking heads claiming it was the death knell for Airbnb. To be fair, the outlook didn't look great.
Fast forward to the other side of the pandemic. Supply has since recovered, and traveler demand for larger homes with more outdoor space continues to drive demand in many markets.
Destination markets (think: coasts, mountains, ski resorts, lakeside retreats) actually grew during the pandemic, and demand for more remote lodging options is likely here to stay.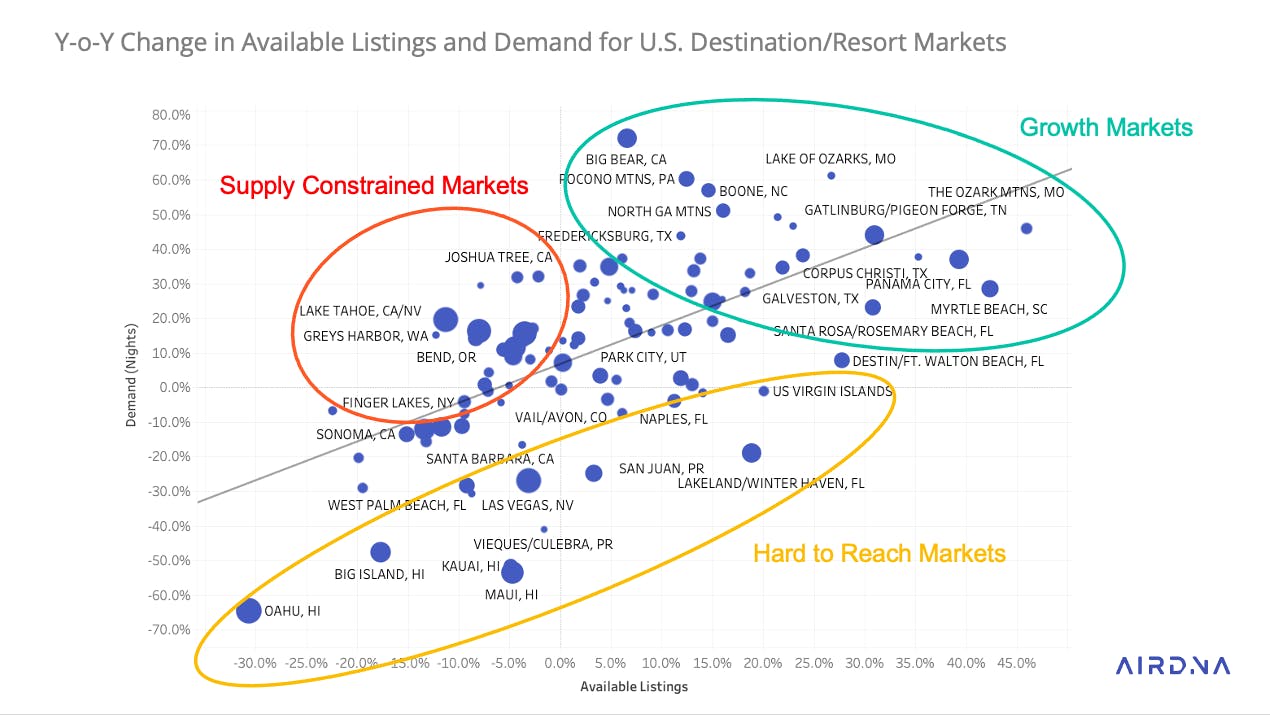 #4: Individual Airbnb Hosts Have the Most Successful Properties
Airbnb is hugely popular because they've ushered in the democratization of short-term lodging; virtually anyone with property (and even renters) can earn revenue by renting a room or their entire house. But the platform has in recent years attracted large-scale investors and organizations that operate several or dozens of properties.
Still, it's individual Airbnb hosts who operate the most successful properties in terms of ratings and reviews. That's huge; both metrics are generally key indicators of higher revenue. Potential guests want to see that previous guests enjoyed the property before clicking 'Reserve.'

To Scale Airbnb Properties, Remember: Guests Care About Experiences
Individual hosts can usually dedicate more attention to really making their property something special, ensuring their listings stand out from the competition, and offering the best Airbnb amenities for guests to deliver a more unique and pleasant experience. That hands-on approach may be harder to maintain when scaled to a certain point.
That's where the best Airbnb property management companies or individual managers can help. Still, it's important to consider how managing one, two, or even 10 more properties impacts offering memorable experiences and an overall dynamic pricing strategy.
#5: Airbnb Property Management Company Investments Keep Coming
With a valuation of more than $1 billion, STR property management company Vacasa is now far ahead of any competitors, especially since acquiring once-competitor TurnKey. But Vacasa isn't Airbnb or Vrbo: its successful, full-service property management business model is what attracted investors.
Hosts, property managers, and investors should take deals like these as signs that activity in the STR space — whether rental platforms like Airbnb or management companies like Vacasa — is poised to accelerate in the coming years. So much so that investment firms and individuals alike are injecting huge sums to help ensure it remains on an upward trajectory.
#6: Group, Leisure Travelers Prefer Short-term Rentals Over Hotels
Short-term rentals' explosion was partially sparked and fueled by group and leisure travelers. There are several reasons groups prefer STRs over hotels, but it pretty much comes down to cost. It's virtually always cheaper for a group to book a home, cabin, beach house, or chalet rather than a hotel.
Besides the price, guests are now more interested in unique stays instead of the often sterile or downright drab hotel room experience. Groups don't want to pay more for less space, more restrictions, and a generally bland experience.
The successful Airbnb host, property manager, and investor knows to allow group accommodation when they can, especially if it's a unique stay. These off-beat properties remain a smart investment for new hosts and property owners or investors looking to scale Airbnb operations and expand their portfolios.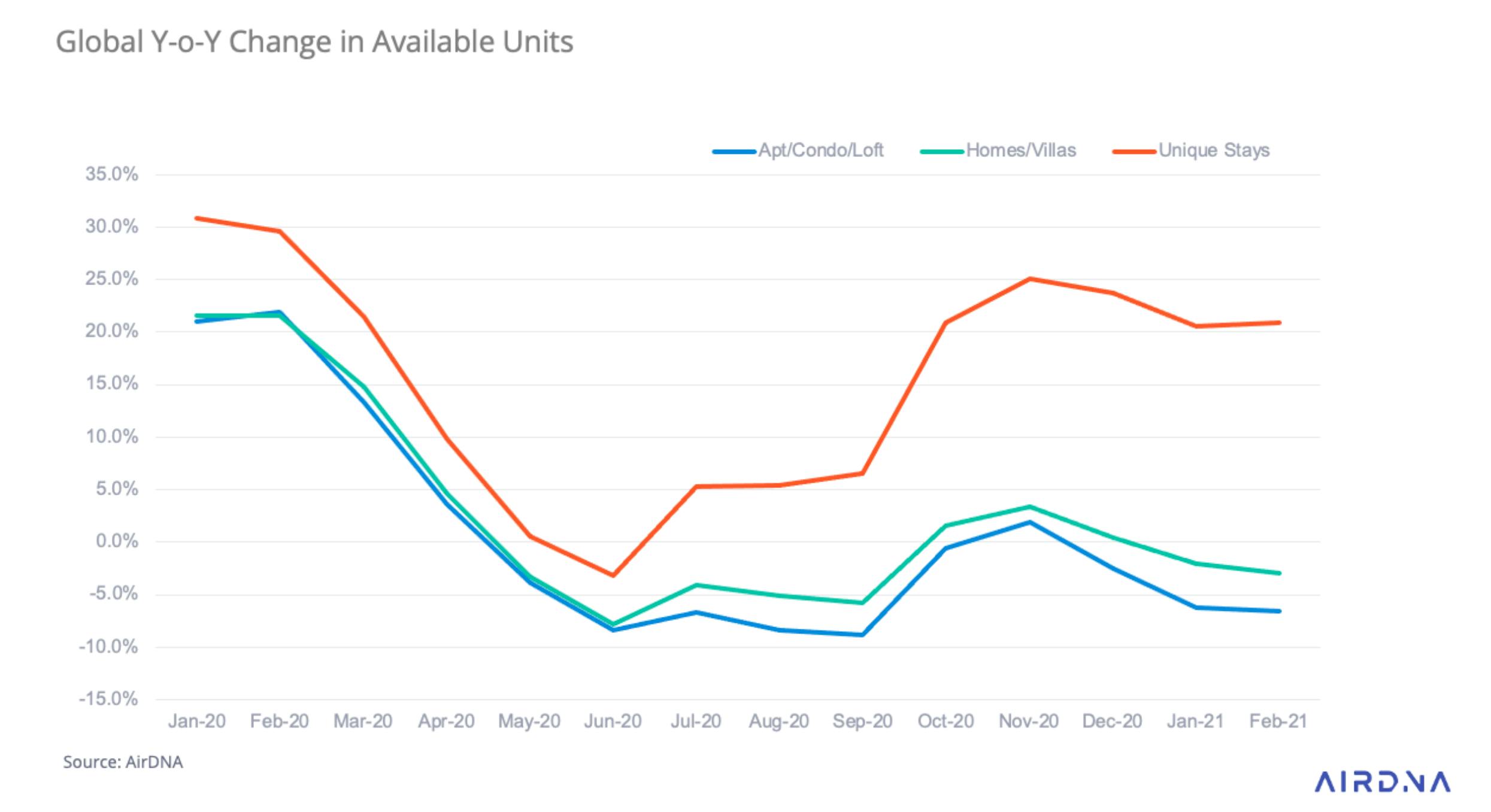 #7: Of Every Dollar Spent On Lodging, 27 Cents is Spent on Short-term Rentals
As of May 2021, 27 cents per dollar spent on lodging comes from short-term rentals. That means that more than one-quarter of bookings are paid by people who are looking for a more unique stay than most hotels provide.
People now expect to find unique, comfortable accommodations close to lakes, shorelines, mountain trails, and the high plains. That's excellent news if you're eyeing a property or own land where hotels aren't especially interested.
#8: Airbnb Legal Questions are Resolved (in Most Places)
It wasn't long ago that cities across the U.S. were scrambling to keep up with the explosion of short-term rentals. The partial response? New taxes. As of summer 2021, 49 out of 50 U.S. states plus D.C. and Puerto Rico collect taxes on short-term rentals, addressing one sizable portion of their impact on communities of all sizes.
Collecting taxes isn't the only step to ensure vacation rentals are fairly regulated, but it's a huge start. It's also a significant sign governments view them as legitimate revenue generators and acknowledge their popularity — and that they aren't going away any time soon. Governments know just as well as hosts, property managers, and investors that there's money to be made with short-term rentals.
#9: The Vrbo vs. Airbnb Match is Heating Up, and Each is Competing for New Hosts
Airbnb may have household name recognition, but Vrbo is determined to insert itself into travelers' collective lexicon. To do so, the platform needs more properties to meet traveler demand, which means it needs more hosts — just like Airbnb.
The Expedia Group-owned rental platform announced its Fast Start program this past spring in an attempt to sway dissatisfied Airbnb hosts; those with a 4.5 rating and earning at least $3k in the past year can migrate to Vrbo and use their Airbnb ratings as a boost to get new Vrbo guests. Vrbo's even gone so far as to blatantly attack Airbnb in a new marketing campaign, and it might be paying off; new Vrbo listings are outpacing new Airbnb listings.
But Airbnb is investing heavily in getting new hosts, as well as unrolling a suite of new host resources to ensure they hit the ground running and can offer an optimal experience. It's a major investment for a company whose CEO has stated that it will need millions of new listings to keep up with the boom in travel demand.
The bottom line is this: with the two biggest players in the STR space competing for new hosts, now's the time to make a move.
#10: The Airbnb IPO was a Sign of Things to Come
When Airbnb announced it was going public in summer 2020, many met it with curiosity and outright skepticism. It'd been a pretty rough year for the company — and the 1,900 employees it'd laid off just months earlier.
But, after a massive second-quarter loss, it reported $219.3 million in profit, thanks in large part to bookings made by those working remotely and travelers opting for local getaways.
Airbnb's (and its hosts' and travelers') resilience in the early months of the pandemic enabled it to debut on the Nasdaq at $68 per share before closing at $160 per share. Since then, its value has fluctuated but has remained on an upward trajectory.
The bottom line: investors believe that Airbnb will remain the STR leader, and its hosts' supplies and guests' demands will continue to grow.
The Takeaway: Is Airbnb Hosting a Sound Investment? Is Now the Time to Scale Airbnb Properties?
So, is Airbnb profitable for hosts? The short answer is, yes. Hosts looking to scale already know this because, ultimately, short-term rentals put the power of lodging in the hands of individuals, not large corporations or hotels.
Whether you're in the middle of Manhattan, on the Outer Banks, have a modified camper on a plot of land on the West Coast, or a rich uncle with a rarely-used vacation home in Central Texas, you can make money with a short-term rental.
Listing and hosting your property is easy; both Airbnb and Vrbo get new hosts every day. But to do it right and to do it well takes a data-driven strategy. If you walk away with only one rule after reading this eBook, let it be this: data makes the difference. Without good data, you're driving blind on a road that rarely leads to an optimized listing and maximum revenue.
Get started with MarketMinder today.
With powerful, easy-to-use tools, MarketMinder helps hosts and investors succeed in the short-term rental market. Ready to jump in?
Try it for free