What is Instant Book on Airbnb?
When strategizing how to maximize your short-term rental revenue, Airbnb Instant Book often goes overlooked. The feature -- which allows guests to make reservations immediately and without the need to submit a request -- is used because it's quick, clean, and convenient. It streamlines the reservation system and minimizes potential hold-ups.
That being said, does the feature have an impact on actual take-home revenues? If so, by how much? Here's the short answer: enabling Instant Book is a surefire way to increase short-term rental revenues. Here's our rundown on everything you need to know about Instant Book on Airbnb.
Why Hosts Use Instant Book
Although the strategy for Instant Book has changed as the short-term rental market has matured, many of the feature's core benefits are still the same. This is why droves of vacation rental hosts have made the switch to Instant Book for practical reasons:

Convenience: As any experienced property manager will tell you, guest communication is one of the most time-consuming aspects of property management. Enabling Instant Book removes the initial (and many times only) contact point from the equation.
Boosts Response Rate: Using Instant Book removes the risk of missing a guest inquiry and being labeled as an unresponsive host. Instant Book also helps hosts become Superhosts as doing so requires a 90% response rate.
Better Search Results: Because most short-term rental channels' ranking algorithms are highly linked to response rate, enabling Instant Book pushes properties towards the top of search engine results pages. More visibility = more bookings.
Better Customer Experience: According to a report from VRM Insider, travelers spend an average of just 59 seconds on booking sites -- which makes first impressions all the more valuable. The quicker a guest will be able to book, the better their experience will be.

Hosts Earn Up to 52% More When Using Instant Book
Besides making the property management experience more convenient, Instant Book also puts more money in the pockets of property managers around the world.
In order to demonstrate this point, we analyzed AirDNA data from two urban destinations (Seattle, WA, and Nashville, TN) and two resort destinations (Hilton Head Island, SC, and Telluride, CO) over the last 12 months.
Here's a breakdown of how Instant Book properties perform compared to their traditional counterparts.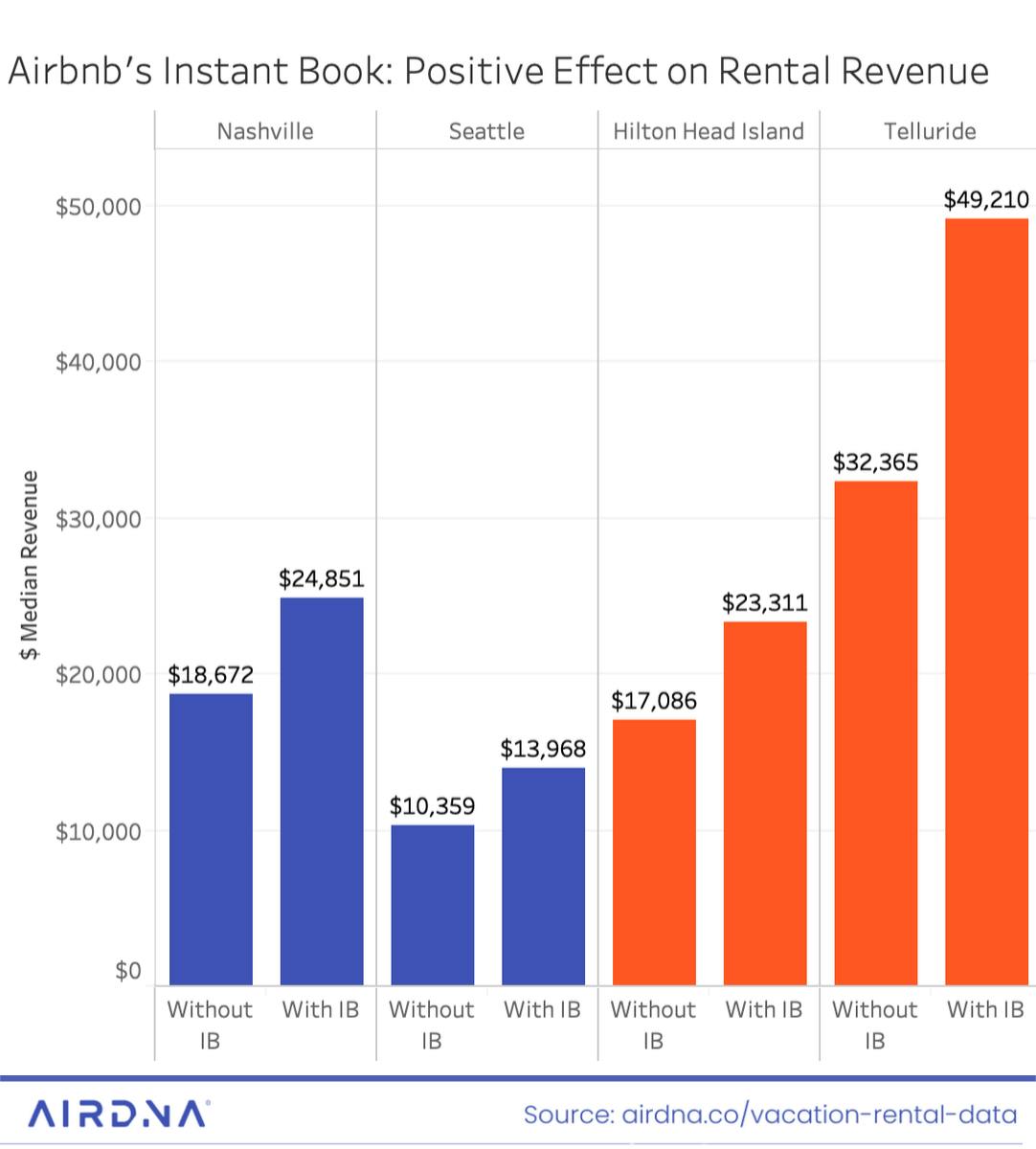 In terms of the urban markets analyzed, hosts using Instant Book in Nashville and Seattle earn significantly more than those who don't. Properties in Nashville see a 33.1% boost in revenue when using Instant Book, while those in Seattle reel in 34.8% more revenue.
The resort markets of Hilton Head Island and Telluride witness an even larger discrepancy between those who've enabled Instant Book and those who haven't. Hosts in Hilton Head Island earn 36.4% more when using Instant Book, and those in Telluride earn a staggering 52% more.
Impact of Instant Book on Occupancy Rates
Interestingly enough, the impact of Instant Book on occupancy rates is curiously negligible. Enabling the feature still pushes properties in a positive direction -- an average 1.5-point boost across the 4 cities studied -- but not nearly enough to account for the substantial upticks in revenue.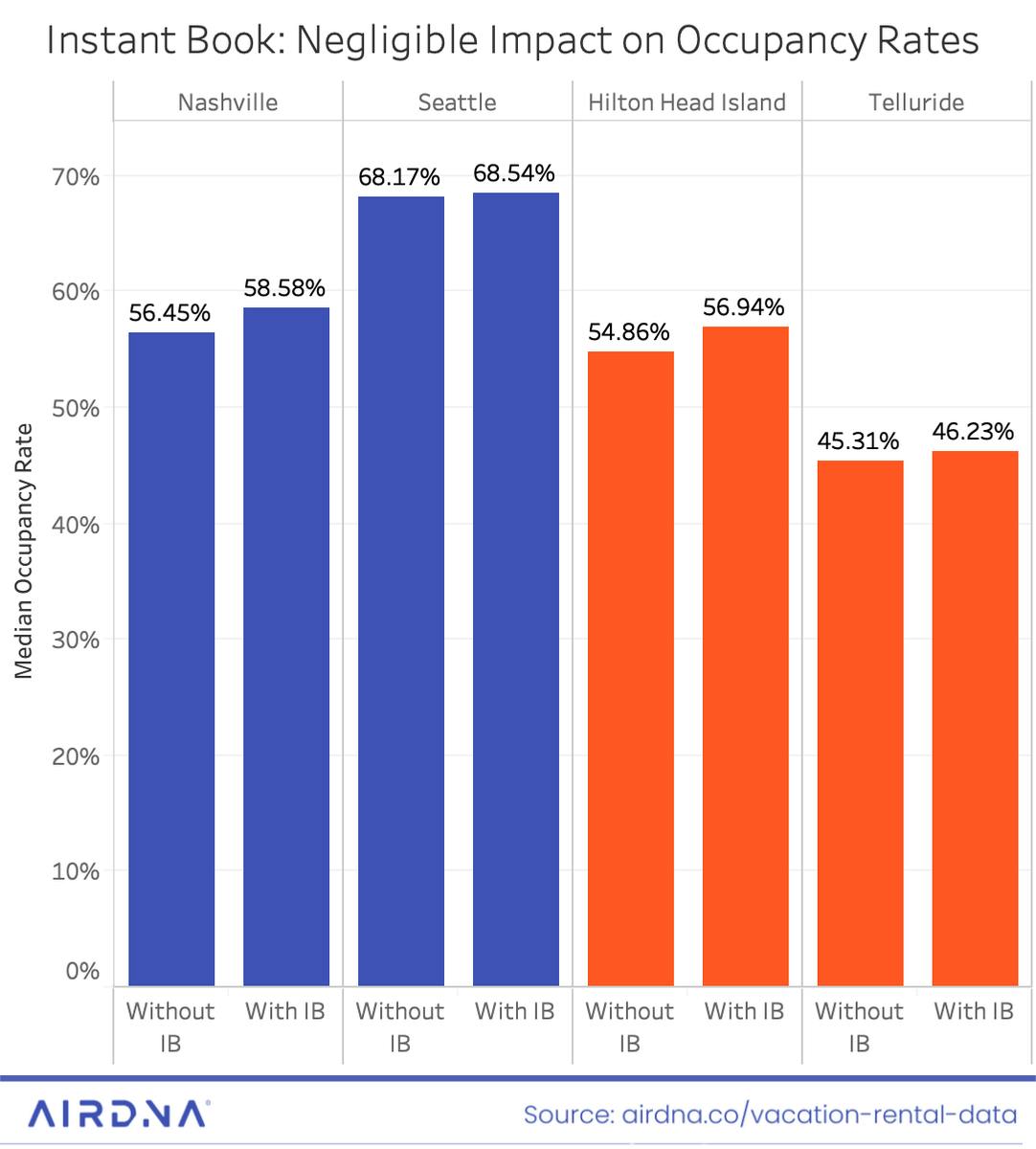 The Ultimate Difference Maker: ADR
As revenues are ultimately a product of both average daily rates and occupancy rates, stagnant occupancy rates leave room for only one explanation: hosts with Instant Book advertise (and book) their properties at significantly higher rates.
Here's a quick snapshot as to how ADRs differ between Instant Book listings and traditional listings.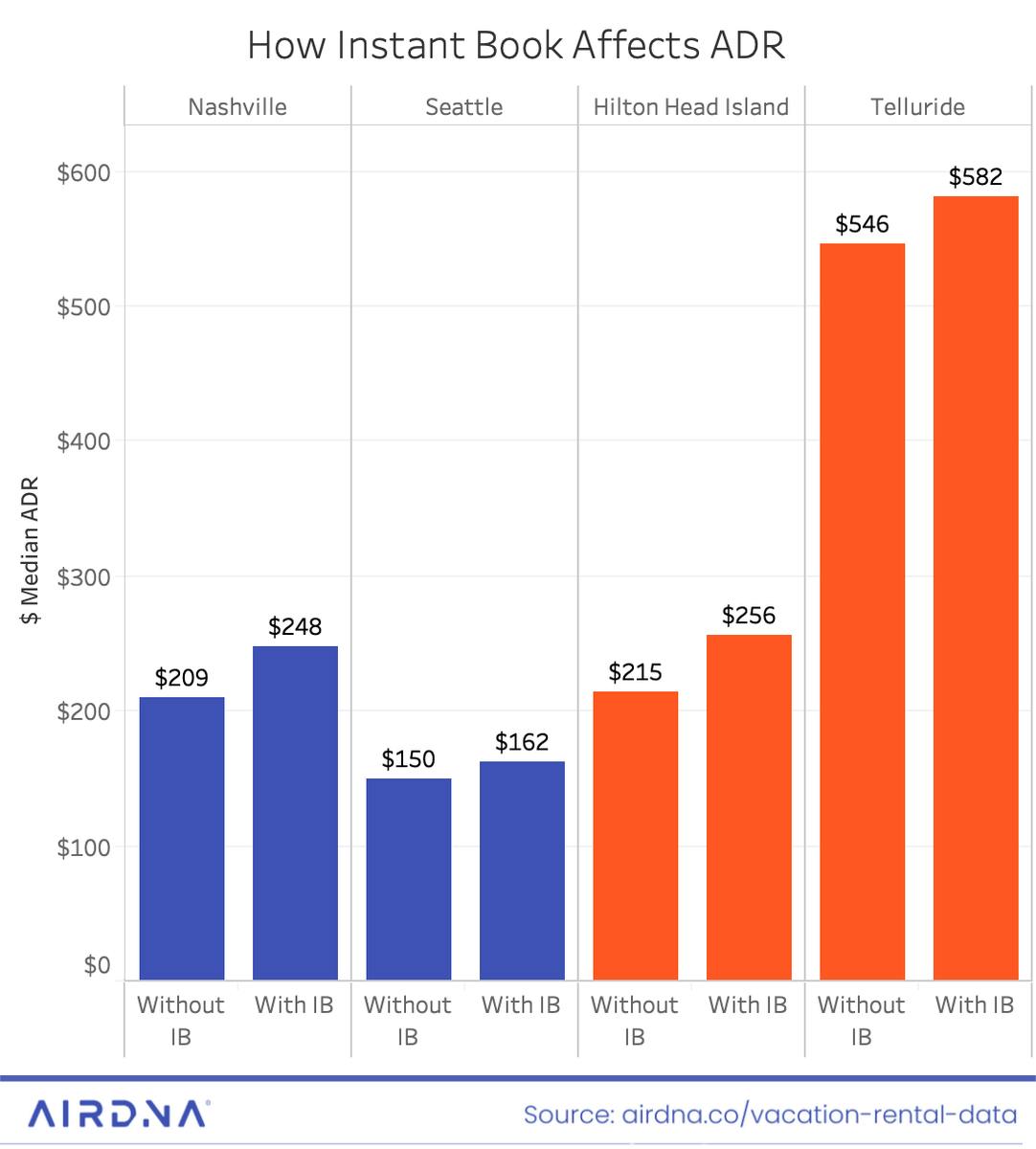 Average Minimum Night Stays
One explanation for the surprisingly minor difference in occupancy rates is the difference in minimum night stays.
Between Instant Book and non-Instant Book properties we notice a very significant difference in the average minimum length of stay required by hosts -- which is understandable. Property managers looking to book listings for extended periods of time are more selective in their reservation process.
Across the cities analyzed, non-Instant Book listings have minimum stays of 3.13 days longer than those of Instant Book properties. Just as your cancellation policy can greatly impact your bottom line, optimizing a property's minimum nightly stay is a great way to outperform the competition.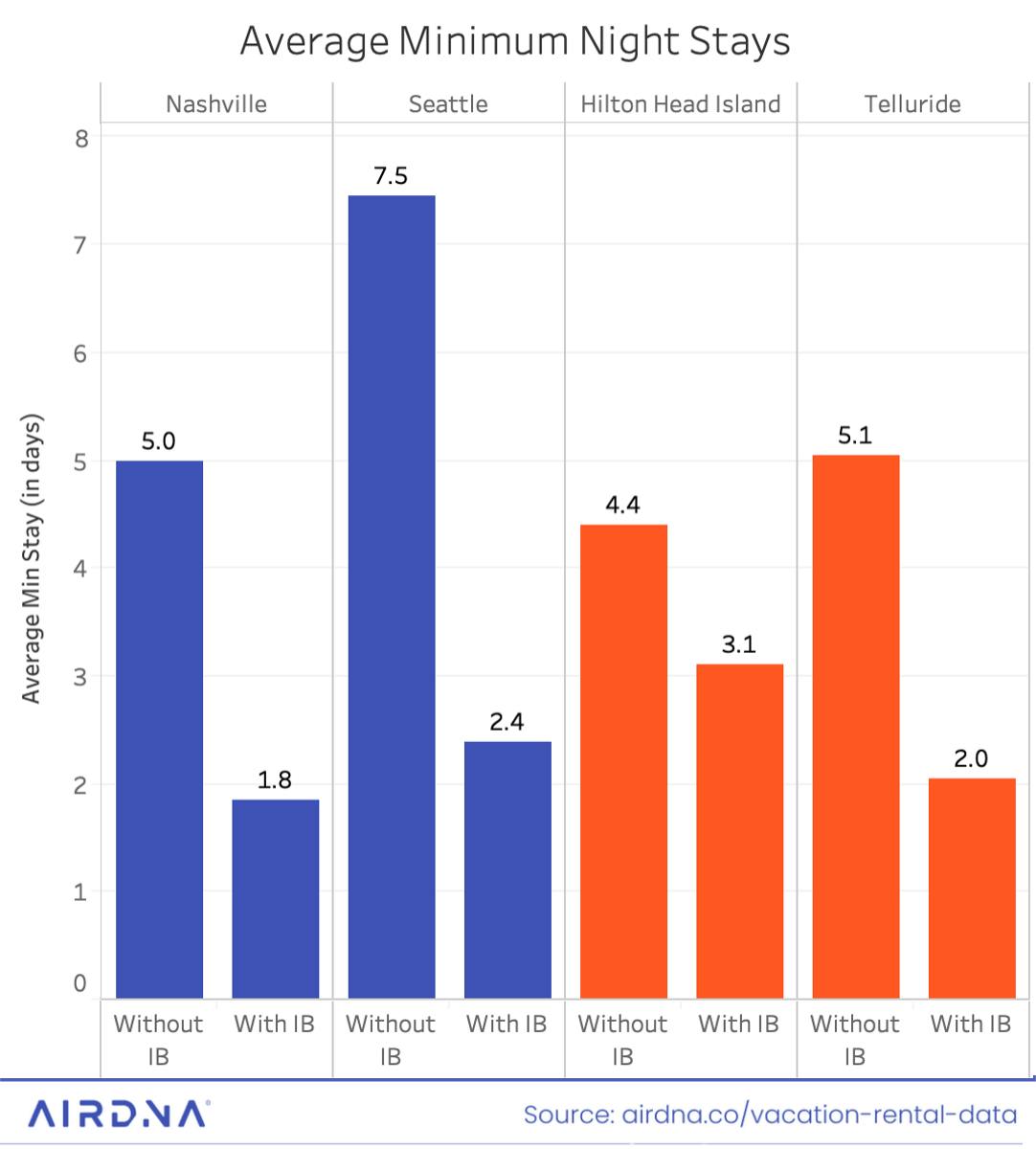 This leads us to the following conclusion: Instant Book properties are booked more frequently than their traditional counterparts, but traditional listings are booked for longer periods of time.
More turnover often translates to more hands-on management, cleaning, and communication, but many hosts take these hurdles in stride en route to earning significantly more money.
How Many Airbnb Hosts Use Instant Book?
Many hosts are privy to the financial benefits shown above. Today, five years after the feature's launch, urban markets like Seattle and Nashville average 30.2% more Instant Book properties than traditional properties, while destination markets like Hilton Head Island and Telluride host over 157% more Instant Book properties.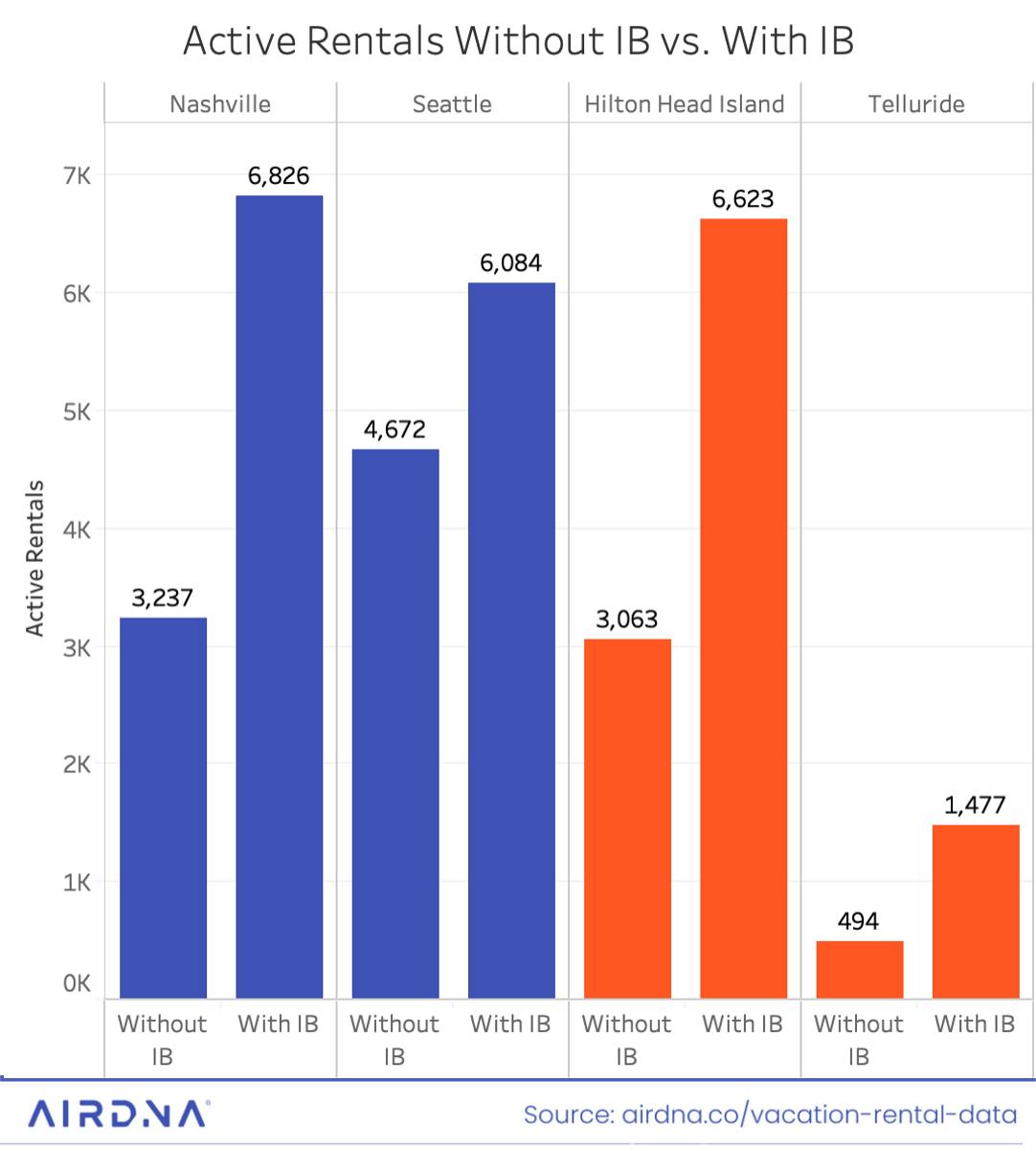 Distribution Among Bedroom Counts
Another interesting data point is how the prevalence of Instant Book varied depending on the size of the home. Does it make more sense to have an urban studio instantly bookable, or a 5-bedroom lakehouse?
Below is the data for Nashville. As you can see, especially in smaller properties, hosts are far more inclined to enable Instant Book. This market errs particularly on the side of Instant Book, as only 4.5% of 1-3-bedroom listings opt out of the feature.
As for larger luxury properties, fewer hosts allow Instant Book. If you manage a large vacation rental and are looking for a way to stay ahead of the competition, consider enabling Instant Book.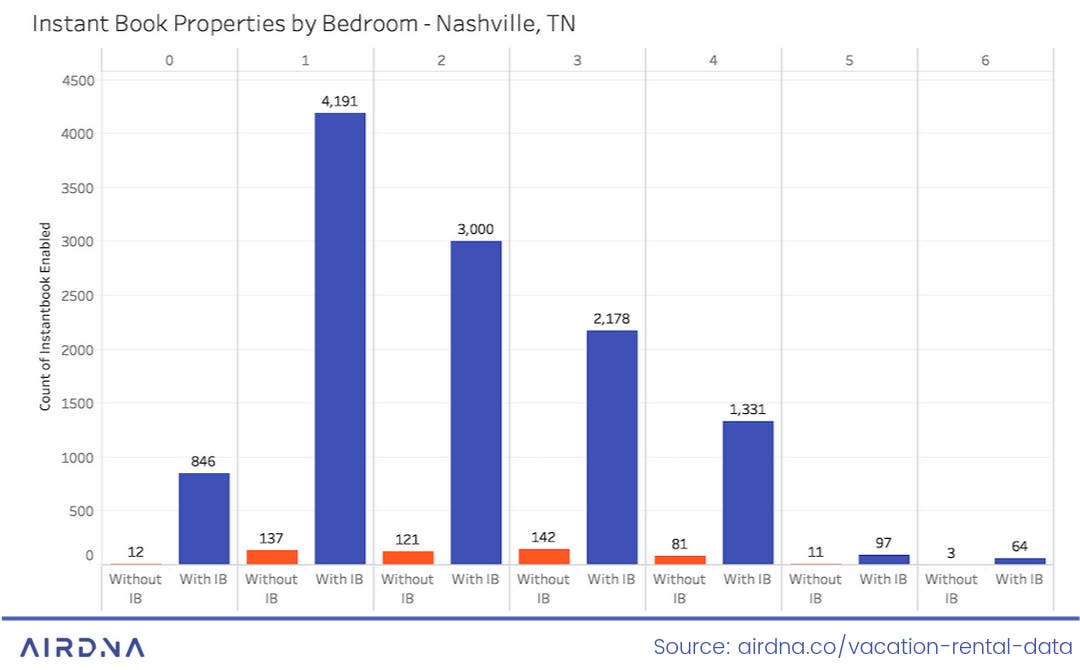 Should I Use Instant Book?
With the right tools, it's easy to decide whether or not to implement this feature. Here are some tips:
- Use AirDNA's MarketMinder to analyze your short-term rental market. Get a feel for the area's median  ADRs and occupancy rates based on percentile in the market, as well as things like seasonality and the regulatory climate.

- Use the Overview tab to review average minimum stays. Is your market more of a 1-night destination, or do travelers tend to spend upwards of a week or a month? If it's the latter, would you rather respond to booking requests manually?

- Use our property valuation tool, Rentalizer, to better understand your short-term rental revenue potential. Do the top-performing nearby properties use Instant Book? If so, how much are they earning?

- Finally, upload your listings to your "My Properties" dashboard to track the effectiveness of Instant Book yourself. Spend one month with Instant Book enabled, one month without it, and determine which option makes the most sense.

Get started with MarketMinder today.
With powerful, easy-to-use tools, MarketMinder helps hosts and investors succeed in the short-term rental market. Ready to jump in?
Try it for free