In today's turbulent times, many vacation rental managers are finding themselves back at the drawing board.
In response to COVID-19, this year's strategies are gearing up to be starkly different from last year's. Today, a reliable way to stand out is by leveraging real-time, forward-looking data. The past is still an integral reference point, but future data has suddenly garnered new attention.
AirDNA's suite of products has often focused on revenue management and competitive intelligence -- but we've now decided to add a set of powerful, future-centric features that take these strategies to a new level.
Wondering how many bookings are being made right now -- and for when? Want to see the difference between your market's average available rate and the booked rate? Is supply ramping up or tapering off?
If you're looking to realign your strategies with the new reality of the vacation rental industry, explore our new features below. We're confident that they'll be extremely useful in navigating your short-term rental market during these uncertain times.
Pacing: A New Way to Study the Future
This batch of new features from AirDNA is located in the new "Pacing" section located under MarketMinder's "Price" tab.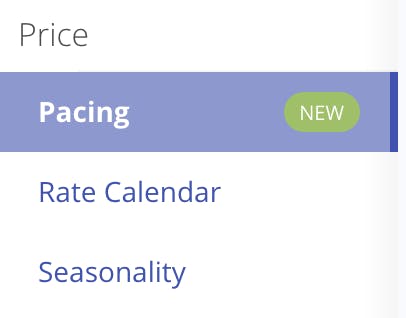 First off -- exactly what is "pacing"? 
In the context of the accommodations industry, pacing is the rate at which reservations are made for a particular date in the future.
A helpful metaphor here is a pacesetter or a pacemaker in long-distance running. During a marathon, pacesetters are designated runners who hold a consistent pace throughout the duration of the run (8:00 minutes per mile, 9:00 minutes per mile, etc). They serve as reference points for all runners to know how far ahead (or behind) they are of a particular goal.  
In that same vein, pacing in the hospitality industry is a metric used to know how far ahead (or behind) bookings are currently pacing compared to previous years.
Pacing is a powerful forecasting tool that can be leveraged to gauge demand, revenue, and even expenses related to staffing and maintenance. In uncertain times of COVID-19, booking pace allows hosts to spot the exact moment at which bookings are making up ground and returning to normalcy.
Our first new feature shows how pacing can be used to optimize pricing.
Introducing Forward-Looking Rate Analysis
The first new feature within the pacing tab is the Rate Analysis chart. This chart displays the difference between the average available rate versus the average booked rate for 6 months into the future.

In most markets, the price at which hosts advertise their properties doesn't perfectly line up with the price guests actually book. Reasons for this run the gamut. Many hosts price themselves out of the market, while others continuously sell themselves short.
Knowing this discrepancy between booked and available rates is one of the easiest ways to stay ahead of the competition. In light of the current landscape, this chart sets out to provide answers to the following questions:

- How are hosts adjusting rates in response to the Coronavirus?
- If hosts are adjusting rates, when are they adjusting rates for? Short-term reductions with things normalizing after a few months?
- How do rates compare to last year when the Coronavirus had not yet taken hold?
Here are examples showing how to make use of the Rate Analysis chart.
Denver, CO
Denver's vacation rental market shows two scenarios in which the rate analysis chart can be useful.


1. First, note the difference between the two lines for the first box on the week of July 13th. Many hosts still have their prices inflated from 4th of July weekend ($144), even though most places are getting booked at an average of $120. Listings are getting booked nearly 17% cheaper than they're being advertised.

2. Second, we see the reverse trend for Labor Day weekend in early September. The average property is getting booked at $185, while hosts are advertising properties at only $149. That equates to over 24% in potentially missed revenue.
Note: the scroll bar at the bottom of the graph is an interactive zoom bar. It allows you to change the time frame and show dates only relevant to your research.
New York, NY
The Rate Analysis chart also allows users to include the booked rate from the previous year to provide some context to current data. Below is a snapshot of a chart showing only "Booked Rate" and "Booked Rate Previous Year."

The story here is clear: due to the current environment, vacation rental managers have lowered their asking prices far below 2019 levels for the following 6 weeks. Only during mid-summer do 2020 average daily rates reach their level from the previous year.
This chart will be particularly useful in displaying how hosts around the world are tailoring their pricing strategies to align with expected travel demand. 
Booking Trends: A Real-Time Tool to Track Daily Reservations
Until now, MarketMinder's future data has allowed users to see occupancy, average daily rates, and demand for every date throughout the next 6 months. There hasn't, however, been a way to track how that future data is currently changing. There hasn't been a tool to answer the simple question, "Are people still booking travel?"
Our new Booking Trends chart changes this. As of today, users can understand how future demand is evolving in real-time. Here's how it looks:

Shown above is the number of bookings made in the last 7 days for any date in the future. The chart has three other lines -- total bookings, bookings in the last 30 days, and bookings in the last 60 days -- which you can toggle on or off. Hovering over any date in the future will show the number of bookings made for that day broken down by the three-time frames. When hovering over the chart, the tooltip will show total bookings for each category as well as the percentage of all bookings made for that date.
In the example above, we can clearly spot two weekends in the future which travelers have been reserving in the last 7 days. Even if the uptick isn't overwhelmingly obvious, spotting these early spikes is the best way to capitalize on mounting demand.
Some important things to note
- The chart can also be found in the "Pacing" section of MarketMinder
- The filters at the top of the page for bedroom count and accommodations do affect this chart.
- The chart's data is refreshed nightly.
- Categories are cumulative. "Total Bookings" includes bookings from all categories. "Last 60 Days" includes bookings from all 30-day and 7-day categories. And "Last 30 days" includes bookings from the 7-day category.
- Like the Rate Analysis chart, the scroll bar at the bottom of the graph is an interactive zoom bar. Below is a snapshot of the same chart zoomed into a month-long period to analyze bookings made for individual days.

This graph adds a dynamic new component to the way we analyze future data. As seen above, we can now clearly spot which dates in the future guests are currently booking (in the case, the final weekend in June).
Here are some more snapshots of how the new Booking Trends chart looks in action.
Boston, MA
Boston presents a clear example of how hosts, property managers, and tourism agencies can see which days in the future guests are currently booking.
As seen below, even in spite of international travel restrictions related to the ongoing impact of the Coronavirus, travelers are still booking vacation rentals for the Boston Marathon in mid-September.

Austin, TX
Austin presents another interesting example where we can spot current bookings being made for Labor Day weekend in early September. Given that travel restrictions are still in full effect, it's understandable there are few bookings made in the last 7 days. That said, as soon as the virus turns the corner, we'll see some significant movement in this chart.

Keep an Eye on the Competition with Custom Comps
With new hosts frequently entering the market and veteran hosts taking up an increasingly large share in some markets, each host needs to know what their competition is up to. To get the information you need to keep ahead of the competition, you can easily create a custom competitive set. Commonly known as a comp set, this tool allows you to create a list of properties with features and characteristics similar to your own.
Hosts and property managers use comp sets to benchmark their listings against the true competition in addition to the market as a whole. Comp sets are an invaluable tool for sizing up the competition and extracting personalized insights for your specific properties.
Components of a Comp Set
There are 6 major components to consider when creating a comp set for your property.
Amenities: Amenities comprise the true makeup of a vacation rental. Hone in on properties that offer similar features as yours (and find out which to consider adding).
Size and Guest Capacity: Conduct an apples-to-apples comparison by aligning your property with others of a similar size.
Distance and Location: Location is the #1 factor guests consider when booking a vacation rental. The closer the property, the more competitive it may be.
Performance Metrics: Revenue, average daily rate, occupancy rate — these metrics are paramount to finding an accurate comp set.
Experience: How professional is your competition? Factoring in the number of reviews for a competitive property is key
Property Quality: The final aspects of a comp set are property ratings and Superhost status. Use these metrics to filter out properties that don't compete with yours.
Start Monitoring Your Market's Recovery Today
Despite the headlines showing doom and gloom for many vacation rental operators, forward-looking data is proving to be a viable way to plan strategically for 2020.
For proactive managers looking to stand out, these new charts and metrics offer a significant advantage. Yes -- the short-term rental landscape may be going through some unprecedented changes, but that doesn't mean there aren't opportunities to be found.
If you have any questions about these new (or existing) features within MarketMinder, don't hesitate to reach out to our team at [email protected]. We'll follow up quickly and even offer a personalized walk-through leaving you prepared to analyze any market and maximize your revenue.
Get started with MarketMinder today.
With powerful, easy-to-use tools, MarketMinder helps hosts and investors succeed in the short-term rental market. Ready to jump in?
Try it for free