School's Back in Session: Occupancy dips as the record-breaking summer comes to a close

Demand for short-term rentals fell by 0.9% in August, coming in under 2019 levels for the first time since April 2021. The 17.6 million nights sold in August 2021 was still up 23.9% relative to August 2020. The slight pullback in demand versus 2019 can primarily be attributed to a reversal in gains made in suburban areas and a cooling off of the white-hot demand levels seen in mountain/lake destinations.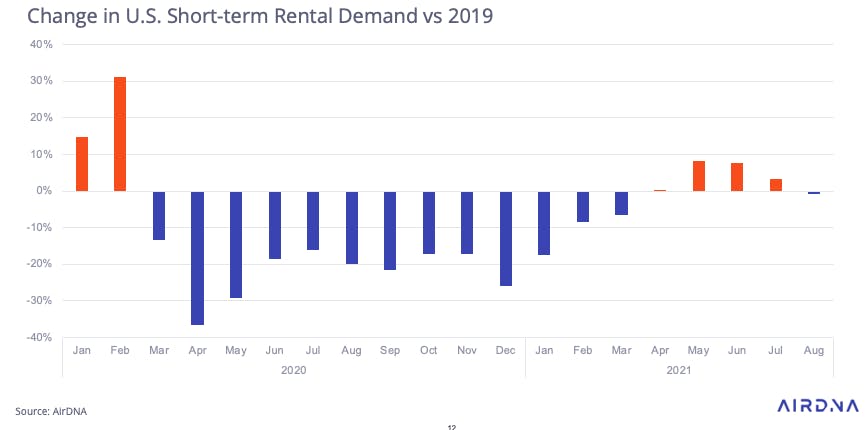 Suburban demand had been approaching recovery in June when it was just 8% shy of 2019 levels. Since then demand has slid to 14.4% lower than in 2019. Phoenix, AZ, and Fort Lauderdale, FL, both with a high percent of suburban properties, had the largest decrease in demand growth in August after seeing abnormally high demand throughout the first part of the summer.  
Mountain/Lake destinations had some of the strongest demand growth over the past 18 months as guests looked to escape the city and live and work in these highly desirable locations. A return to in-person/work school may be impacting demand in destinations like Big Bear, CA, and Coachella Valley, CA, where demand growth noticeably slowed in August. Big Bear had demand growth of 80% back in May 2021 but only registered an increase of a "modest" 32% in August.
Occupancy for this past month was 66.8% — the highest level ever recorded in the month of August. While this number is significantly lower than the 74.9% achieved in July, it was 4.2% higher than the 64.1% achieved in 2020 and 12.2% higher than the 59.5% occupancy reached in 2019.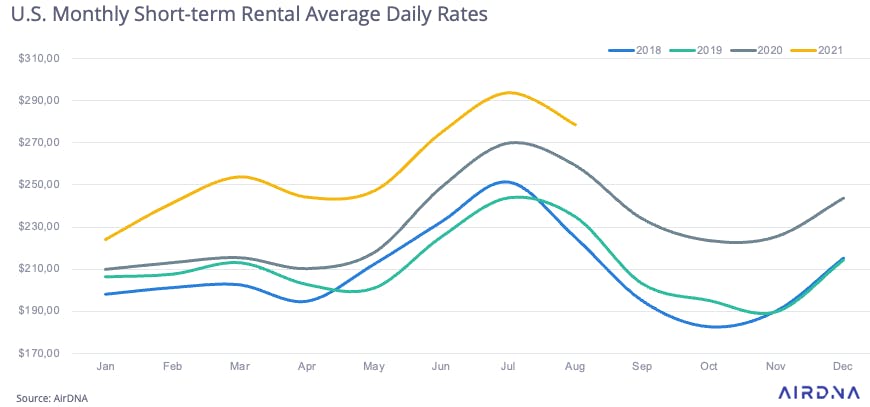 Divergent Trends within Similar Location Types
A common theme over the past 18 months of the pandemic has been strong demand in small city/rural areas and in leisure-oriented destination/resort areas. These areas have all retained positive demand growth since February 2021, but quite a few similar markets have struggled to attract demand. Southeastern U.S. markets have done well in attracting guests with Cape Coral/Fort Myers, FL, Panama City, FL, Gatlinburg/Pigeon Forge, TN, and Myrtle Beach, SC, all realizing demand growth above 34% in August 2021.
Cape Cod, MA did well in attracting new demand during non-peak months like March and April but was unable to continue growth into the summer months, primarily because of a lack of available listings. The total supply of listing nights was down 40% vs 2019 having dropped another 10% since the summer of 2020. Other markets like Lakeland/Winter Haven, FL, Oahu, HI, and Long Island have trouble either attracting enough guests or retaining enough hosts to keep up with demand.
Similarly, there are dramatic differences in the largest U.S. cities. Six of the largest U.S. metro areas attracted more demand than in 2019.  Three of those cities were in Texas: Houston (+30.2%), San Antonio (+18.8%), and Dallas (+15.2%), while the others include Ft. Lauderdale, FL (+25.9%), Phoenix/Scottsdale, AZ (+12.3%), and Atlanta, GA (+2.8%).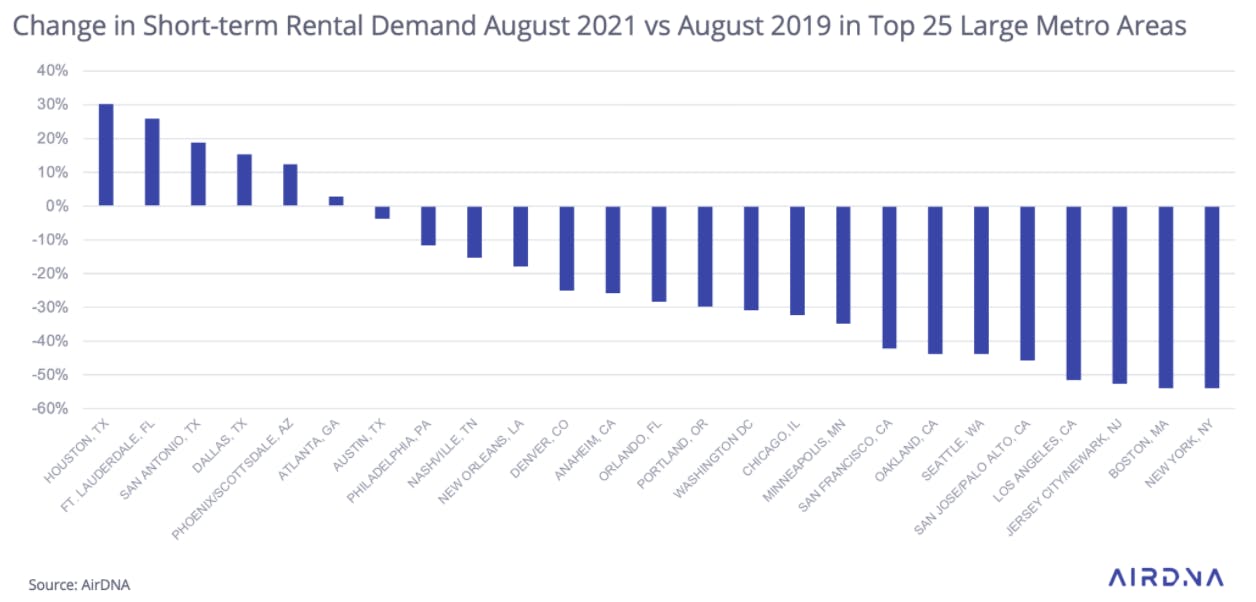 Most of the large cities are still struggling to attract demand.  These include New York(-54.0%), Boston(-53.9%), and Los Angeles(-51.7%) which were highly dependent on international demand with more than 30% of their nights booked coming from foreign visitors.  Data from the National Travel and Tourism Office (NTTO) shows that travel exports, or travel-related spending by foreign travelers in the United States, are down by 80% as of July 2021 relative to 2019 levels, a reduction of over $9 billion dollars. 
Cancelations Climb

The Delta variant, wildfires, and hurricanes all led to another increase in cancelations in August.  The state of Hawaii had the highest cancelation rate at over 60%, measured by the number of cancelation nights as a percentage of new nights booked. A reduced number of new nights booked and an increase in cancelation activity both contributed to the high cancelation rate as the governor asked potential guests to "reduce travel to Hawaii to essential business activities only."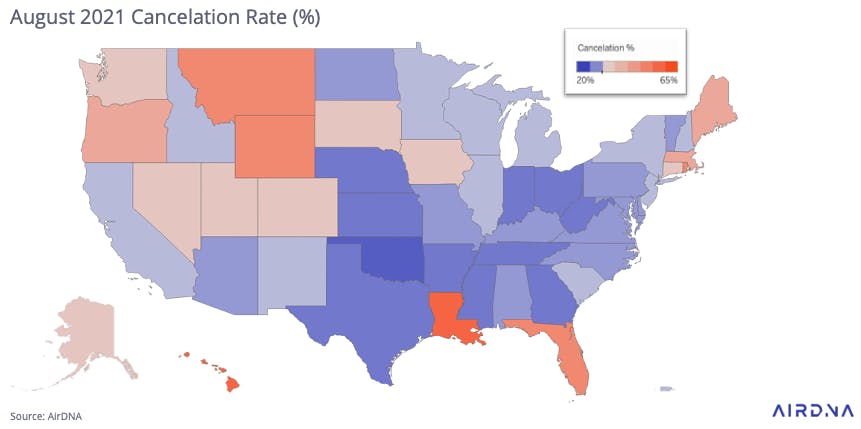 Mother nature also played a role in increased cancelations throughout the country.  Events that caused major travel disruptions included:
Wildfires in the Pacific Northwest and near Lake Tahoe
Hurricane Henri's landfall in Rhode Island, impacting markets in the North East
Hurricane Ida's landfall in Louisiana
Fall/Winter Outlook
As we look to this fall and winter, short-term rental demand is up 18% compared to at the same time in 2019 and 88% higher than in 2020. In general, people are booking well ahead for their holiday travel this year. The week of Thanksgiving is 38% higher than in 2019 and 85% higher than 2020.
The top destination for travel is Orlando with more than 1 million nights already booked for this winter. Florida markets occupy half of the top 20 most popular markets for fall/winter travel. The most growth in bookings for these top markets is in Panama City, Key West and Santa Rosa/Rosemary Beach, FL where demand on the books today is more than double compared to the same time in 2019. Meanwhile, in traditionally strong cities for holiday travel like New York, Los Angeles, and Oahu, demand is down by 30-60%. 
There are still many risks to continued growth as COVID-19 cases, hospitalizations, and deaths remain elevated. These factors will mean a delayed return to in-person work for many U.S. office workers and a longer timeline to a return of inbound international travel. This will put continued pressure on cities looking to begin to recover demand.  While the outlook for the short-term rental industry looks bright, it will only begin to really push into expansion mode with the virus under control and all aspects of travel growing again.
Get started with MarketMinder today.
With powerful, easy-to-use tools, MarketMinder helps hosts and investors succeed in the short-term rental market. Ready to jump in?
Try it for free