Short-Term Rentals are "Booked" as Occupancy Rises in U.S. Destinations

This time last year, the outlook for travel looked stark, as the U.S. went into lockdown and millions of trips were canceled. Occupancy registered just 47.2% in March 2020, down from 58.2% in 2019. Since then, occupancy has fully recovered, gaining 29.1% vs the same time last year to achieve 60.9% occupancy in March 2021. Even when compared to prior years, occupancy levels are 4.6% higher than 2019, which had been the previous high-water mark.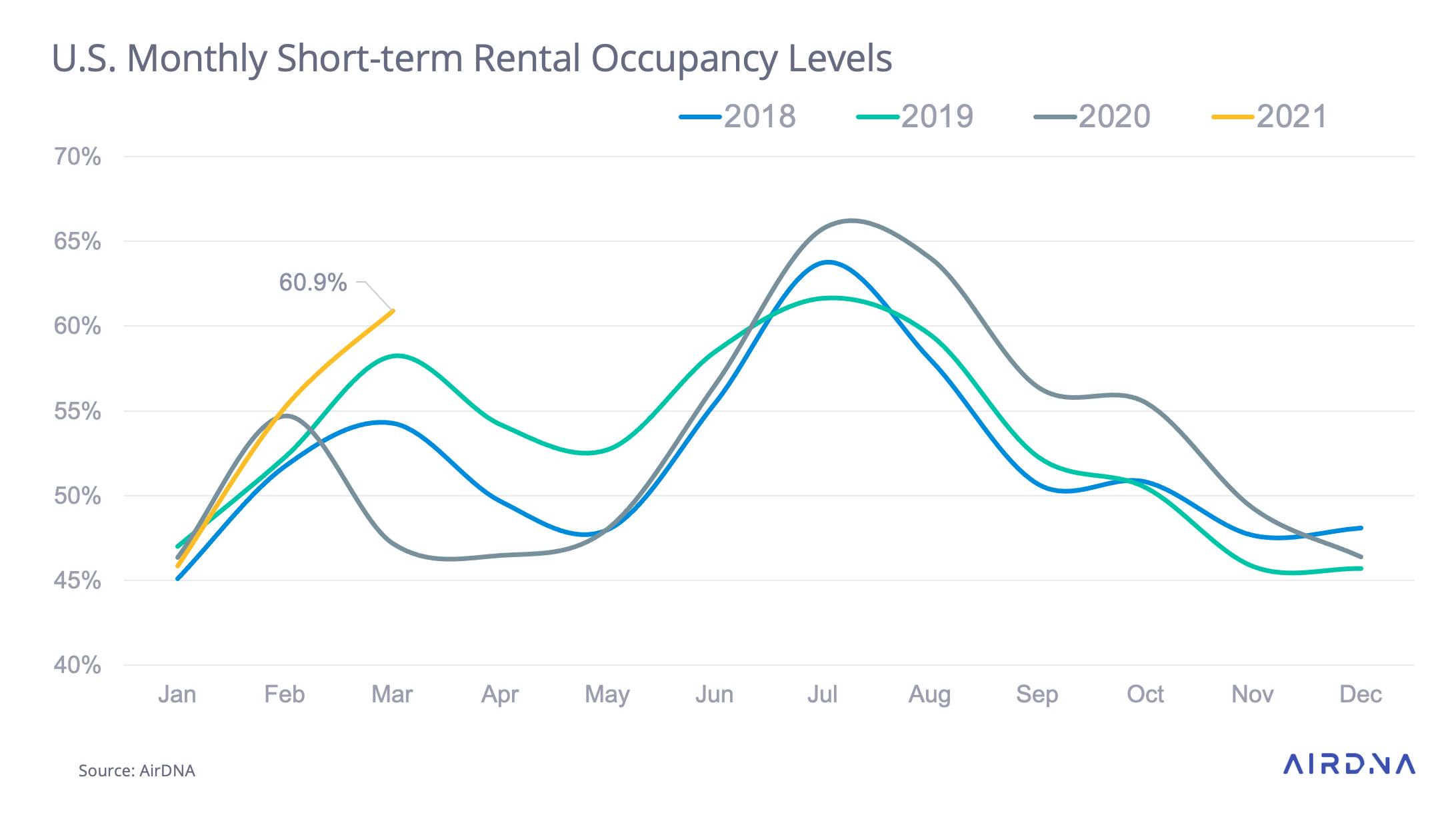 Spring Break crowds heading to coastal destinations drove demand in March with the four highest market occupancy levels coming from Florida. Sarasota registered the highest occupancy of the Top 50 largest short-term rental markets at 77.2%, followed by Cape Coral/Fort Myers (75.2%), Fort Lauderdale (74.1%), St. Petersburg (73.5%), and the Big Island, HI (72.5%). Even with the highest occupancy levels in the country, each of the Florida markets was still slightly below their 2019 occupancy levels, as many people are still waiting to resume leisure trips.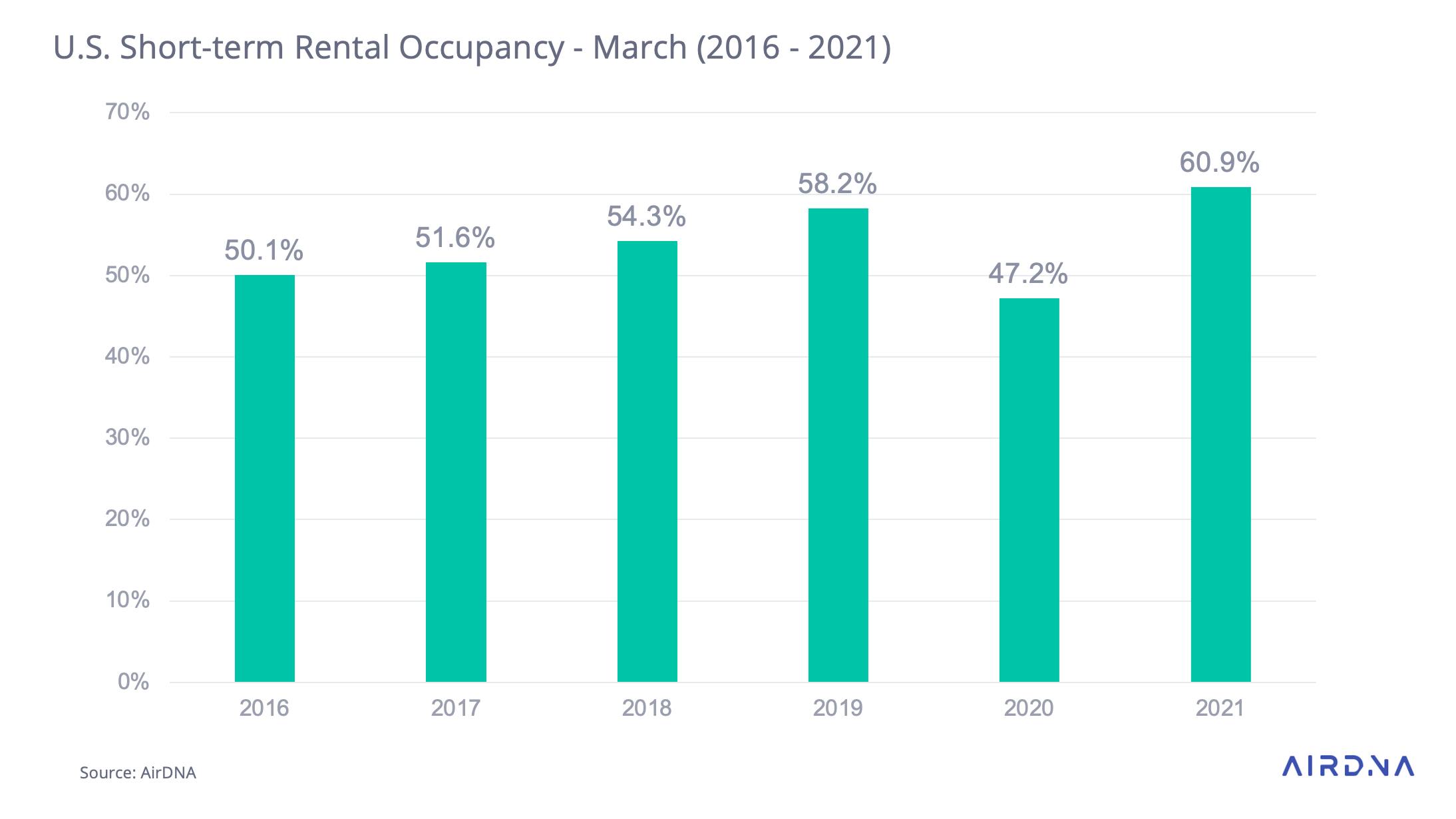 Among the Top 50 markets, the lowest occupancy levels came from Boston (44.0%), Washington, D.C. (43.4%), and Long Island, NY (41.7%). The evolving pandemic has led to significant shifts in occupancy for other markets. Markets like the Lower Hudson Valley, Lake Tahoe, Big Bear, and Cape Cod that traditionally see a lull in occupancy during March grew demand as people looked to escape cities. Each of these markets is within a three-hour drive of a major metro area (New York, San Francisco, Los Angeles, and Boston) and increased their March 2021 occupancy by more than 30% over 2019 levels. 
The occupancy gains were broadly a result of recovering demand and a reduction in the available supply of short-term rentals. This month's demand level was 97% of March 2019 demand, which is the highest it's been since the start of the pandemic.  
The recovery in demand has varied dramatically by location. Urban areas, for example, have been hit hardest; demand in March 2021 reached just 55% of its 2019 level. Small city and rural locations, on the other hand, are attracting more guests than ever before and are now at 165% of 2019 demand. Destination/resort locations have also continued to benefit and are now trending ahead of previous years.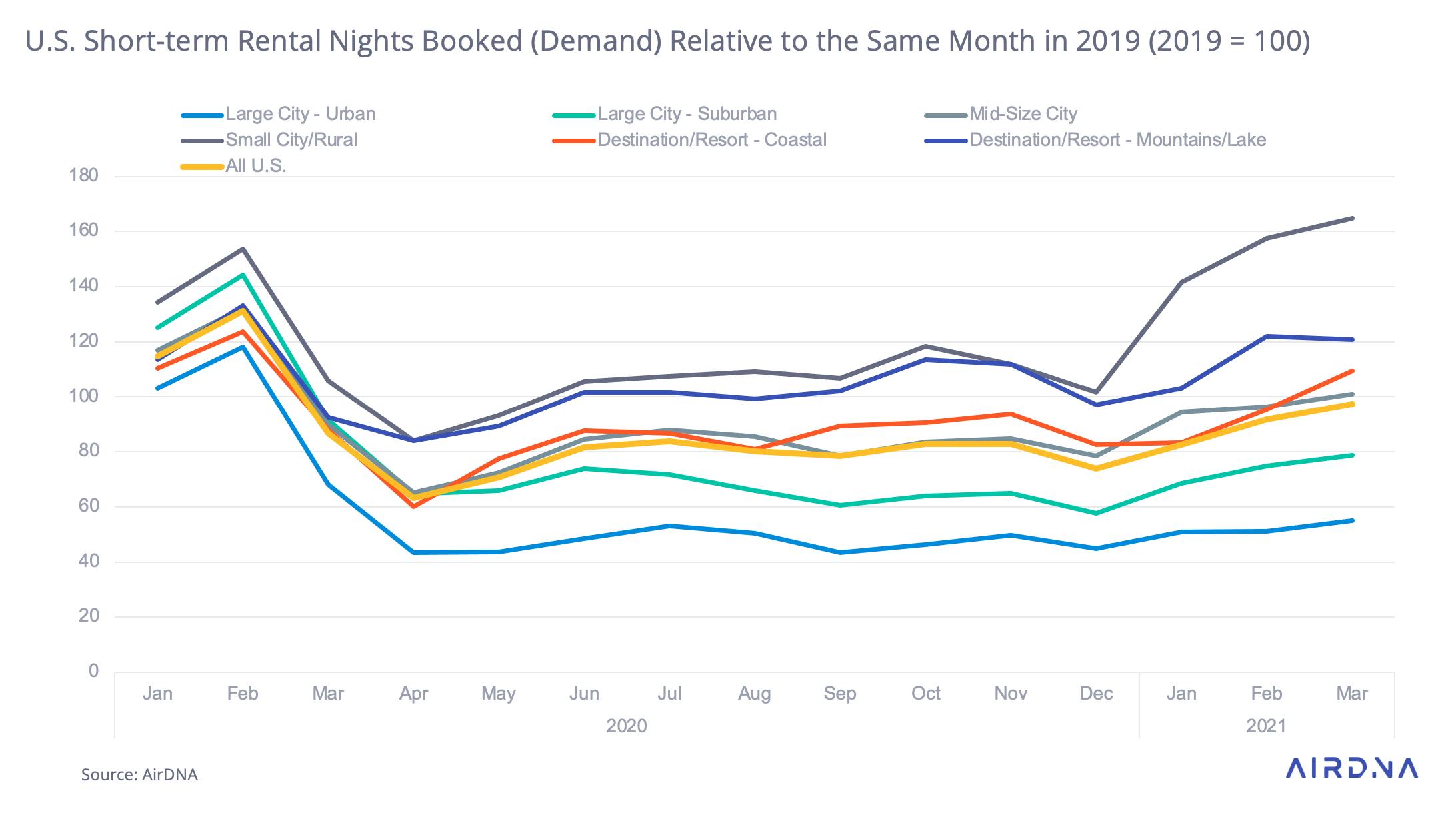 Supply Changes Cushion COVID-19's Impact on Occupancy
Available supply is down about 7% relative to 2019 as many short-term rental operators have temporarily or permanently removed their properties because of low demand. This trend is most visible in major U.S. cities where the number of available listings has fallen by more than 30%. 
With little demand, urban locations have shed 39% of their available supply. The combination of these supply and demand trends results in an 11% overall drop in occupancy. If supply had remained constant, the resulting drop in occupancy would have reached -45%. Supply has not been able to keep up with the strong demand outside of large cities. This has led to significant occupancy increases in March for units in small city/rural areas and destination/resort locations.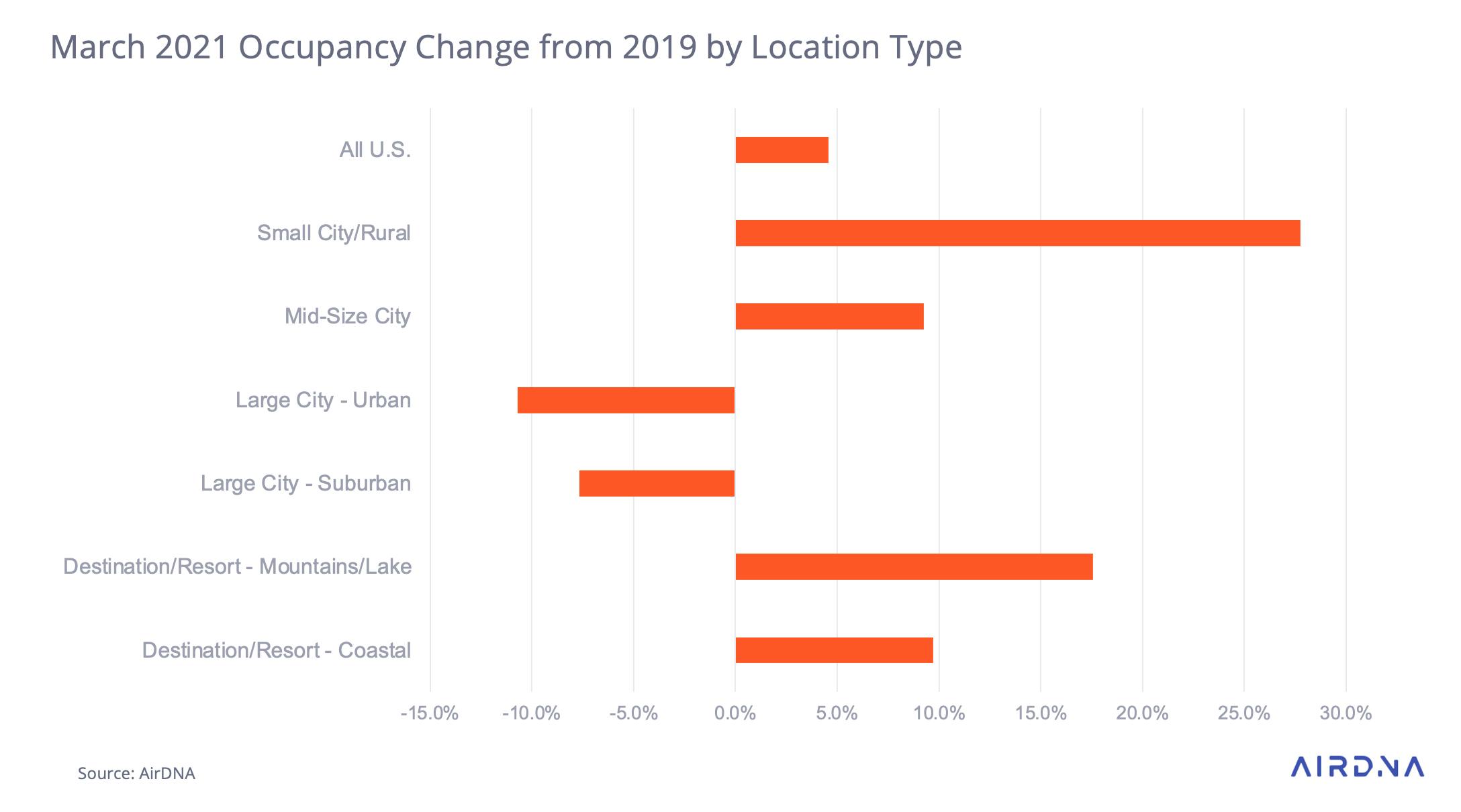 Higher occupancies and demand for larger homes in destination markets have pushed Average Daily Rates (ADRs) even higher in March to $254.70. This ADR is 18% higher than in March 2020 and 19.2% higher than in March 2019. With high levels of demand expected in certain destination/resorts and small city/resort locations, ADRs are expected to climb even further this summer. Then, as demand begins to recover in major cities and in private and shared accommodations, we expect that overall ADRs will begin to fall back towards 2019 levels.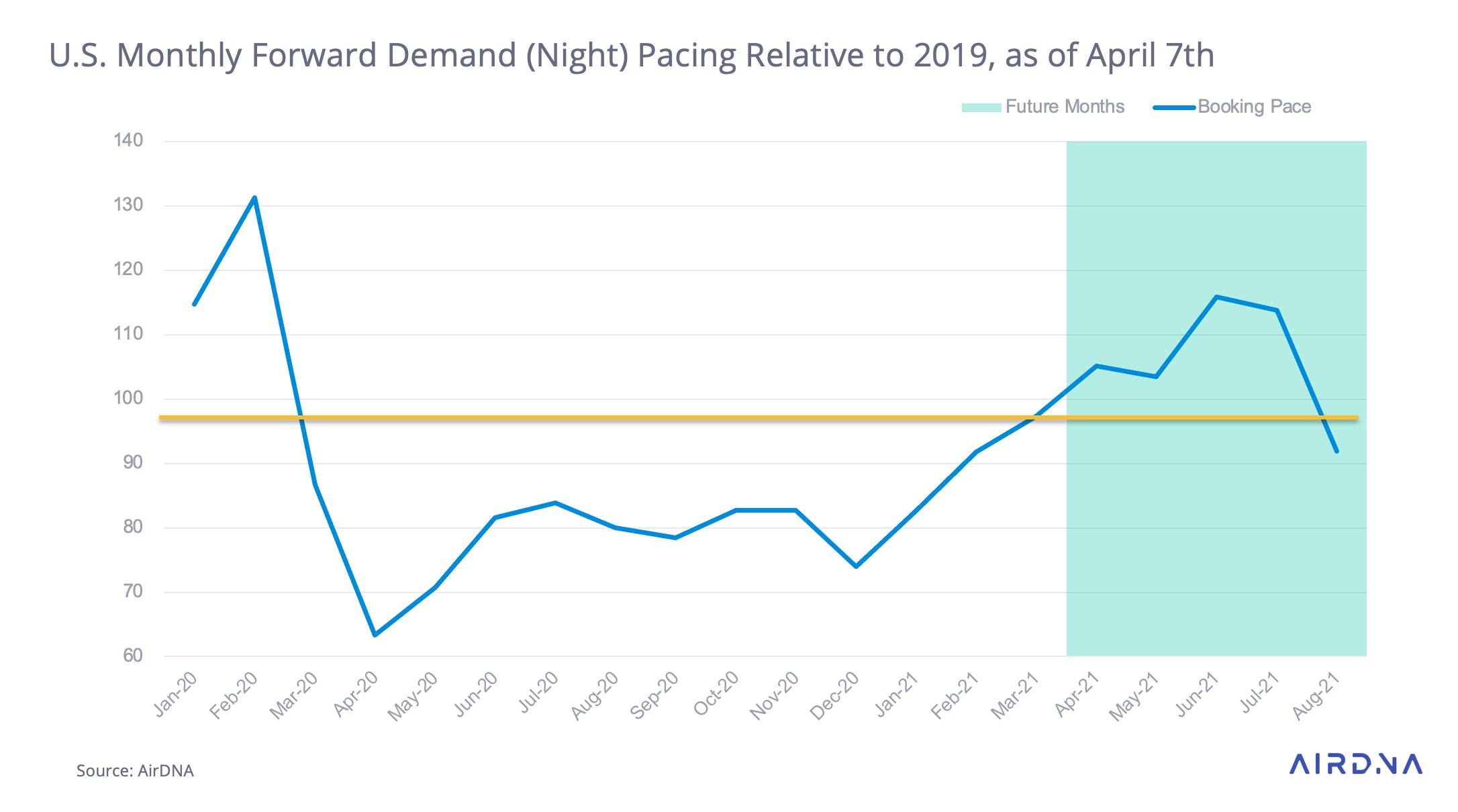 Reservations made during March 2021 reached another record, exceeding last month's all-time high. Guests booked both near-term trips for April and trips further out into June and July. With the surge in bookings last month, April, May, June, and July 2021 now have more demand booked through the first week of April 2021 than for the same months in 2019 as of early April 2019. This suggests that the upcoming summer will be the best on record for the short-term rental industry.  
With most of those bookings concentrated into small city/rural and destination/resort locations, we expect occupancy to be at or near capacity in the most popular locations. As summer travel nears and vacation homes reach peak occupancy, we expect to see additional supply added to popular markets. Excess demand should also lead guests to return to the urban markets travelers have largely avoided over the past year and currently have ample availability. 
Get started with MarketMinder today.
With powerful, easy-to-use tools, MarketMinder helps hosts and investors succeed in the short-term rental market. Ready to jump in?
Try it for free