READY, SET, GO! U.S. Short-term Rental Demand Leaps Forwards in May
After a steady recovery in April, U.S. short-term rental demand gained 17.4% vs 2019 levels, accelerating into expansionary territory in May. U.S. short-term rental occupancy rose to 63.7%, up 3.5% from April, and an incredible 20.9% higher than May 2019. Occupancy has increased over the previous month in each month in 2021 as pent-up demand has usurped traditional seasonality patterns.  
The gains in occupancy were primarily the result of a 17.4% increase in demand over 2019 levels (+66.0% vs 2020) in May 2021, up from an increase of 5.3% in April. Demand growth was again greatest in small city/rural areas (+68.1%), mountain/lake destinations (+48.1%), and coastal destinations (+40.0%). Of the 265 markets that cover the U.S., 207 of those markets saw their May 2021 demand exceed May 2019 levels, up from 201 markets in April.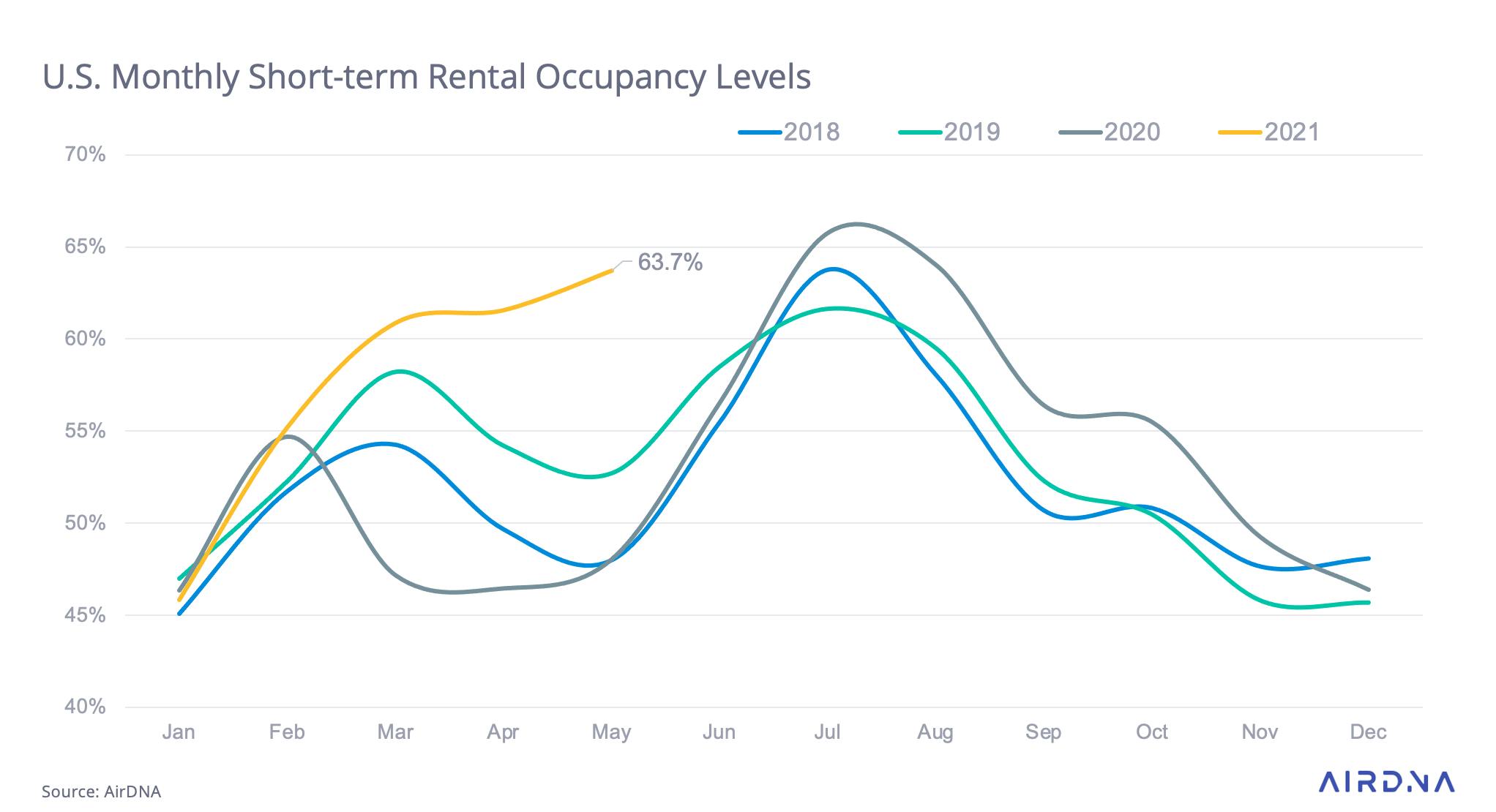 Occupancy Up, Available Units Down
Helping to push occupancy higher was also a decrease in the number of available units in May. While the total number of listings on Airbnb and Vrbo has grown by 8.5% over the past 2 years, the number of available units in May 2021 was 4.3% lower than in May 2019.
The available listing count reflects the number of units actively competing for guests during the month. It can also show seasonal patterns, as some units are only available for rent during peak seasons and are unavailable during off-peak periods.  
In large cities, individual hosts may be waiting for demand (and rates) to further recover before making their units available for rent again. Outside the city, a combination of a strong housing market pulling supply away for STRs and hosts using their homes for personal use has contributed to the declines in the availability of units.
Suburban areas are illustrative of this disconnect where lagging demand, still 4.1% below 2019 levels, has led to a slow recovery in available listings, especially private and shared rooms. Total listings, on the other hand, have fully rebounded and even grown by 4.4% over 2019 levels. As demand further recovers throughout 2021, available listings should recover as well.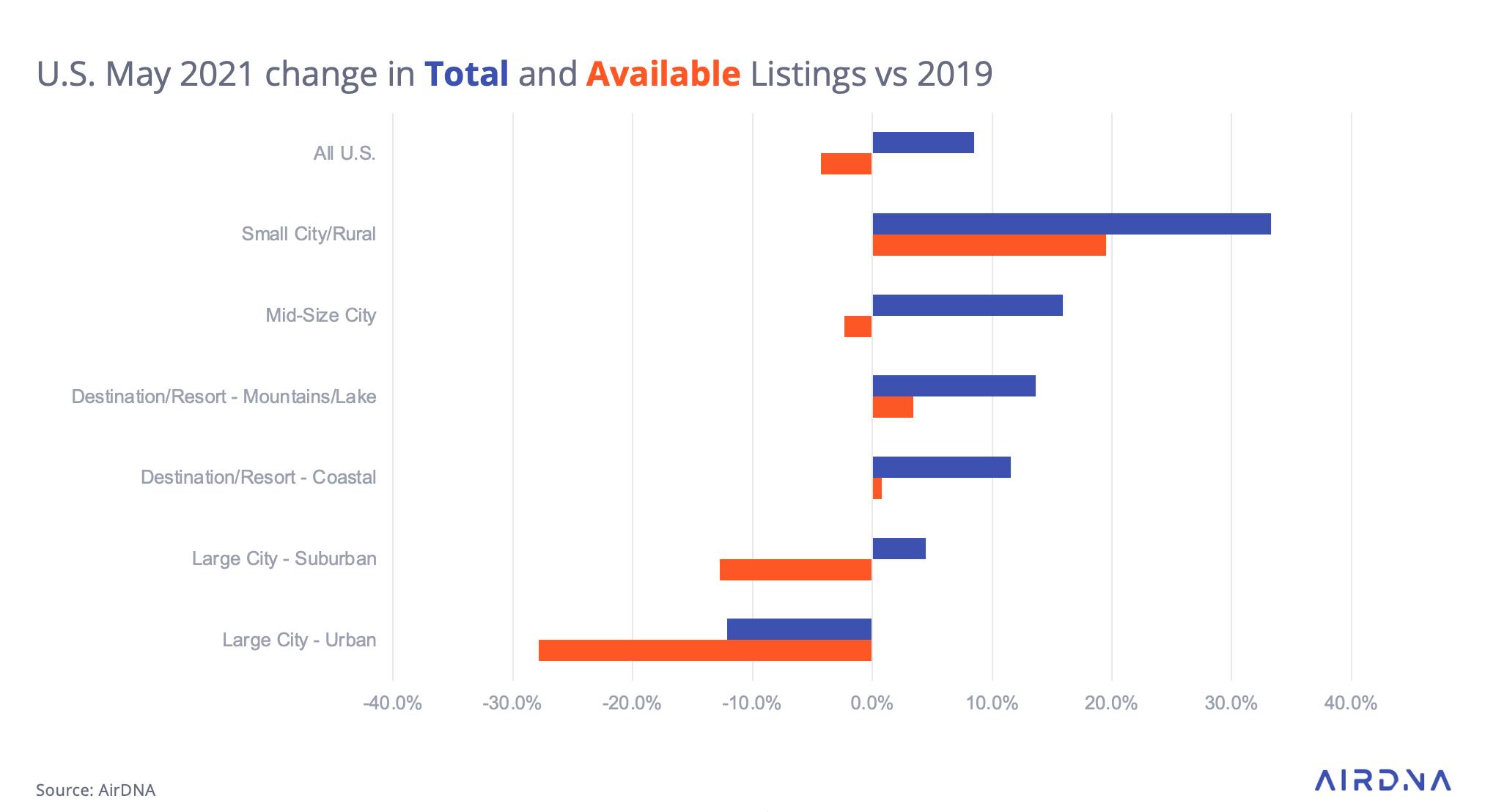 State-Level Short-term Rental Demand Shows Widespread Recovery throughout the U.S.
Of the 50 states, Puerto Rico, and Washington, D.C., 44 have exceeded 2019 demand levels as of May 2021, while eight states are yet to recover. West Virginia (+109%), Arkansas (+108%), and Oklahoma (+102%) have all more than doubled the demand for short-term rentals in their state over the past two years. New York (-32%), Massachusetts (-33%), and Washington, D.C. (-51%), which rely heavily on urban markets, are yet to recover.
Looking at occupancy levels, Puerto Rico led all states in May with 76.6% occupancy followed by Hawaii (76.0%), Alabama (70.5%), South Carolina (70.3%), and Florida (69.7%). All states boast strong leisure coastal markets where occupancies have reached record highs. Puerto Rico also had the highest market-level occupancies in May with San Juan (83.8%) and Rio Grande/Fajardo (82.4%) as the only markets in the U.S. to exceed 80% occupancy for the month.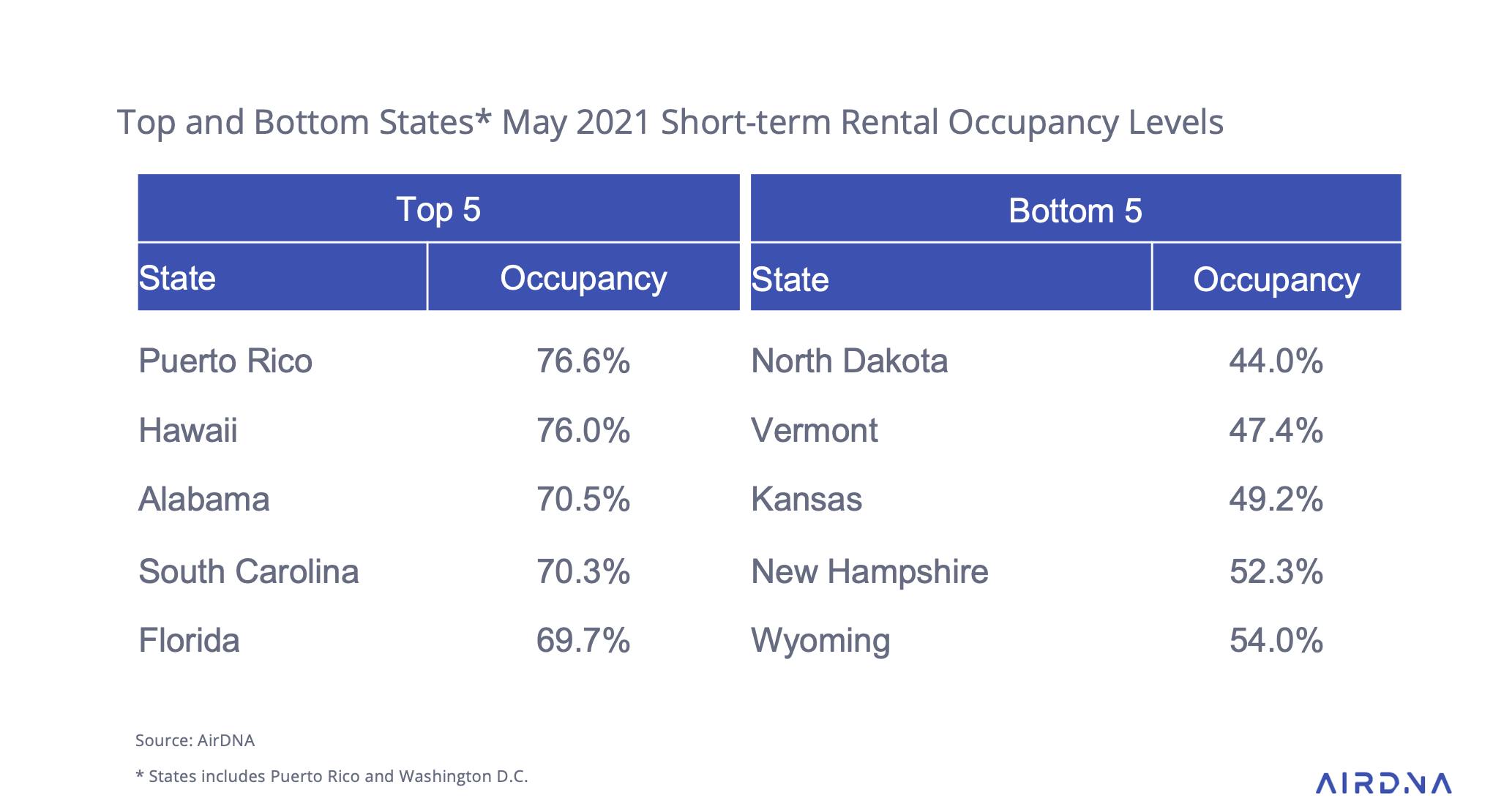 Average daily rates (ADRs) increased again in May to $244.41, which was 11.9% higher than May 2020, and 21.4% higher than May 2019. RevPAR grew by 46.7% over 2019 levels, a 12thconsecutive month of growth.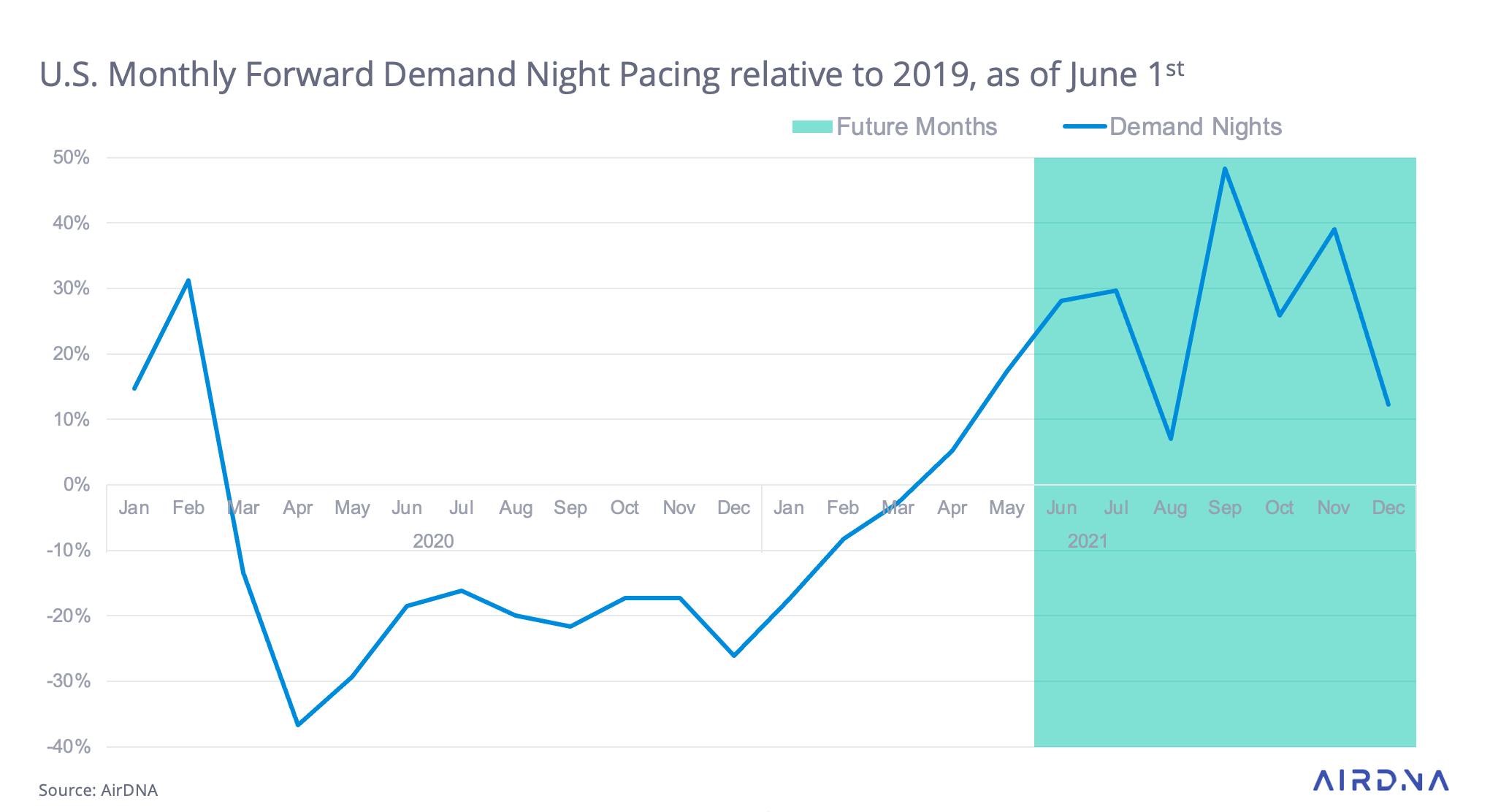 Fall Bookings Continue Record Booking Trends
With a strong summer of travel expected, and much of it already booked, many short-term rental owners/hosts are already seeing high levels of reservations for the fall. As of June 1st, the booking pace for Q4 2021 was already 25% higher than 2019 demand and 95% higher than 2020, when a lot of nights were booked with a much shorter booking window. September is a particularly strong month so far and has almost 50% higher bookings today than in 2019.  
The back half of 2021 should also mark the beginning of the recovery for urban demand, which will probably not fully recover until 2022. New bookings are just beginning to come to life, with new bookings still down 18% from 2019 levels, a significant improvement over April (-27%) and March (-36%). With normality in sight for all types of short-term rentals, the future looks bright for the growing lodging sector.
Get started with MarketMinder today.
With powerful, easy-to-use tools, MarketMinder helps hosts and investors succeed in the short-term rental market. Ready to jump in?
Try it for free