Promising Fall for U.S. Short-term Rentals Driven by Thanksgiving Bookings
In this edition of the monthly review we unpack the data behind a record quarter for short-term rental revenue, which totaled $14.5 billion in Q3.  Highlights include:
Demand for U.S. short-term rentals was back over 2019 levels, after dropping slightly in August.
Myrtle Beach was the top markets for new investment over the past 2 years
Demand for Thanksgiving is up 31% vs 2019, only up 4% for Christmas
Short-term rental demand growth was positive in September after declining slightly in August.  Demand for trips in September was 4.7% higher than in 2019 and 33.7% higher than the same time last year.  
Occupancy dropped in September to 59.0% from 66.7% in August, which is a typical drop in occupancy for the month.  This represented a 4.6% gain from last year and a 12.8% increase from 2019 and these growth rates were essentially unchanged from August. The 59% occupancy extends a year of records representing the highest occupancy ever recorded for the month of September.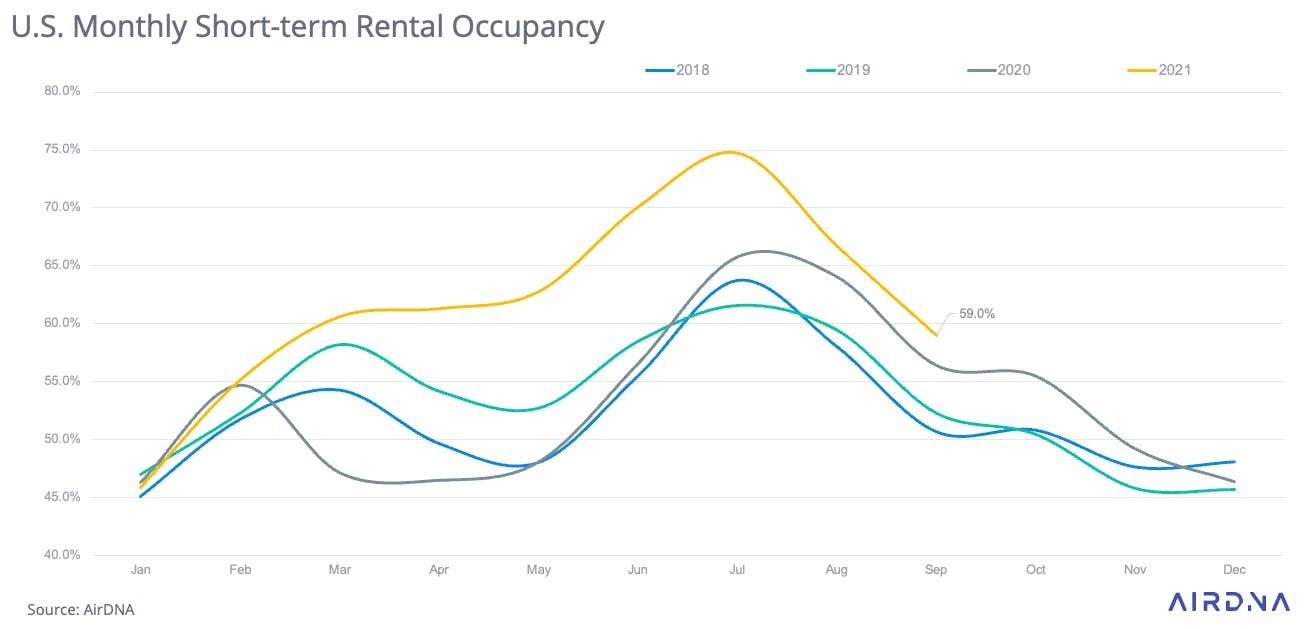 Demand stayed unusually strong in both coastal and mountain destinations where about 20% more guests are continuing to travel than normal. This matches similar gains seen in the spring and supports the theory that the newfound flexibility that comes with remote work for many will continue to support short-term rental demand. Markets benefiting from the extended summer season include Cape Cod, MA, Myrtle Beach, SC, and Hilton Head, SC, where occupancy remains about 30% higher than 2019 levels.  
Even with strong demand, occupancy has dropped below 2020 levels in mountain/lake destination locations based on a surge of new short-term rental supply being added into these markets. These gains bring the number of available listings back to 2019 levels after they dropped by close to 20% in 2020. 
Demand change dropped in urban locations for a second consecutive month and is now down 36.1% when compared to 2019. Demand remains down by more than 50% in New York, NY, (-57.6%), Jersey City/Newark, NJ, (-55.6%) and San Jose/Palo Alto, CA, (-51.1%) even worse in each of these cities in September than August. 
Average daily rates (ADRs) continue to be well above 2019 levels, up 24.6% in September.  ADRs averaged $253, which was 8.2% higher than in 2020. Elevated demand throughout the country heading into this fall/winter is expected to keep prices high and ADRs are pacing 10-15% higher than 2020 levels for the rest of 2021.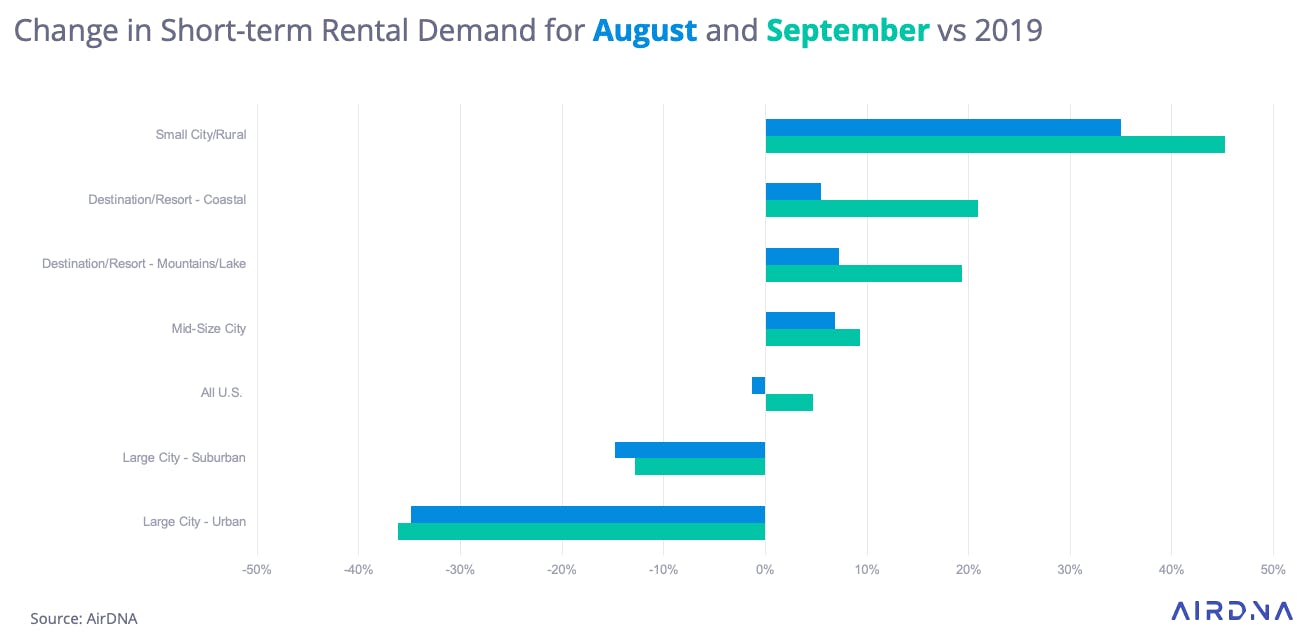 High Earnings Lead to New Investment in Short-term Rentals
September ends what was a record quarter for short-term rental owners and investors. Revenue earned in short-term rentals totaled $14.5 billion just in the U.S. for Q3 2021, which was 24% higher than in 2019 and 37% higher than 2020. Those gains are even more impressive considering that revenue in urban locations was down by more than 20%.  
The record earnings have sparked interest for investors looking to enter the sector, especially in destination markets. Top markets for new short-term rental listings include Myrtle Beach, SC (+2,754), Gatlinburg/Pigeon Forge, TN, (+2,126), and the Ozark Mountains, MO (+1,931). Given the relatively smaller size of the market, growth was highest in the Ozark Mountains which now have 62.5% more listings than in 2019.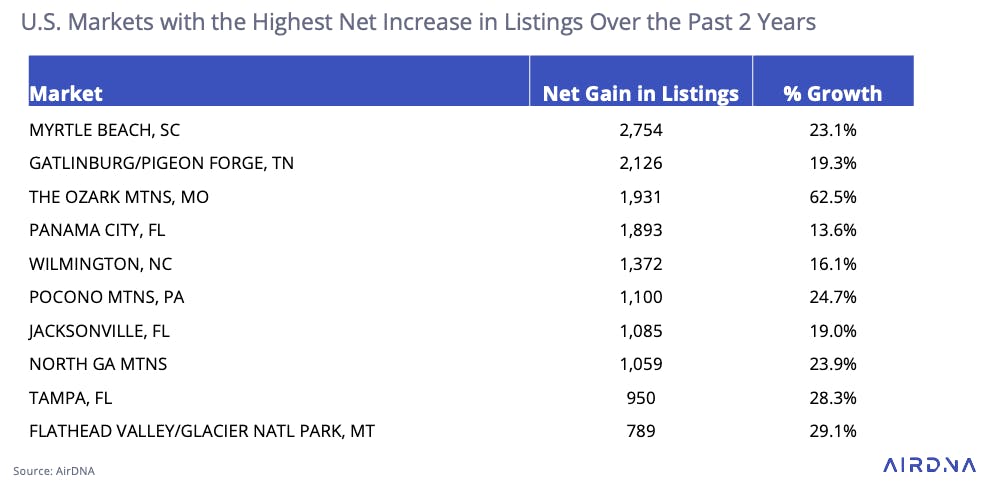 In Q3 2021, the number of unique listings on Airbnb and Vrbo reached over 1.4 million. While still 2% lower than the peak of 2019, there has been a significant recovery in supply since 2020, with listings increasing to 11% higher than Q3 2020. 
There were about 150k new listings added to Airbnb and/or Vrbo in Q3 2021 which averages out to about 1,620 per day. Unfortunately, there were also 125k listings that left the platforms, which leaves a net gain of just 25k listings. The gains and losses in listings generally aren't in the same areas and have broadly followed demand trends. Listings were up 23.6% in small city/rural areas while they were down 19% in urban areas.
Are Longer Stays Here for Good?
In September, long-term stays (defined as trips lasting 28 days or longer) made up 16% of total nights booked, which was the highest level since February and on par with the level seen in September 2020. The resurgence in long-term stays as the industry heads into the fall supports the theory that longer-term stays could remain in the sector for some time.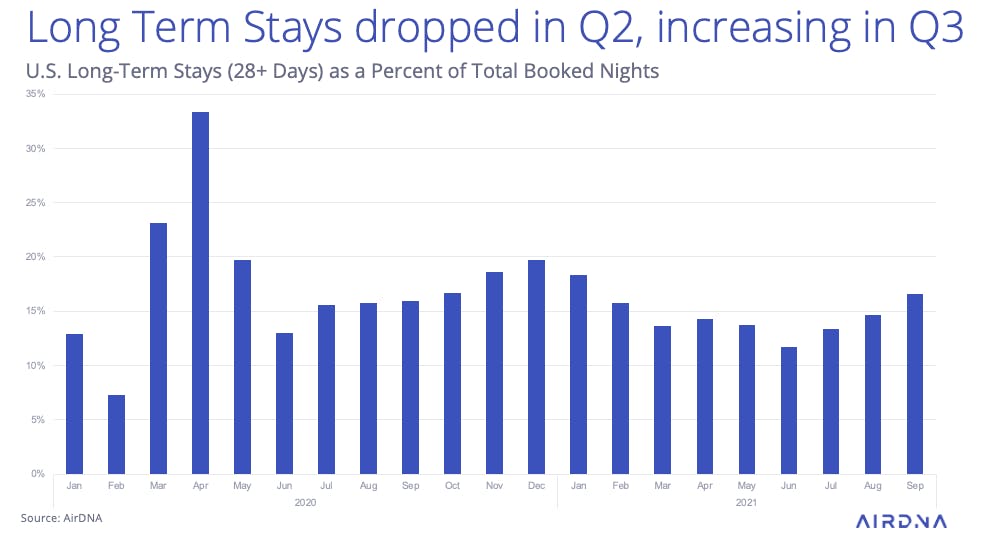 When we look at the types of locations that are generating a high percent of the longer stays, urban and suburban properties are seeing the greatest percent today and most growth from prior to the start of the pandemic. If the trend continues from last fall, we should see the percent of long-term stays continue to increase through the end of the year.
Holiday Bookings Drive Q4 Demand
Looking at the 4th quarter, nights booked are 12.9% higher than at the same point in 2019 and 52.6% higher than 2020 (as of October 9th). The major driver for the increase in bookings is a much higher level of trips booked for Thanksgiving weekend, which is pacing 31% higher than 2019 and 65% higher vs 2020.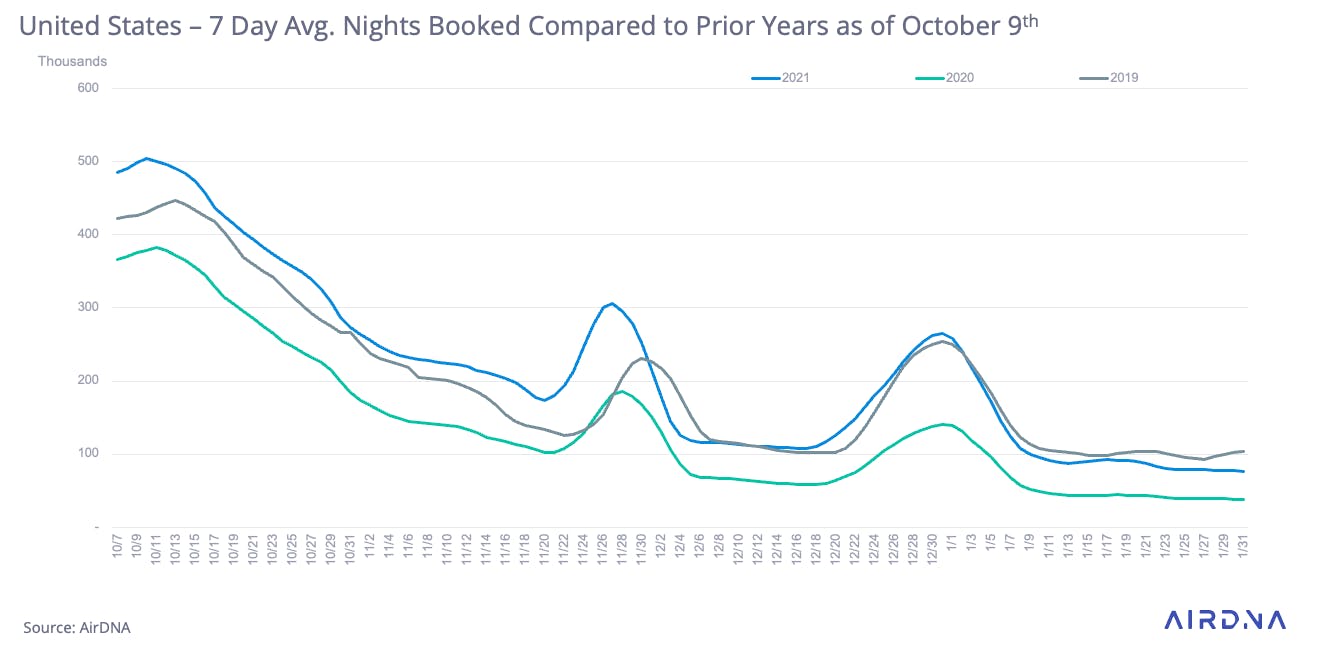 Meanwhile, the week of Christmas and New Year's is only pacing about 4% higher than 2019 and 89% higher than 2020. Of the 50 largest short-term rental markets, 7 of the 10 markets with the most growth for holiday demand are in Florida.  For Thanksgiving weekend, the most growth in demand is for Panama City, FL, (+97.6%) and Myrtle Beach, SC, (+82%). Panama City is also the fastest growing market for Christmas along with Santa Rosa/Rosemary Beach, FL, where in both markets bookings are pacing over double what they were in 2019.  
On the other side, New York, traditionally a top market for holiday travel, is pacing at more than 50% below 2019 levels for both Thanksgiving and Christmas – with New Year's down a dramatic 65%.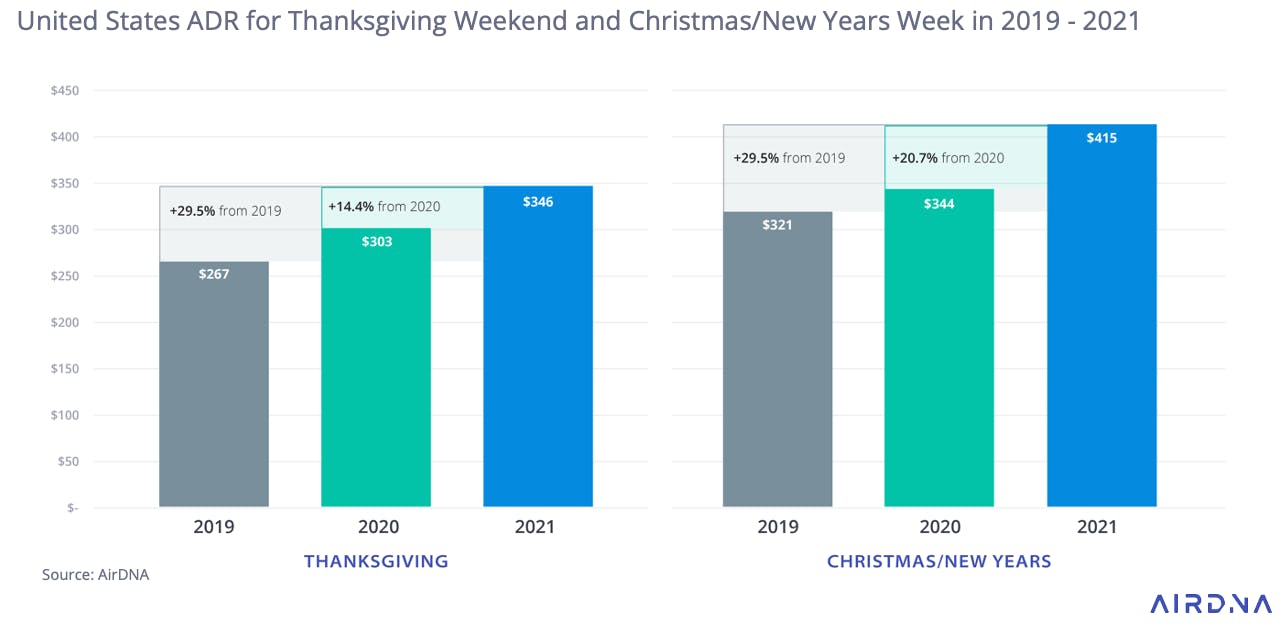 The high levels of booking activity have pushed rates even higher for this holiday season.  Overall ADRs are at about $346 for Thanksgiving weekend and $415 for the week of Christmas through New Year's Eve. These rates are 30% higher than guests were paying in 2019.  
The most expensive markets for holiday travel are at Western ski resorts where rates for Christmas in Aspen, CO, Park City, UT, and Telluride, CO, are all averaging more than $1,000 per night. One bright spot for these high cost markets is that the increases in ADR from 2019 are well below the national average.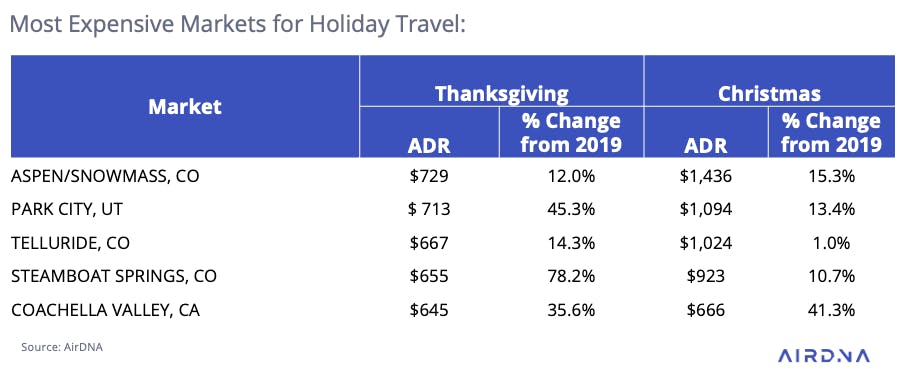 There are still many deals to be had in lower cost markets and it's not necessarily because of a lack of demand. Daily rates in Wilmington, NC are only averaging about $174 for Christmas and demand is already 125% higher than in 2019.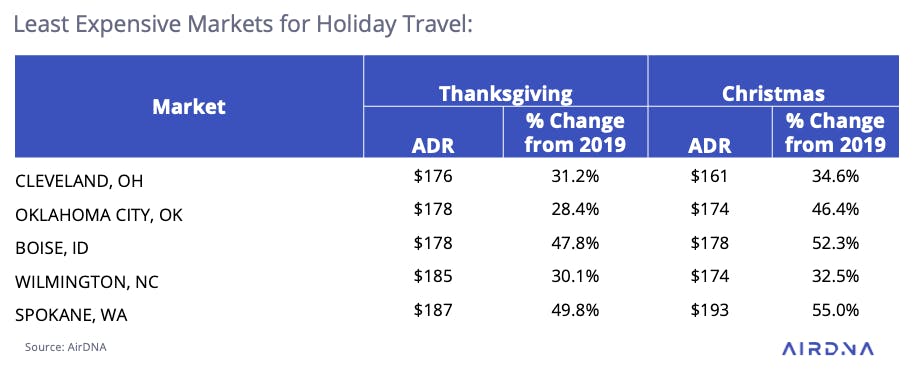 With new COVID-19 cases declining and the vaccination rate close to 70% in the U.S., many Americans are planning for a more normal holiday season in 2021. However, it appears that travelers are learning from their experience this past summer when most markets had little to no vacancy that to secure the best properties in desirable locations, you need to book early and be willing to pay a bit more than past years. 
The strong levels of demand for this fall and winter, coupled with higher prices, is making it a great time to own and operate a short-term rental in the U.S. While it's hard to predict how long the good times will last, we expect the positive trends for the sector to continue well into 2022. With more and more people experiencing the quality and convenience of booking and staying in a short-term rental for the first time over the past 18 months, the future looks bright for years to come.
Get started with MarketMinder today.
With powerful, easy-to-use tools, MarketMinder helps hosts and investors succeed in the short-term rental market. Ready to jump in?
Try it for free