Over a decade after Airbnb's inception in 2008, it's become patently clear that short-term vacation rentals can be extremely lucrative. There are, of course, many locations where managing a vacation rental makes little sense, and still other places where marginal profits are not worth the investment of time and effort. We're here to talk about the third category: the absolute best cities for Airbnb investment. 
Definitions vary over what is considered a 'great' Airbnb city. Is it good for studio apartments or beachside mansions? Does revenue trickle in year-round or does it pour in during short spurts of seasonality? Is the market better for rental arbitrage or outright investment? 
For the purposes of this study, we've ranked the best places to Airbnb by three main categories: average daily rate, occupancy rate, and revenue. After sourcing historical data from millions of properties around the United States, here are the top Airbnb cities in the U.S. heading into 2020.
The Best Cities for Airbnb Investment: Airbnb Average Price by City
The first variable worth considering is ADR — the average rate at which properties are reserved. Having nothing to do with occupancy rates and revenues earned, these are the cities where hosts make most the money per night on Airbnb. Barriers to entry may be high and competition may be stiff, but these cities have the ADRs to back their reputation.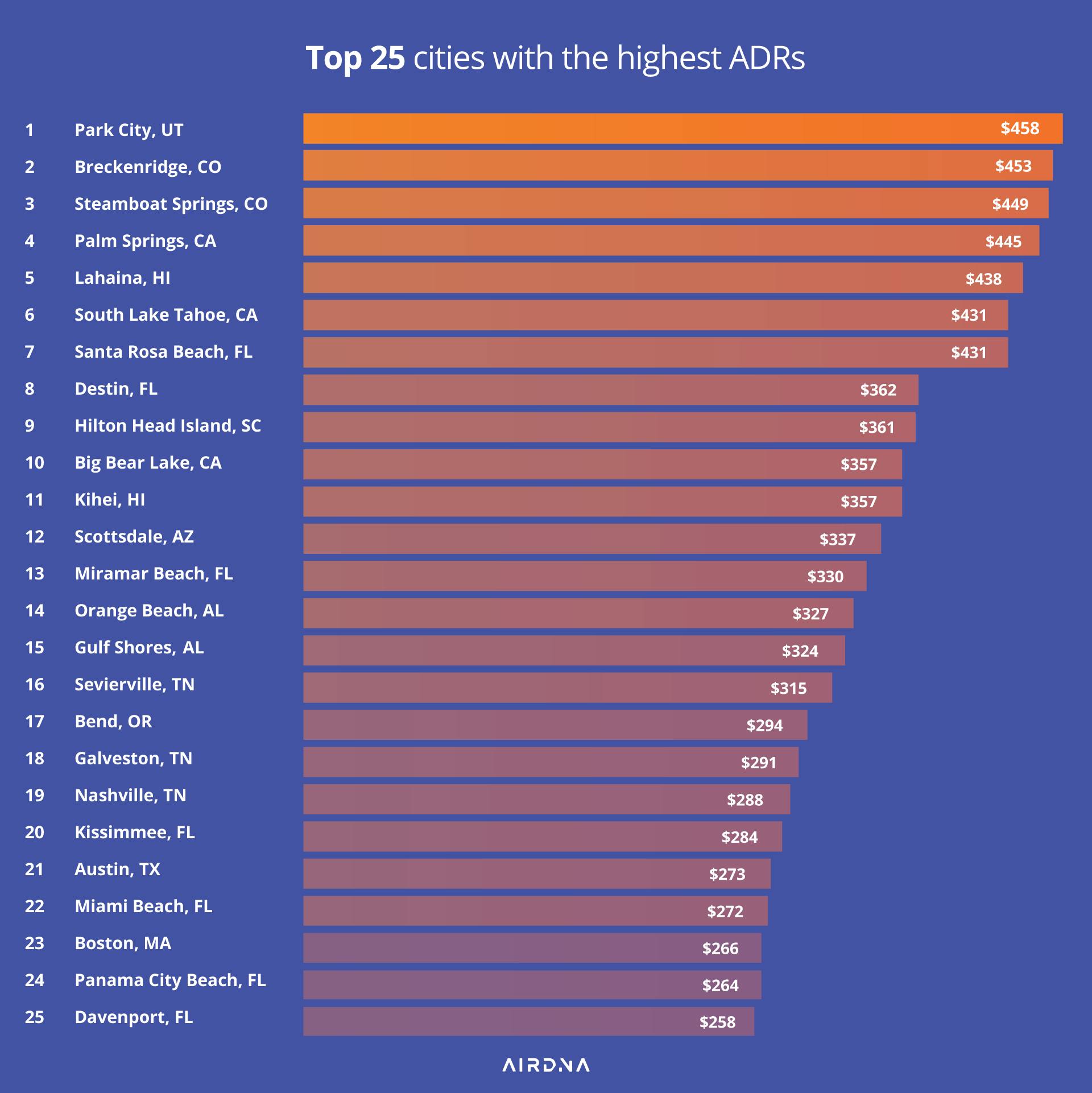 Unsurprisingly so, nearly all cities on this list fall into the category of traditional vacation rental destinations. World-class ski resorts claim the top three spots, Florida hosts seven of the top 25, and other locations such as the coasts of Alabama, South Carolina, and Hawaii all charge a pretty penny for a night's stay. 
Interesting metropolitan standouts include Boston and especially Austin — a city whose economy is growing among the fastest in the United States.
Airbnb Occupancy Rate by City: Urban Locations Dominate
Most hosts and property managers operate under the knowledge that higher occupancy rates equal more revenue. While this isn't always the case, it's usually a good sign of the best places to Airbnb. Below we've mapped out the places with the highest Airbnb occupancy rate by city (filtered for cities with at least 2,000 listings).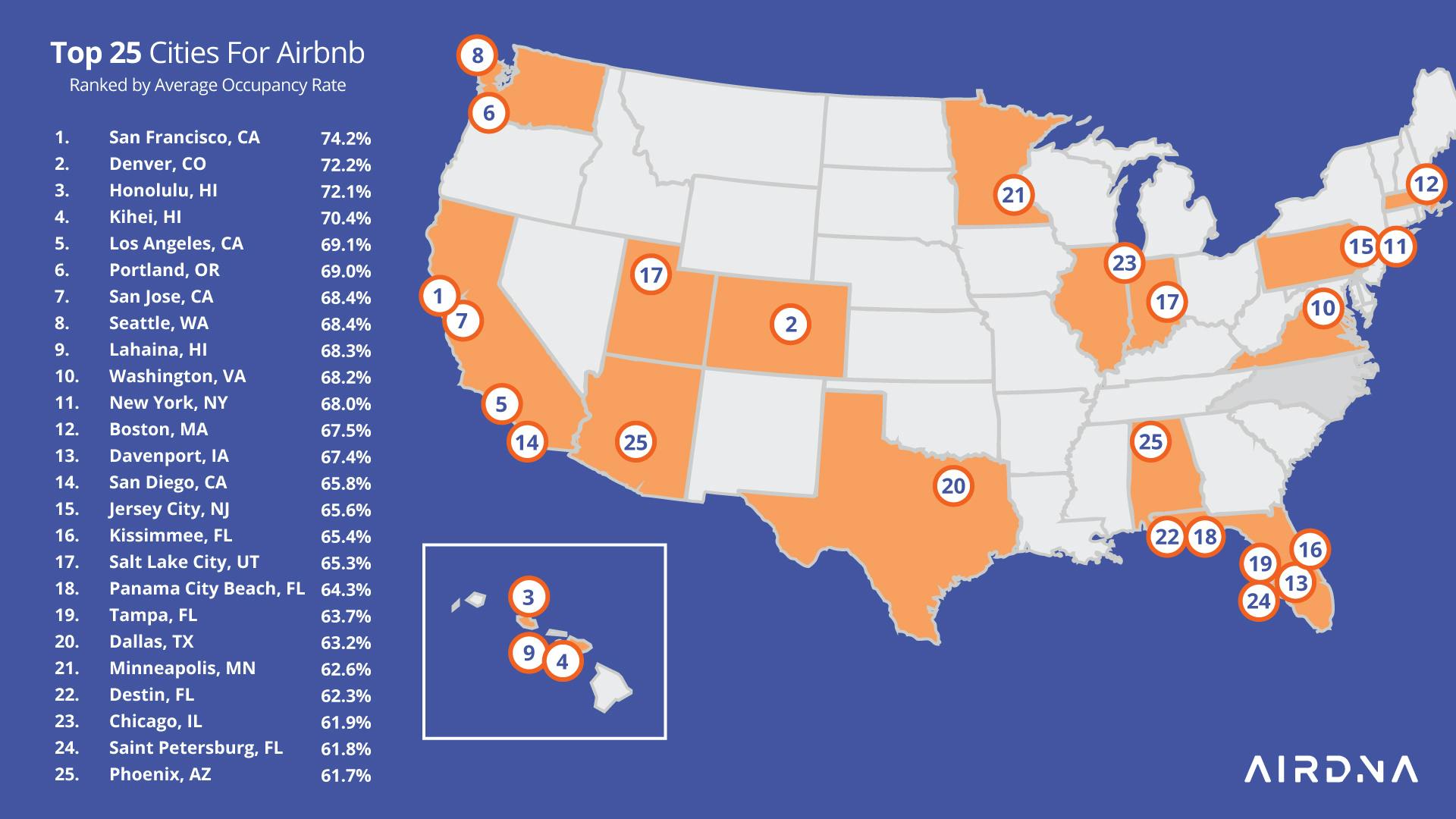 Fittingly enough, Airbnb's home base of San Francisco ranks #1 on the list of cities with the highest occupancy rate. Besides a handful of cities in Hawaii and Florida, the majority of cities on this map are large metropolitan markets. In recent years, locations like Portland, Dallas, and Minneapolis are starting to redefine the traditional image of a vacation rental city.
The Best Cities for Airbnb Investment: The Most Profitable Airbnb Cities in the U.S. 
When considering the most profitable Airbnb locations, one metric matters most: RevPAR. Revenue earned per available rental is simply a factor of occupancy rates and average daily rates. A listing with an extremely high ADR tells us little if there's no occupancy rate to match. Same goes for the reverse — if you're fully booked 6 months out in advance, chances are you're leaving money on the table. 
RevPAR is a metric that finds the perfect threshold between these two variables in order to maximize Airbnb profit margin. Here are the top 15 cities with the highest annual RevPAR and the places where Airbnb host profit is highest.
Looking to compare these (or any) markets side-by-side? Check out AirDNA's new Market Comparison tool below.
Introducing Market Comparison: How to Find the Best Cities for Airbnb
Until now, researching different vacation rental markets has been limited to lists like those above: static, 'best of the best' rankings that may or may not apply to your individual circumstances. Sure, it's interesting to browse the country's top markets and gawk at their revenue numbers, but what if you're considering an investment move somewhere else? 
Enter Market Comparison by AirDNA. For the first time ever, Airbnb hosts and property managers now have the ability to analyze side-by-side any market and any neighborhood from one simple, interactive dashboard. 
Which properties in San Diego make more money, those in North County, or those downtown? Which ski town boasts better occupancy rates, Aspen or Vail? Until now, the answers to these questions were only found (if at all) after exhaustive research through mostly anecdotal evidence. 
Market Comparison now allows hosts (and future hosts) to conduct head-to-head analysis for any set of markets within minutes.
Main Ways to Leverage the Market Comparison Tool
City-to-City: Analyze the differences in Average Daily Rates, Occupancy Rates, and Revenue for any two subscribed cities.
Neighborhood Comparison: Study the trends within any given city. Find out which areas are experiencing the most movement and compare that data to city-wide averages.
Accommodation Size: How much more money do two-bedroom listings earn than one-bedroom listings? Is it worth it to buy a bunk bed or pull-out couch to accommodate more guests? Market Comparison allows users to toggle bedroom counts and # of guests to see differences within any given market. 
How it Works
First, navigate to the Market Comparison page and select up to 4 markets to which you're subscribed in MarketMinder. Begin typing in the name of the city or neighborhood and make a selection from the drop-down. If you're not yet subscribed to any markets, select "View a Sample Comparison" to see the tool in action.
Next, scroll down to hover over the interactive chart. The default metric is Revenue, but you can change that by navigating to the drop-down in the top left corner.
Introducing Neighborhood Lists: Side-by-Side Comparisons, Visualized
Expanding on our goal to simplify and streamline vacation rental research, AirDNA has added Neighborhood Lists, another tool within MarketMinder to help users compare markets. While selecting a city for your short-term vacation rental is extremely important, choosing the right neighborhood deserves just as much attention.
How it Works
From the MarketMinder Overview tab, toggle to the Neighborhood Lists icon on the top-left corner of the map. From here, users who are subscribed to an entire city will see a ranking of the market's best neighborhoods. 
Users can then filter the lists by the daily rate, occupancy rate, revenue, as well as AirDNA's proprietary market grade score. In order to see where exactly those neighborhoods are located on the map, simply click on the neighborhood or zip code.
Short-term rental investment research has gotten smarter. If you're ready to start comparing markets with industry-leading data, click the link below. 
Get started with MarketMinder today.
With powerful, easy-to-use tools, MarketMinder helps hosts and investors succeed in the short-term rental market. Ready to jump in?
Try it for free