As Airbnb and private accommodations have become a firm fixture in the worlds of travel and hospitality, increasing numbers of investors are taking advantage of opportunities presented by the vacation rental real estate market.
AirDNA tracks the daily performance of over 10 million short-term rentals in 80,000 markets globally on Airbnb and HomeAway to produce some of the industry's most powerful tools used to analyze, optimize and invest in short-term vacation rentals.
Building on our reports from 2015 and 2017, we've analyzed average mortgage costs against Airbnb revenue in thousands of cities across the country to put together a series of interactive charts illustrating the latest insights into vacation rental real estate investing and the best places to buy a vacation rental home.
Where are the best places to invest in a vacation rental?
Slicing and dicing the numbers on a daily basis, we consistently see short-term rental properties that make up to 3x more than traditional long-term rentals, and up to 5x more in certain markets.
Although the temptation might be to buy or lease a property in your local area, or in the closest big city popular with tourists, our analysis reveals that sometimes the most unexpected towns are goldmines of high returns.
Purchasing a Short-Term Rental Property
Aspiring investors often think that they should choose a property in the highest price bracket they can afford to get the best return on investment. However, our Property Purchase chart below proves this approach to be totally wrong, indicating a strong negative correlation between house price and Airbnb gross revenue.

Why? Airbnb investors in cities where house prices are sky-high and competition is fierce – think Los Angeles and New York City – would actually make a negative return on investment of tens of thousands of dollars. It is a similar story for smaller markets, which are often just as expensive, such as Santa Monica and Berkeley, CA. Long-term rentals might show an alternative trend, but these markets are currently best avoided by the vacation rental investor.
Alternatively, smaller to medium-sized towns with high occupancy rates are your best bet when choosing where to invest in a vacation rental property. The chart reveals a cluster of towns and cities where house prices sit above the trend line at the $9,000-$12,000 mark: Kissimmee, FL, Las Vegas, NV, and smaller markets such as Fort Walton Beach and Pensacola, FL, and Pigeon Forge, TN. These are safe bets for a first-time investor, boasting low initial costs and up to $44,000 in gross profit for a top property (75th percentile) in a thriving market.
Detroit, MI stands quite literally apart from the crowd with its extraordinary low annual mortgage estimate of $5,000 and high Airbnb rental profit of $29,500 and is one of the best places to buy a vacation rental. A promising market highlighted last year's analysis, Joshua Tree, CA still proves to be a smart market with a high ROI, despite now having triple the number of Airbnb properties.
However, the shooting stars of revenue in the buy-to-rent investment model are currently Sevierville and Gatlinburg, TN, whose low annual mortgage estimates coupled with high Airbnb revenue could make investors an average profit of $43,000 and $53,000 per year respectively. Clearly, they are some of the best places to buy a vacation rental in the U.S.
And if you have a little more to spend, Palm Springs, CA, Destin and Key West, FL, and Koloa, HI offer very high returns, with Sonoma, CA at the top spot, making investors an average of $73,000 in annual gross profit over the same period.
It is important to remember that this analysis is a city-wide average, and does not differentiate between particularly high- and low-performing neighborhoods. Dive into neighborhood analytics and research the best-performing properties in a market with MarketMinder, priced at $19.95 - $99.95 per city for a month's access.
Subleasing Vacation Rentals
Rental arbitrage analyzes the most profitable markets to rent and sublease a property as a vacation rental on Airbnb or HomeAway. In this case, initial costs are much lower, providing investors with opportunities to make large returns.
Local legislation and contractual agreements on subleasing vary, however, so be sure to check before signing a lease.

Most striking is the difference in the trend line from the Property Purchase chart above. The data demonstrates that in general, in contrast to buy-to-rent investing, properties in cities with a higher cost of rent will actually bring in more revenue than cheaper markets.
With rent-to-rent, some large cities including San Francisco and Boston don't fare as badly, with properties making average returns of $42,000-$43,000 per year, even after expensive rental costs.
It is Hawaii, however, that really shines in the rent-to-rent investment game: Koloa, Lahaina, Kihei, Honolulu, Princeville, and Waikoloa all show very high returns against mid-range rental costs, with Koloa exceeding $80,000 in annual gross revenue. Demand for diversity in offerings on the islands could be sparking an interest in vacation rentals as an alternative form of accommodation.
Seasonal areas such as winter sports towns Vail, CO, and Mammoth Lakes, CA, and summer resorts Key West and Destin, FL also show high returns on rent-to-rent investment.
The principal takeaway from our Airbnb Rental Arbitrage analysis is that, unlike in the Property Purchase chart, none of these markets make a loss.
Subsidizing Your Rent with Airbnb
What about hosts just looking to subsidize rental costs by listing a spare bedroom as a Private Room on Airbnb?
In some markets, renting out your spare room will just help you to cover the rent. In others, listing your place on Airbnb could pay for your rent, and even turn a profit.
Unsurprisingly, in highly popular cities – Venice, Santa Monica and San Francisco, CA and Cambridge, MA – subletting a room as a vacation rental might soothe the dent in your wallet, but will not offer a significant return from an investment point of view. You would be better off just finding a permanent, long-term tenant.
However, in a surprising number of markets, renting out a Private Room in your place could cover your rental cost altogether. Bundling in the $7,000-$10,000 annual rental cost range, markets such as Detroit, MI, Memphis, TN, Cleveland, OH, Indianapolis, IN, Louisville, KY would make hosts between $2,500-$5,500 in annual profit.
In exceptional markets, such as Sedona, AZ, South Lake Tahoe, CA, and Savannah, GA, even with average annual rental costs of around $15,000 or less, Airbnb hosts can make a gross profit of $8,000-$12,000 by renting out a Private Room on Airbnb.
What do I need to know before I invest in a vacation rental?
Short-term vacation rental trends seem to be constantly evolving, which can seem daunting for the first-time real estate investor. Here are a couple of steps to help you get started.

1. Decide what you have to spend and choose the best-performing markets within your budget.
Use a tool like MarketMinder to analyze whether it would be more profitable to invest in one, larger property, or two, smaller properties before you choose the best place to buy a vacation rental property.
Particularly with a buy-to-rent strategy, you are at no disadvantage if you start out with one low-value property, and bring in a second property with a similar profile later on. As we saw above, owning several properties in more affordable markets would actually generate a higher ROI.
2. Compare neighborhoods and popular tourist areas within your local market.
Check for discrepancies between neighborhoods, and whether, for example, it would be more profitable to choose one of the highest-quality properties in a suburban area or a medium-quality property in a popular tourist area.
MarketMinder can help you compare the performance of vacation rental properties in neighborhoods across your market, and determine the optimal way to furnish and promote your Airbnb listing. How are the highest-performing properties within your market optimizing their listings? What kinds of amenities and extras are they providing to their guests?
3. Determine who manages your vacation rental listing.
Will you be managing the property yourself, or would you want to outsource the day-to-day management to a vacation rental manager?
Vacation rental managers market the property, accept bookings, liaise with guests, organize cleaning and turnovers, all for between 10 and 30% of the property revenue. This can prove invaluable if you want to invest in a market that offers high returns but is some distance from where you live.
So, where is the "right" place to invest?
Without knowing your risk tolerance, your budget, and the strategy of your overall real estate investment portfolio, it is impossible to recommend any short-term vacation rental markets as a "slam dunk". That said, the current best places to buy a vacation rental home include:
Tennessee – Nashville, Sevierville, Gatlinburg, Pigeon Forge
Florida – Destin, Key West, Clearwater Beach, Fort Walton Beach, and Pompano Beach
Hawaii –Koloa (Kauai), Lahaina (Maui), Kihei (Maui), Honolulu (Oahu), Princeville (Kauai) and Waikoloa (Big Island)
Resort markets –  Palm Springs, CA, Seaside, OR, Tybee Island, GA, Orange Beach, AL, Kissimmee, FL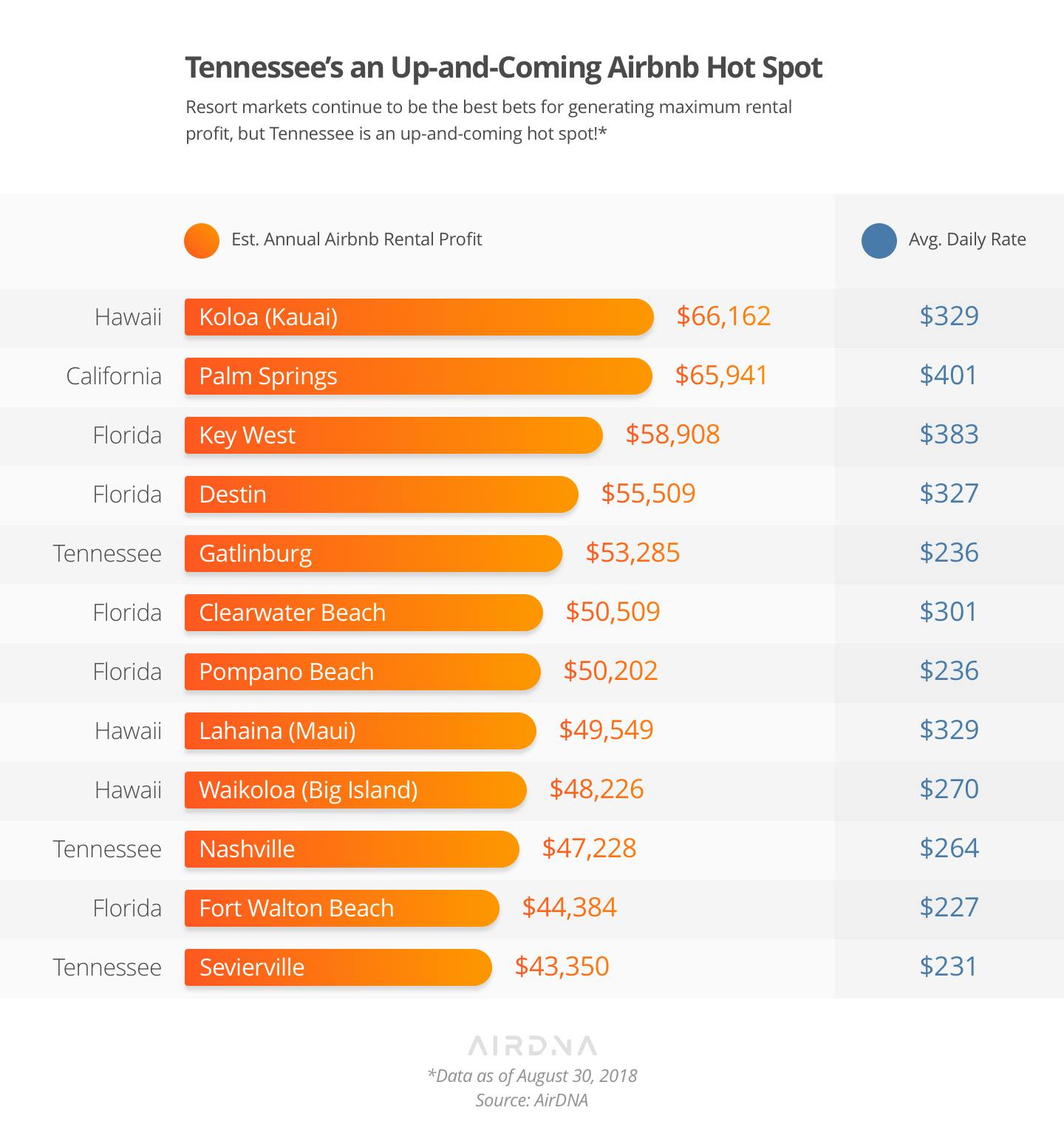 Get started with MarketMinder today.
With powerful, easy-to-use tools, MarketMinder helps hosts and investors succeed in the short-term rental market. Ready to jump in?
Try it for free