At the time of writing, the coronavirus has killed more than 4,000 people and sickened more than 115,000. International stock markets have witnessed the biggest plunge since 2008, entire cities and countries have been placed on lockdown, and massive international events have been called off. 
Without a doubt, standing at the epicenter of the coronavirus is the travel industry. Airlines, hotels, and a fleet of offshoot industries are now coping with the virus's severe downstream effects. 
One particularly curious case study, however, is the evolving interaction between the Coronavirus and short-term rentals. At first thought, a business model that champions the democratization of lodging seems like a virus's best friend -- and one notably at risk. 
However, the impact of the Coronavirus on global short-term rental markets is becoming significantly more complex with a good deal of nuances. 
In this report, we're leveraging data from MarketMinder to help evaluate scope of the epidemic in its entirety. We'll dive into year-on-year Airbnb trends, real-time updates, and future projections for cities around the world. 
If you have any specific inquiries for information on how a particular market may be impacted by the Coronavirus, please reach out to [email protected]
Global Vacation Rental Supply Remains Steady

At this point in time, the total supply of vacation rentals around the world hasn't responded in any major way to Covid-19. No huge drop-offs, and no massive push to remove properties from the marketplace. 
That being said, the year-on-year trend is discernably negative in a springtime run-up that would otherwise see positive supply growth. 
As we'll see below, demand for vacation rentals has suffered some significant setbacks, but the supply trend doesn't seem to match the noise in the wider travel industry. Expectations may be low, but vacation rental hosts are, for all intents and purposes, open for business.
Demand for Short-Term Rentals Seeing Significant Setbacks
While the virus first emerged in Wuhan, its effects on the short-term rental industry are best seen in highly-traveled coastal strongholds throughout Asia: Shanghai, Beijing, Seoul, and Tokyo. After the onset of Covid-19, future demand throughout the region has retracted. 
Western cities currently facing the same potential for impact include Seattle, Austin, Barcelona, Milan, Rome, and New York. 
Looking forward to the beginning of May, most destinations are averaging about half the bookings that were made back during the preliminary impact period in mid-February.
Are People Still Booking Travel?
In order to determine real-time demand for worldwide vacation rentals, we'll need to hone in on the number of reservations that are currently being made. Here's a chart that shows the number of reservations made in a selection of hand-picked cities over the course of the last two months. Feel free to toggle between different cities to see how they line up.
Throughout the first two months of 2020, daily reservations have slid significantly in many Asian cities. The negative trajectory hasn't been as pronounced in other cities around the world, but much may change in the months to come. 
Here are the changes in weekly bookings between the beginning of the year and the beginning of March:
Urban Markets Face Far Higher Risk Than Leisure Destinations

When looking at the data, it becomes clear that there's a regionality aspect of the virus's impact. That is, urban cities seem to be significantly more exposed to fluctuations than their traditional leisure travel/resort-based counterparts. 
In the chart below, we've mapped out the number of properties reserved in Europe over time. When segmenting between the two region types, the outlook for urban markets looks a bit worse for wear.  
That being said, this chart also highlights the strength and resilience of leisure travel destination markets. Vacations to these spots are often booked well in advance and travelers face far less risk than they do in urban hotbeds. In effect, leisure travel destinations find themselves less affected.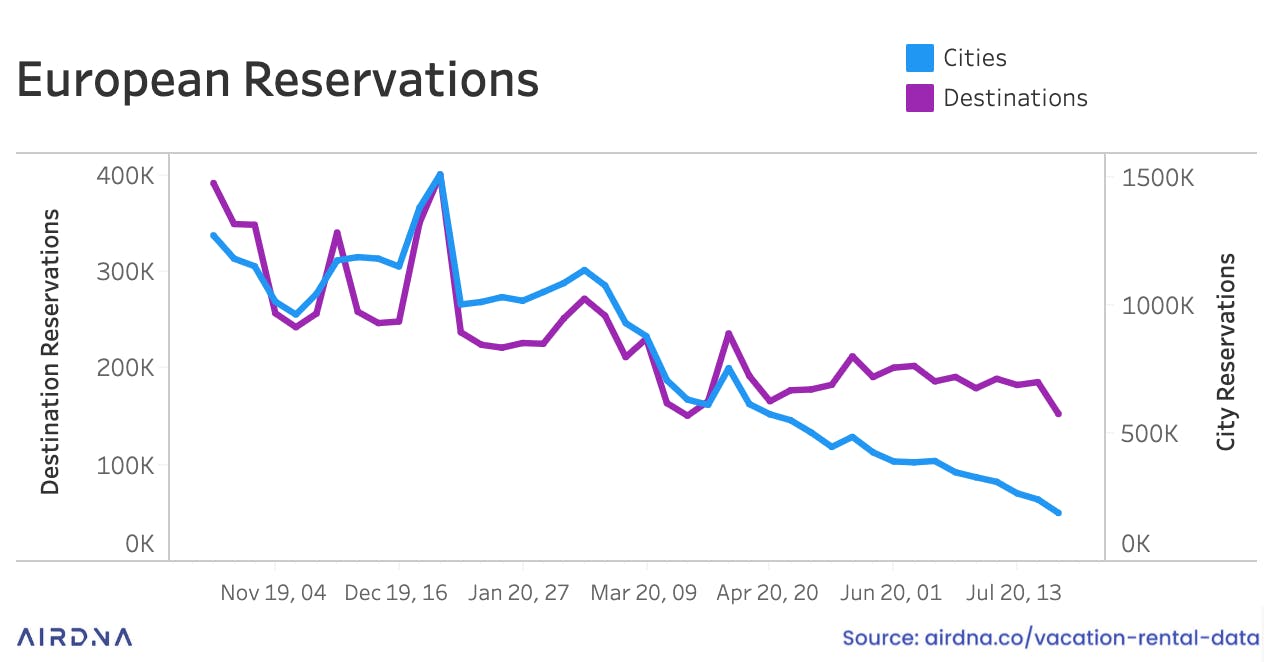 Early Covid-19 Hotspots: City-by-City Analysis
Below we take a look at the largest cities in some of the hardest-hit countries around the world to show how both present and future bookings have been impacted.  For this analysis, we looked at the revenue as of writing (March 9th, 2020) and compared that to the real revenue that had been booked as of March 9th of 2018 and 2019.
Beijing, China

The Chinese capital is very much becoming the poster child of the impacts of the Coronavirus. After tremendous triple-digit growth over the last 5 years and 130% year-on-year growth this past January, Covid-19 has starkly reversed that trend. 
On February 7th, Beijing took a massive hit as fully refundable cancellations went into effect. Last month we saw revenue decline by 22% from 2019. Plus, hosts reeled in nearly $19 million less than just the previous month of January. 
March appears to have a similar trajectory with projected year-on-year losses of nearly 43%. That being said, as of now the losses seem to be short-lived as booking volume is expected to pick back up in the early summer months.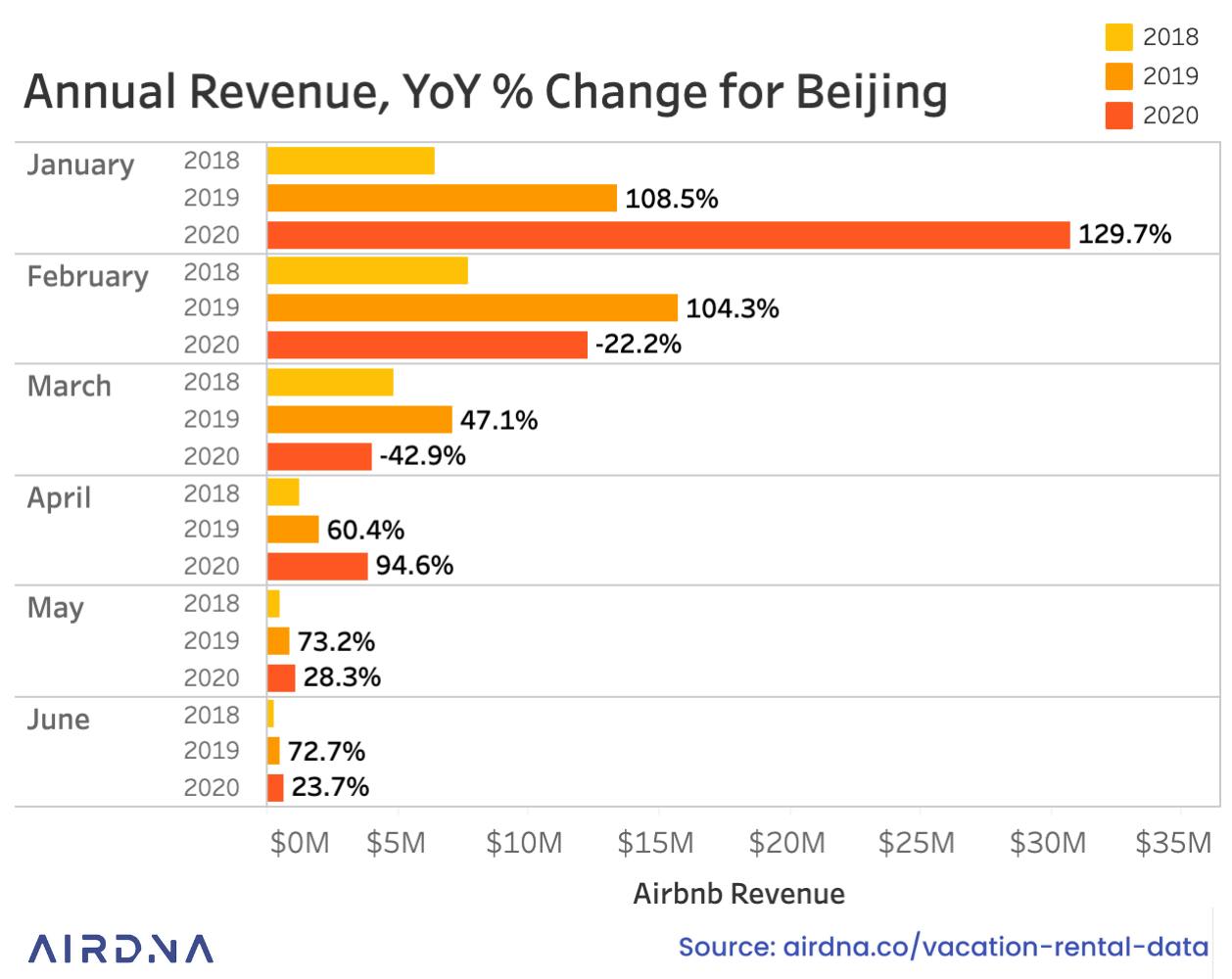 Tokyo, Japan

Tokyo is a unique case study in that 80% of vacation rentals were swiftly removed from the marketplace virtually overnight in 2018. Since then, regulations had been slowly becoming more lenient especially with the 2020 Summer Olympics on the radar. 
In Tokyo, February returns were a far cry from the previous month. In March and April, revenues are poised to head into the red as Covid-19 makes its way across the East China Sea.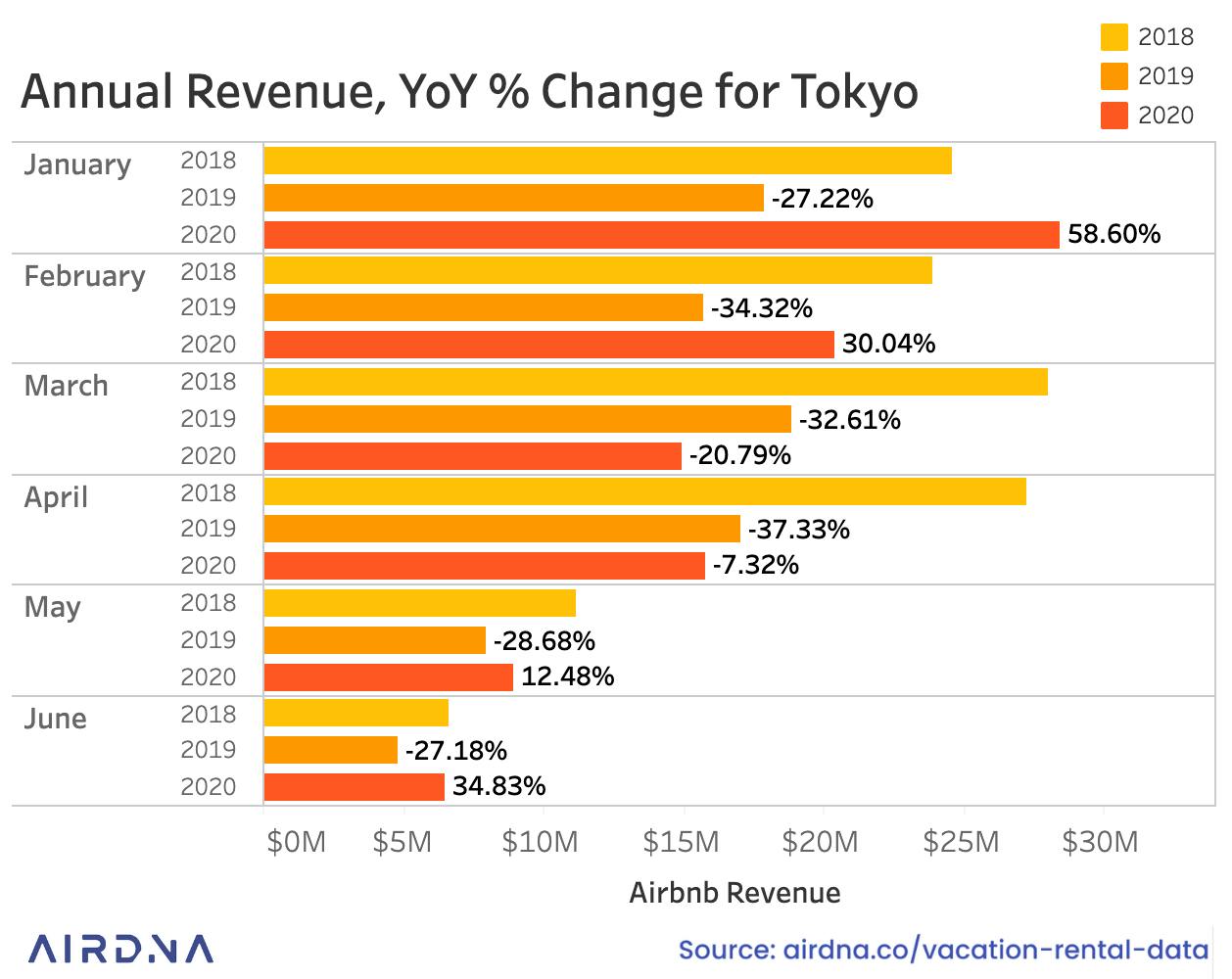 Seoul, South Korea
Seoul presents another instance where rock bottom may have yet to come. Again -- February numbers shrivel in comparison to January, and year-on-year returns look as if they may be impacted well into June.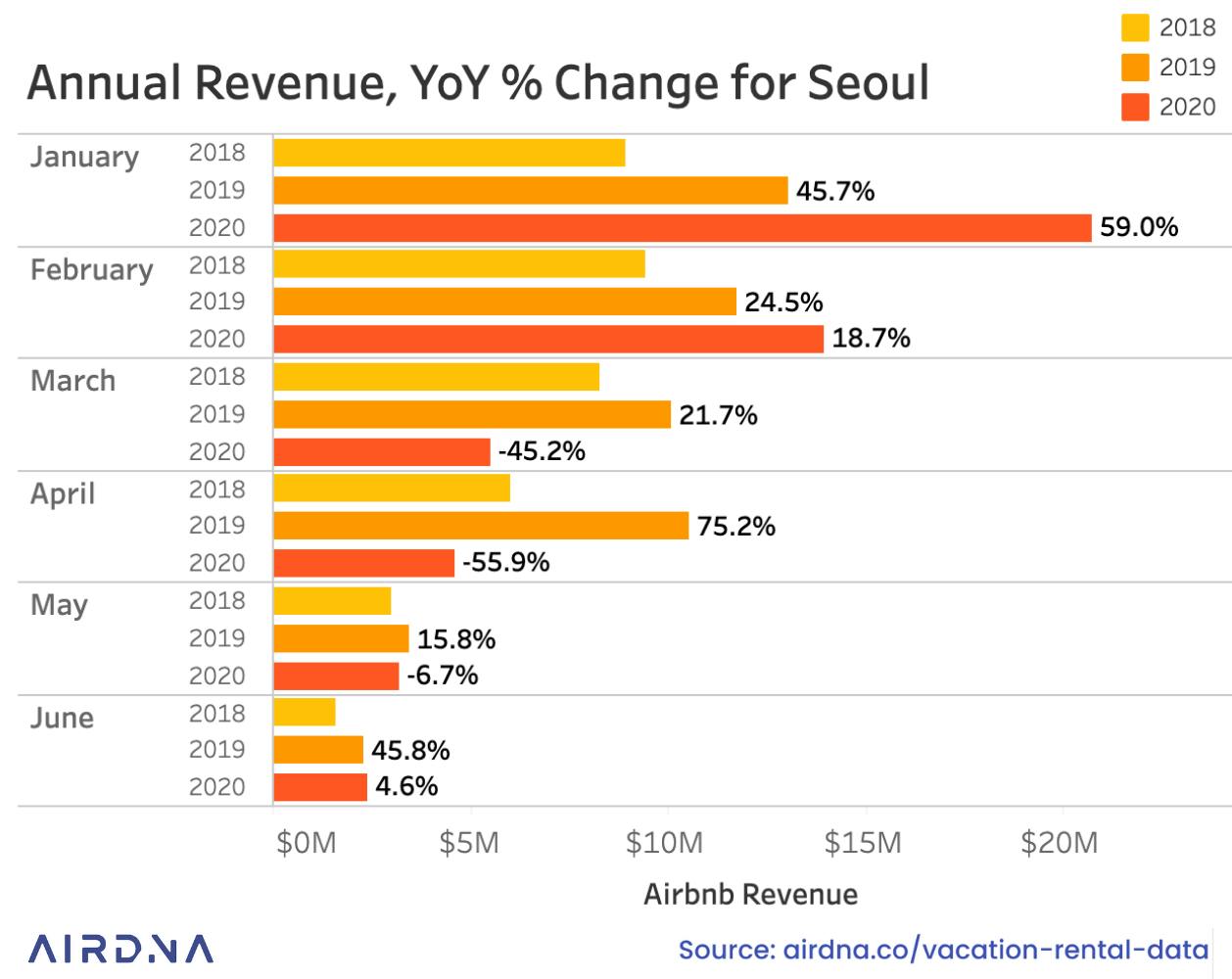 Milan, Italy

Milan and the general region of Northern Italy can largely be seen as the virus's entry point into the European continent. March and April are looking to be severely impacted by the virus, but short-term rental markets are set for a quick early-summer rebound if containment is successful. 
Note: our data was compiled prior to the announcement of Italy's country-wide shutdown, which may affect these metrics. We'll provide an update as soon as possible.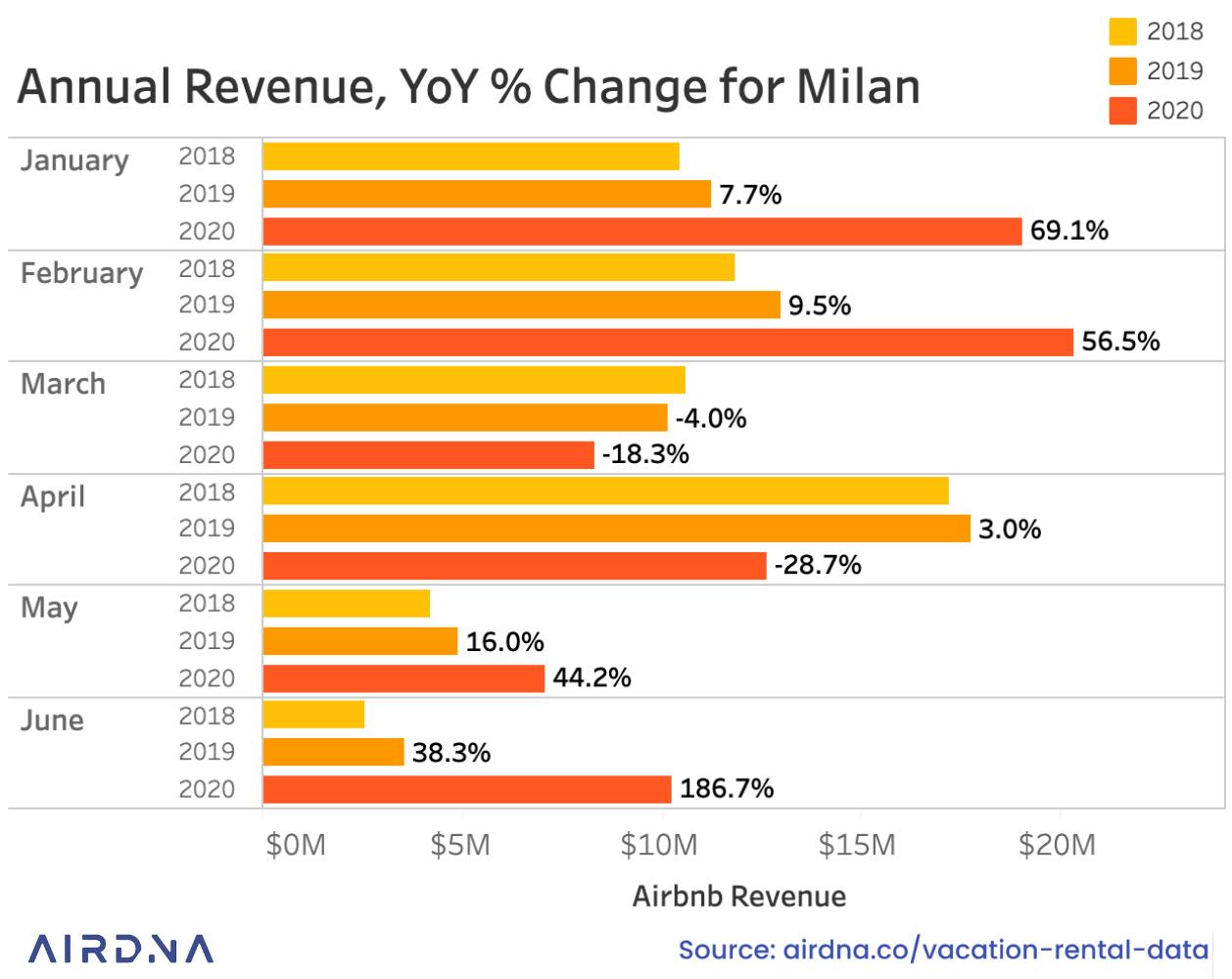 Impacts of Major International Event Cancellations
Many destinations around the world are taking precautionary measures to curb the virus by canceling big-ticket events -- as they should.  Here, we dive into an event-level analysis to examine the day-by-day impacts of major event cancellations on short-term rental revenues.
Mobile World Congress: Barcelona, Spain
The Mobile World Congress is an international trade show focusing primarily on the mobile communications industry. Taking place in late February, it's an event that usually reels in over 100,000 visitors from around the world. In early February of 2020, it was announced the event would be canceled over Coronavirus health concerns.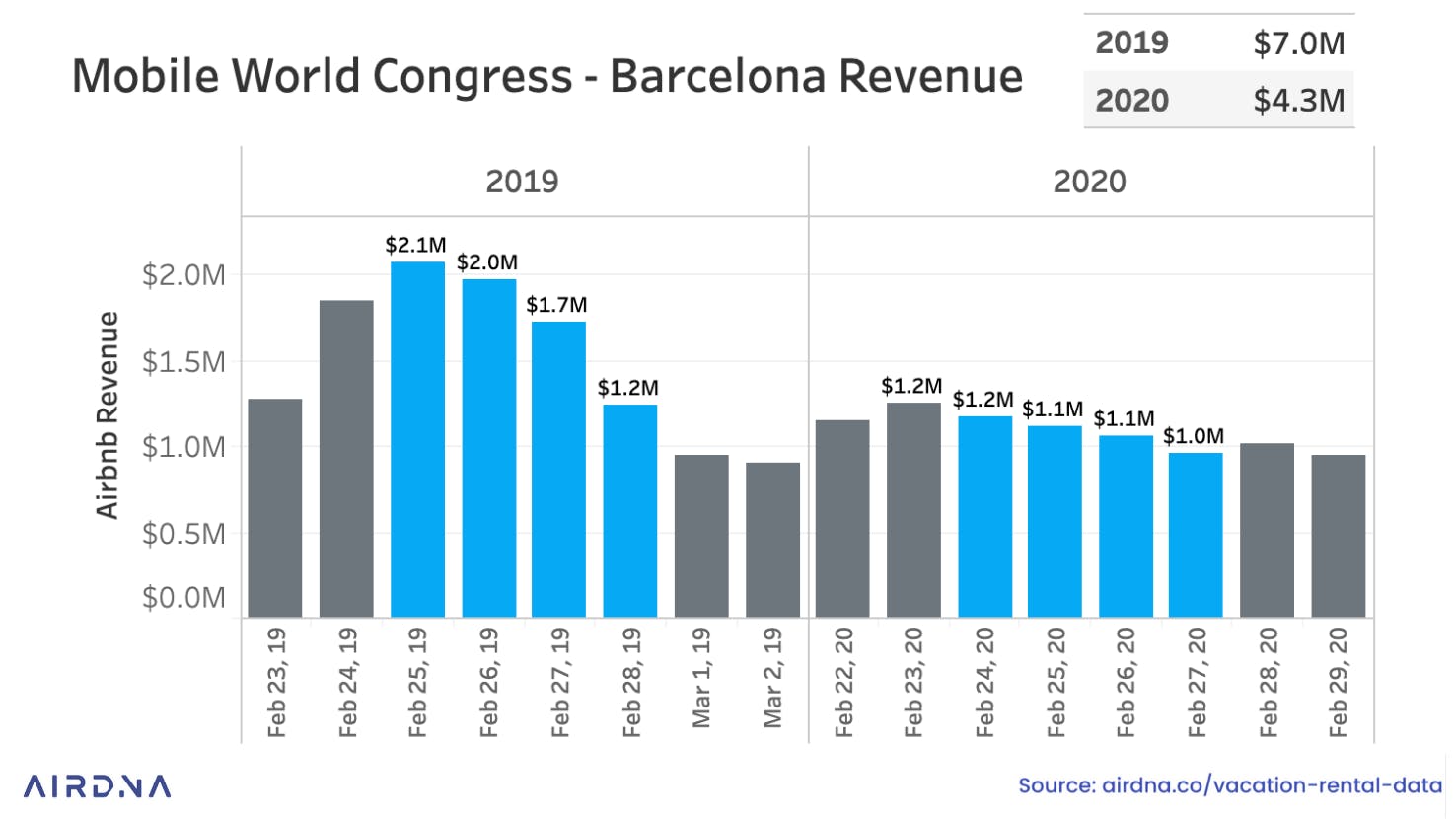 Over the 4-day event in 2019, hosts in Barcelona earned an average of $1.75 million per day. In 2020, that number sunk to $1.08 million -- a 38% drop in average daily revenue.
South by Southwest: Austin, Texas

Austin's SXSW music and arts festival represents arguably the most eye-popping year-on-year dropoff (certainly of any event in the United States). For years, Austin's springtime festival has beckoned tourists from around the world for its week-long gathering. 
In 2020, however, things are likely to be a bit different. 
The Coronavirus-induced cancellation has caused for significant losses compared to 2019. In fact, whereas the festival earned property managers $16.1 million over the 10-day stretch in 2019, this year's projections are topping out at $9.8 million.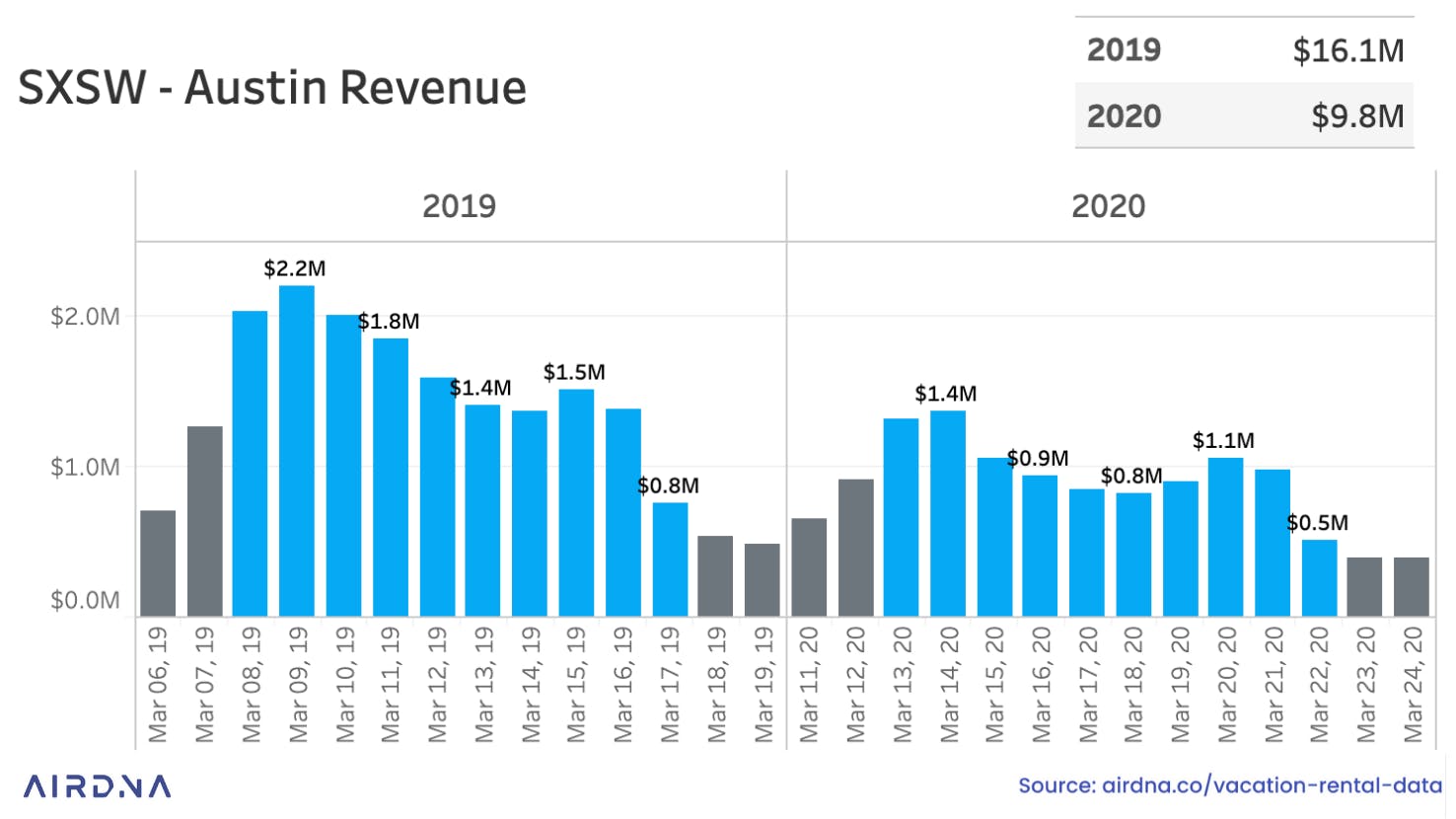 Impact on Average Daily Rates

In times of crisis and uncertainty, it's not uncommon for hosts and property managers to incentivize travel by lowering their advertised rates. That's essentially the foundation of a sound revenue revenue management strategy.  In the chart below, we've mapped out how short-term rental operators are altering their rates in response to the Coronavirus.
What's interesting here is the difference between available prices in urban locations and those in leisure travel locations. Destination-based hosts are being highly proactive and have lowered rates until the summer.  On the other hand, prices of accommodations in big cities remain largely unchanged. 
Also, it's interesting to note that for the first time in over 5 years of tracking vacation rental data, AirDNA is noticing booked rates higher than advertised rates for the summer months.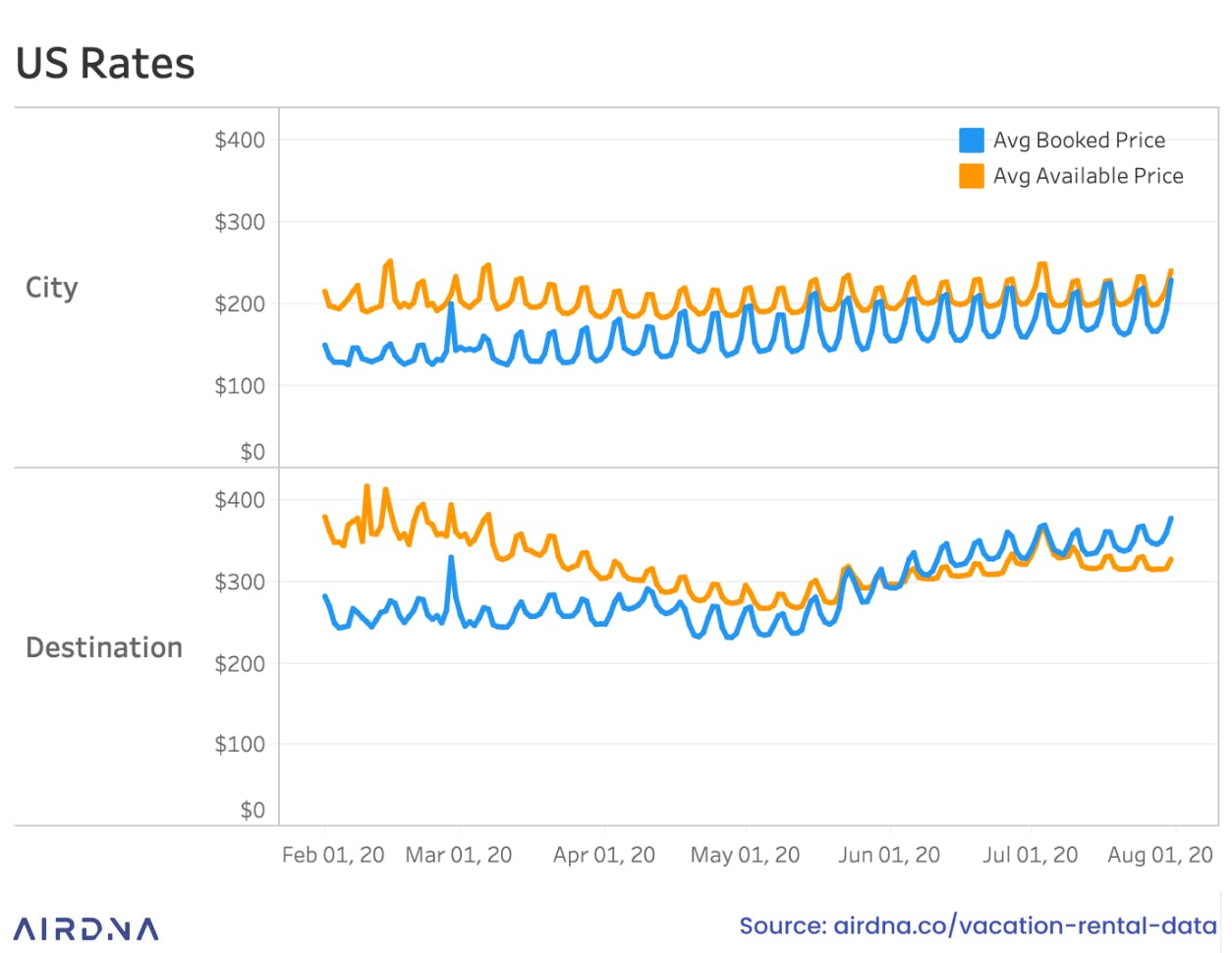 Why Short-Term Rentals are More Immune to the Impacts of the Virus

In order to provide some context to the data, here are some crucial ways in which short-term rentals are more resistant to the impacts of the Coronavirus than hotels, cruises, and airlines:
Vacation rentals are often in more remote locations with less direct exposure to other travelers
Vacation rental guests often visit destinations within driving distance which allows them to bypass the potential risks of airline travel
Because vacation rentals are booked further in advance than hotels (and in larger groups), canceling is often more cumbersome
Vacation rentals impose tougher cancelation policies that motivate travelers to stick with their plans
Conclusion

Given all the inherent uncertainties surrounding Covid-19, there are a few reliable takeaways from its ongoing impact on global short-term rental markets. 
First, it's important to note that the impacts are highly localized -- that is, the markets affected are largely limited to where the virus actually is. This may seem obvious, but it's important to recognize that the vast majority of vacation rental markets are not in all-out panic mode. 
For that reason, the US market looks for the most part unscathed through the end of February and into early March. Aside from some large event cancellations, the vast majority of cities are still remaining stable.  
In that same vein, booking behavior is also highly dependent on destination type. Leisure travel locations are far more removed from the crisis whereas urban spots are well within its crosshairs. 
As is the case with all other industries, the relationship between the Coronavirus and global STR markets is highly dynamic and evolving by the hour. While current projections point towards an early-summer recovery, the true impacts have yet to be seen.
Stay tuned as AirDNA will follow up with weekly updates on the ongoing impact of the Coronavirus on vacation rental markets around the world.

Get started with MarketMinder today.
With powerful, easy-to-use tools, MarketMinder helps hosts and investors succeed in the short-term rental market. Ready to jump in?
Try it for free