After last week's inaugural report on the Impact of Coronavirus on Global Short-Term Rentals, we're following up with a weekly refresh on the state of the industry. Here, we monitor all the most important metrics gauging the health of short-term rentals in light of the novel Coronavirus. 
Note: this report is predominantly a global analysis. By analyzing trends in countries where Covid-19 hit first, we're able to project the impact on some of the other major countries around the world. 
If you're interested in analyzing how US-specific markets are responding, stay tuned for our newest report on the US Threat Index: Which Cities are Most (and Least) Affected by Coronavirus. We'll also be following up with similar reports on major cities around Europe and Australia.
Airbnb Supply Remains Largely Unaffected
When looking at supply, it's clear that vacation rental operators have largely not given up all hope and removed their listings. The pandemic has yet to set off any major waves in the removal of listings across most major countries. 
In fact, as we've seen in the United States, some markets are curiously benefiting from downstream impacts of the Coronavirus. The initial consensus seems to be off-the-beaten-path, drive-to destinations outside of major urban hubs, but the truth is that any market could be an unexpected beneficiary -- hence the impulse for hosts to keep properties online.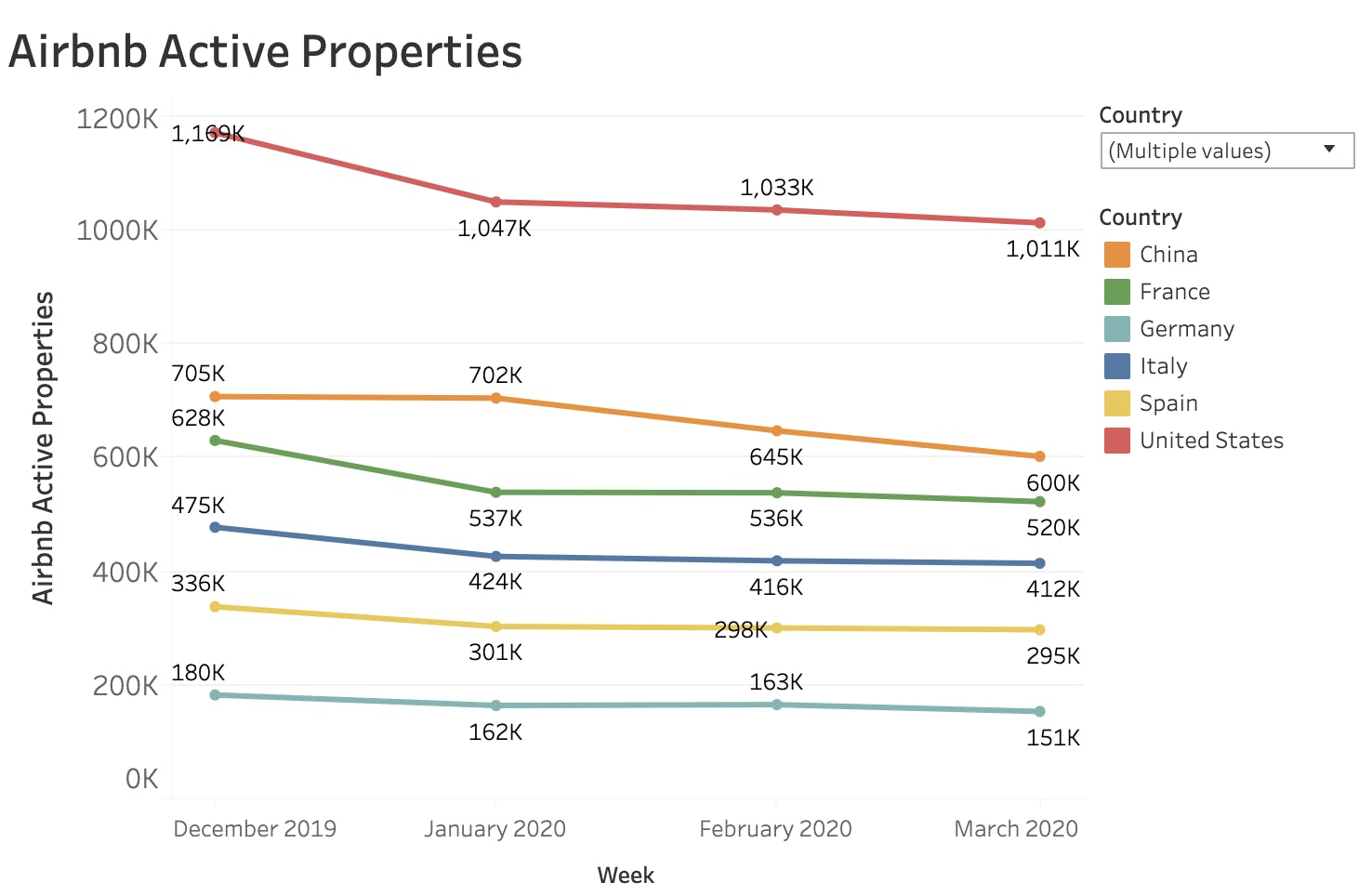 United States
Revenue in many of the major US cities are either declining or sharply declining. These are some of the main hubs which have been hit hardest by the virus. Their vacation rental numbers are responding in an impactful way with recent weeks seeing significant downturns.  
Asia
As far as Asia is concerned, it's not all doom and gloom. Major vacation rental markets throughout the continent are beginning to stabilize after the initial impact period. 
As seen by the chart and table below, Beijing, Shanghai, and Singapore are all showing positive second derivatives -- they're trending back towards positive growth. Tokyo stands out as a city officially having turned the corner with positive week-on-week revenue growth.
Europe
Looking towards Europe, the picture remains extremely bleak. We note that the rate of decrease is not as great as previously (i.e 80% decreases are now 10% decreases, week-over-week), but now we are at an extremely small base.
There continues to be some visits in line with 'quarantine tourism', and we continue to see some opportunities there. 
However this is small succour for a continent that has all but shut down.
How Many Bookings Are Currently Being Made?
Another invaluable metric we've been using to measure short-term rental markets is the number of bookings on each day. With no regard for which date in the future they're made for (or for what dollar amount), this is pure demand -- the sheer number of bookings currently being made.  As you can see, the trends follow a similar pattern as revenue: Europe and the United States trending downwards, while Asia showing some initial signs of life.
Conclusion
Let's not avoid the elephant in the room: anecdotal evidence from many vacation rental owners is bleak. Bookings are down, cancellations are up, and the outlook for 2020 looks to be far less promising than initial projections. 
That said, it's clear there's some nuance to ways in which the virus is affecting short-term rentals. Some countries are responding differently than others, and markets within those countries are highly diverse.
As for this first week's refresh, the most promising takeaway is that we may be seeing the initial phases of a turnaround in China and other Asian markets. Stay tuned for next week's update as we refresh with updated data.   
Get started with MarketMinder today.
With powerful, easy-to-use tools, MarketMinder helps hosts and investors succeed in the short-term rental market. Ready to jump in?
Try it for free