"I don't know who opened the first , but he was a great man in his way. It was as though some imaginary trader had put into the Forth with a cargo of Glenlivet to discover that the Scots had never heard of whisky. There was a natural appetite, as you may say."
- Flashman and the Dragon by George MacDonald Fraser.
Almost.The hotel industry is finally feeling the affects of Airbnb. Our data shows that where Airbnb is ascendant, hotels are experiencing significantly diminished RevPAR compared to expectations in a buoyant economy.
As Airbnb continues to spread, hotel brands, owners and operators will not be able to maximize upon continued constricted supply. This paper looks at one of the mavens of the industry; Santa Monica; and see what that portends for the future of hospitality across America.
Santa Monica - A Glimpse into the Airbnb Future
Santa Monica has been a boom town for Airbnb. The paucity of good hotel accommodation and high demand for the cool, year-round climate and myriad companies in the area has proven a perfect mix for visitors to the area.
The following table shows a selection of cities by the number of active Airbnb listings (active means they have been rented in the last month and the host is responding to queries) as a percentage of total households. 

Percentage of Households in Selected Cities That Have an Active Listing on Airbnb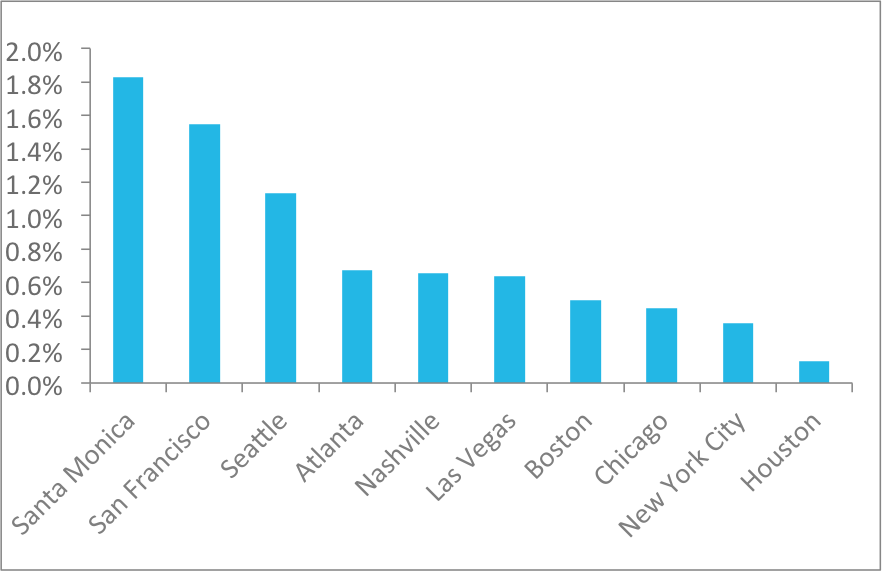 Yet as Santa Monica has been at the vanguard of Airbnb provision, so it is at the forefront of regulation. The City of Santa Monica, in May 2015, passed the most draconian anti-Airbnb legislation in the country.
In this blog post, we are going to peer inside our vast repository of data to see what has been in Santa Monica and also how the new regulations have affected demand and supply.
Santa Monica is a delight to visit. Its climate is fantastic year-round, with temperatures only occasionally requiring a sweater in the winter, and only the hottest of summer days become uncomfortable. With its old-time pier and a local government focused on maintaining the charm of the city, tourists are naturally drawn to the area.
Yet it is not just tourists. As well as traditional entertainment groups like MTV Networks and Universal Music Group, tech has made great inroads. Google, Apple and Microsoft have all opened branch offices. But the real success has been at Silicon Beach – the stretch of the coast between Santa Monica and Venice that is the home to hundreds of start-ups bringing in millions to the area.
Total venture capital investments into Greater Los Angeles were $1.6 billion in 2014 and 36% of that flew into Silicon Beach. With that implied extra $600 million in the economy, Santa Monica is scorching hot.
Hotel Provision in Santa Monica
With all the industry, tech and fine weather, let's look at what hotels can offer. In Santa Monica, there are 34 hotels consisting of 3,483 rooms. These range from the upscale five star Fairmont Miramar (basic rooms go for $600+) to the more humble one star Santa Monica Motel ($160+ a night).
A wide range, but the number of hotels available is clearly inadequate given the robust economy and the local business boom. We can see this clearly in the occupancy rates. In June 2015, occupancy was at a sardine-esque 86.2% (1.2% up from last year) with the Average Daily Rate (ADR) at $297.10 and Revenue Per Available Room (RevPAR) $256.23. By context, leading lodging number-cruncher PKF Hospitality Research forecast nation-wide occupancy to be an all-time high in 2015 of 65.6%. Santa Monica hotels are full to bursting.
The Santa Monica Crackdown
The City of Santa Monica observed the rise of Airbnb (and other short-term rental facilitators) and decided to act. They cite two reasons for the crackdown:
Increasing house and rental prices and the concurrent shortage of housing.
The shift towards Santa Monica becoming a transient city and the resulting demise of community in the area.
As of June 15th 2015, new regulations have come into force. They are dramatic in their intention to eliminate Airbnb from the city. The new rules:
Bans outright all let under 30 days of an entire property.
Home-sharing (private room and shared room in Airbnb parlance) must now be registered with the city and is subject to a 14% transient occupancy tax.
Enforcement will be by three new employees dedicated to the task, who will patrol the listings with a budget of $410,000 in the first year for enforcement.
Airbnb Provision Pre-Crackdown
Airbnb is big in Santa Monica. All the factors discussed made the money to be made compelling to the denizens of the city. Our unique dataset gives us a real insight into the make-up for Airbnb listers and how many there were. We are using the numbers for April 2015, the month before the new rules were passed.
We identified 1245 separate listings on Airbnb in Santa Monica, however, this number is misleading – only 652 actually had any bookings. And this is a common mistake in reading into the reach of Airbnb. Just because a listing appears to be available, does not indicate it is. There are many legacy listings that were once raised, but as there has been no activity for some time and the host is not responding, these listings should be excluded when calculating the supply of rooms on Airbnb.
In the month of April, there were 8,324 nights booked with Airbnb in Santa Monica, split over 2,086 separate bookings. That works out as 277 bookings a night on average. 71% of these were in entire properties, 27% in private rooms and the remainder in shared rooms. The average length of stay is 4.49 nights.
Airbnb rentals had an ADR of $205, occupancy of 61% and RevPAR of $125. The highest rates charged for one bedroom listings (for hotel comparison purposes) that was consistently booked (minimum 20 nights let out over the year) was $470 ADR and the lowest rate at $81 ADR.
The following chart breaks down the supply of available Airbnb listings as well as the rooms booked through Airbnb. We count rooms not by the number of listings, but by the number of bedrooms in the property. A 3 bedroom apartment we count as 3 rooms. A studio we count as 1 room. Our experience with Airbnb makes us believe this accurately reflects the alternative hotel rooms that a visitor would have considered were Airbnb not available.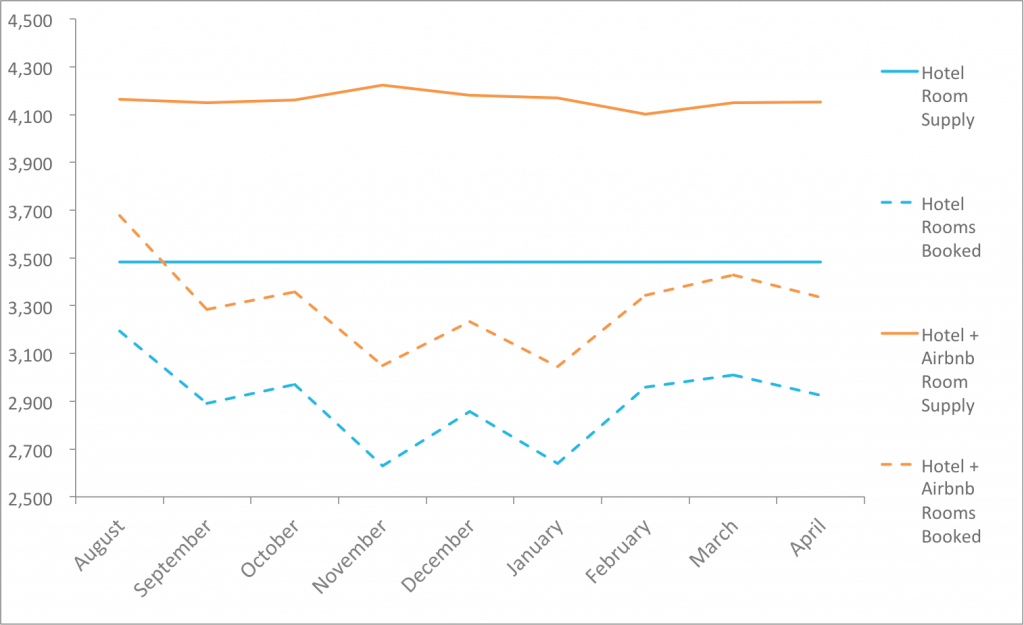 What does this Mean for Hotel Owners in the Area?
There is a significant amount of refutation coming from the hotel industry of how Airbnb may affect its business, but examining the chart above suggests there are clearly visitors who would not have been able to be accommodated with the existing hotel room supply in Santa Monica.
Whilst for many months, total demand is under 100%, the vagaries of guest demand mean that many hotels would be essentially full all the time were it not for Airbnb taking the strain. 
Occupancy exceeds just hotel room supply in August, but even in other months, hotels are clearly losing the ability to charge what they could have when there are viable alternatives in the area. This effect on compression pricing is hard to study with just Santa Monica numbers.
The only viable thesis for Airbnb not affecting the value to hotel owners is if all the Airbnb guests would not have made their trips if not for the presence of Airbnb. Having been hosts ourselves in different cities, we know the profile of Airbnbers is not of itinerant drifters, but folks who could comfortably afford a hotel but choose the thrift, novelty, and convenience of an Airbnb apartment and are very happy to roll the dice on not always getting the guaranteed standards you might in a traditional hotel.
As we write, we could get 2 nights at the Fairmont Miramar in a standard room (parking and wifi extra) next weekend for $600 a night. Round the corner is a luxury 1 bedroom apartment, immaculately furnished for $263 a night. Airbnb is regarded by many of its users as a superior experience, regardless of price.
The wider US hotel industry is in a boom with RevPAR and ADR rising across the industry. This has served to veil the effect on hotels as constricted supply and high demand have kept the numbers looking rosy. In a declining economy, the effects could be far more dramatic.
We also note that Airbnb's penetration in some cities is large and growth has somewhat stabilized (i.e. San Francisco, New York), while others are still ascending rapidly (Philadelphia, Chicago). The Airbnb picture in the United States changes quickly with every month and AirDNA follows this closely.
To read the full PDF report, please contact us at [email protected] 
Get started with MarketMinder today.
With powerful, easy-to-use tools, MarketMinder helps hosts and investors succeed in the short-term rental market. Ready to jump in?
Try it for free