Using Airbnb Data Analytics to Reveal Why Occupancy Rate is a Misunderstood Metric

Airbnb occupancy rates have over the years become the ultimate metric for many short-term rental hosts. It's understandable, right? Hosts want their short-term rental properties fully booked because more bookings bring in more revenue — or do they?
Calculating occupancy rate is simple:
Occupancy Rate = Days Booked / Days Available for Rent
Of course, property owners and managers don't want their spaces sitting vacant. But while properties that are fully booked three, six, or even nine months in advance reveal a high occupancy rate, they don't necessarily indicate an optimized occupancy rate.
Why Occupancy Rates are Misunderstood

Let's be clear: high occupancy rates are important. But a high occupancy rate based on months-out bookings probably indicates that there's more money to be earned. If a property is more than 50% booked three months out, it's usually a clear sign that nightly rates are too low — and that hosts are missing out on more revenue.
Striking the balance between an attractive price for travelers (while still generating worth-while revenue for hosts) and an optimized occupancy rate is a calculated approach. Hosts should expect a period of trial and error before dialing in the price and occupancy rate that works for them.
If a host has more than one property — even multiple properties in the same town or city — they should anticipate and explore a different pricing-and-occupancy approach for each with MarketMinder.
Another key metric to include when optimizing occupancy rate is booking lead time.
Booking Lead Time = Reservation Start Date - Booked Date
Like Airbnb occupancy rate data, booking lead time data varies between markets and properties. Seasonal markets, like ski and beach towns, can expect longer booking lead times than some urban markets that enjoy relatively steady bookings throughout the year.
Hosts in seasonal markets should consider occupancy peaks and troughs when evaluating their pricing strategy; it doesn't make much sense to list an exceptionally high price in the slow season. Conversely, needlessly low prices in the high season lead to missed revenue opportunities.

Seasonality and Events Impact Airbnb Booking Lead Time

Markets with well-known and well-attended annual events — like Pamplona's running of the bulls, Munich's Oktoberfest, Mardi Gras in New Orleans, and SXSW in Austin — can expect bookings many months (or, in Pamplona's case, a year) in advance.
But most markets don't deal with such fluctuations. Urban centers, mid-size metros, and many rural destinations can often anticipate steadier booking lead times. However, the COVID-19 pandemic has drastically altered where people travel within the United States.
Airbnb occupancy rate data reveals that many destination markets have seen steady year-over-year growth between March and November of 2020, largely due to the pandemic. (More on that in a bit). Still, if lead times in these types of markets are significant, that's probably not the best sign for hosts' bottom lines.
This still doesn't shed light on the best lead times for optimal occupancy. The short answer is that there's no one-size-fits-all answer. The most impactful approach hosts can take is exploring booking lead time distribution. This gives them a breakdown of the volume of bookings at different periods throughout the year.

If there's a sizable discrepancy between months in markets with marginal seasonality, that's likely a signal to reevaluate listings and rethink how to optimize for occupancy.

How to Begin Optimizing Airbnb Occupancy Rates

Each market means different average Airbnb prices by city. But beyond just markets, hosts' neighborhoods and comparable properties should influence their listing prices. Doing so reveals whether or not a listing is priced well above the competition's average rate — or significantly below.
It's also important to note that larger cities don't necessarily have higher occupancy rates. Plus, hosts' operating costs (like maintenance, property taxes, etc.) are higher in New York and San Francisco than in smaller cities with higher 2020 occupancy rates, like Salt Lake City, Utah, and Boise, Idaho. So, even if larger cities do have higher occupancy rates (which many do during a normal year) hosts may not be earning as much as those in mid-size metros, ski towns, or beachfront properties.
However, while urban areas may be used to higher occupancy rates during a normal year, COVID has called into question how safe intercity travel is during a pandemic, and pushed travelers into more remote areas and smaller cities.
Looking for an Airbnb occupancy rate calculator?
Onboard your property, compare your listing to competitors', and get the data you need to gauge your ideal occupancy rate with AirDNA's Custom Comps.
What is the Average Airbnb Occupancy Rate by City?

While each city has its average Airbnb occupancy rate, there are several factors that go into it, including:
Population and Listings: is it one of the country's largest cities? If so, it probably sees steady, predictable bookings throughout the year, and has more listings than smaller cities
Seasonality: is it a ski, beach, lake, or mountain town? Then its occupancy rate likely spikes during seasons most favorable to the types of tourism its climate affords
Events: does the city host one or even a handful of major events annually? Similar to seasonality, these routine happenings can substantially influence occupancy rates
In 2019, before 'pandemic' was a household utterance, many larger markets' occupancy rates were on the rise. That's still the case this year for some, but several urban spaces saw significant decline in 2020. To account for COVID, we've sorted the occupancy rates by city in reference to 2019.
But if we look at March to November of 2020, we see that some larger cities like Denver and Colorado Springs have enjoyed occupancy rate growth alongside several destinations in the North Georgia mountains, like Blue Ridge, Ellijay, and Sautee Nacoochee.Similarly, we see decreases in occupancy rates from New York City to Park City.
Why Airbnb Occupancy Rates by City Are Only Part of the Equation

Knowing Airbnbs' average prices by city is essential, no matter the size. It gives hosts a foundational understanding of the market when getting into the short-term rental space. But just as focusing on a high occupancy rate isn't the same as an optimized occupancy rate, city data doesn't deliver the same impact as more granular information. For that, hosts need to zoom in on neighborhood and property data.
Get granular with AirDNA's Market Comparison Tool.
Drill down to neighborhood and property data to optimize your listing.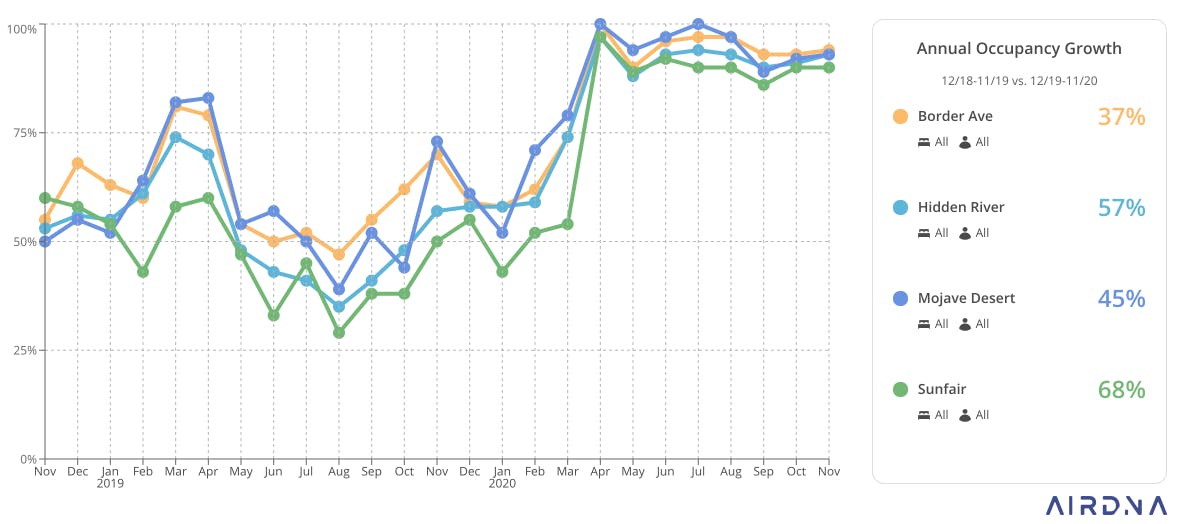 If we look at Joshua Tree — the market with the highest average occupancy rate between March and November 2020 — we see that the average occupancy rate for Airbnb listings in four areas within its borders follow similar trends between March and November. Hosts may determine that their competition is somewhat stiff no matter which neighborhood they're in.
Conversely, New Orleans — the city with the lowest March-to-November average occupancy rate on our list — has seen quite a dip in three of its more densely populated neighborhoods in the past year, and particularly around the pandemic's first peak.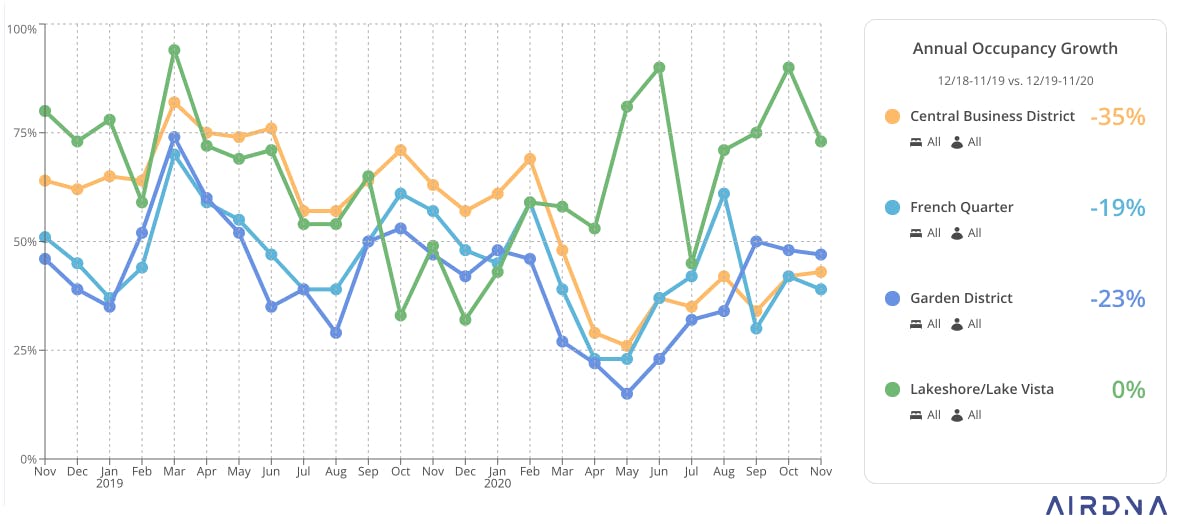 When we compare the two, it's clear just how divergent the occupancy rate change has been during the pandemic.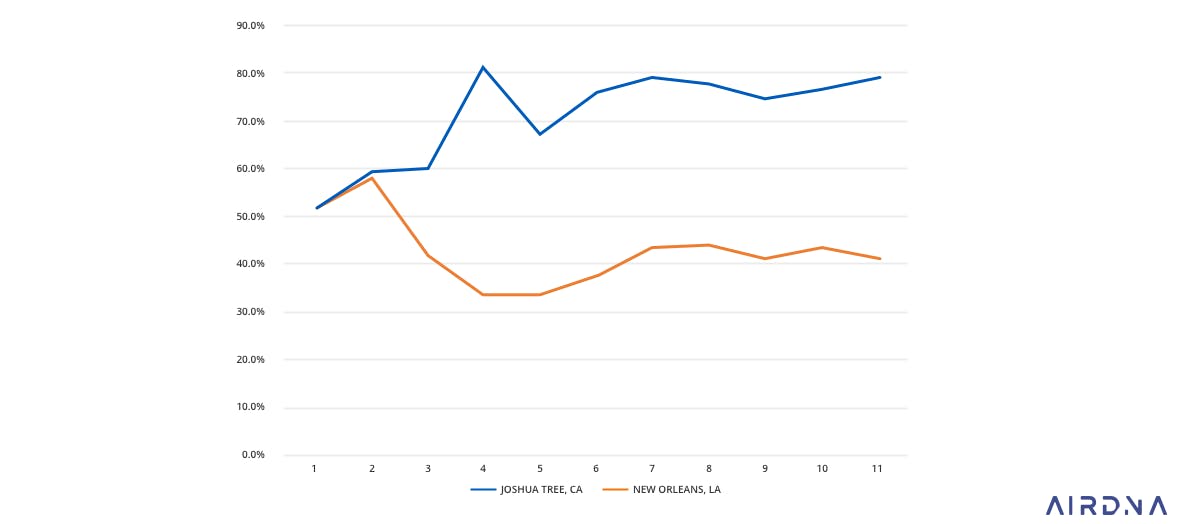 But it's not just these two locations. Not far from Joshua Tree, California's Big Bear Lake and its surrounding area have seen the largest year-over-year increase in occupancy rate while New York City has seen the steepest decline.

This is on par with travel trends in 2020: travelers sought more remote destinations with outdoor attractions over larger cities during the pandemic.

Ski Markets Saw Steep Peaks and Deep Valleys
Ski towns and mountain destinations routinely experience significant seasonality. But 2020 was no normal year, and that was reflected in the destinations that saw serious spikes in year-over-year occupancy rate growth — and which ones did not — between May and November.
When it comes to skiing, Aspen, Telluride, Steamboat Springs, and Vail, attract travelers from all over to Colorado. Even in 2020, nearly all occupancy rates increased during traditionally busy months. But by mid- to late summer, rates began to fall.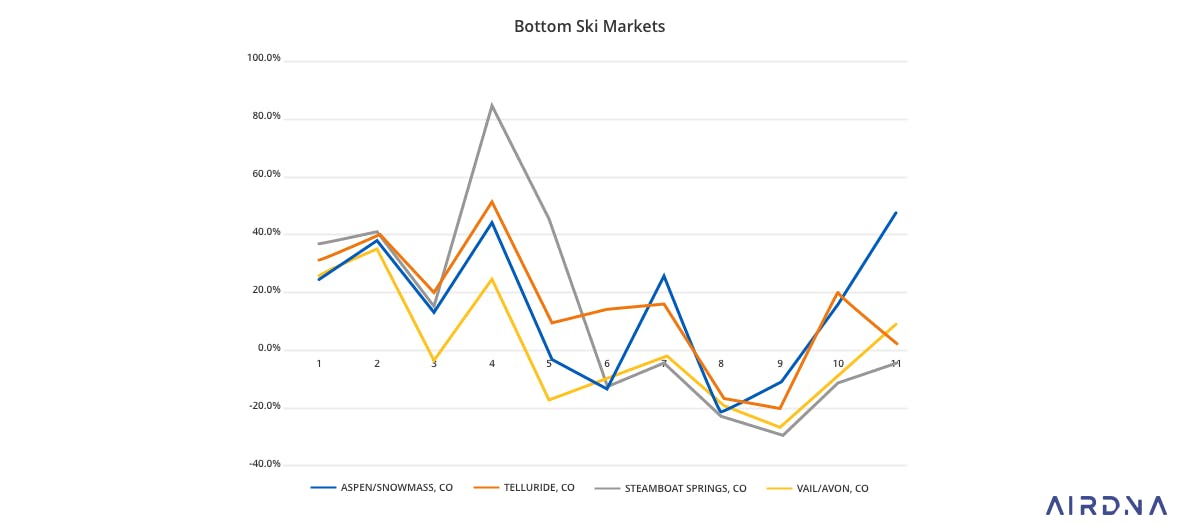 It shouldn't be all that surprising that ski towns were hit pretty hard in 2020. But what is quite interesting is travelers' shift to traditionally seasonal ski spots that also offered other outdoor recreation.
While Colorado's ski-centric destinations bore much of COVID's brunt, Big Bear Lake, Mammoth Lakes, and Lake Tahoe saw substantial spikes in occupancy rates, with only Mammoth Lakes weathering any substantial decreases in the early days of COVID.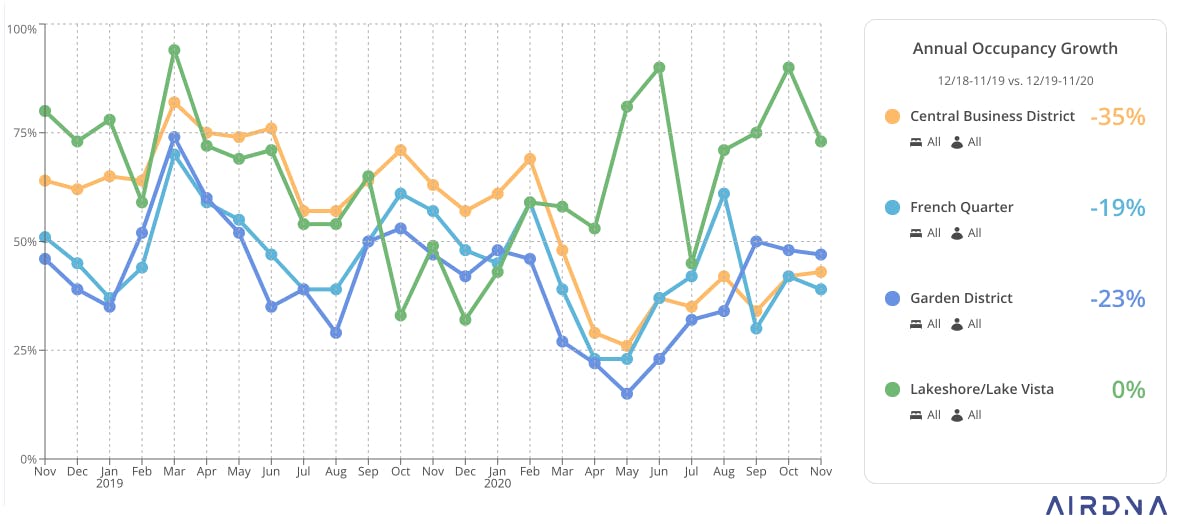 . . . So, What's a Good Occupancy Rate for Airbnb Listings? It Depends.

What's good for one host in New York's Williamsburg neighborhood may not deliver the same results for another in the Upper West Side.
That's why hosts should spend time exploring other listings in their city and neighborhood. They can easily create custom competitive sets — or, comp sets — in MarketMinder to get insight into the competition's data needed to optimize their listings. Hosts can filter out other properties that are not direct competition, which gives them a clear understanding of who their true competitors are.
For example, it doesn't make much sense for a host renting a luxury property to keep an eye on bare-bones properties even though they share the same zip code. The narrower the focus, the greater the optimization.
See the top properties — and true competition — in your market with MarketMinder
How to Optimize Airbnb Occupancy Rates

Once hosts determine their true competition, they can then begin making the necessary changes to their property and listing to optimize their occupancy rate and maximize their Airbnb revenue.
Adjust Pricing: are you booked solid three or more months out? Consider upping your price. If you don't, you're likely missing out on additional revenue. Be sure to also factor in seasonality. If you know your market sees more tourists during the summer, increase prices during the warmer months to capitalize on increased bookings.
Get Superhost Status: apply for Superhost status if you haven't. Superhosts enjoy an 81% higher occupancy rate, 60% more revenue per available day, and a 5% improvement in listing traffic.
Include Instant Book: guests and hosts alike want instantaneous experiences, and Airbnb's Instant Book feature gives guests the ability to quickly strike an item off their travel planning list. Guests can filter by the feature, and hosts can remove it any time they wish.
Elevate Amenities: travelers have more choices than ever when it comes to selecting a short-term rental. If your property's amenities don't offer the same levels of comfort and functionality as competitors', consider adding new amenities that set your space apart.
Hire a Great Property Manager: the best Airbnb property management companies in the US will help market your listing, communicate with your guests, and handle any maintenance, repair, or cleaning. They're also ideally knowledgeable about all things local and can give your guests an experience that makes leaving a review an easy decision.
Pictures and Presentation: photos make your place pop off the screen and tempt guests to click 'reserve.' Be sure that your photos do your unique space justice and consider paying for professional photos to properly capture your property. Check out top properties in your market and see how your photos compare to your competitors'.
Give and Get Reviews: positive reviews are essential in guests' decision-making processes. Encourage guests to leave reviews if you believe they've had a pleasant stay at your space — and return the favor.

Get the Airbnb Data Analytics You Need to Optimize Your Occupancy Rate

Optimizing your Airbnb occupancy rate is quite tricky if you don't have the data analytics to illuminate opportunities, get competitor intel, and adjust your listing accordingly. MarketMinder gives you those metrics and more — all while letting you create and control comp sets so you're getting only what you need.
Get started with MarketMinder today.
With powerful, easy-to-use tools, MarketMinder helps hosts and investors succeed in the short-term rental market. Ready to jump in?
Try it for free