Dialing In Airbnb Prices: A Flexible, Dynamic Pricing Strategy is a Successful Strategy
If 2020 revealed anything to short-term rental hosts, it's that the most successful Airbnb pricing strategy is one that remained flexible. Major markets like New York, Los Angeles, London, and Paris that have traditionally enjoyed reliably steady bookings saw their occupancy rates go into freefall.
Conversely, many destination markets like California's Big Bear Lake overwhelmingly hosted more visitors at different points throughout the year than in previous years. Across all markets, Airbnb prices fluctuated to accommodate unforeseen dips and spikes.
In virtually all urban and some rural areas, hosts had to revisit their pricing strategies. 2020 was a case study in adapting Airbnb prices to keep pace with rapidly changing markets — and to meet hosts' personal goals.
Data delivered the insight hosts needed to make these changes.
Using Airbnb Data Analytics to Develop a Pricing Strategy

New hosts can (and should) explore comparable listings in their neighborhood — these properties are their true competition. By exploring different properties, hosts get a better idea of how to appropriately set their Airbnb prices relative to competitors'.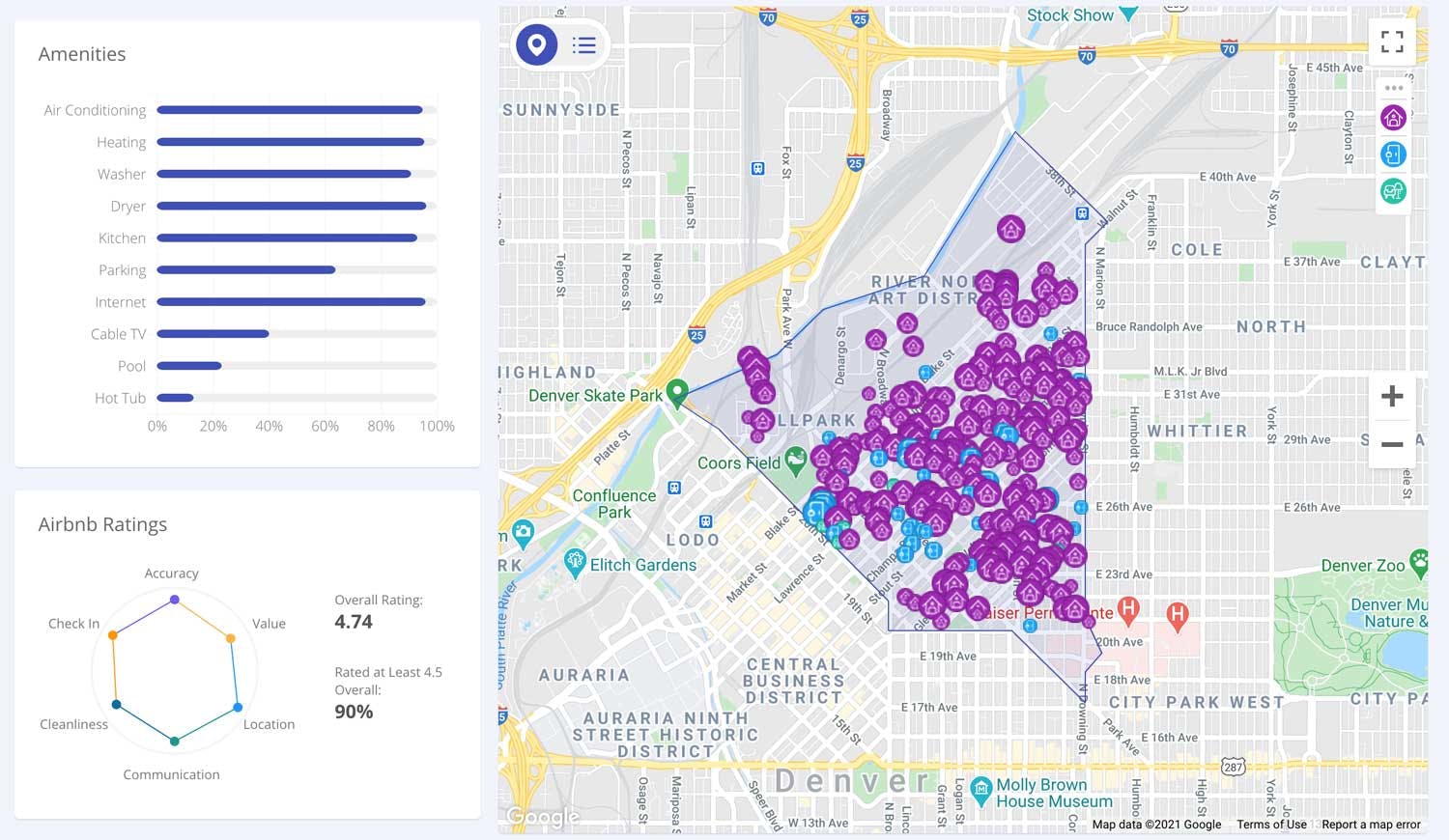 Step 1: Use Airbnb Data Analytics to Research Competitors and List a Property

Optimizing an Airbnb pricing strategy extends well beyond pricing a property competitively. In virtually all circumstances, hosts will have numerous competitors — but not all are equal. For example, a host in an urban market probably doesn't need to get too granular to compete with hundreds of properties. Instead, their time is better spent creating a custom competitive set — or, comp set — within MarketMinder containing properties with similar features as theirs, including:
Size and Guest Capacity
Distance and Location
Performance Metrics
Experience and Reviews
Property Quality


What is Airbnb Dynamic Pricing?

Let's reiterate: flexibility is central to an effective pricing strategy. Rigidity means missing out on potential revenue. Dynamic pricing — or, adjusting nightly rates to competitively meet supply and demand in a host's market — helps keep occupancy rates up and revenue coming in. It helps find the listing's sweet spot.
Step 2: Decide When to Adjust Airbnb Prices — Again, and Again

While Airbnb Smart Pricing was rolled out years ago to help hosts gauge rates, many property managers still find that it suggests prices that are much too low, and doesn't offer a robust picture of their market.
Other Airbnb pricing tools and data analytics give hosts greater insight to adjust prices more effectively. And it's not a one-time tweak. Hosts who utilize dynamic pricing should expect to update their rates regularly to account for any changes in demand in their market.
Step 3: Understand How These Factors Influence Airbnb Prices
Weekends and Weekdays

Hosts will surely notice a difference between weekday and weekend bookings, both in their listings and their competitors'. Destination markets often attract guests for long weekends and are an opportunity for hosts in these areas to increase their prices to maximize revenue. Conversely, adjusting weekday prices to reflect often lower demand helps hosts keep properties full and revenue coming in.

Orphan Days

When hosts optimize their minimum night stay policies, their calendars can easily end up looking quite full: a five-day block here, two six-day stays there. While those lengthy stays mean more revenue from fewer guests, there may be single days in between those reservations that are unbookable due to a host's minimum night stay policy.

Single, unbookable days are known as orphan days — and they're indicative of missed revenue. While setting a minimum night stay is essential, it's also important to remain flexible when it comes to lengths of stay. If two, week-long stays are separated by only one day, hosts should use Airbnb's listing management platform to create an exception. This gives potential guests the opportunity to book a single night, filling in any gaps in a host's calendar, meaning additional revenue when it would otherwise be missed.
Events

Because many high-profile events like Austin's SXSW are announced long before they take place, hosts can take advantage and adjust their prices months (or even a year) before the event. Property managers should also maintain these higher rates as close to the event's dates as possible; many last-minute bookers are willing to pay top dollar to ensure they have a unique stay for the duration of the event.
Step 4: Consider Airbnb Promotions, Discounts, and Additional Fees

New hosts in virtually all markets face the same challenge getting started: getting bookings. It's not as simple as listing an attractive property with amazing amenities, beautiful photos, and compelling descriptions. Hosts need reviews to attract future guests. To get those first guests and earn their reviews, new hosts should consider the following:
Come in with lower-than-average rates: This isn't a long-term strategy. But undercutting the competition in the first few weeks or months to land bookings and earn reviews is an investment. Once the reviews start coming in, hosts can gradually increase their prices. Remember, though, that it's much better to get multiple guests early on rather than a single guest for a month-long stay. More reviews give potential guests more confidence to book.
Offer length-of-stay discounts: New and veteran hosts alike should consider offering these discounts to those looking for more than just a long weekend. Guests who book mid-term or monthly stays may even expect a discount. Property managers should consider whether or not their competitors offer similar promotions. If they do, it makes sense that they probably should, too.
Discount early bookings: Hosts in markets that host annual events may want to offer "early bird" discounts for guests who book several months out. While this may ensure dates are booked well in advance, hosts should also be mindful of not offering too attractive of a discount. Property managers can set a range of discount dates and rates that gradually increase as a date draws nearer, ensuring that early bookers get a discount and hosts' revenues remain on track to meet their goals.
Include Instant Book: Airbnb's Instant Book option gives guests the convenience of booking their stay without waiting for hosts to approve their requests. Properties that include Instant Book rank higher in searches, increase their revenue, and average daily rates (ADR) in both urban and destination markets, making it a top option to include in a pricing strategy.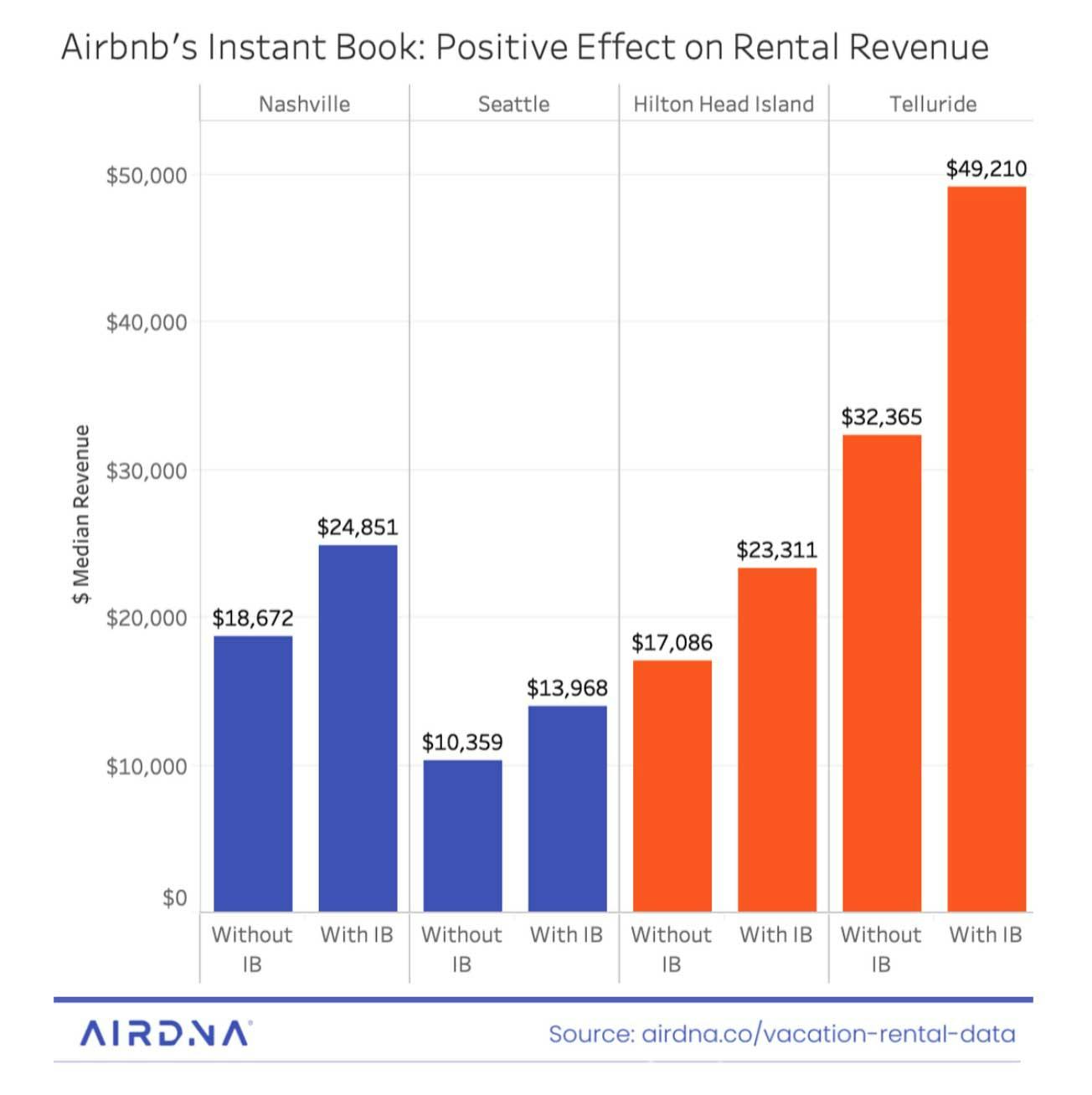 Weigh the cleaning fee: Cleaning fees can be a turnoff for some hosts. For example, guests looking to book the two-night minimum may look elsewhere if a host's cleaning fee is $150. But guests searching for a seven-night stay likely see the $150 cleaning fee as a good deal. Hosts need to find a balance between the cost of cleaning supplies, time commitment, potential staff to maintain the property, and managing to get guests in the door. Updating the cleaning fee should be part of hosts' overall price adjustment strategies.
Consider practical, additional fees and policies: Additional fees (like extra guests, peak season, services fees, and cancelation policies) significantly impact hosts' revenues. Most guests expect some additional fees, and Airbnb will display the final price detailing each. The point here is to make sure hosts generate the revenue needed to keep their space competitive, in immaculate shape, and increase their bottom line. But there's a tipping point: hosts shouldn't gouge guests. Doing so only deters them from clicking 'Reserve' and creates financial frustrations for hosts.

Optimize Your Airbnb Pricing Strategy with Data Analytics

Short-term rental novices and veterans alike should pay close attention to their competition's listings — especially if they're in seasonal and destination markets. MarketMinder saves hosts days of work and affords them lucid insight into competitors' listings, enabling them to create the pricing strategy that's right for their goals.
Within MarketMinder's Price section, hosts see three tabs: Pacing, Rate Calendar, and Seasonality. These three tabs contain the central pillars of hosts' pricing strategies.
Pacing
Pacing is the rate at which reservations are made for a specific date in the future and gives hosts insight into how far into the future bookings are being made compared to historical data. It allows hosts to confidently predict and plan for demand, revenue, and even operations, upkeep, and staffing costs.
This is especially helpful for hosts in destination markets like Breckenridge, Colorado, who see Booked Listings higher early on in the year and fewer bookings as the sky melts. Hosts can use the Median Booked Rate to adjust their pricing strategy and account for weekends, events, early birds, or last-minute bookers.

Pacing also reveals Booking Trends within any market, and gives hosts a clear picture of which precise dates are getting booked up to six months out.

Smart Rates

After hosts have synced their property in MarketMinder, they can use Smart Rates to ensure they're priced appropriately to reflect demand during specific dates. This is especially helpful for hosts in seasonal, destination markets like Breckenridge. Hosts can also see accurate rate recommendations based on listings within their Comp Sets.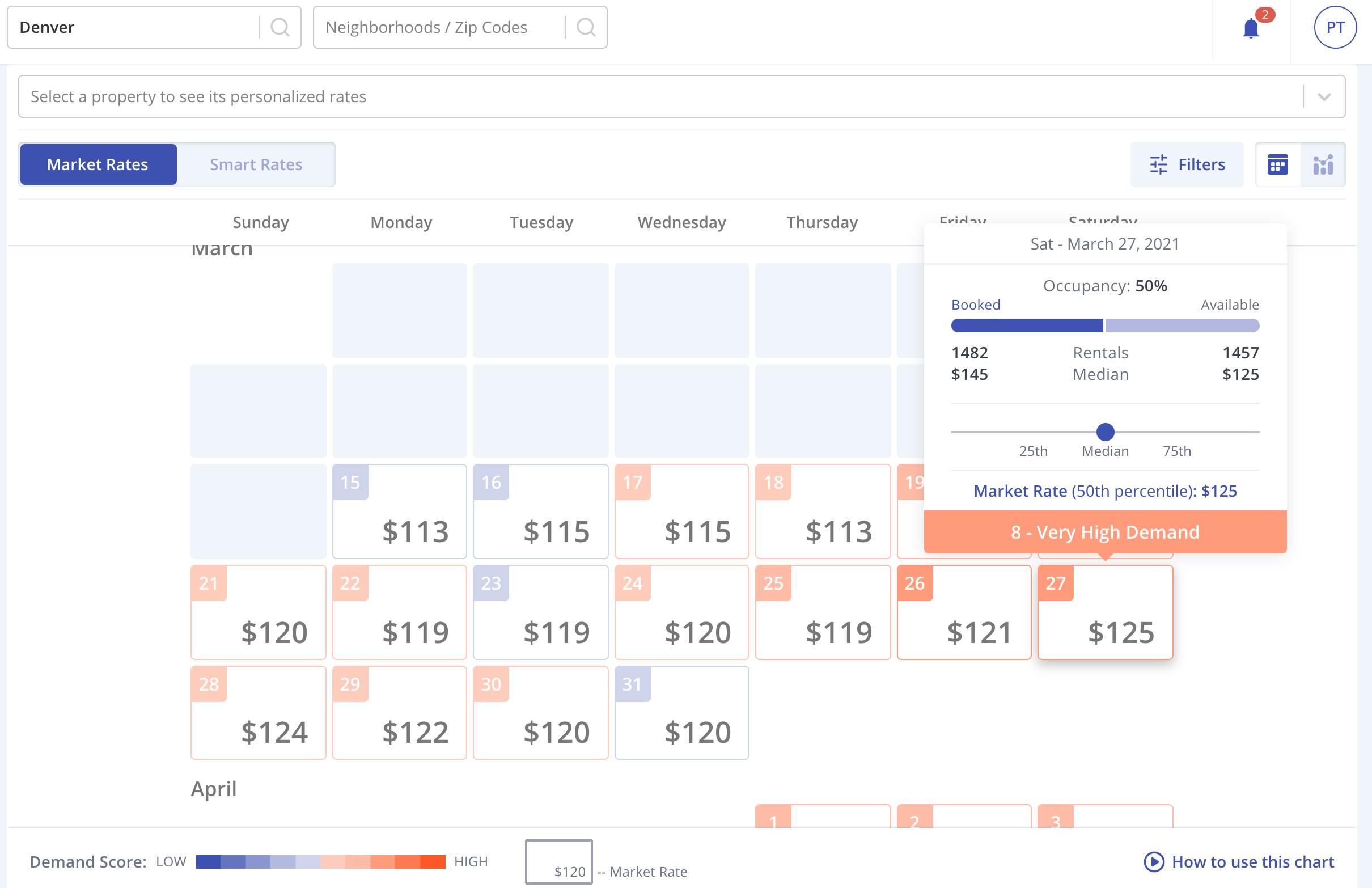 Now, pricing property has never been easier and more intuitive. Smart Rates' integration with Futurestay provides hosts with personalized, automated pricing. This one-two punch of optimized pricing and ease of use enables hosts to optimize for both revenue and occupancy for a smarter, simpler, and more powerful pricing strategy.
Seasonality

Perhaps the most crucial factor affecting listing prices, seasonality should determine a property's price during peak and slow seasons. Coastal climes, lakeside retreats, and ski towns like Breckenridge are highly susceptible to these seasonal fluctuations and prices should reflect those shifts.
For example, hosts in Breckenridge (and virtually all ski towns) must factor in seasonal shifts to ensure they're maximizing revenue when they can to account for the slower summer months.
The seasonality calendar reveals the most financially friendly dates for hosts (green), as well as dates that may present pricing challenges (red). During the latter dates, hosts should plan to rely on dynamic pricing to account for dips in demand.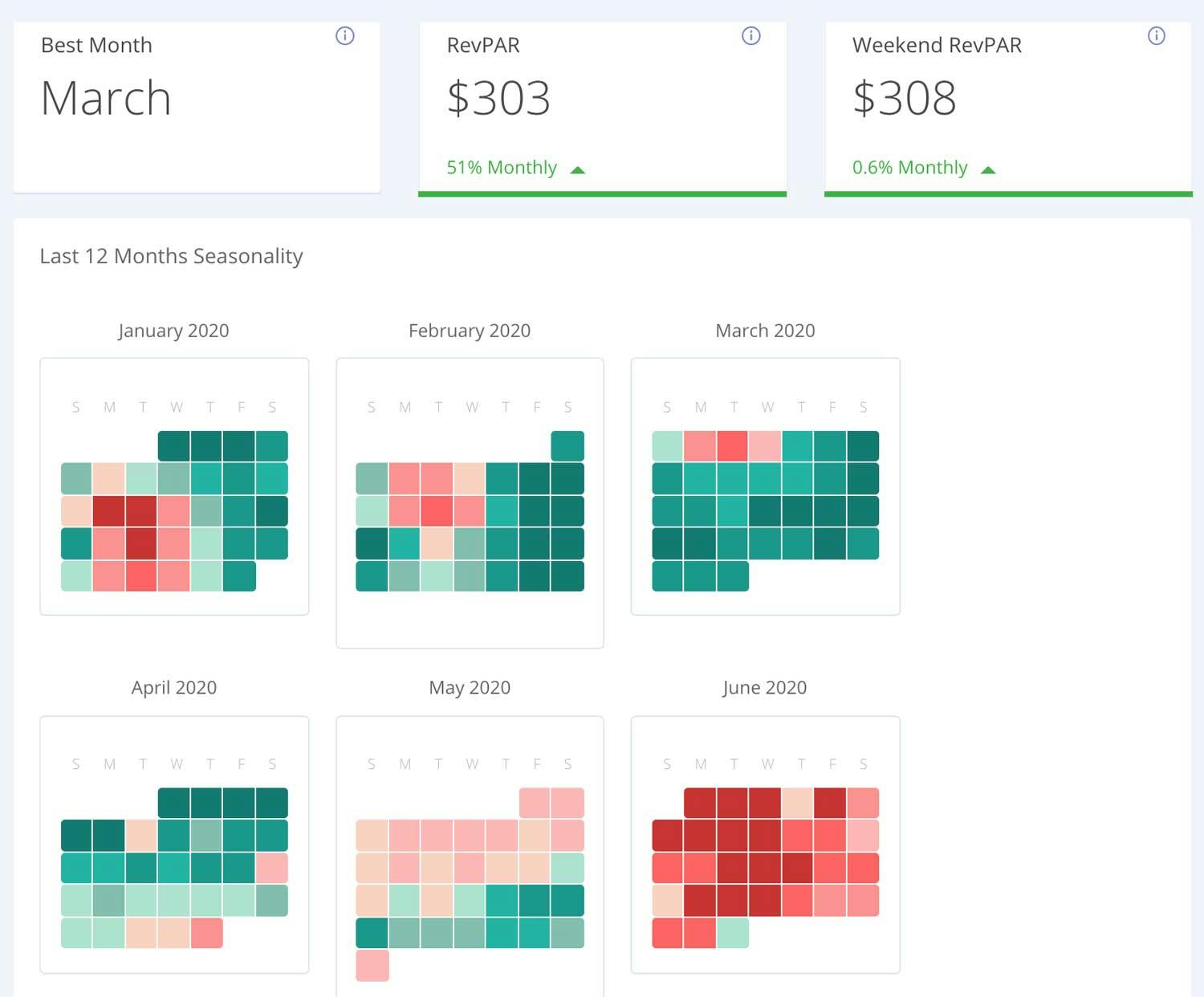 Similarly, the COVID-19 pandemic showed just how vulnerable seasonal markets can be. New and experienced hosts alike spent the past year revisiting and adjusting their pricing strategies to cope with stark shifts in bookings. But once travel returns to pre-pandemic levels, planning for seasonality will be especially key to a successful strategy.
Get started with MarketMinder today.
With powerful, easy-to-use tools, MarketMinder helps hosts and investors succeed in the short-term rental market. Ready to jump in?
Try it for free