Elevated Amenities Make Your Property Pop. Airbnb Decor Doesn't.

With around six million listings, Airbnb guests now have more options than ever when it comes to booking unique stays — and finding a space that includes the best Airbnb amenities for their needs. Whether disconnecting for a digital detox, booking a family- or pet-friendly stay, or embarking on a remote working trip, different types of guests demand different Airbnb amenities.
While many guests may be willing to book a stay that doesn't offer each of their preferred amenities, hosts miss out on revenue opportunities by not offering several of the same comforts and conveniences as their competitors.
Although hosts' Airbnb amenities lists look different in each market, broad geographic locations — urban, suburban, mid-size metros, rural, coastal, and mountain/lakeside markets — have significant overlap. Hosts in each of these markets should invest the time to explore top properties in their markets, create a custom competitive set, and adjust their amenities offerings where it makes the most sense.
For example, if your competitor's listing includes a gym, does it make financial sense to completely gut and remodel your space to include a gym as well? Probably not. But, if you see that the same competitor's listing is pet-friendly and it's paying off, you can make small changes to your amenities offerings and pet policy to ensure a comparable stay to boost your occupancy rate, ADR, and RevPAR.
You just need to know which amenities may improve these factors — and which ones may not.
The Most Common Airbnb Amenities by Region

Properties within each of the six geographies may offer many of the same amenities, but listings vary in how widely available they are, as well as how they impact performance. We've compiled each region's top amenities and how they impact three key elements of a host's optimization strategy: occupancy rate, ADR, and RevPAR. 
The table below includes data from 2020. To see how an amenity performs across each region, just click the dropdown to the right of the selected amenity, and explore how it's impacted hosts' Airbnb listings in your market.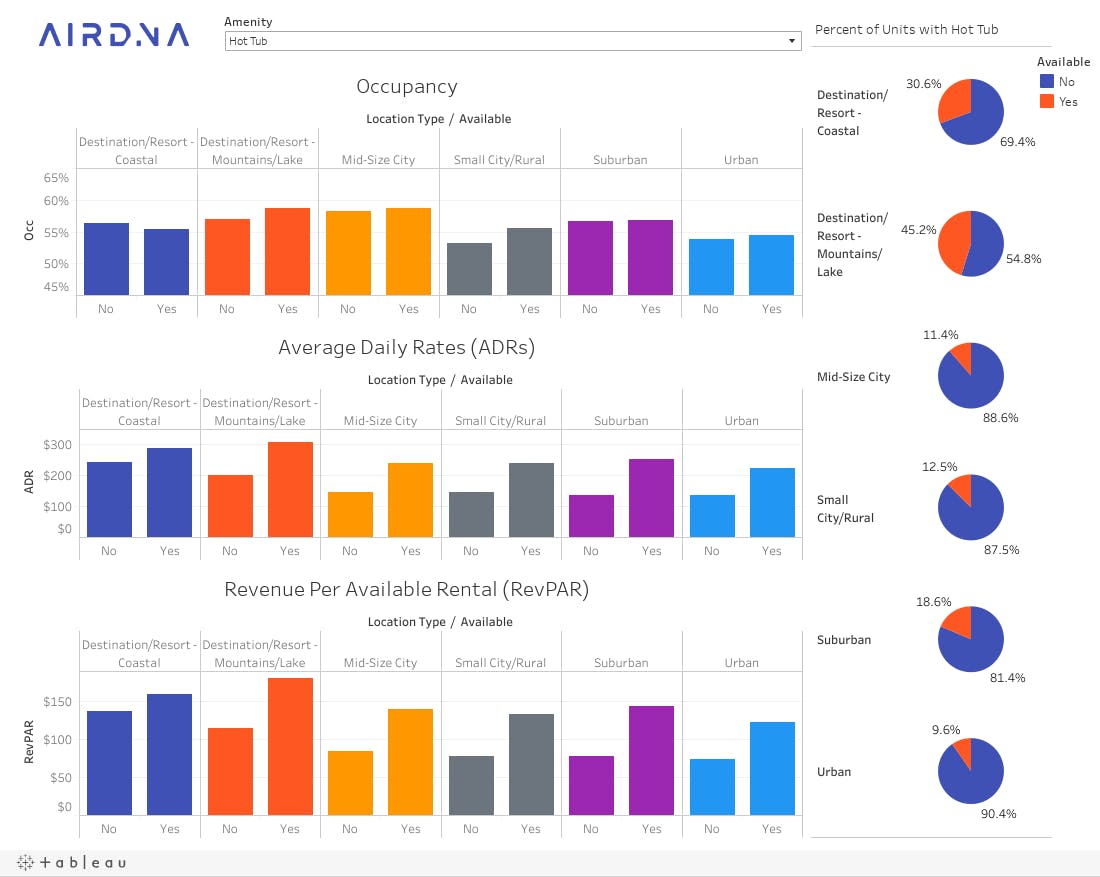 What are the Best Amenities for Your Airbnb Listing? Depends on Your Market — and Your Competitors

Despite variations in certain amenities' availability in each of the six geographies, there are common themes among several of these amenities. Below, we've highlighted four amenities offerings we think stand out from the others which showcase how impactful making amenities updates may be — or may not be.

People Pay More for Pet-Friendly Pads

Whether guests book beachfront properties or urban highrises, one thing's clear: they want a place for their pets. That's unsurprising given that, depending on the source, somewhere between 49% and 68% of Americans own pets. Even during the COVID-19 pandemic, pet owners booked stays in Airbnbs across each location.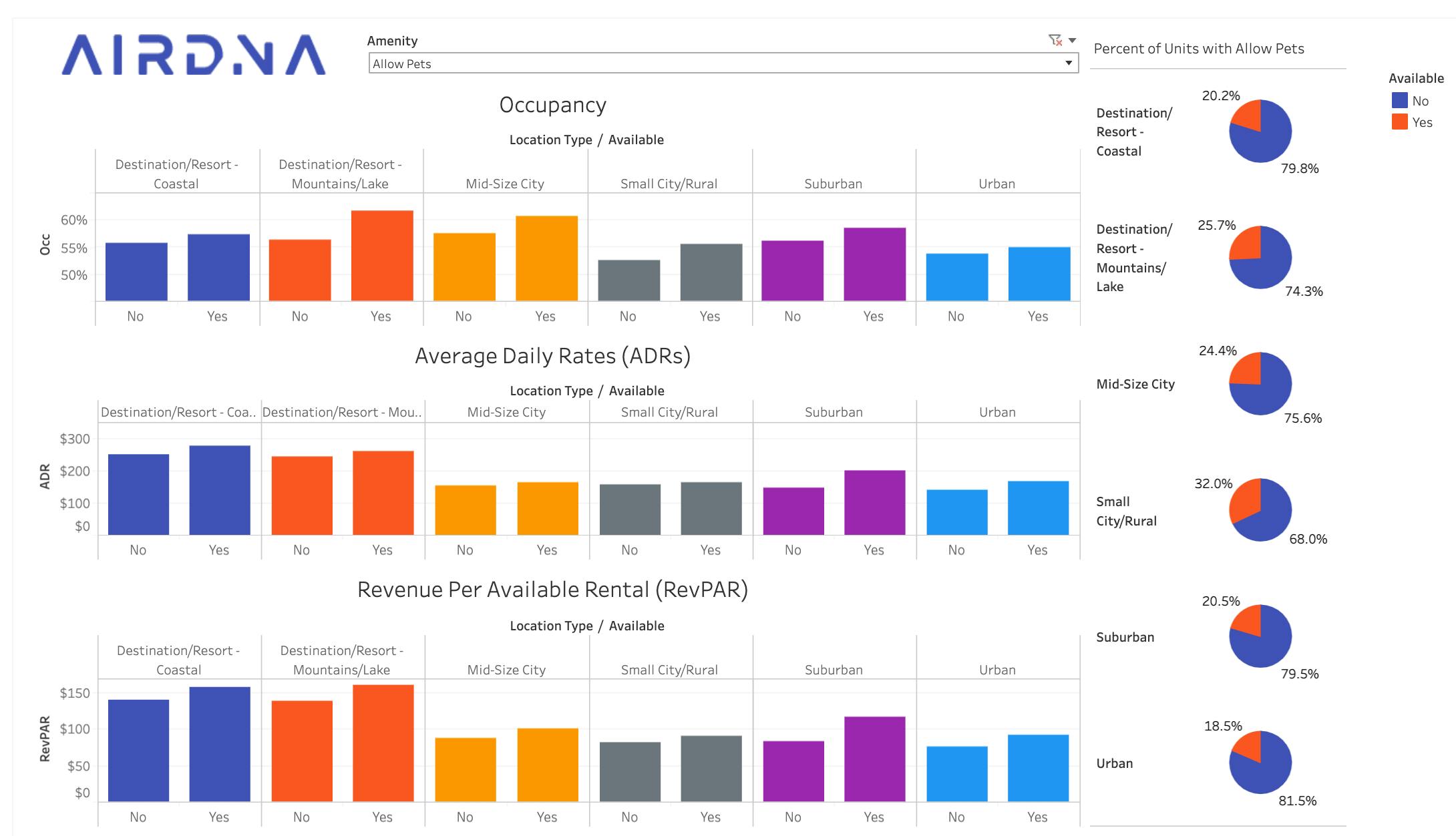 The takeaway? No matter which market you're in, it's probably a good idea to consider making your place pet-friendly if it's not already. At this point, an increasing number of guests see pet-friendly accommodation as an Airbnb essential.
Hot Tubs May Be a Wash in Most Markets

For many guests and hosts alike, hot tubs are synonymous with a relaxing getaway. And across all markets, properties that include hot tubs see higher ADR and RevPAR, while mountain towns see the biggest boost when it comes to occupancy rates.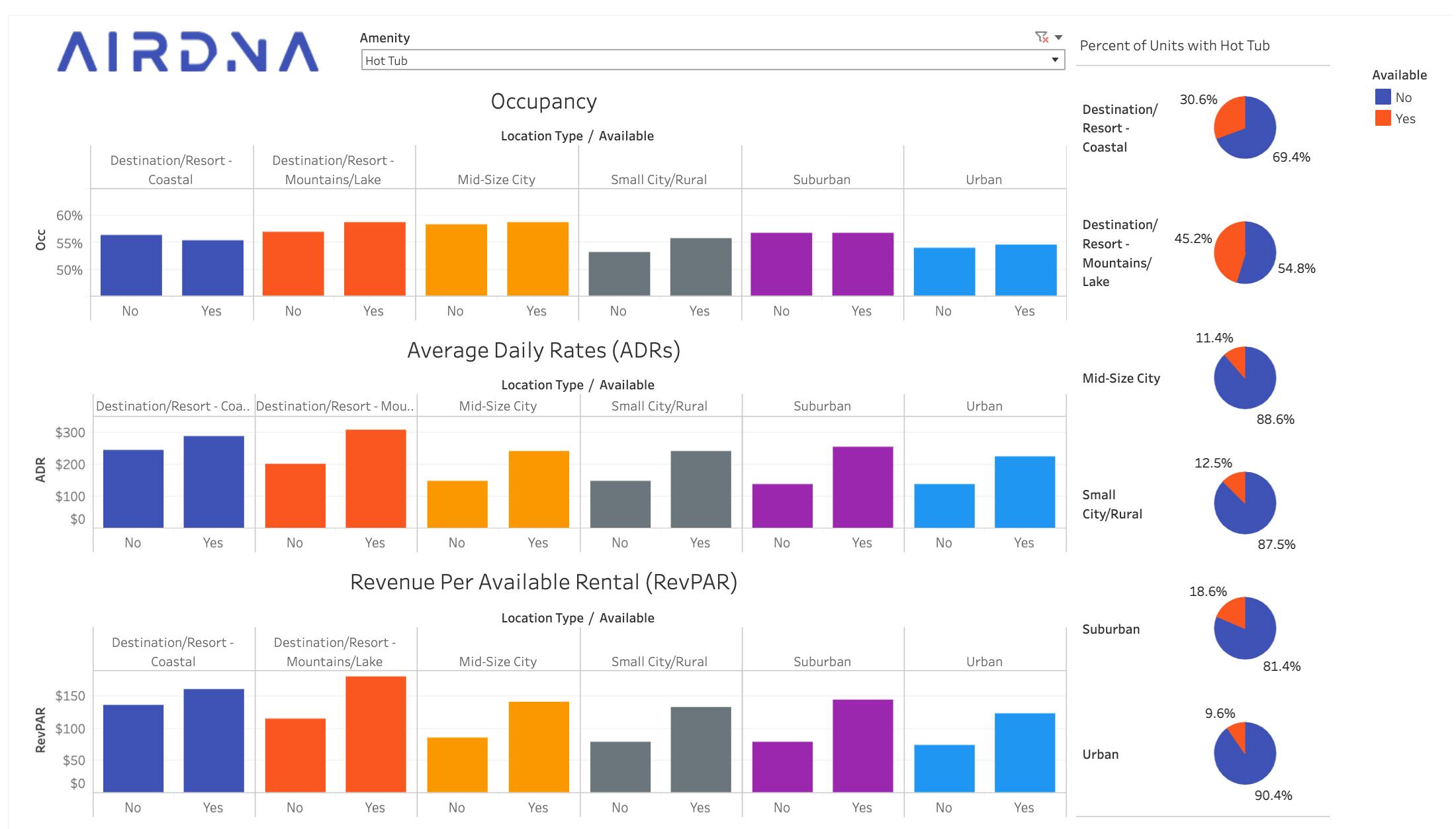 It's important to remember that some amenities may sound like an easy win, but may not help you reach each of your goals. For example, if you have a coastal property, installing a hot tub may increase ADR and RevPAR, but may not be enough to cover the cost of installation and upkeep.
Whether it's a hot tub or another amenity, the best move is to keep an eye on your comp set and determine which amenity upgrades you can make if they make sense for your goals.
Gyms Increase ADR and RevPAR, But Not Occupancy Rates

If the data reveals nothing else, it's that gyms do not increase hosts' occupancy rates. Across geographies, properties with gyms have lower occupancy rates, signaling that most guests probably aren't determined to stick to their workout routines while away from home. Or, at least in their short-term rental.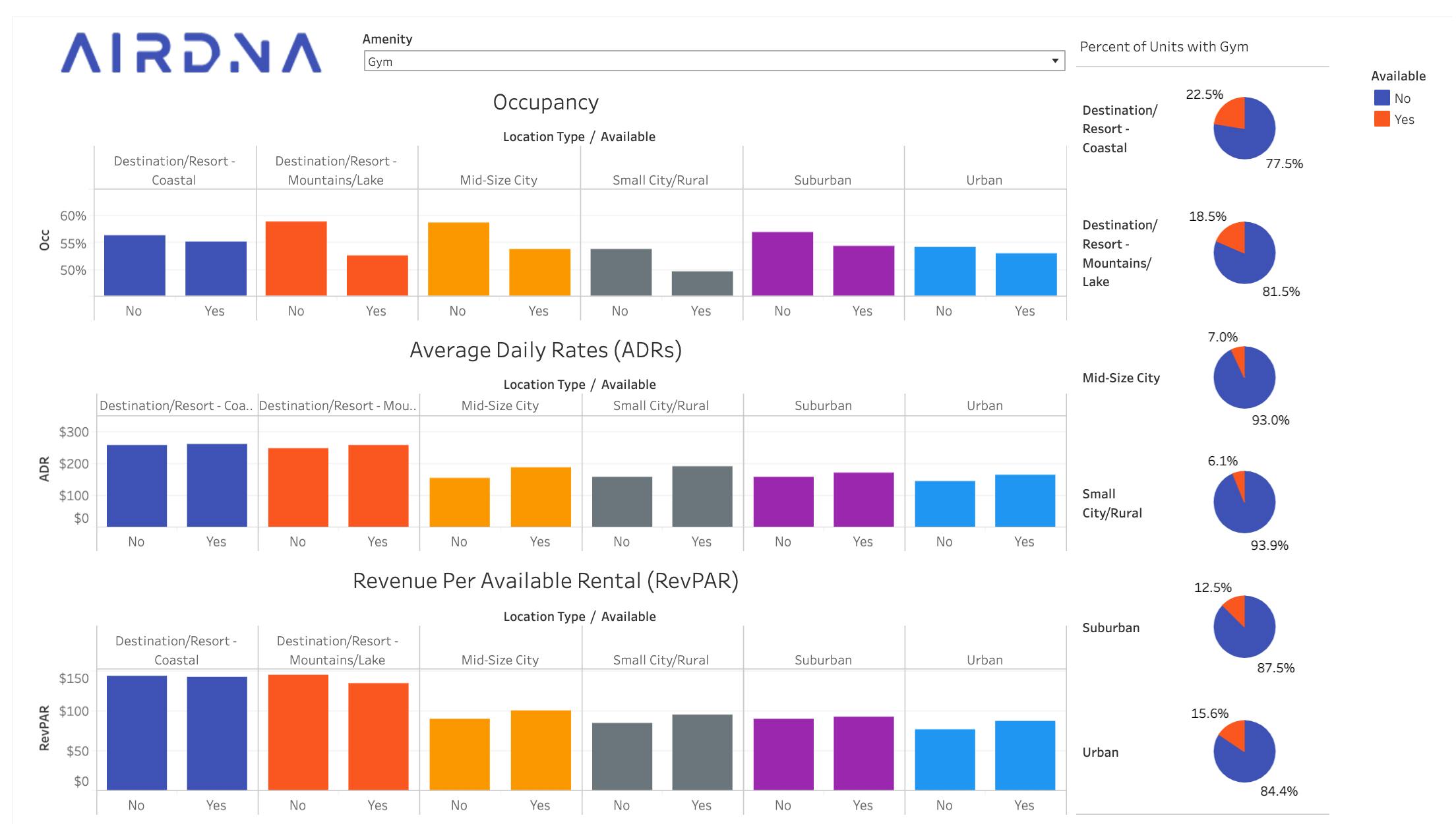 Hosts' whose properties include gyms see modest increases in ADR in each market; we see mixed results for RevPAR. Gyms are another feature that might be on guests' nice-to-have lists, but they don't appear to be included in the best Airbnb amenities for earning more bookings.
Fireplaces Are a Hot Commodity in Half of Markets

In terms of occupancy rates, mountain properties that include fireplaces see an increase whereas the opposite is true for urban STRs. We see modest increases in occupancy rates in coastal destinations and small cities, but drops in mid-sized cities and the suburbs.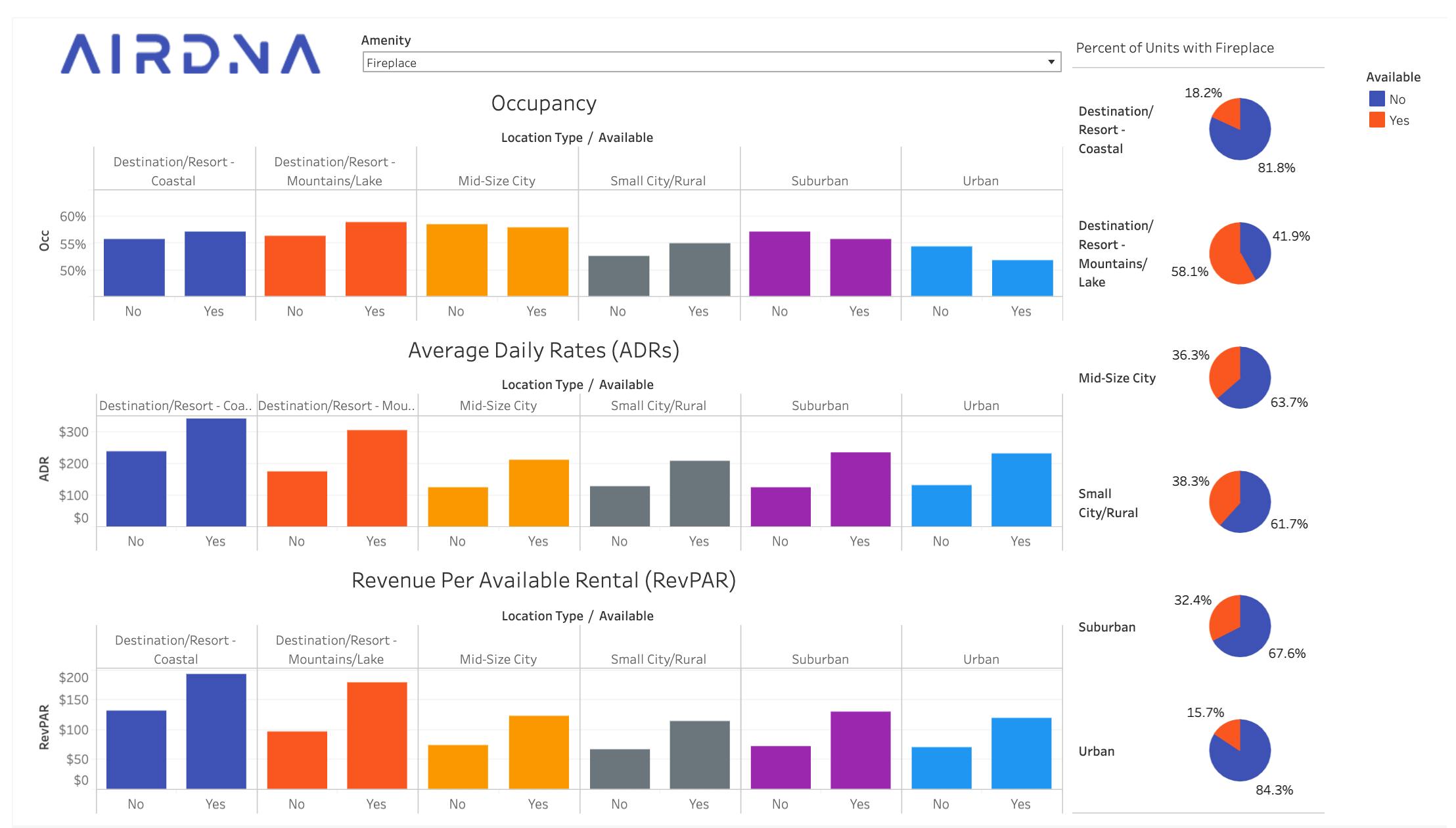 In the three larger geographies, hosts who've included fireplaces in their listings see sizable boosts in their ADR and RevPAR. Like hot tubs, fireplaces may be tempting to include to attract more guests. But if we look at the numbers, that's only true in a couple of markets. Moreover, it may be difficult (or even impossible) for hosts to retrofit their property with a fireplace.
Airbnb Essentials Vs. Amenities:What Makes Your Place Stand Out?

Because of Airbnb's ubiquity in the short-term rental space, listing a property has never been easier. The ease at which you can list your vacation rental is great, but it also means that your property needs to stand out from more competitors than ever.
Now, guests expect certain essentials, like bed linens, bath towels, shampoo, soap, and kitchen utensils. Without these basics, guests will likely look elsewhere for a more comfortable stay. Sure, some guests are fine with bare-bones essentials, but they are becoming rarer. At this stage, the basics just won't cut it.
While you should always be sure your property includes the basics, it's amenities like offering pet-friendly stays, fireplaces, and other standout amenities.
Why There's No One-Size-Fits-All Airbnb Amenities List

Because guests travel to different markets for different reasons, there's no single amenities checklist for vacation rentals. Common Airbnb amenities (and guests' willingness to pay for them) in mountain towns like Blue Ridge, Georgia, don't perfectly mirror those in urban centers like Atlanta.
As we saw earlier, guests in different markets want and may even expect specific amenities. In mountain and lakeside destination markets, for example, guests clearly want a fireplace included in their rental, and it shows in hosts' occupancy rates, ADR, and RevPAR.
This checks out: guests likely want a cozy spot to relax after a day of skiing or other outdoor activities. A fireplace keeps the place warm while adding to its ambiance and guests likely associate it with the mountain destination experience.
But when we look at how a fireplace impacts occupancy rates in urban markets, we see a drop in occupancy rates. So, if you have an urban property, you can expect higher ADR and RevPAR at the expense of a lower occupancy rate — which is just fine for most hosts. It's just one example of why you should take the time to determine how including new amenities may impact your bookings and bottom line and lead to an optimized Airbnb listing.

Steps to Optimize Your Airbnb Listing's Amenities

As a new host, pinpointing the best Airbnb amenities to compete with other comparable listings is key to getting more guests and earning their reviews. To do so, you need to optimize your Airbnb amenities list.
Step 1: Create a Custom Comp Set: Without knowing which amenities comparable properties offer, you're basically driving blind. Once you've explored your market's top properties and synced yours in MarketMinder, create a custom comp set to see your true competition.
Step 2: Explore Your Competition's Amenities: True competitors in your market are those that offer comparable stays. Once you've identified them in your comp set, take the time to zero in on which amenities well-performing properties offer and — just as importantly — which ones they don't. There could be an opportunity for you to be the only property offering a unique, sought-after amenity.
Step 3: Determine Which Amenities Make Sense for Your Goals: Your comp set will give you the data you need to decide which amenities can help you optimize your occupancy rate and reach your revenue goals. From there, it's time to make moves on improving your property's Airbnb amenities offerings.

Get started with MarketMinder today.
With powerful, easy-to-use tools, MarketMinder helps hosts and investors succeed in the short-term rental market. Ready to jump in?
Try it for free