The Holiday Let Revival in the UK: The Year We Swapped Barcelona for Blackpool

As foreign holidays get a little easier and restrictions are lifted in the UK, there are encouraging signs that pent-up travel demand is fuelling a surge in global short-term rental bookings and holiday lettings in the United Kingdom.
To get a sense of just how dramatic the booking surge has been for Airbnb, AirDNA data reveals the markets in which the return of travel has been so starkly evident. The UK, especially, has seen a significant uptick in holiday let activity. But will the demand last?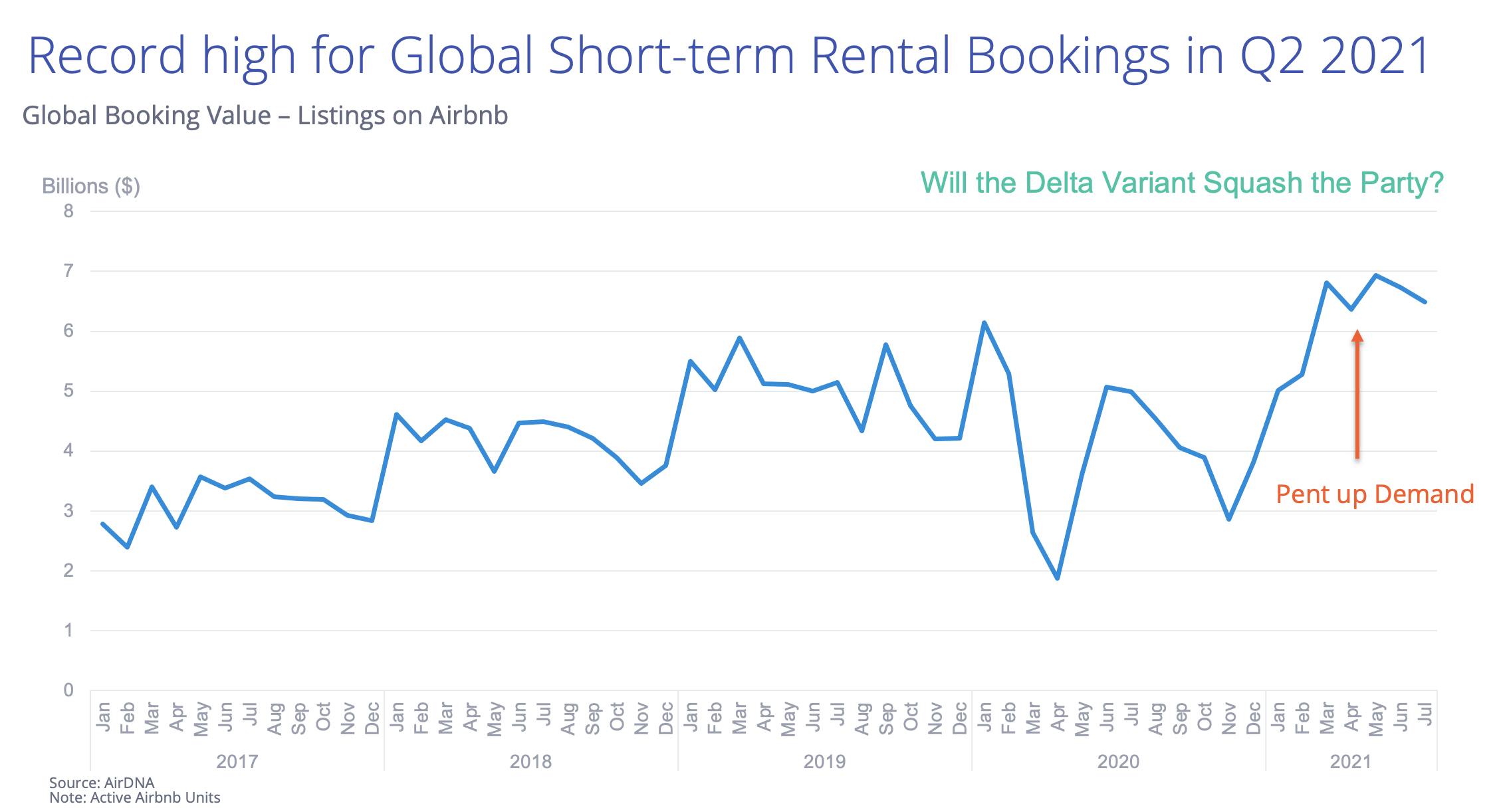 Short-term Holiday Lets in the UK Are Up, But Europe as a Whole is Not
Using data up to July 2021, we dive into the ups and downs of a rocky holiday lettings landscape for the UK, as well as looking at how other European countries have fared so far.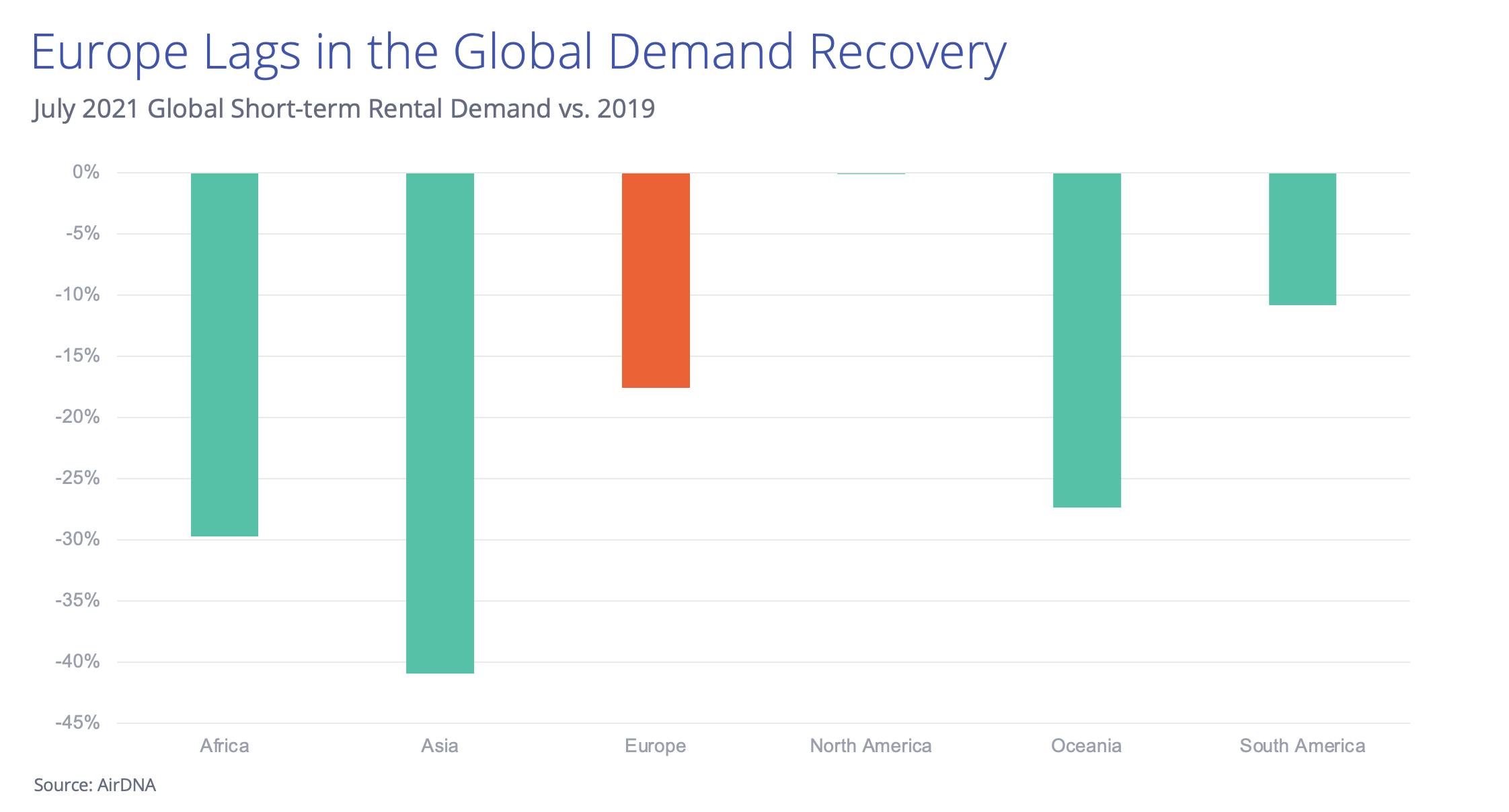 Overall, only North America has seen positive demand growth while the continent is also outpaced by South America, and barely performing better than Oceania and Africa. As we'll see later in the report, some European countries are certainly recovering, though not enough to tip the scales for the continent. However, the UK is leading the region's recovery.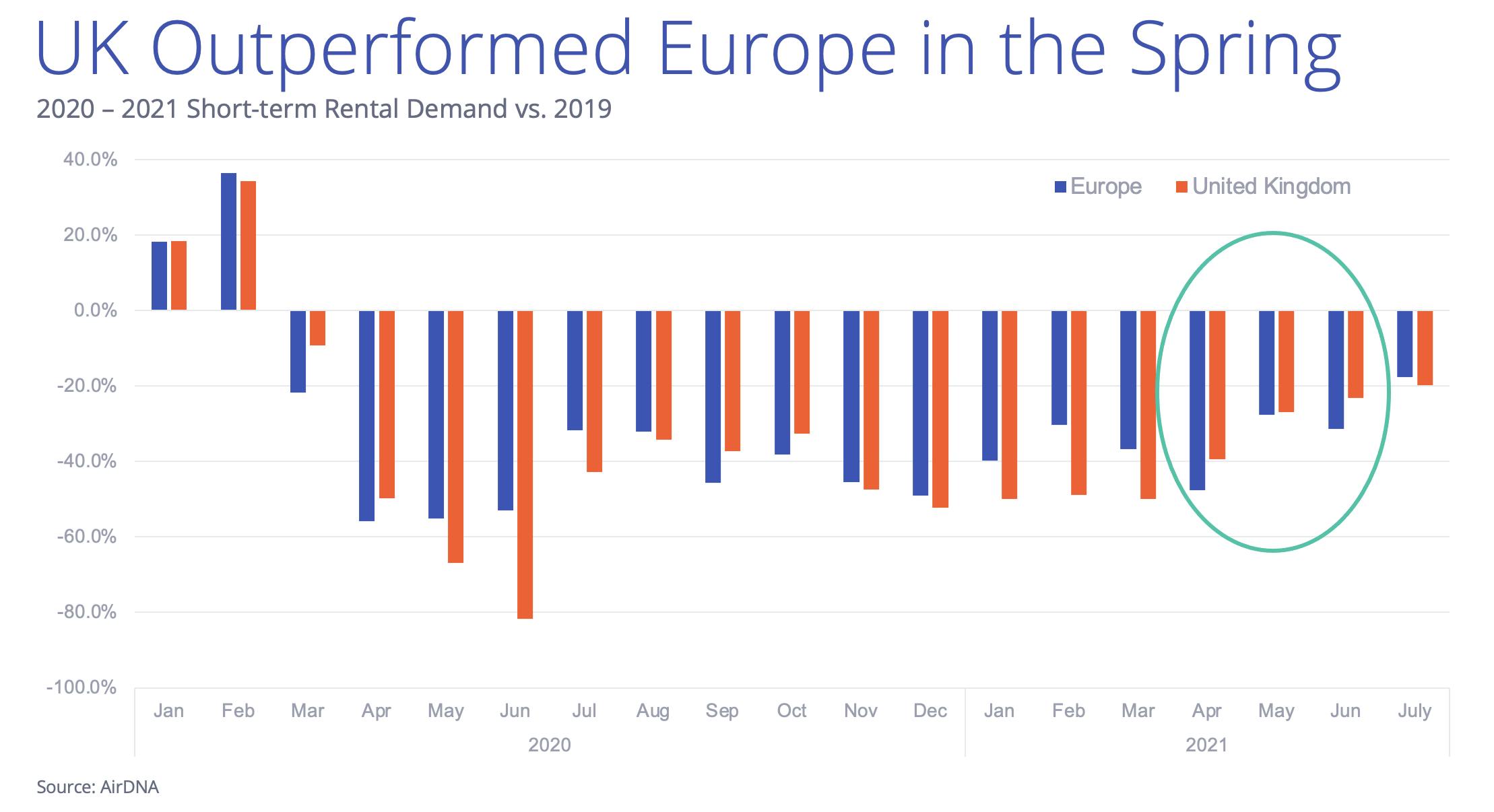 As soon as COVID hit the continent, short-term holiday lettings went into freefall in both the UK and across Europe — as well as the rest of the world. While demand has not since recovered to 2019 levels for the UK, it has eclipsed the rest of the continent's performance.
Over the past 16 months, there have been glimpses of recovery. However, like elsewhere in the world, repeated lockdowns put the brakes on accelerating markets. While the light at the end of the tunnel illuminates a hard-hit travel landscape, new variants could darken demand.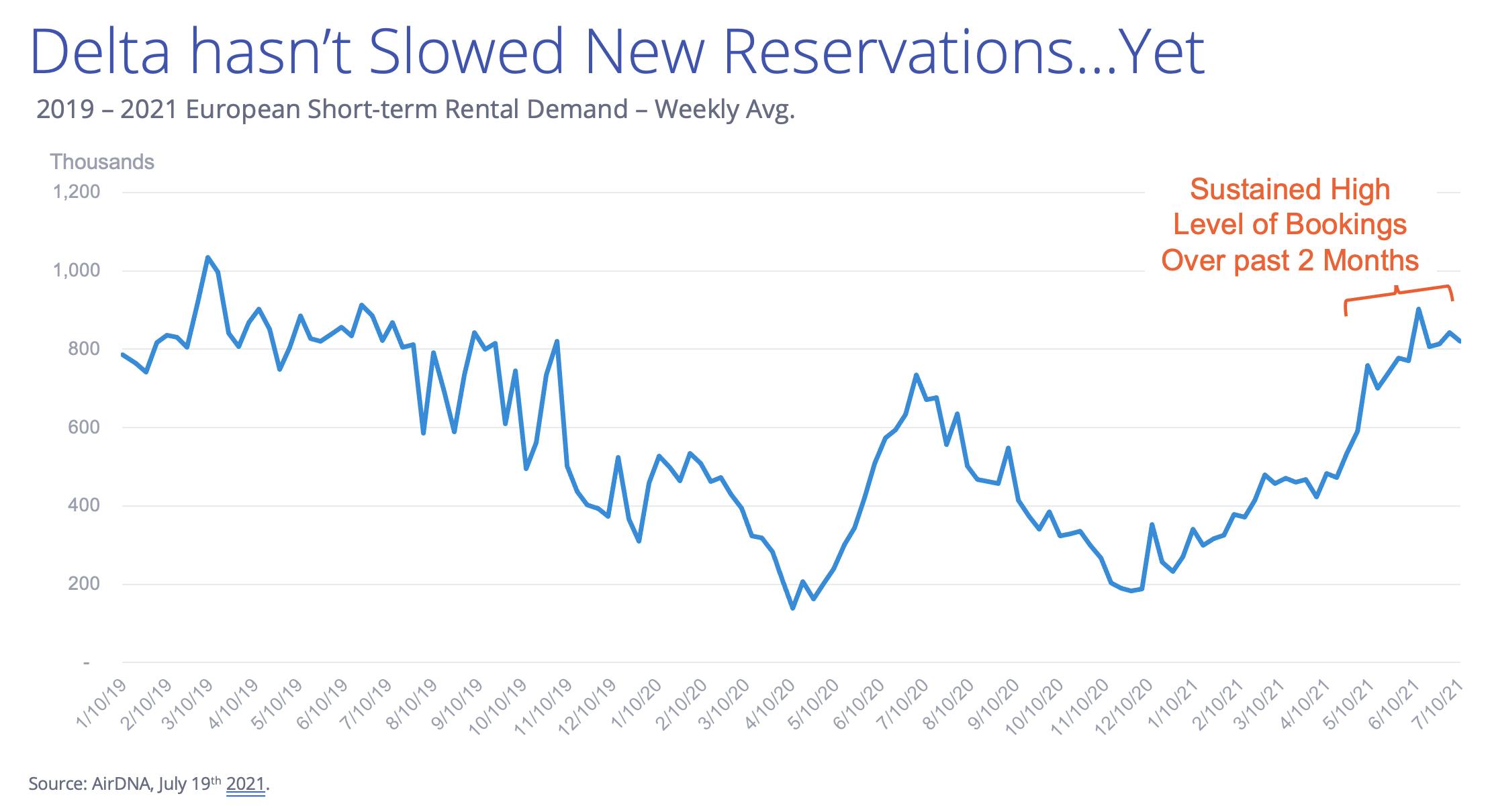 While Delta continues to spread around the UK and the world, it's so far done little to stifle rising reservations. In June 2021, the weekly average for short-term holiday let demand hit its peak since the virus halted most travel in March 2020. Travellers have so far remained undeterred by Delta. 
After a startling rise in infections in mid-July, new cases dropped steeply thanks to vaccination. Whether that trend holds remains to be seen; the UK's COVID testing rate is more robust relative to the United States' and many other European countries', providing a better understanding of the variant's reach. As it stands, though, there remains a steady (and encouraging) level of bookings between May and July. 
Still, there's room for concern.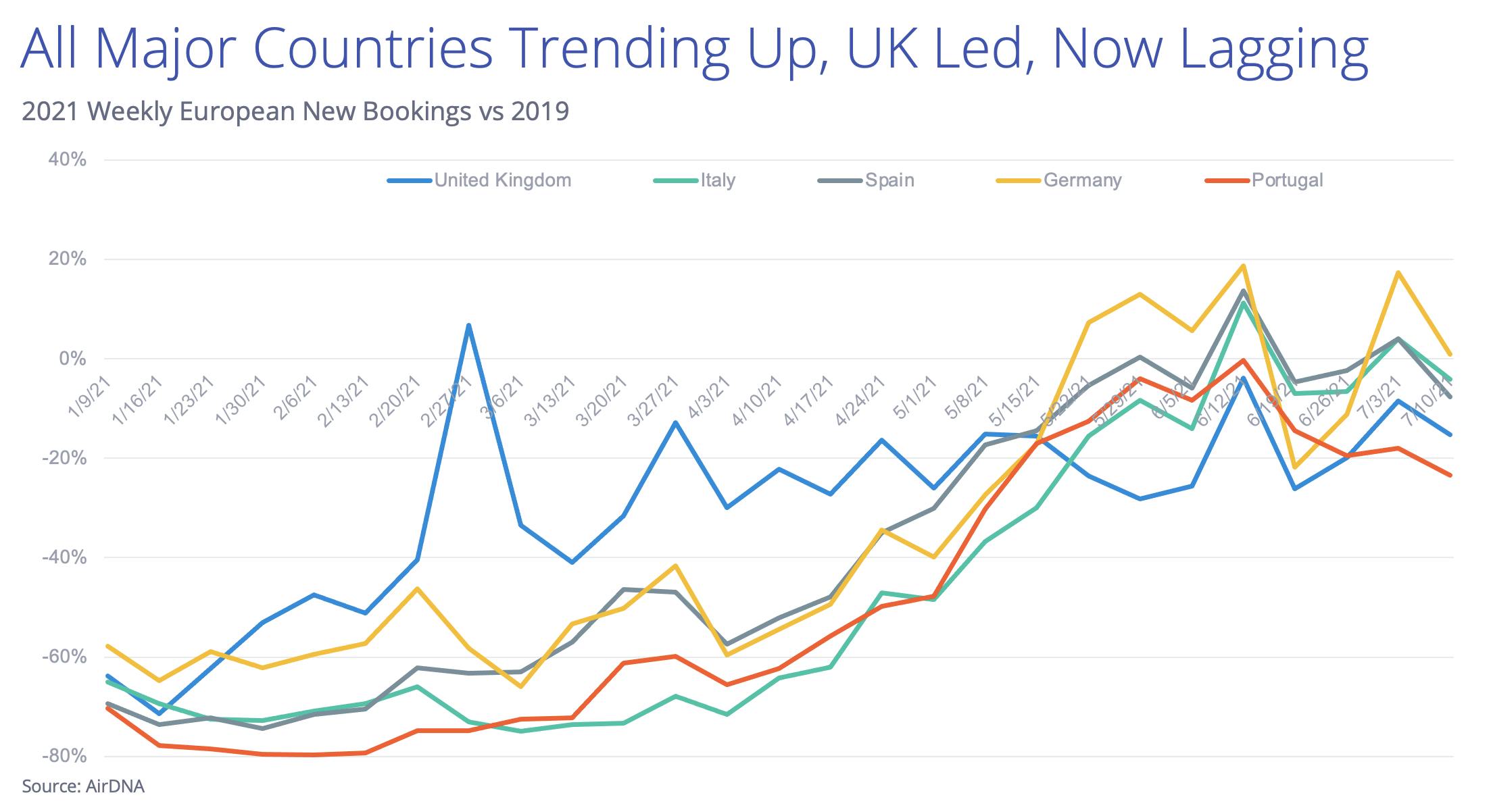 While the UK's weekly average demand levels remain positive (only 20% below 2019 levels), the country now lags behind some of Europe's most-visited countries due to complicated international travel rules and restrictions on incoming travellers. In February, new bookings in the UK soared; they did not elsewhere in the region. Since then, we've seen bookings peak and plummet in relative quick succession. Encouragingly, however, the country has remained on the upward trajectory.
But as the UK's new bookings crept higher, Germany, Italy, Portugal, and Spain witnessed rapid rises in new bookings thanks to easier mobility within the Schengen Area. As of early August 2021, Germany's new bookings lead other countries seen here, and it remains the only country outpacing 2019 levels, however marginally.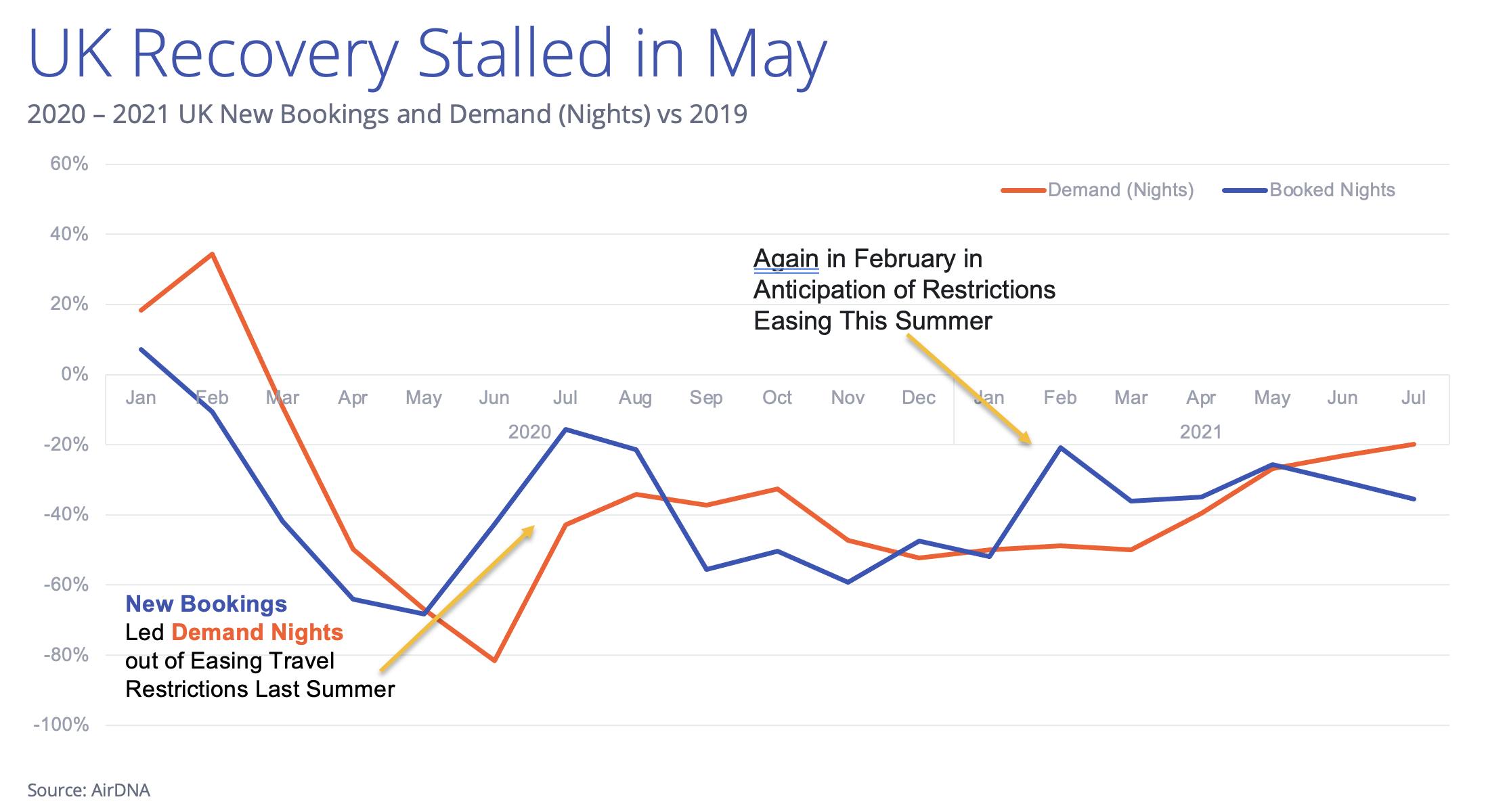 It should be clear that the pandemic and subsequent travel restrictions played a massive role in the UK's recovery in the holiday lettings space. Summer 2020 proved positive for travellers. Yet after a spike in cases and further restrictions to combat the spread of the virus, the country was on a path to its lowest levels of demand since May 2020. Since, it has inched ever closer to new bookings and demand reflecting 2019 figures. Yet, as of August, it remains well below figures from two summers past as incoming travellers find it either impossible or difficult to enter the UK.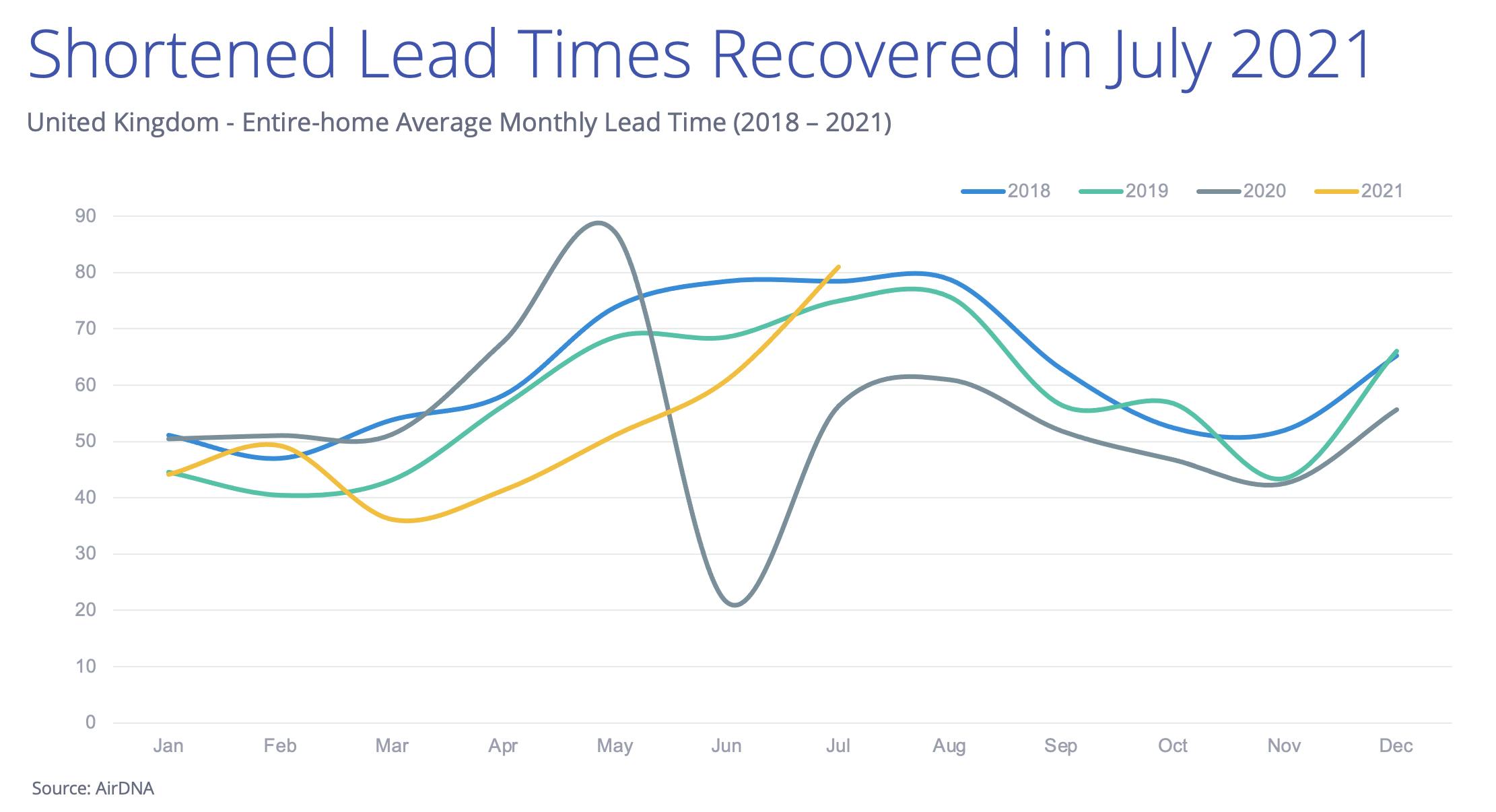 With so much uncertainty surrounding the Delta variant's impact on travel (and health), some travellers are wary of booking too far in advance. As of July, lead times (the period of time between when a guest makes a reservation, and the actual check-in date) exceed pre-pandemic levels showing the strength of summer travel, as guests are confident in their travel plans within the country.
While only slightly exceeding 2019 levels, the length between booking date and stay date is on an upward trajectory and should remain high during the peak summer months.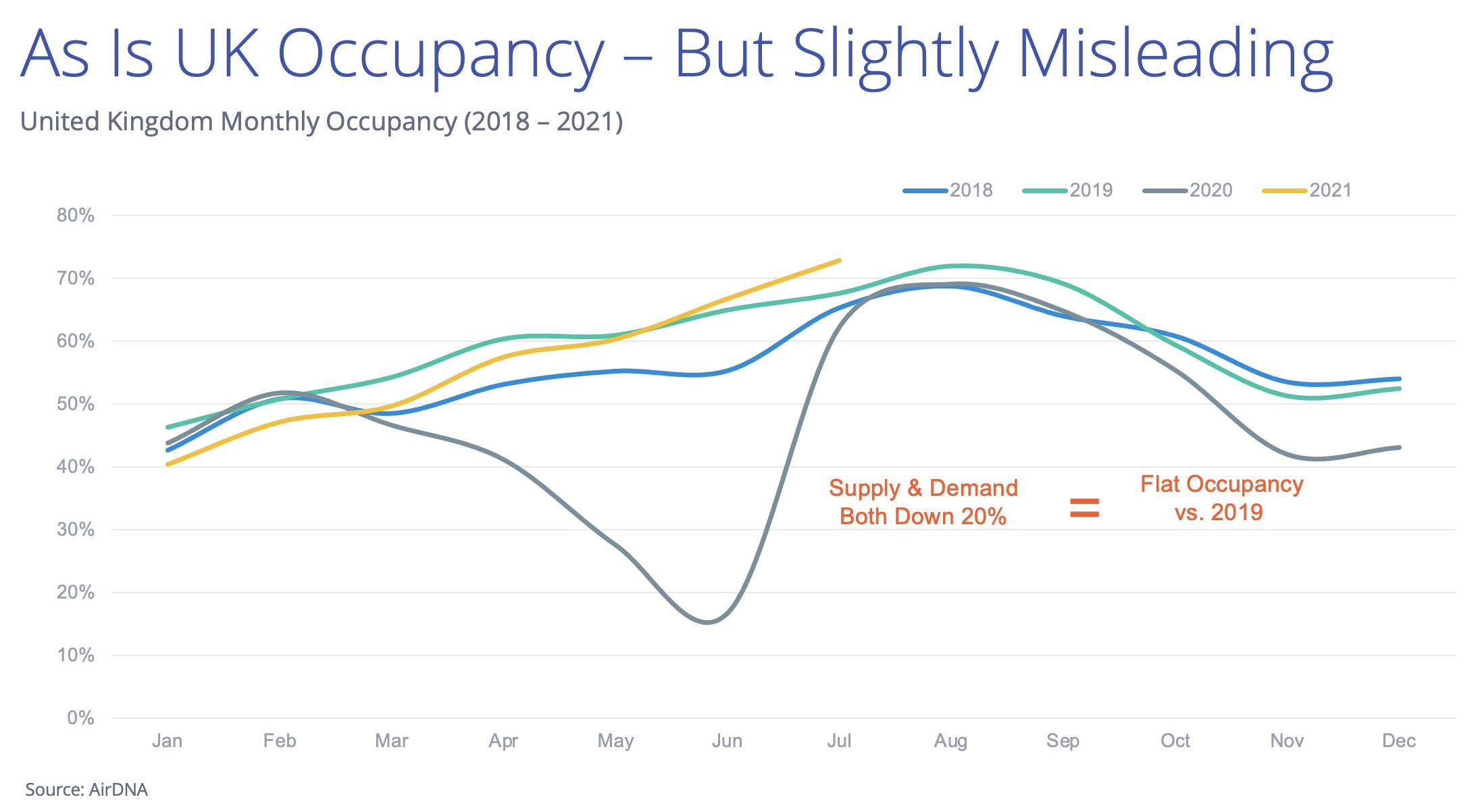 Despite UK occupancy levels in holiday lettings appearing to rise, we're actually witnessing flat occupancy relative to 2019. That's because supply and demand for holiday lets in the UK is down 20% vs 2019 figures. 
Travellers aren't hitting the road as readily as they were before the pandemic, and that's amplified by a reduction in supply; many hosts removed their listings during the height of the pandemic for personal use or as it was no longer profitable. Now, both hosts and travellers are waiting to see if the staycation boom will hold, or if border restrictions and quarantine relaxation will encourage more Brits to dare to travel abroad, and bring back foreign travellers to the UK.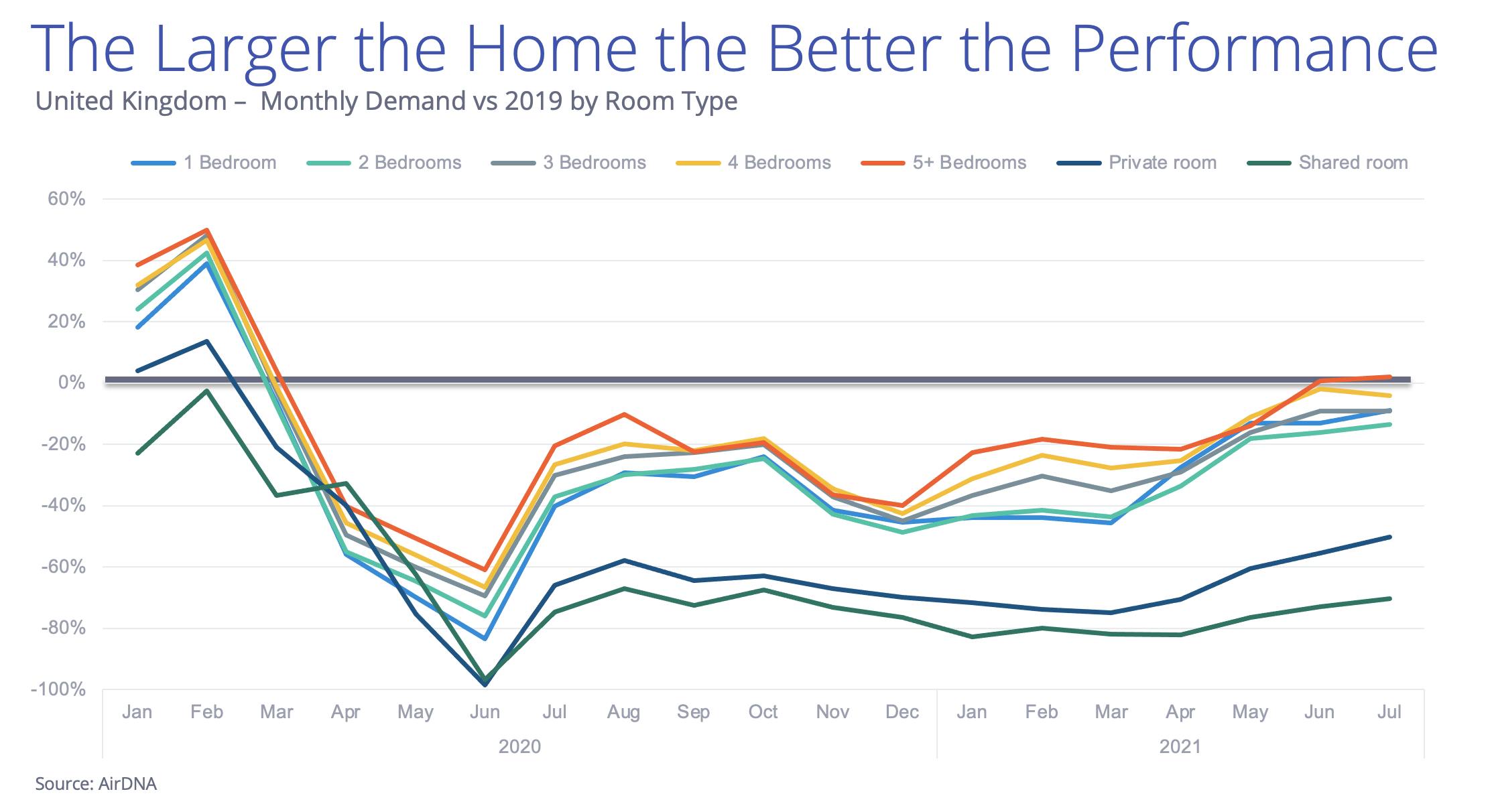 When people do travel and stay in Airbnb holiday lets, they (perhaps unsurprisingly) are staying in larger homes — and those in relatively less-populated areas. Demand in London, Edinburgh, Glasgow is down over 60%, while Cornwall is up 6%,Dorset up 15%, and Scarborough up 16%.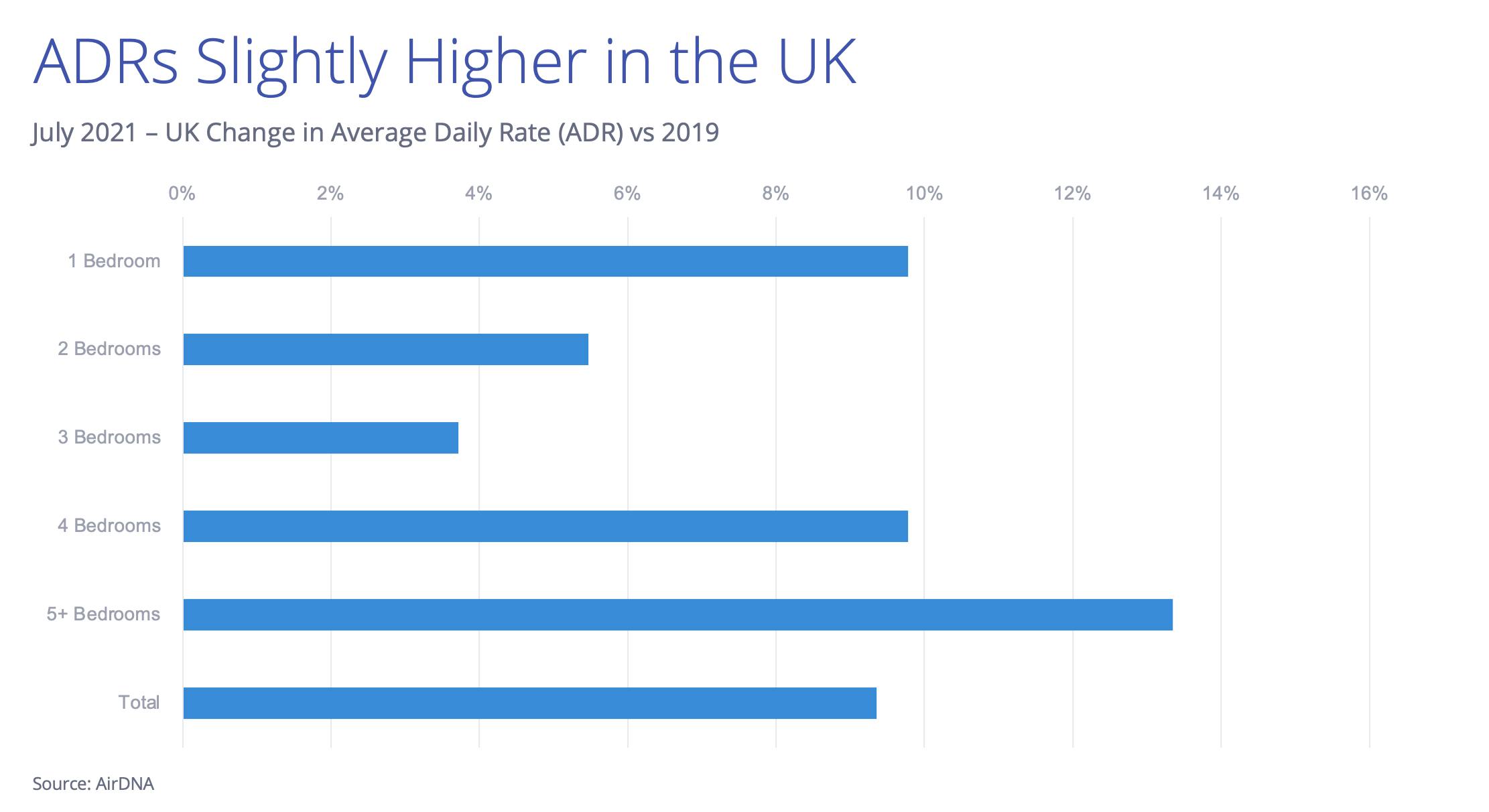 Average daily rates, too, have increased with bedroom count, with 5+ bedroom accommodations earning more relative to 2019.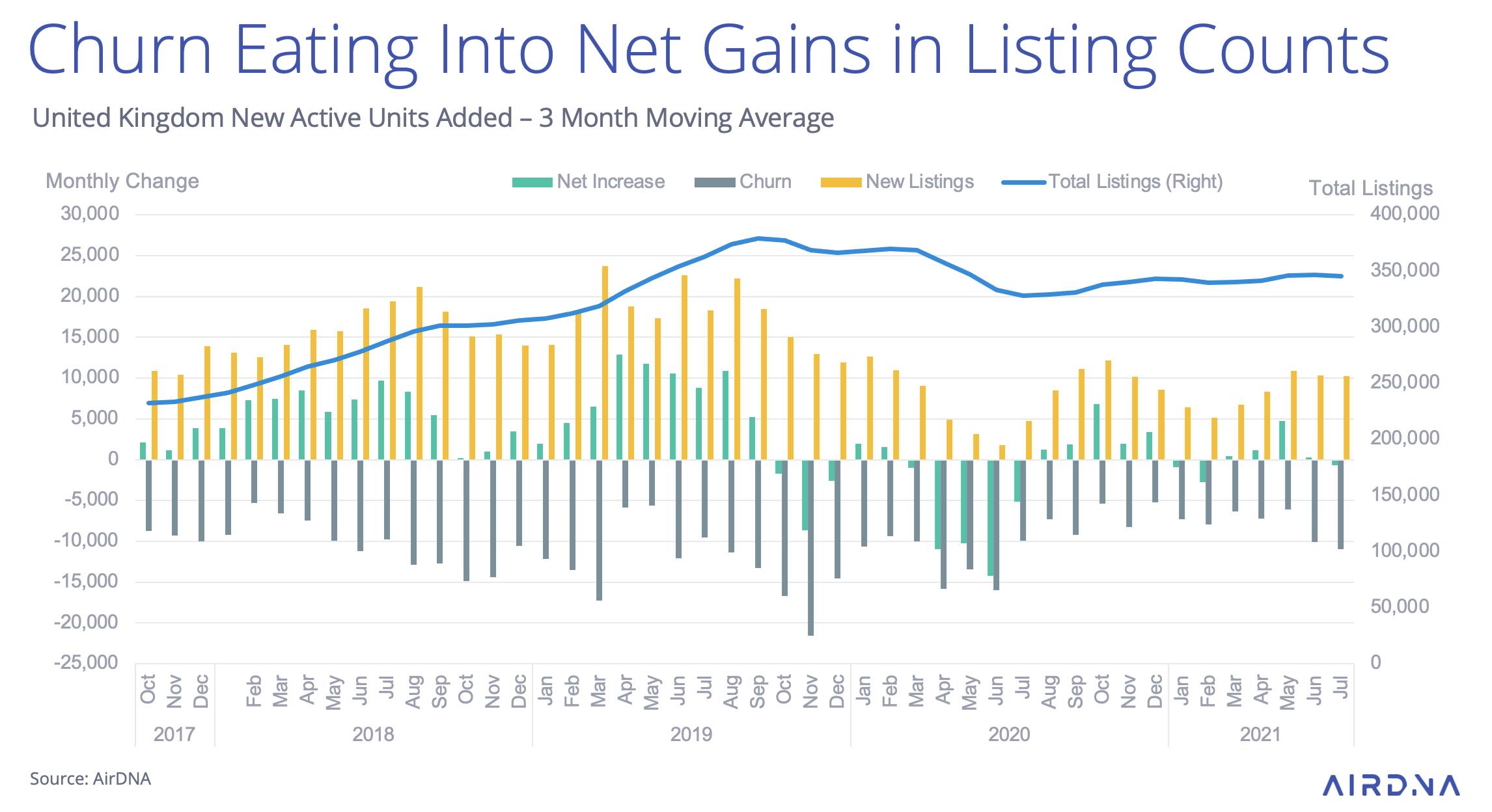 While there's much to celebrate relative to a dismal 2020, churn remains an issue for gains in listing counts across the country. We've only seen modest gains in the UK's overall listing count since summer 2020. Since January of 2020, each month has seen thousands of new listings, but each has also felt the impact of listings' removals, leading to sluggish growth in the total listing count.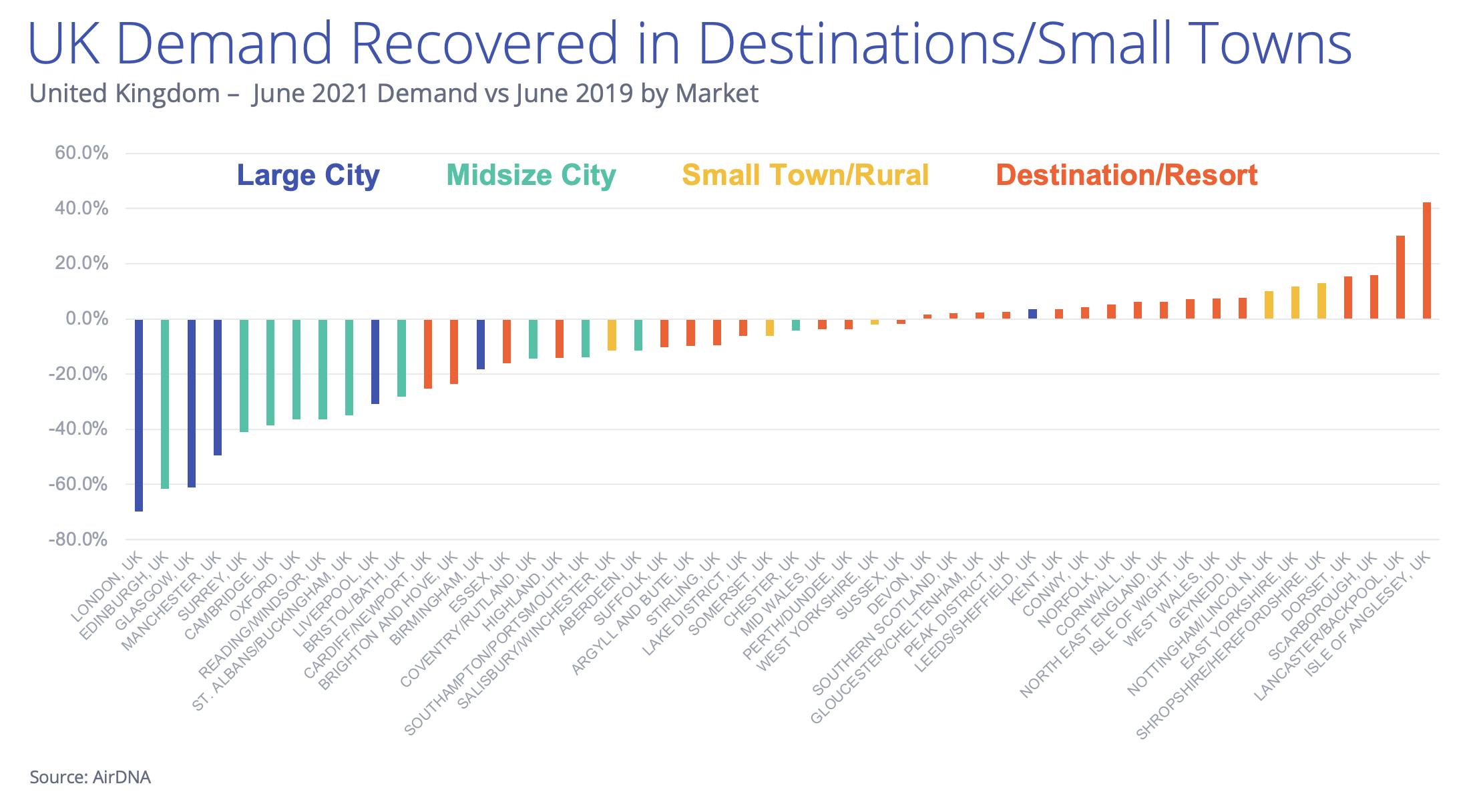 But despite churn remaining a factor for overall supply, demand has recovered in many of the UK's destination and more rural markets. On par with other nations, the UK's largest cities are well beyond some of its smaller markets in terms of demand. When the pandemic hit, Brits didn't stop travelling: they just changed where they travelled, albeit in smaller numbers.
Some of the country's more remote destinations and counties have seen demand increase significantly through the past year, and those trends are likely to remain unchanged for the remainder of the year — and perhaps well into 2022.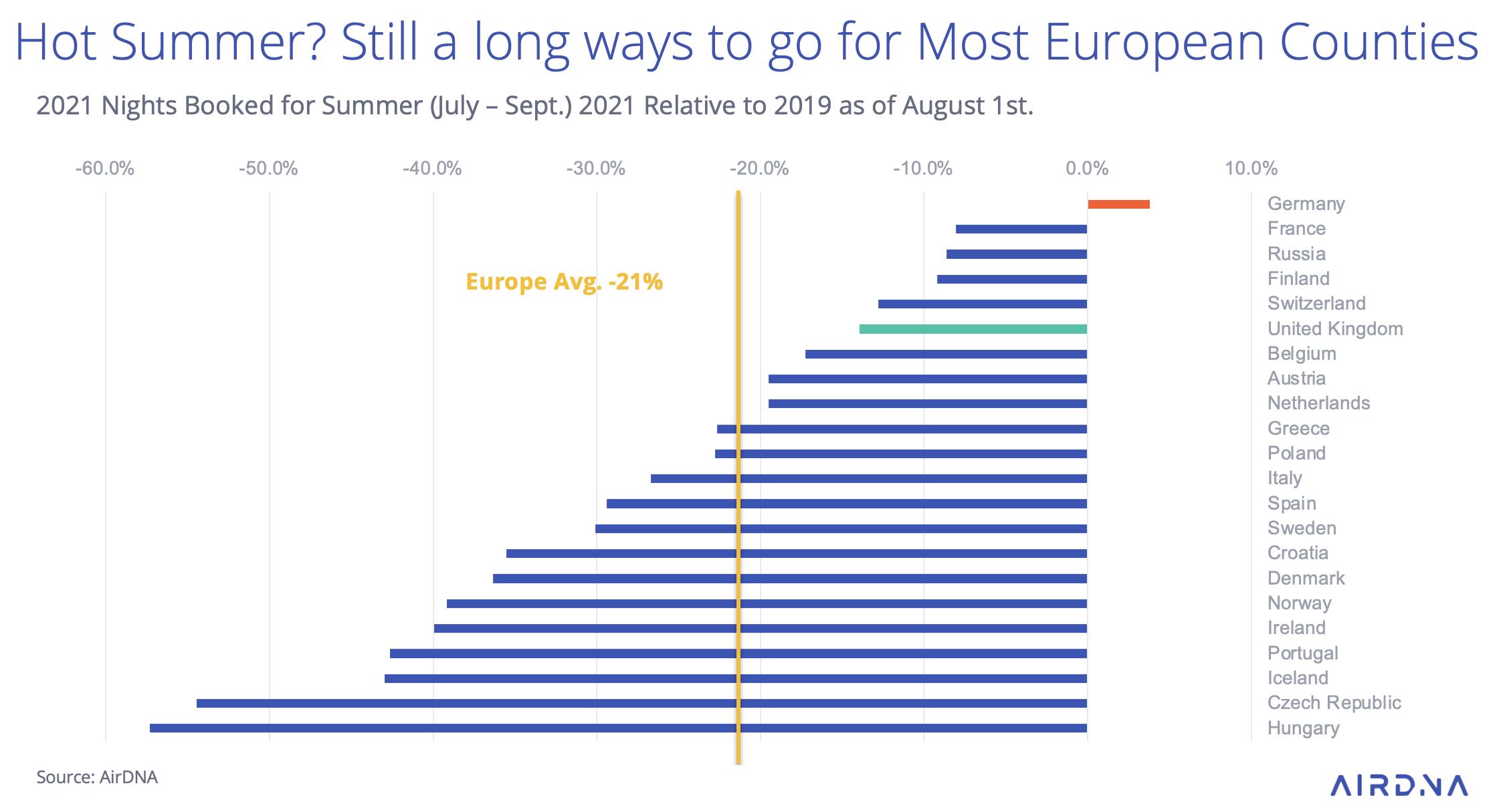 With much to celebrate, we still need to remind ourselves that summer nights booked are down over 10% relative to the same period in 2019. However, the UK is in a much better spot than nearly every other European country. Only Germany is seeing an increase in nights booked relative to 2019.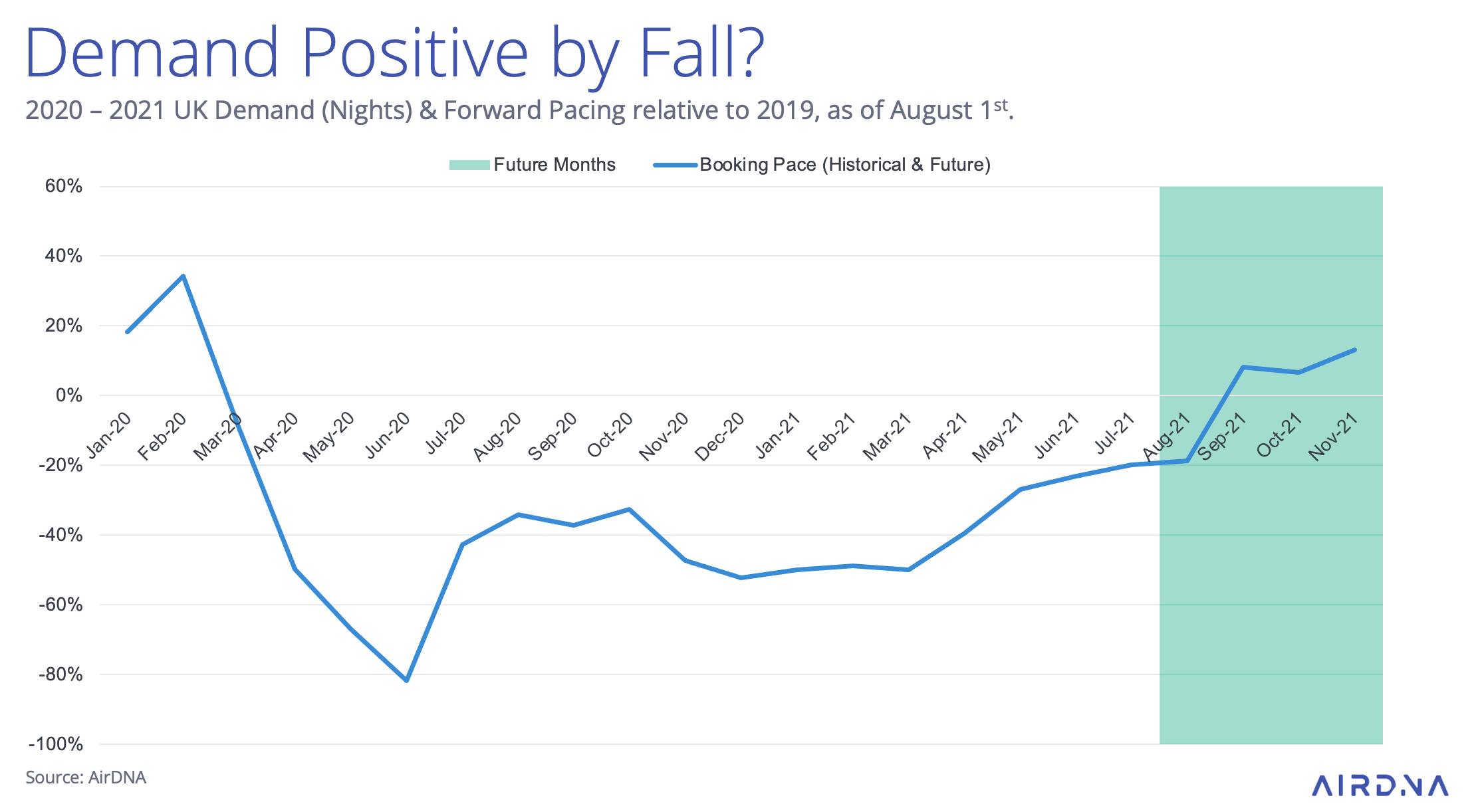 Will demand hold? That's the question hosts, investors, and property managers want to know. As of August, it appears that we are likely to see demand and forward pacing up from 2019 by the end of the month or into early autumn. 
After the most tumultuous year for both holiday lets and every other facet of daily life, Brits are itching to explore their country — and abroad. While the Delta variant's impact remains to be seen, we anticipate demand for short-term holiday lets in the UK to rebound strongly in the coming months and into 2022 as Brits and international tourists alike enjoy what the country has to offer.
Get started with MarketMinder today.
With powerful, easy-to-use tools, MarketMinder helps hosts and investors succeed in the short-term rental market. Ready to jump in?
Try it for free