What is a Minimum Night Stay Policy on Airbnb?
Also known as a minimum length-of-stay requirement, the minimum night stay policy on Airbnb is the minimum number of nights that a guest can book a short-term vacation rental. It's determined entirely by the host, and it can be adjusted to correlate with yearly, monthly, and weekly trends.
One simple number to track the weekly health of your vacation rental.When it comes to setting your minimum night stay policy on Airbnb, there's a handful of competing theories on what's best practice. 
Some hosts are partial to the three-day policy. Others favor week-long (or even month-long) stays. And still more tout the benefits of a one-night minimum. Depending on your market and hosting style, it may truly make sense to simply "set it and forget it." Find something that works, and run with it. 
However, based on the data, we've found that a little tinkering goes a long way. Hosts that are proactive about toggling their minimum night stay policy -- in accordance with market demand, seasonality, and upcoming events -- can see impressive increases in monthly revenues. Here's how to leverage the minimum night stay feature to your advantage:
Who's Doing What: The Current State of Airbnb Minimum Night Stays
Before diving into the numbers on which strategy is most sound, here's how hosts decide to set their nightly minimums throughout the course of the year. We've divided the data into two 15-city sets: seasonal markets (places like Big Sky, MT, the Hamptons, and North Carolina's Outer Banks), and non-seasonal markets (non-resort destinations like Dallas, Sacramento, and Houston).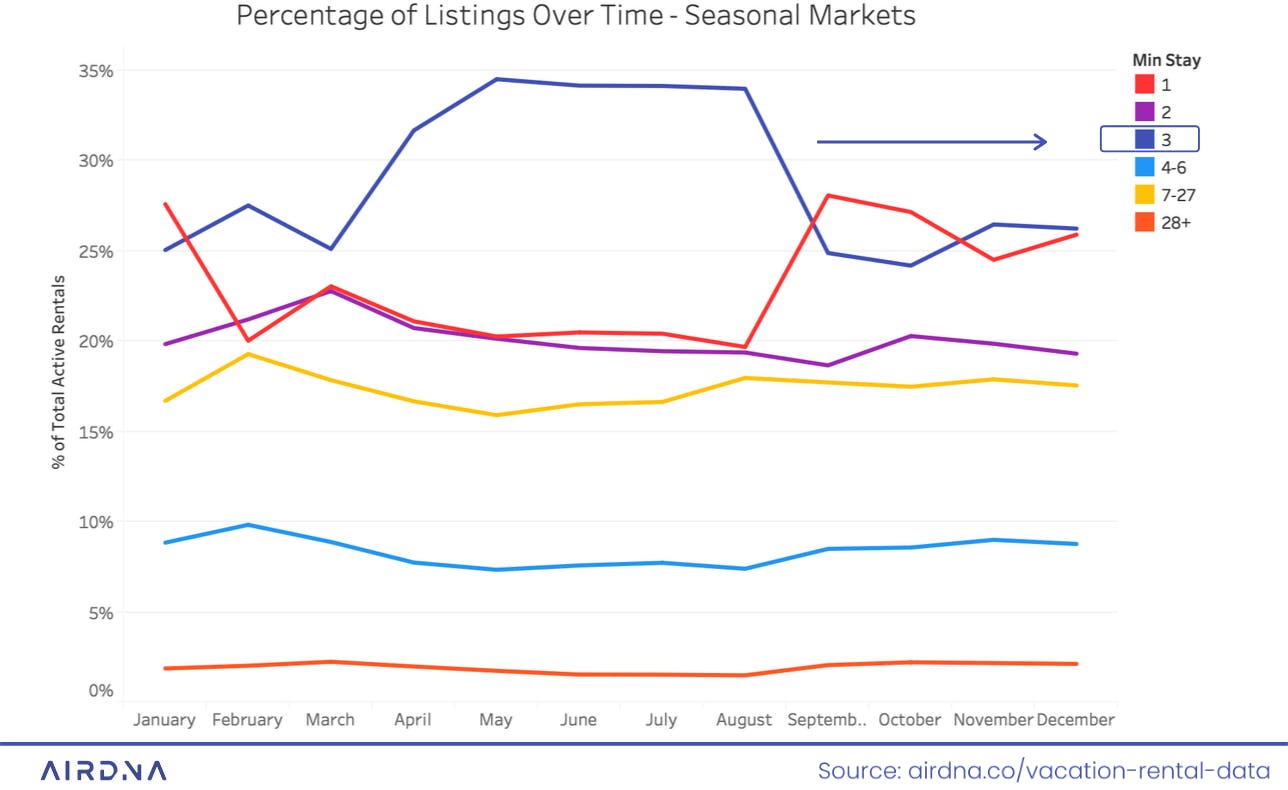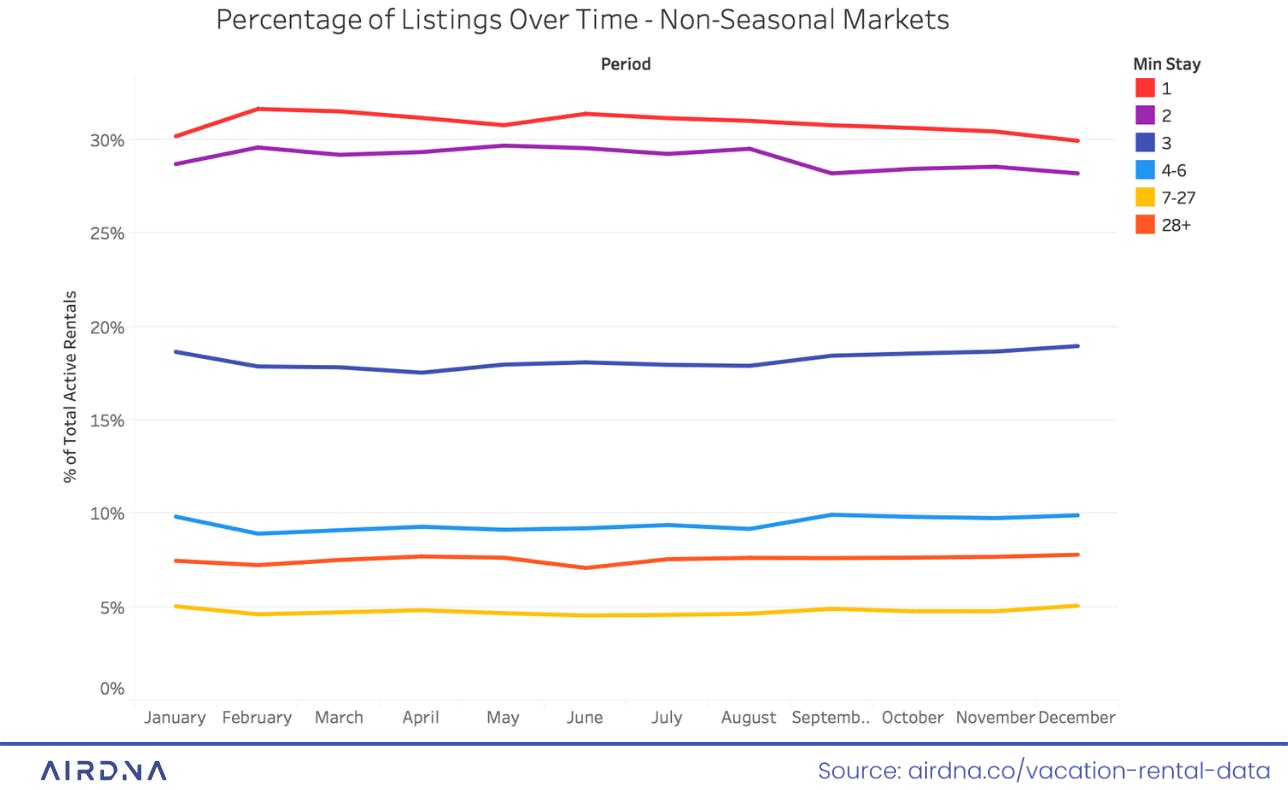 In seasonal markets, the most apparent theme is the uptick in the number of three-night listings during the summer months. From April to August, over 1/3 of the market requires three-night minimum stays. 
One- and two-night stays run neck and neck until the end-of-summer push when one-nighters experience a significant boost. Additionally, there are over twice as many listings with 7-27 night minimums as those with 4-6 night minimums.
As for the non-seasonal markets, the story is a bit more straightforward. Month-to-month fluctuations are essentially nonexistent, and listings with 1-night and 2-night minimums dominate market share year-round.
Which Minimum Night Stay Policy Earns the Most Money?
Just because most hosts prefer one strategy over another does not mean it is necessarily the best for maximizing rental revenue. In fact, based on the data, we've found there is a substantial disconnect between what's most profitable and what many hosts choose to do. Money is being left on the table. 
Below is a snapshot of how much money listings earn depending on their minimum stay policy throughout the year.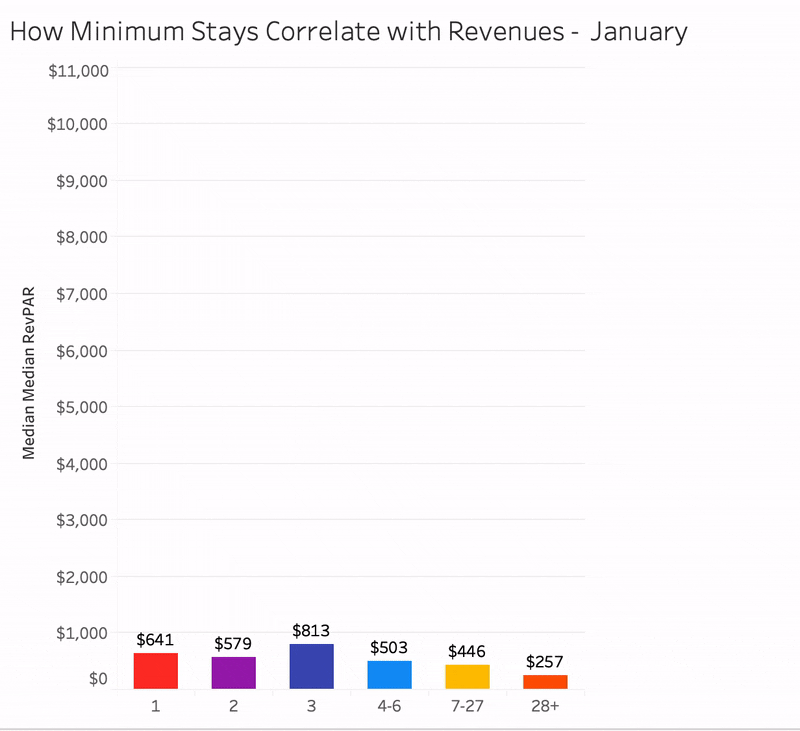 Despite the fact that listings with three-night policies greatly outnumber those with one-night policies through peak season, August is the only month during which listings with three-night minimums earn more revenue. 
Excluding August, one-night listings earn, on average, 17% more revenue throughout the course of the year.
Case Studies: Each Market Tells a Different Story
When leveraging data to maximize your short-term rental revenue, the big picture only tells so much of the story. Here are four unique case studies that show just how diverse each market can be in the realm of minimum night stays.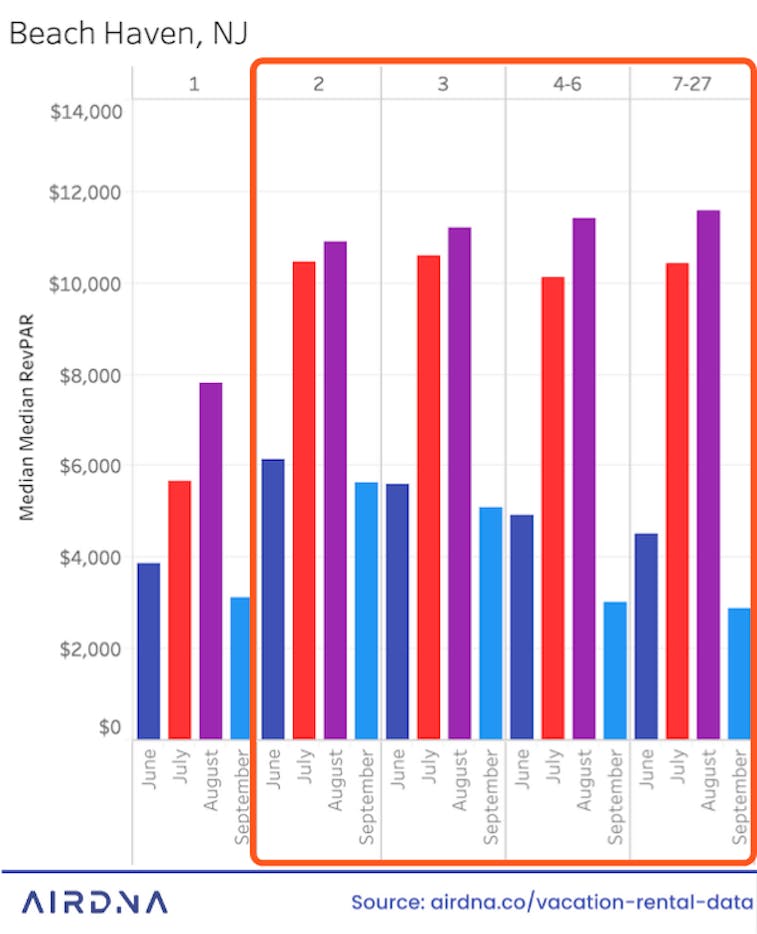 1. Beach Haven, NJ - Unlike the general trend for seasonal markets, New Jersey's Beach Haven follows a very different theme.
Listings with 1-night minimums never lead in terms of revenue. During the summer months, listings with longer minimum stays earn $10,605 (51%) more money.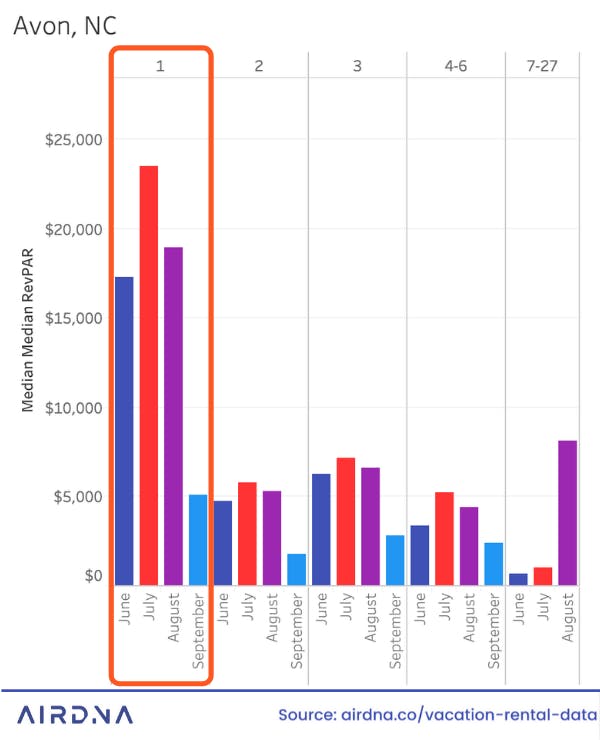 2. Avon, NC - Conversely, on North Carolina's Outer Banks, one-night minimums are absolutely the best mechanism for increased revenues.  3. Orange Beach, AL - Lastly, Alabama's resort destination of Orange Beach shows us that listings with minimum stays between seven and 27 days average the highest revenues over the same time period. Properties in this category reel in an average of $27,141 (122%) more money than other categories during peak season.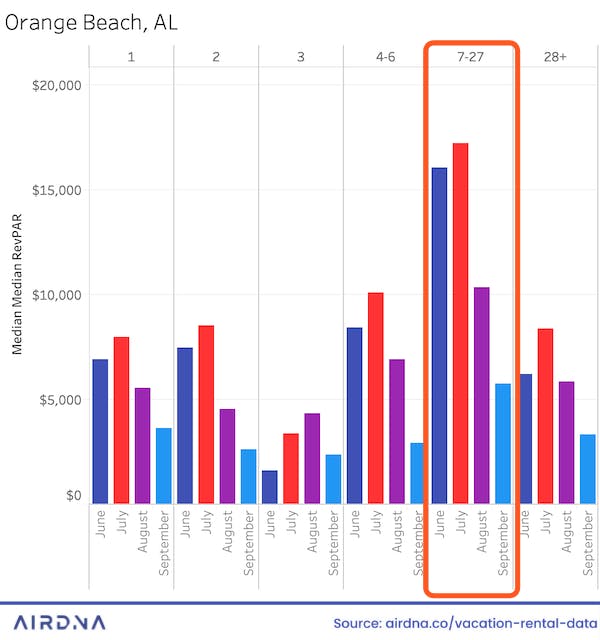 3.Orange Beach, AL–Lastly, Alabama's resort destination of Orange Beach shows us that listings with minimum stays between seven and 27 days average the highest revenues over the same time period.Properties in this category reel in an average of $27,141 (122%) more money than other categories during peak season. 
What's the Status Quo in Non-Seasonal Markets? 
Conversely, minimum nightly stays in places like Dallas, Sacramento, Houston, and Durham fluctuate very little. For destinations that don't rely on tourism or certain times of the year, most hosts opt for a conservative policy on minimum night stays. The status quo strategy has been simple: 1-2 night minimums for most months of the year, and 3-night minimums come August.
After all, these non-seasonal markets only see a 68% difference between the least profitable month (January) and the most profitable month (August) of each year. For reference, the highly seasonal markets above witnessed a staggering 1,519% difference between those two months.
When to Change Length of Stay Requirements: Event Analysis

There are certain times during which hosts should consider toggling minimum stays. Big-ticket events are absolutely one of those times.  If there's a music festival, conference, or sports match coming up, it may be worth altering your minimum stay. 
We considered AirDNA data from two of the largest festivals in the United States: New Orleans' Mardi Gras and Austin's SXSW. Both events take place annually in the spring and draw thousands of national and international visitors. While pricing should definitely be optimized, what should hosts do about minimum night stays? 
Here are the revenues earned according to hosts' minimum night stays.
The data speaks for itself: these kinds of events warrant at least three-night minimums. In fact, during South by Southwest -- an event that spans two weekends and 10 days -- listings with 6-night minimums actually reeled in the most revenue.
How Should I Set My Minimum Stay on Airbnb?

Use the MarketMinder Overview tab to conduct some thorough research about your destinations. Is it primarily a quick-stop transit city? Or are guests more likely to come for an entire weekend, week, or month? 
Toggle to the Future Rates feature to see how much demand is expected for any given day. The higher the demand, the better chance you have to secure a long-term booking. 
Discover the Booking Lead Time feature in the Seasonality tab. The longer in advance guests tend to make reservations, the longer you can set your length of stay requirements. In the example below (Avon, NC), guests make reservations over 3 months in advance, which is one reason why 51% of listings have at least a seven-day rental requirement.


Be agile in your length-of-stay requirements. If you receive two bookings that leave an orphan day in between, navigate to Airbnb's listing management platform to create an exception for those specific dates. Filling gaps in between bookings is one of the most surefire ways to elevate rental revenues.
Consider the cleaning fee. As cleaning fees are only charged once per booking, this item should not be overlooked. A 5-night booking with an aggressive $100 cleaning fee still shrivels in comparison to five one-night bookings each with a $35 cleaning fee.
The cost of your time and effort. If you were to assign a monetary value to operate an agile length-of-stay strategy, how much would it be? How much time do you spend cleaning, preparing, and getting guests checked-in?
Ready to take the next step in your revenue management strategy? Don't let minimum night stays go overlooked. Use industry-leading data to harness information, take action, and stay ahead of the competition.
Get started with MarketMinder today.
With powerful, easy-to-use tools, MarketMinder helps hosts and investors succeed in the short-term rental market. Ready to jump in?
Try it for free