Understand the True Impact of Short-Term Rentals
Give your organization access to the complete picture of tourism with industry-leading short-term rental data.
Data
It's time to take the guesswork out of tourism
WIth short-term rentals growth of more than 300% over the last 5 years, it's become increasingly difficult for DMOs to measure and manage tourism.
AirDNA provides solutions that empower your organization to accurately track the entire lodging landscape and make smart, data-driven decisions.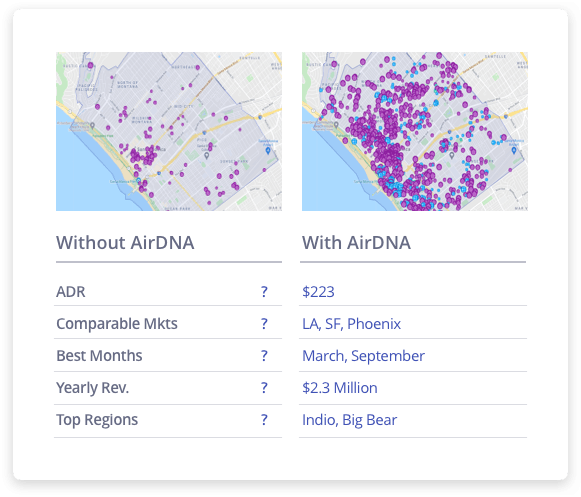 Marketing ROI
Measure the true effectiveness of marketing campaigns.
Supply & Demand
Easily monitor vacation rental supply and demand.
Economic Impact
Gauge short-term rentals' influence on your market.
Seasonality
See granular activity by neighborhood, day of week, and time of year.
Tax Revenue
Uncover blindspots on tax revenue.
Voice of Authority
Be the go-to expert on tourism in your region.
Solutions
Explore Our Data and Intelligence Offerings
Trend Report
A comprehensive breakdown of your home-sharing market's most critical trends including active supply, real-time demand, seasonality, and more.
Download Sample
Future Pacing Report
Future-looking report that tracks how the current year is pacing compared to previous years. Evaluate market recovery, demand drivers, and predict future revenue.
Download Sample
Traveler Origin Report
See the data behind every review left on Airbnb in your destination including the state and city your travelers are visiting from.
Download Sample
Statistics
Solutions powered by the world's most comprehensive library of vacation rental data.
Global
Markets
120K
Properties on
Airbnb & Vrbo
10M+
Properties sourced
from partners
1M
All time
customers
50K
"Discover Green Bay was continually asked questions about the area's rental market. We're seen as the tourism authority in Green Bay and wanted to be able to speak about this market clearly and with certainty. Questions such as how many, what do they cost, how big, etc. are very common. AirDNA provides us with solid data that now allows us to evaluate what is happening in our short-term rental market while also answering all our questions with confidence."
"I recommend AirDNA as a partner to any DMO. They are easy to work with, accommodating to individual needs, and responsive. It is notoriously difficult to get short-term rental information from website listing providers, but AirDNA provides a valuable resource by providing us this information."
"The AirDNA team has helped field questions about inventory across the state and local communities, demonstrate the differences between hotel travelers and STR travelers, educated DMOs about STRs, and shed light on the importance of treating Vrbo and Airbnb travelers as a part of the entire tourism experience"
Case Studies
Find out why over 500 DMOs are leveraging AirDNA solutions
#1 Trusted Source
Trusted by DMOs all over the world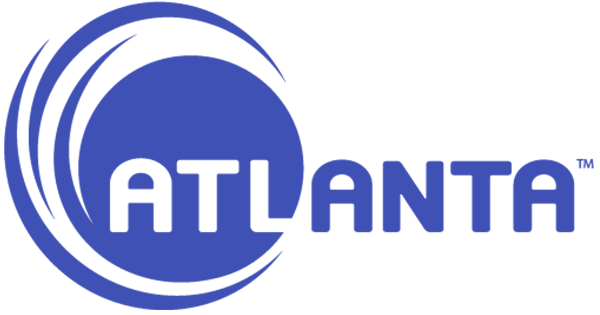 Report
Top 10 challenges facing DMOs in 2021 and How to Respond Effectively
In this exclusive report, we outline exactly what tourism organizations need to be focusing on in 2021 and beyond. Inside you'll find out STRs are fundamentally changing the makeup of tourism markets around the world.