Understand the True Impact of Short-Term Rentals
Give your DMO the complete picture of visitors with industry-leading short-term rental data.
Schedule a discovery call with a DMO expert in your area to learn more.
Data
It's time to take the guesswork out of tourism.
With short-term rentals growing by 300%+ over the last 5 years, it's become increasingly difficult for DMOs to measure and manage tourism. AirDNA provides solutions that empower your organization to accurately track the entire lodging landscape and make smart, data-driven decisions.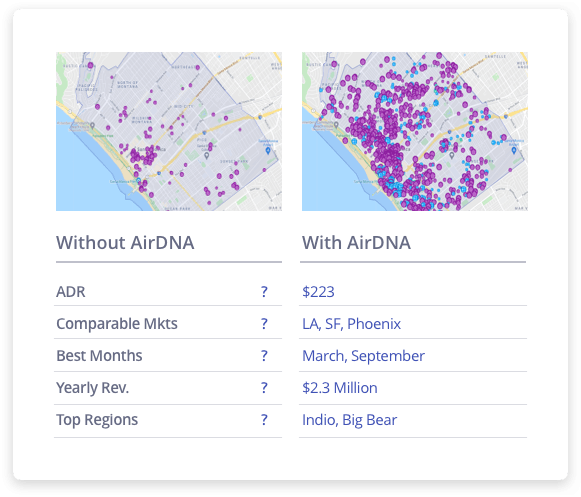 1
Challenges before AirDNA
Experience Kissimmee is a Destination Marketing Organization based out of Orlando, Florida where short-term rentals account for roughly 50% of the total lodging inventory. Prior to tracking short-term rentals, Experience Kissimmee was missing out on crucial information needed for internal reporting, marketing efforts, and tax collection.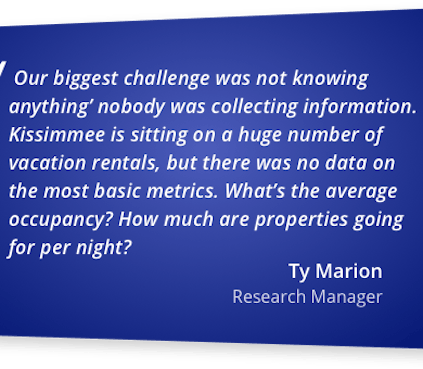 2
How we help
AirDNA helped Experience Kissimmee by providing detailed figures on nightly rates, occupancy, booking lead times, and guess arrival data. By using the Trend Report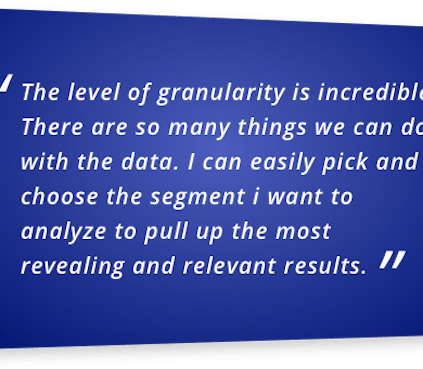 3
What changed
Now, Experience Kissimmee is creating effective targeted ad campaigns at the right times, to the right audience. They're also able to look back to see how many days in advance visitors are booking accommodations, and where they're coming from. Having this information at their fingertips has helped move the needle from Orlando to Kissimmee.