Pricing Your Holiday Let: Why Dynamic Pricing is so Important

Whether your holiday let overlooks a Gwynedd inlet or a bustling London street, the success of your holiday let business model largely depends on your dynamic pricing strategy. Dynamic pricing enables you to remain flexible, and to pivot on pricing when it's most advantageous. Determining how to price your holiday let is crucial. 
Throughout the pandemic, hosts across the UK have had to update their prices to reflect dwindling demand as well as spikes in demand; hosts had to react or, in the best circumstances, prepare for travel restrictions or easings. Hosts who employ a dynamic pricing strategy can more easily change prices at a moment's notice. Here's why that's important. 
How the best Airbnb pricing tool makes it easier to become successful in the holiday let space

Developing a sound pricing strategy is essential to your holiday let's success. Right out of the gate, you should take the time to compare different listings in your market, whether you're in a small town or in the center of Birmingham. 
From the start, hosts and investors are wise to look into comparable listings in their markets to better understand how others in their market price their properties. The most comparable properties are hosts' true competitors. Knowing what others charge for their holiday let is essential in setting one's price for their own rental. AirDNA's Airbnb data makes it easy.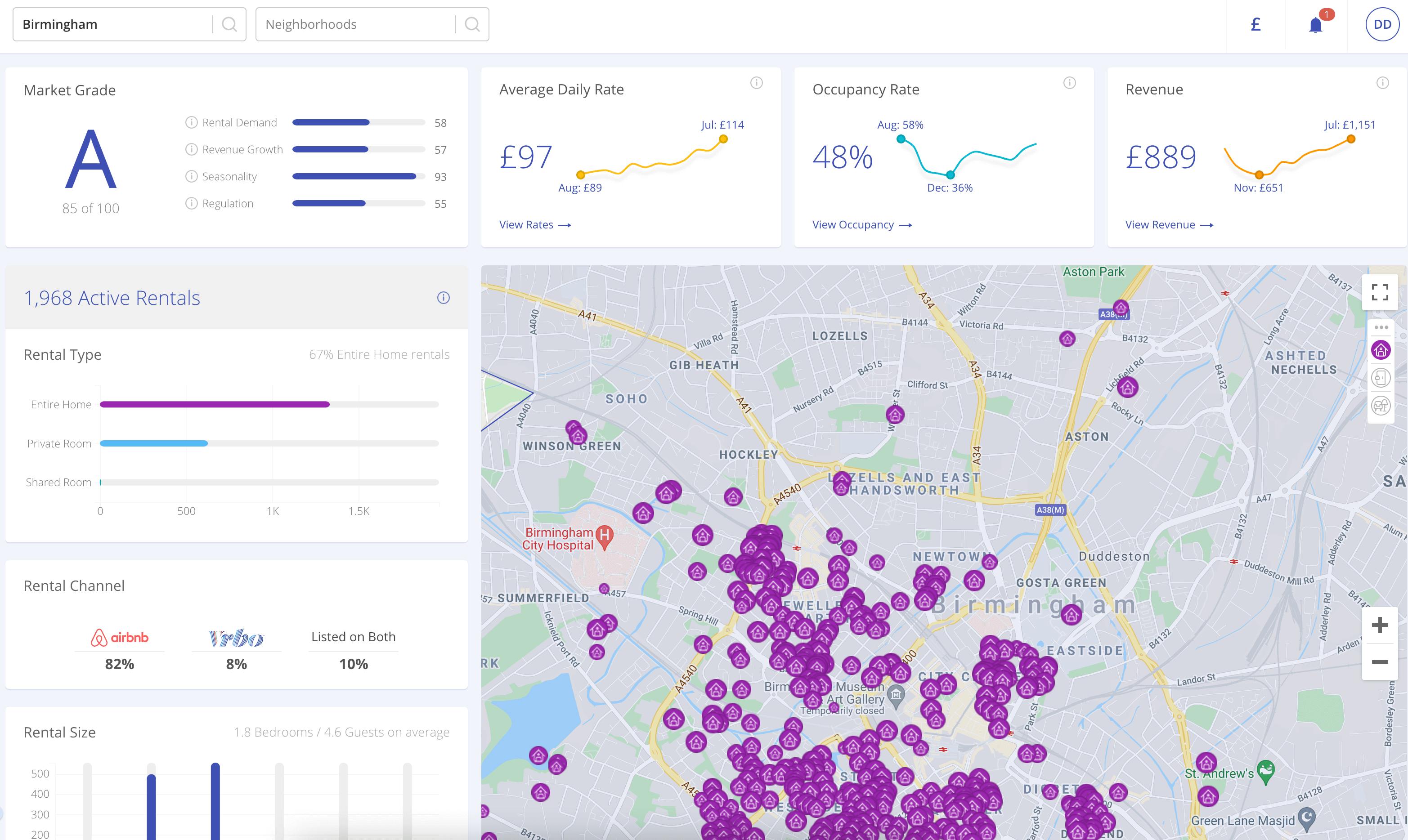 Get Essential Airbnb Data on Holiday Lets in Your Market

Nearly every holiday let listings will have to compete with other properties. While hosts in the countryside may be among fewer listings, they should still explore what other properties go for each night. The same is especially true for urban properties; adjoining neighborhoods may have very different prices for comparable properties, even if they're only a few hundred metres apart. 
AirDNA's MarketMinder gives you the data you need to create a custom competitive set to keep track of comparable properties. Your comp set takes into account amenities; property size and number of guests; location and distance between your property and each competitor's; performance metrics; and guest experience and their reviews.
From there, you'll have a solid understanding of your market and how to price your holiday let. 
How much to charge for a holiday let: Go-to Strategies.

No matter where your property is located, you'll never want to set a single price and leave it. Dynamic pricing is flexible pricing, meaning you can adjust your prices based on several factors (more on those in a bit). 
By adjusting your prices to reflect changes in market demand, you ensure that you won't miss out on any occupancy or revenue opportunity — if you implement a dynamic pricing strategy. 
Holiday let pricing explained: when to adjust your property's prices 

Weekend and Weekdays
People travel differently during the week and on the weekend. If you're in a more remote location, you'll likely see a spike in occupancy over the weekend. If that's the case, this is an excellent opportunity to raise prices to reflect increased demand. The opposite is true when you're seeing fewer guests; lower prices are better than leaving your property empty. 
Orphan Days
Airbnb allows hosts to implement minimum night stay policies. While a nearly full calendar may look good at first glance, you'll notice single, unbookable days in between longer stays. These single-day stays are orphan days, meaning guests can't book these days due to your minimum stay policy. Even just a few single days that are unbookable mean money left on the table. Be sure to create an exception within your Airbnb account to allow travellers to book a single night. 
Events
Many cities and small towns alike host annual events, drawing droves of guests eager for comfortable self-catering accommodation. Ensuring you're familiar with who or what's coming to your town means you may be able to raise your prices to capitalize on the demand when a major convert comes to town. Or, if you know the weekend of a major annual event, you can (and should) plan ahead for increasing your prices around that event. Remember: travellers looking for last-minute accommodation are often willing to pay a premium to ensure they have a place to sleep during the event. 

Your Holiday Let Business Should Consider Discounts, Promotions, and Fees

All new hosts experience the same challenge of getting bookings right off the bat; some hosts may be skeptical to reserve a home with no reviews. Early on, one of your main goals should be attracting guests — and getting their positive reviews. 
To make it easier on guests, consider implementing the following: 
Start with lower, more competitive rates: Offering lower rates at the onset (but not long term) helps you land new bookings and, in turn, get reviews. As those reviews grow, you can then gradually increase your prices to reflect market demand. More guests equal more reviews; months- or weeks-long stays may bring in revenue, but that only nets you one review. Keep that in mind. 
Offer length-of-stay discounts: I have guests seeking extended stays (think: weeks or a month or longer) be sure to sweeten the deal and offer discounts. At this stage of Airbnb's prevelenacy, guests likely expect a discount for their long-term stays. 
Discount early bookings: If you know of an event happening in your market that's months or even a year away, you can offer "early bird" discounts to attractive guests and ensure booked dates. However, be mindful of not making these discounts too tempting and missing out on revenue opportunities. 
Add Instant Book: Make it easy on guests (and yourself) to expedite the process of reserving their stay. Airbnb's Instant Book feature helps your property rank better in guests' searches, earn more revenue, and increase ADR.

Running a Holiday Let Business is Easier with a Dynamic Airbnb Pricing Strategy 

To keep up with that's happening in your market, you need to rely on Airbnb data that's accurate and actionable. MarketMinder makes it easy to optimize your pricing strategy to elevate your occupancy and earn more revenue. 
MarketMinder saves you time, energy, and money by providing a clear view into what's happening in your market, as well as the tools you need to optimally price your property across the platform.
Pacing
Pacing is the rate at which reservations are made for a specific date in the future and gives hosts insight into how far into the future bookings are being made compared to historical data. Pacing helps you plan your pricing based on demand, revenue goals, and associated expenses like maintenance and repairs.


Smart Rates
AirDNA's Smart Rates is the most powerful Airbnb pricing tool available. Hosts who sync their property in MarketMinder have access to Smart Rates, ensuring they have the most accurate pricing data. With Smart Rates' Futurestay integration, hosts can now automate their pricing with personalized recommendations, saving them time, headaches, and increasing their revenue and occupancy.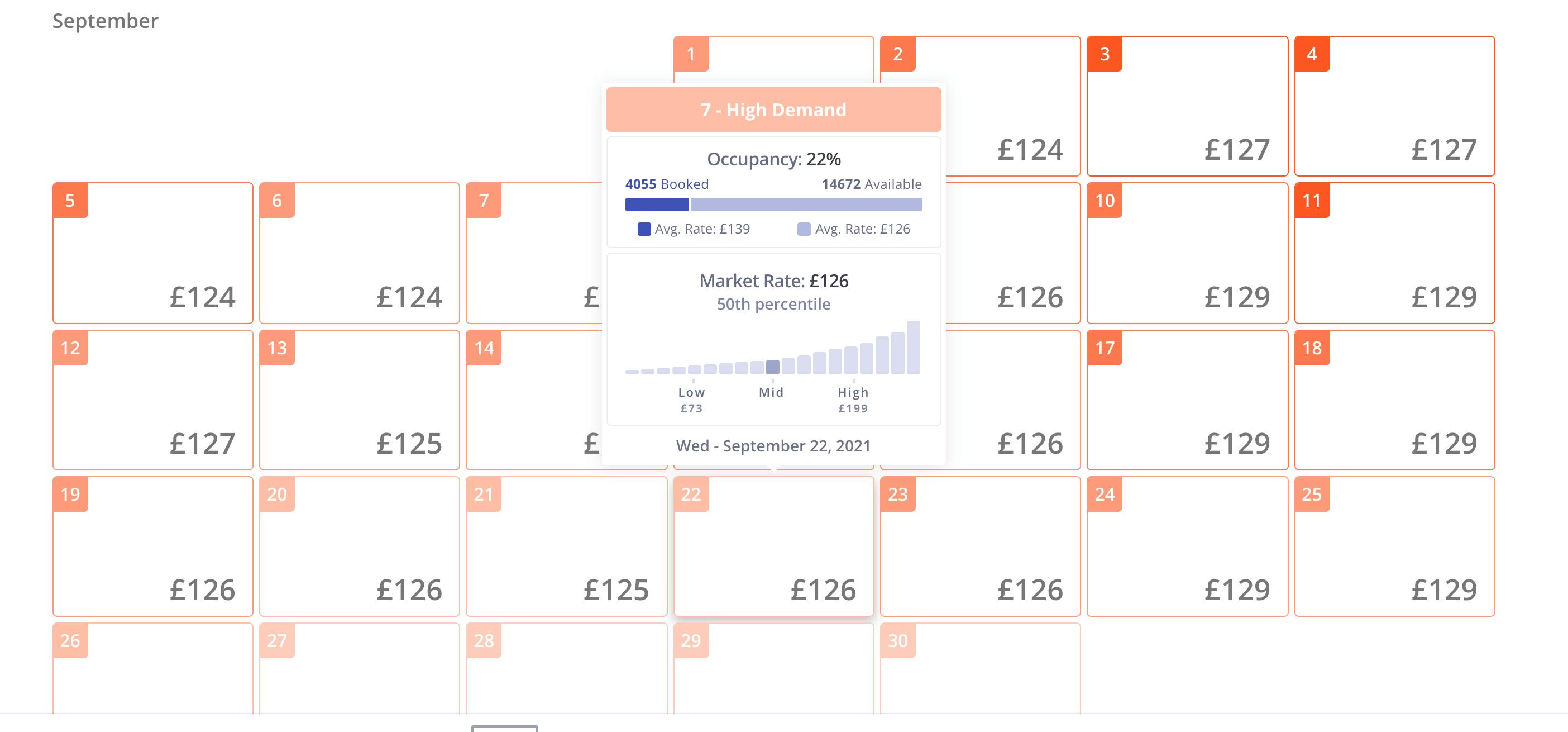 Seasonality
Seasonality is an essential consideration in any pricing strategy, especially for hosts in many destination markets in the more northerly climes, or hosts with beach houses in the country's southernmost markets. For example, the summer months bring the most guests to the beach, so it makes sense to increase prices. Conversely, it makes little sense to keep those rates elevated once winter rolls in.
MarketMinder's Seasonality calendar gives you a clear view into pricing data for specific weeks, months, weeks, and days, affording you a dynamic pricing strategy based on sound, actionable Airbnb data. 
Average holiday let rental prices: Which U.K. locations charge the most on Airbnb

Wondering which locations throughout the United Kingdom charge the most for holiday lets? We've got you covered. Click into any of these markets to see more data on their short-term rental performance in MarketMinder.
The Perfect Holiday Let Business Model Relies on a Data-driven Airbnb Pricing Strategy 
Whether you're a host in London or in the Scottish Highlands, you need data to drive your Airbnb pricing strategy. MarketMinder is your one-stop-shop for all the data you need to optimize your pricing strategy, and to see your holiday let business model become and remain successful. 
Get started with MarketMinder today.
With powerful, easy-to-use tools, MarketMinder helps hosts and investors succeed in the short-term rental market. Ready to jump in?
Try it for free